Are you planning on investing in a monocular that you need for multiple occasions? Are you a traveler that plans to observe places you're not allowed to approach close enough to see in detail? Don't worry, we might have a solution for you in a form of the Leica Monovid 8×20 Monocular.
The Leica Monovid shows great performance with great quality when used outdoors and during travel. However, an actual proof of the monocular's quality and the performance of its multi-coated optics comes with the fact that it is quite popular amongst jewelers.
The price point for of device is anything but cheap. In fact, you can count this monocular to be a luxury one. However, its performance and durability make it more than worth the price paid.
Product Specifications:
Close-up accessory lens
Nitrogen filling prevents misting
Water and dirt repellent AquaDura lens coating
Roof prism with phase correction coating P40
Internal focusing via central focusing knob
The front lens produces a macro effect
Can be used as a mini-telescope, 1/2 a binocular, or a macroscope
Package contains leather case
Review
The purpose of this review is to determine whether or not this monocular truly delivers what it promises, and whether or not it is worth the price. To find an answer to this question, we are going to look into its features and performance, comparing them to its cost.
Packaging and size
The size of the Leica Monovid is 3.9 x 1.5 x 1.5 inches and it weighs 4 ounces while its shipping weight is 16 ounces. The model comes with a leather "Holster" case and while the case provides great protection, it is also quite bulky. The packaging also includes a lens cap for the smaller end.
The monocular also comes with a wrist strap and focus lens which you can mount on the front. However, a neck strap is not included and you will have to purchase one on your own if you need it. In our opinion, at this price, a neck strap should definitely be included in the packaging.
On the other hand, a wrist strap is included but is rarely ever used, since nowadays no one carries a monocular around their wrist. However, it might be useful to prevent the monocular from being snatched from your hands in crowded places.
The macro-adapter you can mount on comes quite handy, which proved to be especially useful for observing street artist's tricks and different types of architecture. It is also convenient to carry around due to its compact size. When packed in a case, the monocular is a bit too bulky to be held in a pocket. However, you can always use a boot cover instead to compensate. This way, you will be able to carry the monocular around in your pocket and still have lenses covered.
Design and durability
The design is elegant and appealing, with the monocular popping up from its elegant, leather case as you open the lid. The close-up lens also fits easily into the carrying case. The overall design of the monocular and the case make accessing it very easy and practical.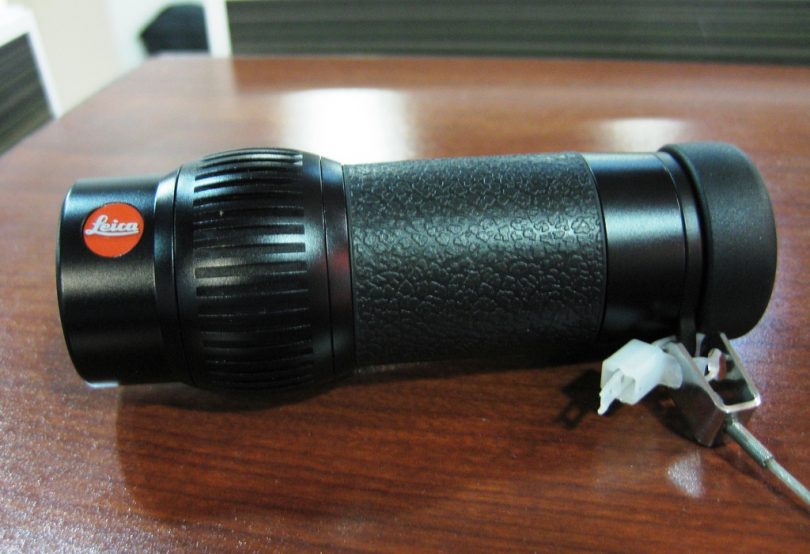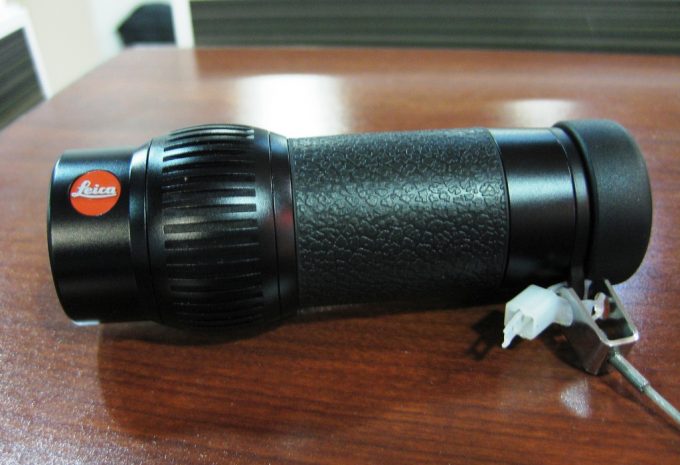 It might prove to be a little bit too bulky for some, especially ladies, children, and teens, but it is designed to be portable and compact. It will easily fit into any normal-sized pocket, like pants, shirt or jacket. The model is robust and lightweight which makes it perfect for carrying.
Optics
The Leica monocular comes with an 8x magnification which means it has high-quality optics, combined with a modern, elegant design. The monocular has proven to create clear, sharp and high-contrast images. It has a close-up lens that allows the macro effect and nitrogen filling which prevents fogging.
Lenses are also coated with "AquaDura" dirt and water repellent and is waterproof up to 16.5'/ 5m. The model has a prism with correction coating of P40 and its working distance is between 25 and 30 cm or 12 inches.
The maximum diameter of the monocular is ⅜ inches when its focusing knob is knurled. The optics perform with great quality, however, those who are used to using monoculars are going to have to spend some time getting used to this type of device.
If you want to use lens covers of another type on it, make sure to measure first, but you can also use a scope boot cover. It is made of rubber and it will stretch to fit the lens. If this inexpensive option works for you, you won't always have to bring your case with you. A flip cover might be useless for this model since it comes with a cap for a rear lens which is attached to the device with a cord.
All in all, its good quality optics along with compact packaging make it great for backpacking. Quality optics provides great close-ups that are sharp and bright. However, the question remains if the additional optics are worth the increased price.
Performance
The performance has proven to be quite satisfactory. It focuses easy and provides a clear image, with a decent field of view for its compact size. The close-up lens can be screwed into the case lid, which serves as a safety precaution against damage. Its focal length allows close observation of tiniest objects, like small antique pieces and jewelry, as well as jewels.
The focus on the monocular is easy. However, the focusing tip might feel a bit stiff once you begin using it. However, it will loosen up as you use the Leica Monovid for longer periods of time.
Value for Money and Guarantee
With a price of approximately $450, this monocular is anything but inexpensive. However, the price isn't over-the-top either. Still, it calls for a sophisticated product that is easily used, compact and elegant. The price definitely puts high expectations for this particular Leica model.
The monocular provides a crisp and clear picture, and it's also easy to carry around, which makes it great to use on the go. It is also waterproof, which, along with the quality, perfectly justifies the price of the monocular.
The warranty for the product tends to vary depending on the country it is being shipped to, but it most often comes with a 12-month warranty. When it comes to monoculars, there aren't many models at this price point that can top this one.
Close competitors
While Leica Monovid remains on the top of the high-end monoculars, there are more than a couple of models that are also famous for good quality and top-notch performance. These models also have advanced features that made them highly popular among wide group users. Here are our top picks for close competitors for Leica Monovid Blackline.
Carl Zeiss 8×20 T Monocular
The Carl Zeiss 8×20 T Optical Monocular delivers crisp and bright image and broad field of view. The quality of image enhances its already elegant design. And it has the magnification of 8×20. All in all, it is designed to be compact.
The mini-telescope is ideal to take with you while traveling. You can also use it for observing cultural and sporting events, like games and concerts as well as outdoor uses.
This monocular is multi-coated with its Patented T anti-reflective coating and sports non-slip housing. The packaging includes a leather-pouch, which is an appealing and elegant solution for carrying the monocular around.
It also comes with a carrying strap, which will make it easier for you to take on the go and while you are in a hurry, preventing you from dropping it or it being snatched from your hands.
The model has 8x magnification and a 20 mm objective diameter. Its exit pupil is 2.5 mm, and it also has 15 mm eye relief. This model has housing that is waterproof. It is very compact since it's long only 3.7 inches and weighs only 2.7 ounces, which makes the monocular very portable and easy to carry around.
The monocular comes with a lifetime warranty on all of its optical components, as all Zeiss products do. Its electrical components come with a 5-year warranty. Camera components of this monocular come with a 2-year warranty while accessories like carrying straps come with 1-year warranty.
Leica Monovid 8×20 Monocular
Leica Monovid 8×20 Monocular comes with a red-colored housing and an exit pupil diameter of 2.5 mm. It also features a monocular lens of 8 x 20 magnification and an eyepiece for a close focus lens. Its size of 1.4 x 1.4 x 4 inches and weight of 0.25 lb make it very compact and convenient to carry around.
This Monovid has an 8x magnification and is designed to be used by hikers, birdwatchers, and concert observers. Due to its elegant and compact design, it is great for carrying around to elegant cultural events, like concerts and operas. Equally, it will serve a great purpose if used to observe sporting events and games.
Its elegant design and superior, top-notch performance make this model highly popular and attractive for a broad range of purposes. The packaging for this monocular includes a leather carrying case and a compact focus attachment which allows viewing of 10 – 12 inches.
Bushnell Legend Ultra 10×42 Monocular
This monocular comes with quality optics that provides top-notch HD image clarity. It is made of quality materials and designed to be elegant, appealing, yet durable and long-lasting.
The Bushnell Legend Ultra 10×42 Monocular has 10x magnification with a 42 mm objective roof prism. The monocular is 100% waterproof and has fog proof construction.
You can use it for travel, as it is made to be lightweight and easily portable. Its top performance is owed to multi-coated lenses, phase-coated prisms, and built-in Picatinny rail.
Overview
Leica Monovid is the higher-end monocular designed to be compact and appropriate for various uses. Its compact size and elegant packaging will allow you to take the monocular with you wherever you go, including gala events.
Due to its design and high-quality leather case, it includes, Leica Monovid had earned its place among luxury monocular models. It is also widely popular among jewelers, due to its high 8 x 20 magnification and easy, fast focus. Along with quality multi-coating, these features result in clear, sharp image that jewelers need to spot microscopic elements in jewels, like serial numbers, scratches, cracks, and impurities.
While this monocular has plenty of advanced features, there are still a couple of flaws and drawbacks to this product that needs to be pointed out. Here are some of the pros and cons to this monocular.
PROS:
High magnification
Clear, sharp image
Usable in a variety of occasions
Elegant leather case
Waterproof
CONS
:
Too bulky when in the case
Neck strap not included in the packaging
When it comes to this monocular, its advantages significantly dominate tiny drawbacks in its manufacturing. The model performs with clarity and high contrast, and the quality multi-coating allows the product to be truly weather resistant.
Indeed, this monoculars can endure being soaked in water for a couple of minutes. In many cases, manufacturers will claim that the product is waterproof only for it to be revealed that, in fact, it is only splash proof. This isn't the case with this Monovid model, as the manufacturer delivers exactly what they've promised.
When paying a decent amount of money for a single product, you expect it to be the ultimate go-to product for a variety of uses, right? Leica Monovid delivers broad use as well, as it has proven itself to be used successfully in more situations than most other models.
On the other hand, this pair of monoculars is no longer compact once held in its leather case. While the device can fit easily into any pocket or a back, this is no longer the case if you plan on taking its own case with you.
Also, the manufacturer hasn't included the neck strap in the packaging. This is one of the accessories you will going to have to purchase on your own. On the other hand, the wrist strap that is included doesn't serve many purposes except to prevent you from dropping the device on the go.
Leica Monovid 8x20 Monocular
Packaging and size

Design and Durability

Optics

Performance

Value for Money and Guarantee
Summary
The Leica Waterproof Monovid is a top-performing monocular used for a variety of purposes. Due to its compact size and elegant design, the monoculars fits easily into any pocket or a bag. If you choose to take it in an elegant leather case that comes included in the packaging, you will be equipped with a top accessory for even the most elegant of events, like concerts and operas.
The overall impression of the device is more than positive. It performs with the highest quality and has so far managed to top the majority of the models of the same category. Lastly, we'd love to hear from you.  Do you have any experience with this monocular from Leica?  If so, please tell us about it in the comments section below.