When the season for turkey hunting is here, every hunter falls under the thrill of getting the most out of it. Although many may not realize it, adding the best turkey shotgun scope to your weapon will significantly improve the precision and clarity needed to hit the head of the turkey.
Top Pick
Best Seller
Don't Miss
Also Consider
TRUGLO Red-Dot Sight 30mm Realtree APG
TRUGLO Compact 4x32mm Diamond Ballistic Reticle Black Riflescope (TG8504BD)
Leupold VX-Freedom 1.5-4x20mm Riflescope, Pig-Plex Reticle, Matte Finish
Bushnell Banner 3-9x40mm Riflescope, Dusk & Dawn Hunting Riflescope with Multi-X Reticle
Top Pick
TRUGLO Red-Dot Sight 30mm Realtree APG
Best Seller
TRUGLO Compact 4x32mm Diamond Ballistic Reticle Black Riflescope (TG8504BD)
Don't Miss
Leupold VX-Freedom 1.5-4x20mm Riflescope, Pig-Plex Reticle, Matte Finish
Also Consider
Bushnell Banner 3-9x40mm Riflescope, Dusk & Dawn Hunting Riflescope with Multi-X Reticle
Especially so because turkeys are fast-moving and one may spend a lot of time trying to close in on one. Your shotgun may need this upgrade if you plan on hitting the typical range when it comes to turkey hunting.
Top Products on the Market
We are going with the assumption that you are an experienced hunter and you have the basic knowledge when it comes to scopes. Above we have noted the most important factor that you should consider when looking into getting a new turkey hunting scope for your shotgun.
Below we have lined up and explained the most important features of the top product offers on the market today. So keep reading and happy shooting.
1. Weaver Kaspa Turkey Riflescope
Price: Approx. $175
Magnification: 1x – 4x
Dimensions: 15 x 3 x 1.4 in
Weight: 15 oz
Specific features: ¼ MOA windage and elevation adjustments, fully multicoated lenses, varied magnification, ideal eye relief, vertical zone turkey reticule
Best use: Short/long range hunting, competitive shooting
The Weaver Kaspa Turkey Riflescope is an excellent choice for close action, for the hunter who targets turkeys and whitetails. From one of the most renowned manufacturers, Weaver Products, one can tell they will be getting the best on the market.
The quality and performance eclipse most turkey shotgun scopes as it situated well among the top picks.
The versatility it offers comes from the fact that the reticules can accommodate three types which are the Turkey, Dual-X, and the slug/muzzleloader reticule. This means it can be used for both short range and long range shooting.
Get the guesswork out of the game even if you'll be shooting at a shorter distance. One still needs the accuracy to minimize frustrations when shooting at a moving turkey.
The magnification power is 1x to 4x. First, there's a clearer and larger image to shoot at, and second, one can tell the difference between the background and the target.
This way, hunting in unpredictable fields is more successful as there's the ability to close in on targets fast and easy. The low magnification power also allows for a full field of view as it is also sharp, aiding the shooter in staying focused on the target.
This scope features fully multicoated lens which is a must if you plan on taking to hunting where the target blends with their environment. It gives sharp contrast and anyone looking through the eyepiece can easily zero-in the target.
It takes a short while when sighting and it offers ¼ MOA windage and elevation adjustments for every click on the turret.
It is very stable such that it provides safety against recoil which may realign the zero. This scope, maintains zero, allowing the user the repeatability of taking continuous shots.  Also, the coating affords the lens more durability; thus it will last a decent amount of time.
When it comes to mounting, it needs rings to keep it stable on a rifle. It, therefore, mounts very low and because you'll be using the shotgun, it doesn't add any weight that could destabilize the gun. Hunting conditions call for speed and accuracy, and this scope is all about that.
It has a camo finish. No one wants to hunt in grounds where their scope gives their position away, alerting every target around them. That is why it comes in handy because it doesn't produce a glare when hit by the sun's rays.
This is one of the least expensive turkey shotgun scopes with real durability features. The outer shell is a rugged 30mm tube, which offers proper housing for the components of this scope. It is nitrogen filled to keep moisture and fog away.
Again, it's shock-proofed, giving it a wider variety of applications. One can safely use it where the outside extremities dare it to be more tolerant of the elements. It can handle abuse from falls and rough terrain or water from rain and wet surroundings.
In essence, this scope offers quality and style in one package. It is designed to last a lifetime which the manufacturer guarantees with providing a lifetime warranty. It has ergonomic features where you don't need to learn how to use it, just mount it on your shotgun, focus, and fire.
Since it is sturdy and durable, one can be sure to rely on it through many turkey seasons.
PROS:
Easy to use and focus
Lightweight
Waterproof, fog proof, shock proof
Lifetime warranty
Related: When considering getting the Weaver Kaspa Turkey Riflescope, you should know that it does not come with mounting rings, and you should get those additionally.
2. Truglo APG Red Dot Sight
Price: Approx. $65
Magnification: None
Dimensions: 9 × 5.8 × 2 in
Weight: 7 oz
Specific features: Unlimited eye relief, 1MOA windage and elevation adjustments, adaptable on a broad variety of guns, anti-reflective qualities, flip up lens caps
Best use: Short range hunting, low lit environments
The Truglo APG Red Dot Sight represents a versatile scope which can be integrated into many rifles and gives very good results in hunting. It can mount on shotguns, muzzleloaders, paintballs, handguns, crossbows, and rifles. So, even if you own more than one of these rifles, it will work just fine.
This red dot sight features corrected parallax and unlimited eye relief for improved accuracy when aiming at moving objects. You don't have to follow a running turkey since for as long as it remains on your radar, one click and you have a closed shot.
The windage and elevation adjustments are also on point at 1 MOA per click. The shooter can then make accurate, consistent shots: hence improving their skill for better shots in the shooting sessions.
You'll be impressed by the 5 MOA reticule which is well illuminated and carries multicoated lenses. The lenses transmit 95% of the light, enabling the shooter to use their scope even in poorly lit spaces.
The brightness is adjustable with a rheostat control which prevents accidentally adjusting the light intensity in the middle of usage. It's, therefore, reliable for active shooting even in low light thickets.
This turkey shooting scope easily mounts using the standard weaver style. It maintains a low profile on the gun, such that it can preserve its zero when facing off with a heavy recoil gun. This system also allows for fast dismounting when using it on more than one gun.
Frequent dismounts do not call for additional setting the sight again because of no amount of re – Installing moves the position of the zero. The reason being it carries a unique lanyard system which prevents the dislocation of the sighted in elements.
The Truglo Red Dot Sight has only 1x magnification. The shooter gains a wide field of view, adding to the chances of making a close shot the first time. Hunt in random places with confidence because the scope allows for taking quick shots, even at fast moving targets.
With the 3V(CR-2032) battery, reuse this sight for as many times since it conserves energy and does not affect the weight of the scope or the gun. It helps with taking accurate shots since it adds support to the gun; hence minimizing the effect of recoils.
This sight is the ideal one for turkey hunting. The features point to high performance and reliability in taking accurate shots. It shows that one can hunt even in poorly lit environments since it has multi-coated lenses and anti-reflective interior to block all forms of possible stray light.
The outer shell is resistant to damage as it is waterproof and fog proof, making it applicable in all weather. It has see – thru flip up lens caps to ensure the lenses retain their original condition even in the harshest of environments. The battery is included in the package.
PROS:
Lightweight
Easy to use red dot sight
Fits many weapons
Long battery life
Related: If you are thinking of getting yourself the Truglo 30mm APG Red Dot Sight, (and you have a Mossberg shotgun) you should consider investing in a Picatinny rail mount system. One such system is the Mossberg 500/590 Series Shotgun Picatinny Rail Mount, so you can easily fit the red dot scope on a Mossberg shotgun.
3. Leupold VX-1 Shotgun Scope
Price: Approx. $180
Magnification: 2x – 7x
Dimensions: 14 × 3.2 × 2.9 in
Weight: 10.6 oz
Specific features: Fully multicoated lenses, quick fingertip windage and elevation adjustments, low power magnification, broad field of view, lifetime warranty
Best use: Short/medium range shooting, open field turkey shooting
The Leupold VX-1 Shotgun Scope is a household name best known for their high-end scopes. This one is a part of their excellent series with a focus on turkey hunting – it carries a Turkey Plex reticle.
The lenses are fully multicoated to deliver maximum brightness in all lighting conditions. One can, therefore, hunt from early morning up to the late hours in the evening. They provide a clear view with maximum contrast so that you can have an easy time locking in on moving targets.
This turkey scope features quick finger adjustments by clicks at ¼ MOA windage and elevation. This increases one's chances for accurate shots, especially because the settings keep your target in your range of fire.
One does not have to keep chasing after the bird when they can stabilize their shooting stage and make accurate consistent shots.
It also allows for internal elevation and windage adjustments at a maximum of 65MOA. Each bullet now becomes a calculated shot, as any shooter knows how correct estimations improve the precision.
With a generous eye relief and a provision for parallax correction for every 75 yards, one can be relieved off eye strain because the reticule focus does not increase/decrease with the magnification. For each increased magnification, the target only becomes larger.
Since the reticle remains unchanged, you can keep your eyes focused on the target without losing their current position when you shift your eyes or head as you look. You will acquire the target fast at all levels of magnification.
The magnification power ranges from 2x – 7x which allows for an extensive range of view. If you want a full field of view, the low magnification will help you have a clear sight of the background.
It adds to the ability of one shooting in unpredictable grounds where an animal could appear at close range; this way you'll have fast target acquisition and the capacity to take accurate shots.
This power range also gives you the flexibility to shoot in long range hunting where you'll need a clear view of the target, without putting too much significance in the field of view.
Mounting this scope requires rings to keep it firm against the frame of your gun. It has a low profile which will protect you from recoil and realignment of the zero.
If you want to use it on another rifle, it is easy and fast to disassemble, and since it is adaptable, no parts show signs of stress when re-installing. The parts remain intact, and so does the zero; hence one can be assured of always being ready on the go in case of an emergency.
Various complications come with shooting in open fields. First, alerting the prey and second, facing weather extremities. With this scope, you are protected from these shortcomings since it comes in a matte black finish which keeps away the sun's glare from reflecting your position in the shrubs.
The body of this scope has a robust design, build to easily take on any abuse and take on hunting for an extended period. You'll appreciate that it is waterproof, fog proof and shock resistant. With this, the user has a wide area of applications in all kinds of weather.
Leupold boasts the feature of being manufactured and assembled in the USA; this is attractive among lovers of American quality. You are sure it will live up to its claims.
The manufacturer also offers a lifetime warranty, all this for a very competitive price. With such original features, this is the perfect match for your turkey hunting endeavors.
PROS:
Easy installation and use
Several powers of magnification
Perfect clarity
Waterproof, fog proof, shock-resistant
Made in the USA
CONS:
Does not come with mounting rings
Related: If you consider getting the Leupold 113867 VX-1 Shotgun scope, you definitely need quality mounting rings. Such as the Leupold 1 – in QRW Rings. They fit the Leupold Shotgun scope and fit any Picatinny rail. Made from aluminum, they are lightweight, sturdy and come in black matte finish.
4. Bushnell Trophy Shotgun Scope
Price: Approx. $115
Magnification: 1.75x – 4x
Dimensions: 14 x 3 x 3 in
Weight: 12.6 oz
Specific features: Low profile mount, fully multi-coated lenses, butler creek flip-up caps, rugged casing, shock, water, and fog-proofed
Best use: Harsh conditions hunting, moving targets
The Bushnell Trophy Shotgun Scope presents the best solution for turkey hunting. Its objective lens is only 32mm, meaning it is lightweight and will sit very low on your rifle.
The small weight makes the gun stable when used in a standing or kneeling position such that it does not shift awkwardly when subjected to heavy recoil. You will not need high mounting rings because it keeps a low profile which keeps the eye alignment in check.
When it comes to the optics, all of them carry full multi-coated lens surface to ensure maximum light transmission and better clarity of the image viewed. These lenses provide the capacity to venture in the dark because they can take up a lot of light in poorly lit conditions.
One will not have a problem with distinguishing between the target and the background as it also comes with better contrast on the reticule. With the low magnification, it makes for a good short range hunting scope.
Again, the low power is a good indication of the large field of view you'll get from this scope. This way, any unforeseen prey will be quickly taken down as there are a better clarity and fast target acquisition.
One is always in the shooting range even in unclear backgrounds. The low power allows for the optimum gathering of light; hence the shooter can have better focus and higher chances of taking accurate shots.
The sight is simplified with the ¼ MOA windage and elevation adjustment using finger clicks on the turret. It also has a decent eye relief at 3.5" and is corrected for parallax. Due to the easy setup, you'll find that acquiring zero is also fast.
Thus you'll not spend all your bullets trying to obtain the kill zone. Together with the optics that offer HD clarity, taking down a target will always be consistent in many applications.
You'll like the camo exterior which adds up to better camouflage in a variety of environments, including woodlands, green forests and open fields. The finish is ideal for concealing your position in short range hunting because it does not produce any glare that could be caught by the prey.
It is, therefore a must have for turkey season because they are always alert and flee at the slightest provocation.
Success in the field calls for dependability of the scope on many fronts, including the ability to take recoil. This scope has been severally modified to take on high recoil from a wide range of guns.
The one-piece tube is virtually indestructible, and it also carries Butler Creek flip-up caps which keep the lenses safe from high impact, say from falls on hard rocks.
This scope is adequately protected from depreciation from the outside weather. It carries a rugged exterior which is resistant to damage from drops and rust due to moisture exposure.
It is shock-proofed to handle the rough terrains, and the lenses will always be clear from fog since it is nitrogen filled. These features add to the longevity of this scope plus it is covered by the Bushnell's No Questions Asked Lifetime Warranty.
PROS:
Clear optics
Waterproof, fog proof, shock proof
Easy to adjust and use
Lifetime Warranty
Related: Since the Bushnell Trophy Shotgun Scope does not come with mounting rings, it is recommended that you get the Weaver Quad Lock – 1 Inch Medium Detachable Rings. Like the other Bushnell products, this one is quality mount ring made from aluminum, straps securely to the gun and comes in black matte.
5. Simmons Prohunter ProDiamond Reticle
Price: Approx. $75
Magnification: 1.5x – 5x
Dimensions: 14.5 × 3.4 × 3.2 in
Weight: 8.6 oz
Specific features: Multi-coated lenses, non-reflective finish, maintains zero, wide field of view, low magnification
Best use: Short range hunting, low-lit environments
The Simmons ProHunter ProDiamond Reticle is the most dependable scope in its price range. It has turkey hunting-specific features with the aim of making the most out of your hunting trip. This is a short-range hunting scope which applies sharp focus on targets up to 100 yards.
Through the incorporation of high-grade optics, you have the luxury of hunting into the night or early mornings even before the sun is up. They are fully multicoated for optimum light acquisition and as a hunter; your view will see clearer images and better contrast.
It features TrueZero adjustments of elevation and windage adjustments with the allowance of click changes on the turret. Hunting is an unpredictable thrill, and many are times when one has to venture into rugged paths. You need a scope that maintains the zero during impact.
With this scope, you can depend on it to keep its zero intact with the help of a locking bar. The environment and the type of gun you use are no longer a hindrance to your hunting. The rugged construction keeps it protected against recoil especially when using it on an unstable surface.
For quick target acquisition, this scope provides 4" eye relief to enable sharp focus. It has been corrected for parallax at 50 yards, so one can depend on it to get the full sight of the image. With a 1.5 – 5x magnification, it is low enough to give a wide field of view, and yet large enough to make the target focus sharp.
One can, therefore, distinguish between the background and the prey at all the magnification levels. Seeing that it housed in a 32mm objective lens, it affords stability and balance since it is lightweight.
The mounting of this scope is low profile, thanks to the contoured frame which enables it to sit seamlessly on any rifle. You get to have sure eye alignment between the target and your area of focus, such that the prey always remains in the kill zone.
This design allows fast installation on other rifles if you will not be using your shotgun only. It maximizes its utility in different grounds; thus, one can use it to hunt various types of game.
It is even more reliable because of its sure grip design. Whether you hunt in wet conditions or you are caught up in the rain, all adjustments are easy because it has rubber surfaces on the windage and elevation caps, plus all other knobs integrated on this scope.
Its signature feature is the raised tab on power change ring that makes sure the adjustments made are on the mark. Even if you have wet fingers or gloves on, you can depend on the user-friendly touch design to give perfect results.
The rugged design makes it even more ideal for all weather. It carries a sturdy body which is shock-proofed, meaning it can withstand a significant amount of abuse.
With complete seals to prevent moisture and water, the optics are always in focus because there are no tendencies to fog accumulation. What's more, the sealed housing makes it a durable piece to last a considerable amount of time.
This is an all-around scope with a broad range of applications. It is perfect for short range hunting due to the particular qualities. The pro diamond reticle makes it possible for accurate, consistent shots.
It maintains its zero, and it's also lightweight. The eye relief is permanent, and its ability to withstand recoil makes it all the more attractive to invest in.
PROS:
Lightweight
TrueZero adjustment system
Easy to use
Waterproof, fog proof, durable
Related: Since the Simmons ProHunter ProDiamond Scope does not come with mounting rings, it is recommended that you get the AcuuShot Picatinny/Weaver Medium Profile Mounting Rings.
6. Truglo Strut N Rut Compact Scope
Price: Approx. $50
Magnification: 4x
Dimensions: 10.5 x 6 x 6 in
Weight: 16 oz
Specific features: Matte finish, fully multi-coated lenses, anti-reflective exterior, damage resistant, weaver mounting style
Best use: Small/large game hunting
The Truglo Strut N Rut Compact Scope is the best choice for serious hunters based on turkey and deer hunting experts. The Diamond reticle is specially designed to fit the shotgun precisely. It provides quick action and accurate shots, to take down large game.
The crosshairs are easy to see with the bright optics that are all fully multicoated. They give maximum light transmission while keeping the background in clear view. The dependability of this scope goes further with the enhancement of the exterior characters.
Featuring an aircraft aluminum grade design, it is not only durable but can withstand a lot of pressure and high impact. It is impervious to water and fog; meaning that one can use it in all weather conditions.
The matte finish keeps reflection away, so one can easily conceal their presence in the wake of hunting big game like deer. It is a 100% scratch, dust, and debris resistant, making all the features for a durable scope.
You'll be impressed by the lenses that have the best light gathering capacity. In that, they make for hunting between dusk and dawn easier. One experiences better clarity and can make it through rough hunting conditions.
Since it is ideal for short range hunting, they provide more contrast, ensuring that one gets a clearer view in the case of an emergency close shooting. Its dark edges help in reducing glare while preventing light from infusing through them.
When it comes to sighting, this scope provides permanent, eye relief and no parallax. It features strong leaf spring which keeps the settings locked in position.
The rubber eye guard is a sure fit to make the focus remain on the point where the range is easily acquired. It also protects you from discomfort when it lies against your face.
This scope mounts in a weaver style which works for many rifles. It comes with mount rings for .22 and air rifles. So, if you are planning to use any of the two types, you'll have an easy time getting it to sit properly on your gun.
It is adaptable to use on a wide range of rifles and you can customize it to fit the shotgun further to the rear so that it remains stable. It can as a result of this resist shock and recoil since its position on the rifle determines how well you can make an on-point shot on the first aim.
In a nutshell, this is a flexible scope. It is ideal for short range hunting. The screw down caps allows fast and easy windage and elevation adjustments.
It is reliable in taking shots at moving targets since it has a decent eye relief. It is a one-piece tube design which is easy to user-friendly with ergonomic features so that one does not need experience when handling it. Maintenance is easy through wiping the components to keep them working in good condition.
It has a black matte finish; hence it is also resistant to rust and corrosion. All these features are at a very affordable price, making it a better choice for most hunters.
PROS:
Easy to use
Clear optics
Waterproof, fog proof
Comes with mounting rings
Related: Since the Truglo Compact Strut N Rut Scope comes with adjustable mounting rings which fit most guns, if your gun does not have the Picatinny mount rail, it is smart that you get a Mossberg 500/590 Shotgun Picatinny Rail Mount.
7. Simmons ProHunter Shotgun Scope
Price: Approx. $55
Magnification: 4x
Dimensions: 14.4 × 3.2 x 3.2 in
Weight: 8.6 oz
Specific features: Diamond reticule, HD clarity, low magnification power, wide field of view, quick windage and elevation adjustments
Best use: Close range hunting, harsh environments
The Simmons ProHunter Shotgun Scope calls for attention with all the outstanding features it brings to the table. From the diamond reticle which keeps it in direct focus on the target to the HD clarity on the optics. It makes for the best shotgun scope for use in turkey hunting.
One may not feel the need to utilize a scope in a close shooting, but when faced with a moving and unstable target, you'll need to focus on minimizing wastage of bullets chasing after one little prey.
This scope is in its class, offering low power magnification paired with a large objective lens. With these two features, the shooter has a wider field of view and better clarity of what's going on beyond the target.
It also comes in handy when hunting in unpredictable surroundings since large game may appear in the shooting range, but the eye may fail to identify them if you are using high power. It also gives the shooter fast reaction time to face off a raging target.
It features TrueZero elevation and windage adjustments, through swift and quick audible fingertip clicks on the turret. The caps are rubber coated to give the user a firm grip even with wet hands or when wearing gloves.
Once you've acquired the zero, a tight lock keeps it from shifting, enabling you to make multiple precise shots; hence you can take it on several hunting expeditions.
When it comes to the target acquisition, this scope has permanent 4" eye relief. It enables one to close in on targets quickly since the eye always aligns with the goal.
You'll find it useful as the reticule does not change when you alter the position of your eye or head. It uses one focal plane which hunters buy again and again for its dependability.
It is even more impressive when you look at the black matte finish. This keeps it hidden from plain sight as it has anti-reflective characteristics. It serves to mask your position, and with the help of the multicoated lenses, it does not produce any glare.
The lenses are a unique part because they use high-quality glass to produce very sharp images and a high contrast against blurry backgrounds. With it, you can venture a little more into the night and even earlier during before daylight.
If you aim to use your scope for heavy loads which produce heavy recoil, then you may want to consider this scope. It has undergone rigorous standardization to withstand the recoil typical of most shotguns.
It adds just the right amount of weight to add balance to the rifle you'll be using. The design keeps it holding on to the zero, no matter the abuse it is subjected.
Its robust frame allows for use in harsh climates. The components are housed in water and shock proof casing; so they are able to withstand heavy abuse as is the case with most hunting conditions.
Its rubber caps not only provide grip, but they also keep dust and debris away. It comes at a very attractive cost which is quite surprising considering it eclipses most of the qualities showcased by other models in its price level.
PROS:
Clear optics
Quick Target Acquisition
Easy to install and use
TrueZero adjustment system
CONS:
No mounting rings
Eye relief a bit short
Related: Since the Simmons ProHunter ProDiamond 4×32 Shotgun Scope does not come with mounting rings, a smart idea would be to invest in a set of quality mounting rings such as the AccuShot Picatinny/Weaver Medium Profile Rings.
Features to Consider Before Purchase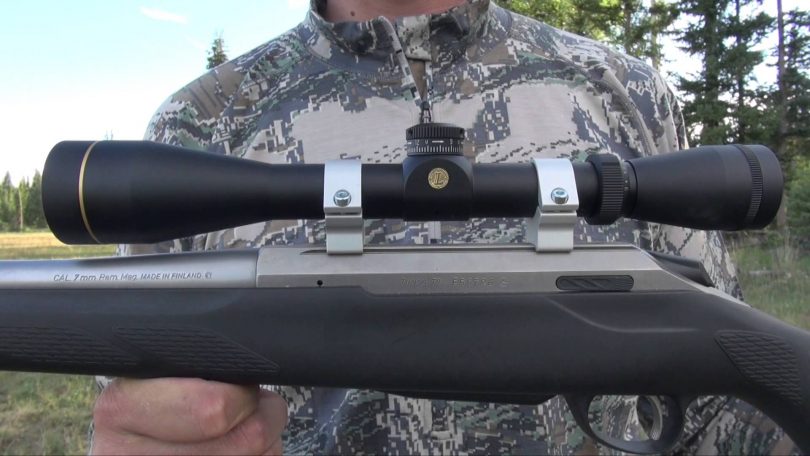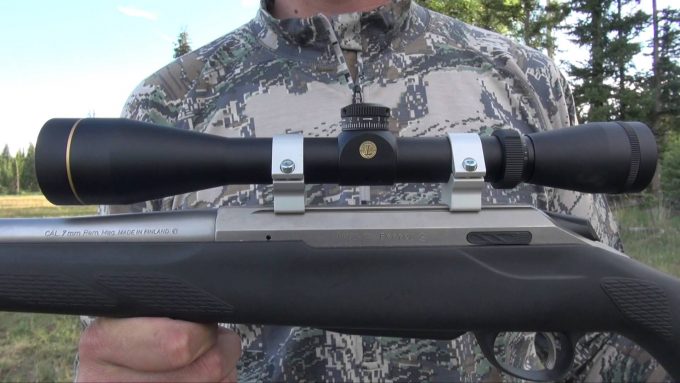 There are many options when choosing the shotgun scope for turkey hunting. Most of the scopes on the market today are highly versatile and adapt to different rifles so it may be a bit tricky to find the best one that ideally fits you and your shotgun. First, look at the important factors before you venture into buying a shotgun scope for turkey hunting.
Reticles
There are different styles to consider. They range from a single style, duplex, or a red dot. Look into the characteristics of each before making your decision.
Durability
Hunting involves a lot of bumping and facing off against rough terrain. How well can your scope hold up to such abuse? The material that it is made of will guide you on what to expect.
Optical Quality
The more coatings they have, the better the light transmission.
If you plan on taking hunts in low-lit surroundings, you might want to rethink the quality of the lenses you buy.
Exterior Design
What kind of style does it showcase? You don't want your scope to give away your position before you go in for the hit. Matte black and camouflage are common types that you should seriously consider.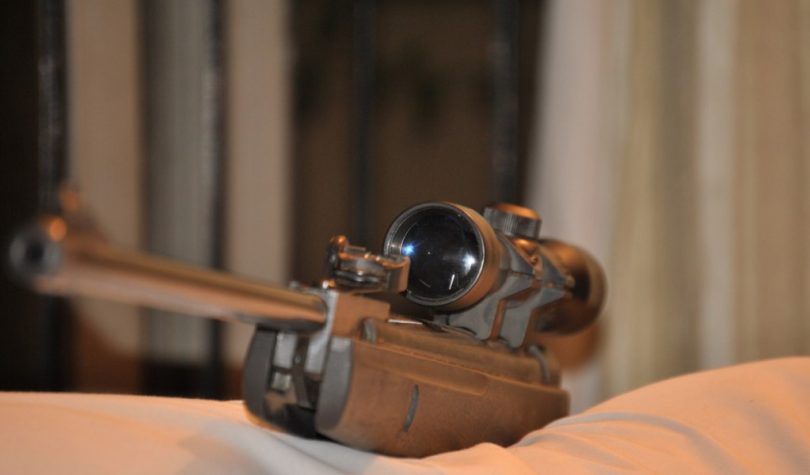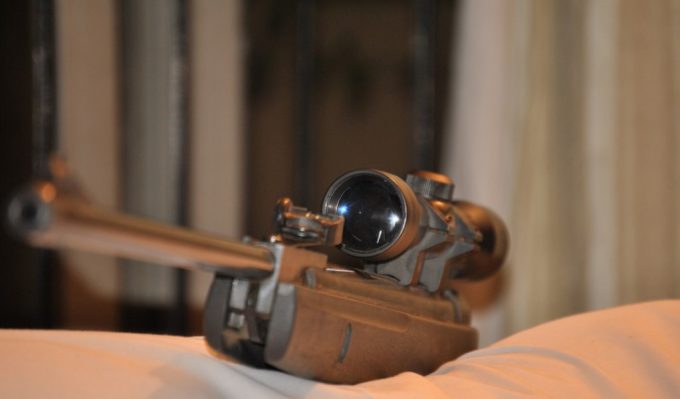 Concluding Thoughts
You don't need to sell a leg and an arm if you plan on treating yourself or a friend with a decent turkey hunting shotgun scope. Most affordable models compete effectively with their counterparts in the upscale end. The list of filters is the best on the market with the aim of helping you get the perfect one with little or no comprises.
Remember to conduct research concerning what others are saying. There isn't a one-size-fits-all, but there definitely is a scope designed to meet your specific needs.
So, if you plan on hitting the fields the next turkey season, we hope you make the best choice. And let us know which option you went to within the comment section.