Military and tactical team personnel have, for so many years, used thermal imaging scopes to optimize their combat efficiency by detecting the seemingly invisible objects. These scopes were, at some points, inaccessible to the civilians because of the tremendous pricing costs. To have quality thermal optics, you were expected to spend close to or over $10000.
But times are changing and the use of thermal imaging scopes is becoming increasingly popular in the market today at relatively cheaper prices than ever before. Thus, today you can find the best cheap thermal scopes to achieve your dreams of nocturnal prey or predator hunting.
To those with little information of how these scopes work, let us give you a glimpse. To start with, these are the best rifle accessories that let you see your targets in challenging terrains and in low-light or night conditions.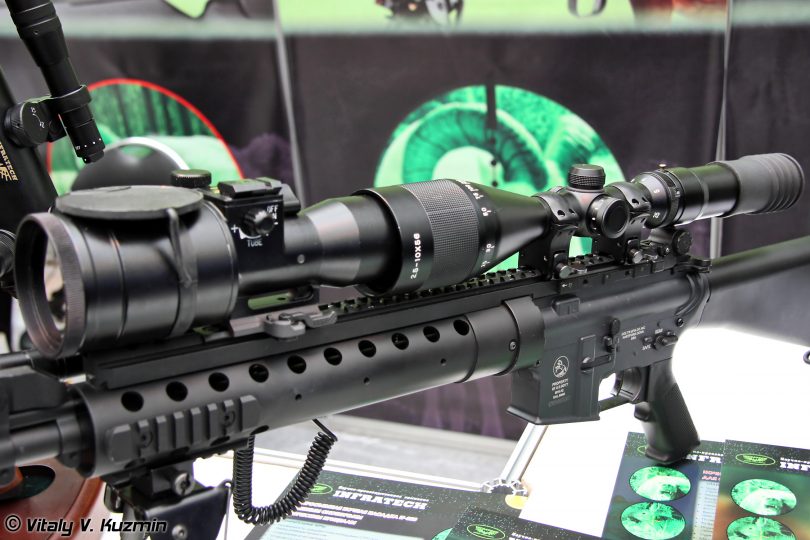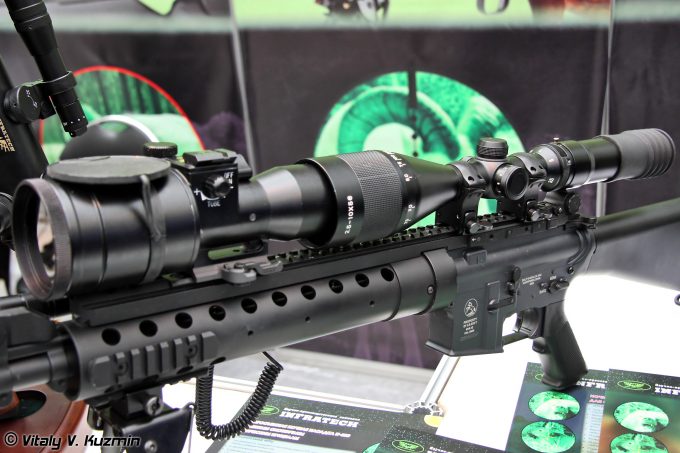 They use thermal imaging technology that detects objects based on the infrared light and the ambient heat energy that every object discharges. The technological advancement of these scopes let you distinguish the targeted object from its surrounding environment since every object emits thermal energy.
Most of these thermal imaging rifle scopes use the Forward Looking Infrared Systems (FLIR), which aids in enhancing night vision by gathering sufficient infrared light. The infrared detector analyses the light that passes to be able to spot the target and then yield the thermogram in a fraction of a second as the output.
These systems enable the scopes to function effectively, notwithstanding the fluctuations of climatic conditions. However, attention needs to be paid on how you choose the best thermal imaging scope to meet your demands.
We know that the market is nowadays plagued with a myriad of scopes with seemingly common features. As thus, it can be challenging to even spot the right one within your budget, more especially when you are new to this hobby of nocturnal hunting with thermal equipment.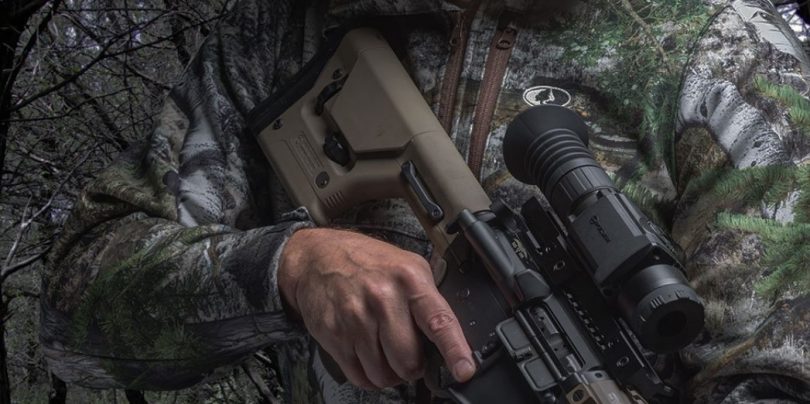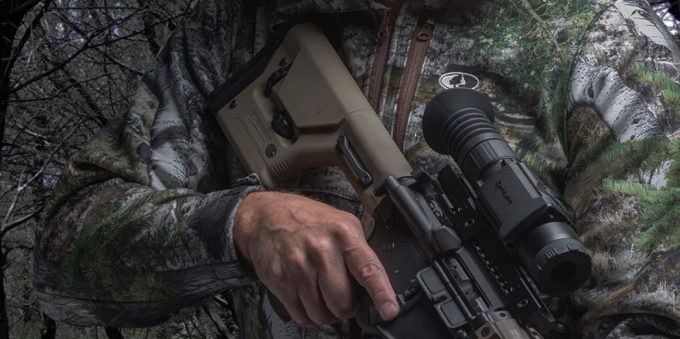 To wipe out your confusions, we have dedicated this article to compiling a range of the best affordable thermal scopes on the market. Our compilation has made it a point that no inferior products are chosen on the basis of inexpensive prices.
Take a look at the table below that introduces the important features of the best affordable thermal imaging scopes that we have reviewed.
Our Top Picks
Things to Consider Before Buying
It's important to familiarize yourself with the most important features to consider before purchasing the thermal imaging sights. Get to know this technology intimately so that you can make an informed and an educated decision of choosing one.
We have discussed some features that are worth considering below, and have consequently emphasized them in our reviews in a quest to help you buy not only the affordable but the scope with the feature set of premium quality.
Battery of the scopes
Nothing can be so frustrating more than a weak power source that will last you for only a few hours while your outdoor adventure has not even begun. It's, therefore, important to choose the powerful power source that will last you at most 8 hours.
This is long enough to achieve your hunting desires. A powerful battery is that one of Lithium. Most powerful devices make use of this battery.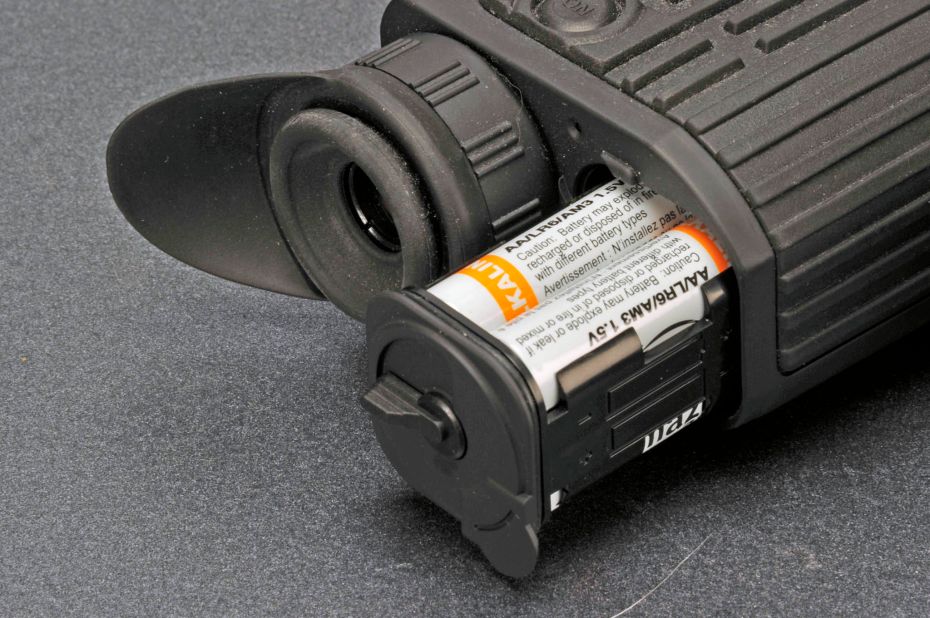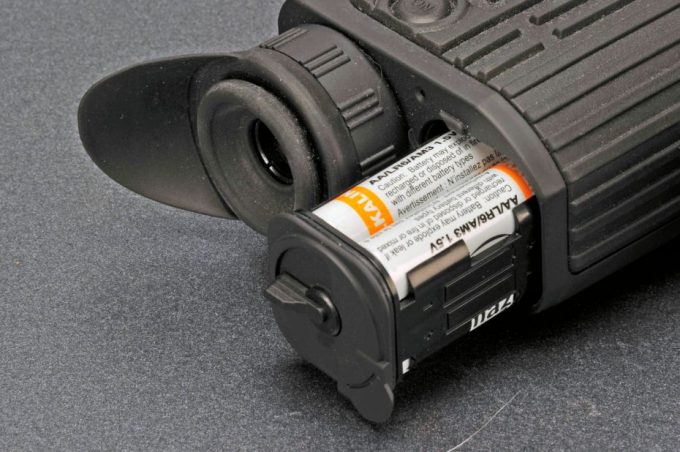 You may bring additional batteries if you are going to use the scope long enough, especially for multi-day hunting. Otherwise look for the models that offer extra batteries with the first package because it costs extra to purchase more. Some of our reviewed scopes offer the same branded batteries at different costs.
Zoom capabilities
Because with these devices your aim is to detect objects farther away from you, you need to prioritize the zoom capabilities as well. You will be able to enhance your chances of seeing the target closely. The thermal imaging scopes usually come equipped with two types of zooms, which are the optical and the digital zoom.
Usually, the optical zoom allows you to enlarge the object being viewed without pixelating it. And with digital zoom, the device uses the software to enlarge the image of your object.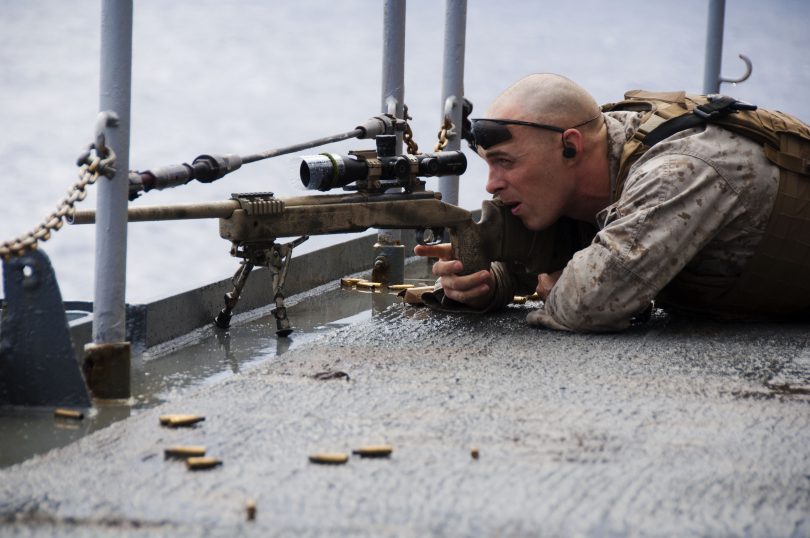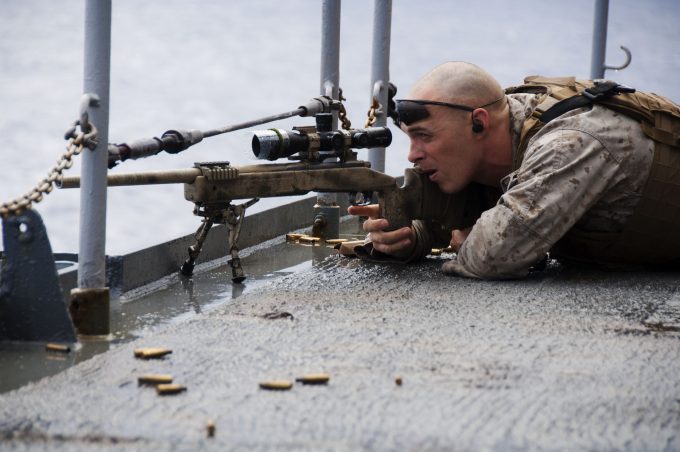 So you have to be careful of your choices whenever purchasing these thermal imaging rifle scopes. Many of the scopes we reviewed below make use of solely the digital zoom.
Resolution
The higher the resolution the crispier and the more vivid the image becomes. Low-resolution scopes will distort your image, so, as a result, your target might not be that recognizable.
Remember that thermal scopes do not uncover as many details as the standard night vision scopes because their main aim is to detect the object through the infrared energy.
For this reason of only the detection of objects, you need a higher resolution that is within your budget. But, bear in mind that the higher the resolution is the higher the relative cost of purchasing your thermal scope.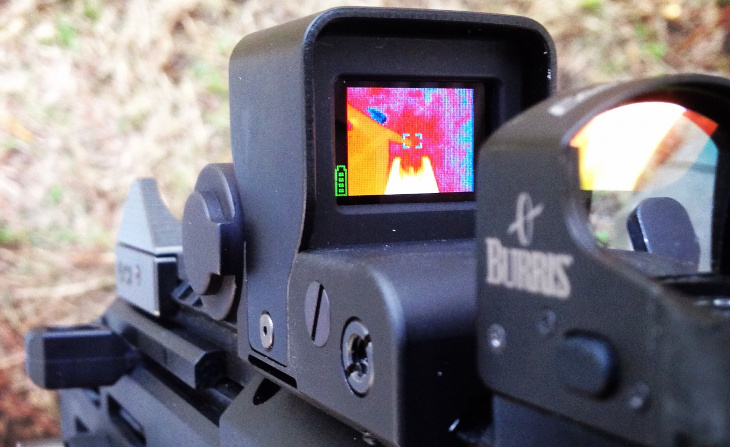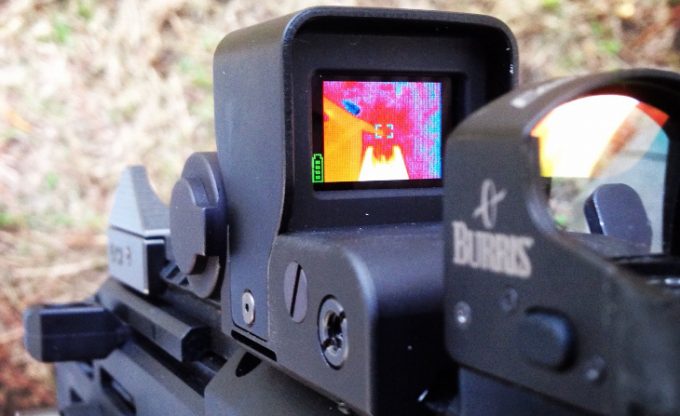 So, if you are serious about using these scopes you wouldn't mind spending so much. We believe that our selected products hereunder offer the best resolution that is within your budget.
Refresh Rate
The refresh rate is as important in thermal scopes as it is with modern technological devices such as the televisions. Usually, these scopes feature the refresh rate in the range of 30hz and 60hz. This basically refers to the number of refreshed cycles per second.
Still, on that, the 60Hz is much better than the 30Hz. But 30Hz is still a good choice. We, therefore, encourage you to choose a thermal scope that is at or above 30Hz.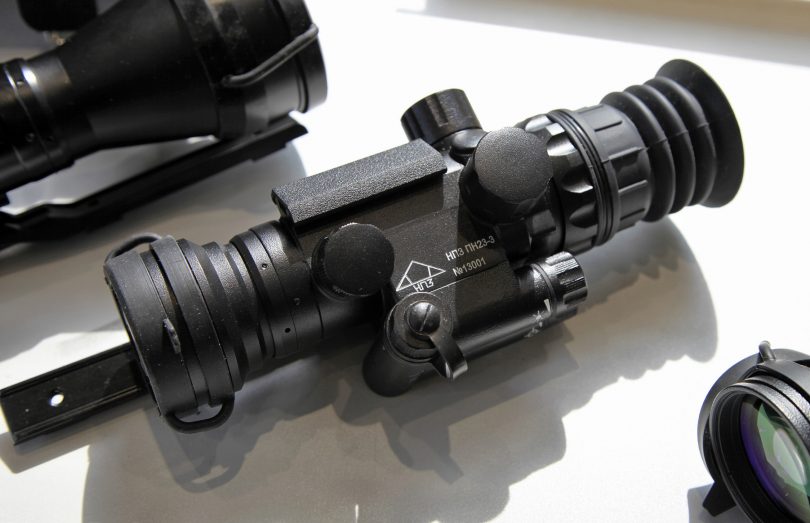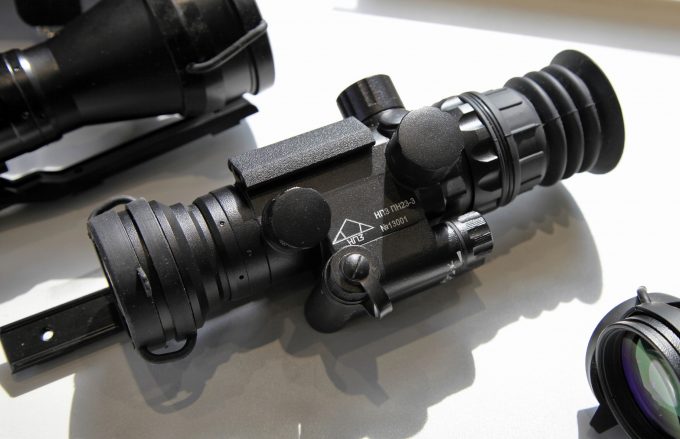 But, if the targets are moving at higher speeds, the refresh rate will not be of that higher significance. The top notch quality of images detected depends largely on the refresh rate. But the ones that are merely on the move will be easy to detect with a higher refresh rate, say, 60Hz.
Reticle
To get those accurate aims and zeroing effects at your target, you need quality reticles. Fortunately, some scopes give you the option to configure a variety of reticles from cross hair to the central dot. Some thermal scopes may have the reticles with thicker or fine lines. It is, in fact, a matter of personal choice.
We encourage you to opt for the ones that have a variety of options. Beware of some scopes that do not include these features, and pity you cannot afford to operate the scope without them because of their important functionality for precise targets.
Standard Glass or Germanium on the lenses
The standard glass is popular in our standard night vision scopes in providing us clear and crystal images. And, often, scopes with standard glass are relatively inexpensive. It is different with the thermal scopes because of glass, as the best insulator of heat, is irrelevant for thermal imaging technologies.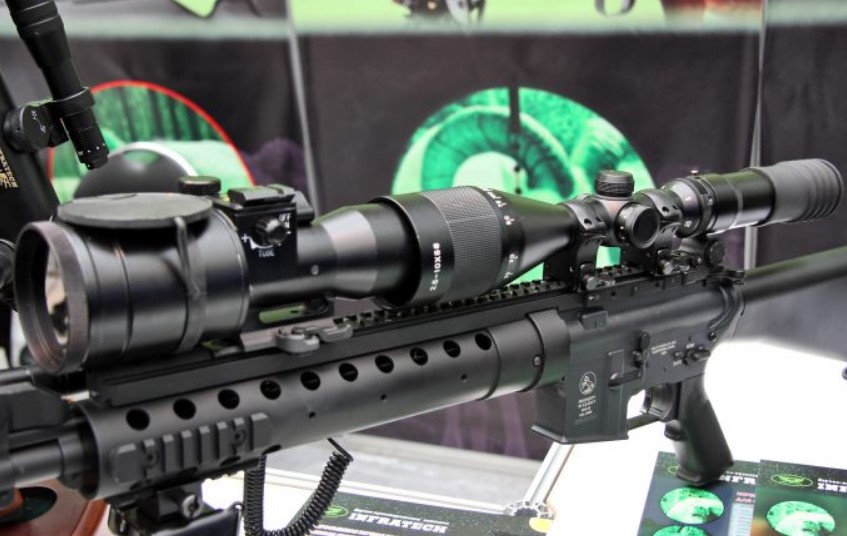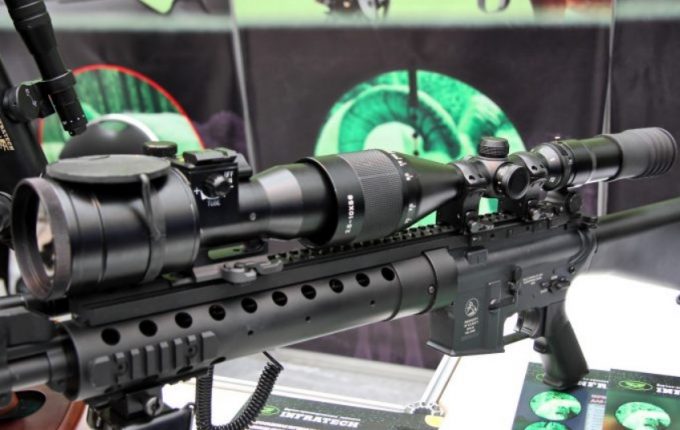 Instead, it might absorb the infrared light and distort it. The results will be poor for you with the thermal optics.
The thermal optics predominantly makes use of the Germanium, which is a chemical element that allows the infrared light to be transmitted without distractions. The infrared wavelengths will be able to pass through the Germanium lenses.
However, you must be prepared to cough out more on these lenses. Luckily, we have selected you the most affordable thermal scopes with these renowned Germanium lenses.
Pricing of the thermal scopes
The other significant factor is the pricing of these scopes. Generally, these thermal imaging scopes are expensive when compared to the standard scopes because of their superior features. You might spend between $1000 and $10000 for these.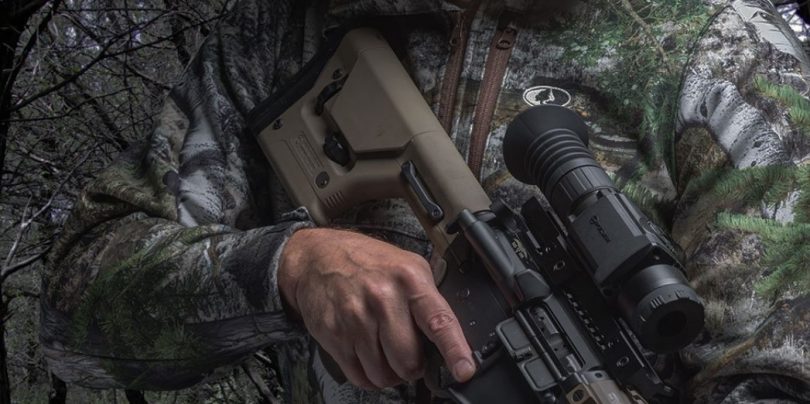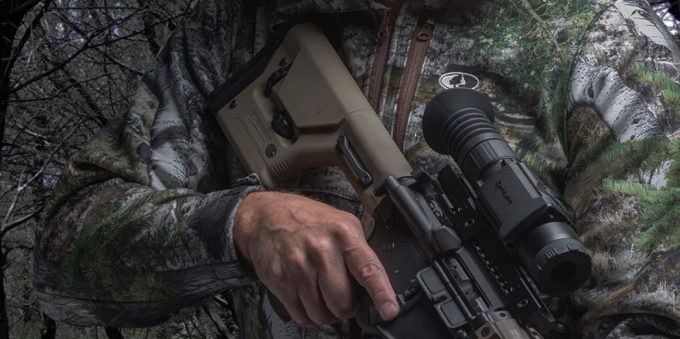 The intriguing thing is that, as years fade, the prices are plummeting. So, the higher price you saw 2 years back might be affordable tomorrow. Today hunters have the privilege to own thermal imaging scopes under $1000.
Knowing very well that thermal scopes are generally expensive, we have sought to pick the most affordable heat imaging scopes. Our most expensive one is under $6000. The higher prices reflect the rich features that one scope has been equipped with.
When choosing for the most affordable, do not compromise the quality because of the price. Keep in mind that these devices are durable and are indispensable in your combat purposes or nocturnal hunting desires. So spending is, after all, not a bad idea.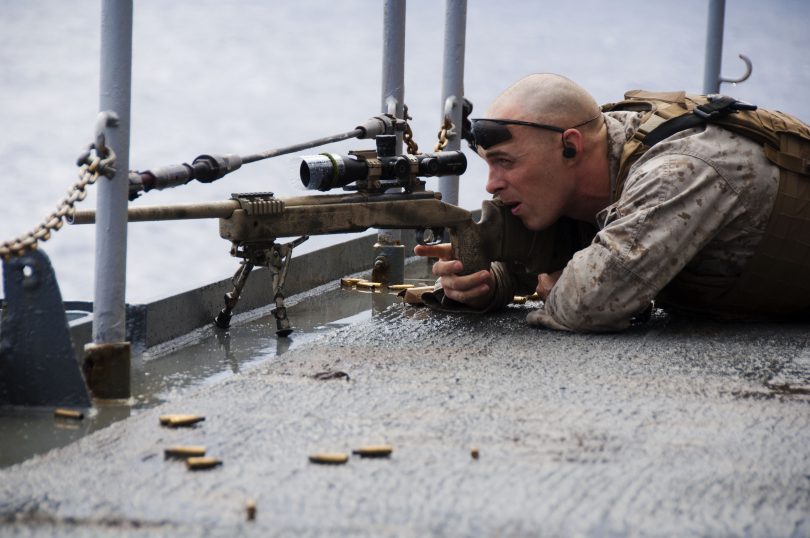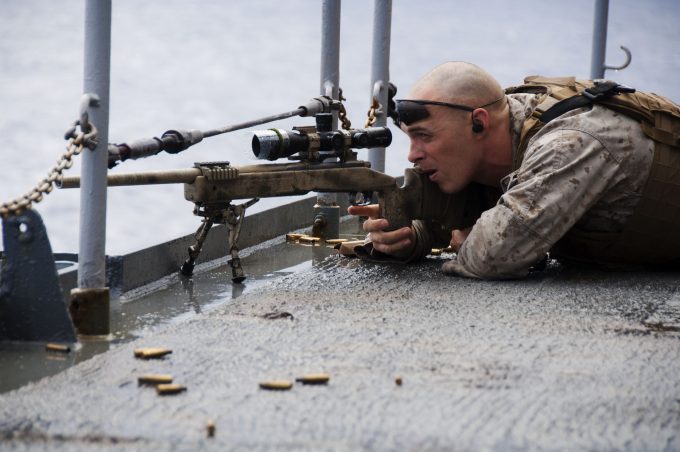 There could be other extra features that these scopes come with. Take into account the Wi-Fi, wireless remote control, iOS and Android app control, video recording capabilities and much more.
We, therefore, do not insinuate that the features we have mentioned are all-inclusive. Take time to read through our reviews hereunder to find the best match of a thermal imaging rifle scope of your chosen brand.
Best Products on Today's Market
FLIR Systems RS64
Weight: 2.9 pounds
Dimensions: 8 x 3.3 x 2.9
Specific features: Fixed focus, advanced image correction, active matrix LCD display, varying reticle colors (black/green/red/white), duplex, fine duplex and German reticles,
Best use: For nighttime hunting, enemy targeting, home guarding
Looking for the advanced thermal imaging scope that is equipped with all the crucial features for your hunting desires? Then look further than the FLIR Systems RS64 as the most convincing scope when looking intimately at its supreme features.
This scope caught our attention with its optimal magnification range of 1.1 to 9x as well as the resolution of 640×480. These are the features of paramount importance that give the scope a unique identity and functionality.
Hunting for coyotes and hogs will be a cinch when you have this thermal scope. And again, hunting at night will no longer be seen as a burden.
Although the apparent setback of this thermal scope can be the expensive price, one can justify that with the robust and durable design that the scope features. It is certainly a great accessory in any hunter's gear.
The user interface houses a range of features that include the 3 settings for the reticle as well as the color variations of these reticles. The scope provides an ideal digital imaging system that is unparalleled because of its top notch quality. Its objective lens diameter is 35mm and has a great digital zoom capability.
If you are outside of the United States of America, forget about purchasing this FLIR scope. It is regulated to never be sold to anyone out of the US.
PROS:
A great magnification range of between 1.1 to 9X.
Higher resolution of 640×380
Versatile in any climatic or environmental conditions
Magnificent thermal functionality
Portable devices
CONS:
Relatively expensive
Expensive parts to replace if it get damaged
Related: Find this thermal rifle scope a bit more expensive? The company offers yet another model as the FLIR Systems RS32 2.25-9X Thermal Night Vision Riflescope, which is cheaper. It offers multiple resolutions and lens options with a 3-inch eye relief and a magnification up to 9X just like the FLIR RS64. But the FLIR Systems RS64 emerges as the big brother with a supreme features.
BOA X Thermal Reflex Sight
Weight: 0.36 pounds
Specific features: 8 different reticles, resolution of 160 x 120, military-grade quality, IP68 rating, reticle adjustment, quick release mount
Best use: For nighttime hunting, security purposes
Now for every avid hunter, there should be no excuse for owning a thermal imaging scope based on expensive price because here's a model for everyone. This is one of the cheapest scopes we have come across with impressive features in its price range.
For just under $900, you can take hunting to another level and hunt at night freely, without low light interruptions. BOA X Thermal Reflex Sight's low price comes with a broad set of features.
The great side of these features includes the 8 different reticles, which then gives you the option to spot your targets precisely. Even more, you can adjust the reticle to suit your spotting needs.
The durability of this scope is backed by the military grade quality, which will not disappoint you. And it is also worth to mention the IP68 waterproofing rating feature.
To have a better quality of images, the resolution of 160×120 pixels is in-house of this lightweight thermal imaging scope. This makes it ideal for firefighters, homeowners, and other law enforcement agencies. Even civilians can enjoy the features embedded in this scope.
The only downside that has disappointed others is the refresh rate which is relatively slow. As we discussed in the features, in the beginning, this represents the number of cycles per second. It is often represented in Hertz. And any refresh rate below 30Hz is unimpressive.
But this does not affect the quality of this thermal scope. It is quite understandable with the price under $900. We would also wish the company improves the dust cover for the USB port because when not in use, the port can be affected by the dust. This is also a downside, but not a major concern of quality.
PROS:
Affordable thermal imaging scope
Impressive thermal image quality with resolution of 160×120 pixels
Lightweight with just 165 grams
IP68 waterproof rating to use in harsh temperatures
Military grade quality
CONS:
Low refresh rate, but understandable with a low price
Unimpressive quality of features for advanced applications. It was basically designed for primary applications.
Pulsar Apex XD38A Thermal Riflescope
Weight: 3.3 pounds
Dimensions: 15.2 x 4.8 x 5.5 inches
Specific features: 384 x 288 resolution, wireless remote control, 50Hz refresh rate, 950m detection range, 4x digital zoom, one-shot zeroing with freeze function
Best use: For home security, hunting
The Pulsar Apex XD38A Thermal Riflescope may be the best thermal scope you have been looking for. Our first impression was the feature set it has that include the higher resolution 384×288, a 4x digital zoom for you to magnify your targeted thermal image.
On the LCD display, you can be able to view your images or adjust some settings. And the other impressive feature is the 950m detection range of humans. That's a sufficient distance to spot your enemies for an efficient combat with this wireless remote-controlled thermal rifle scope.
The scope is designed with a cutting edge "white hot" and "black hot" thermal technology. The magnification range is extended to make long distance image detection an absolute breeze. The refresh rate is impressively high at 50Hz.
It provides a crisp and vivid thermal image for images that are fast-moving. Meanwhile, a picture-in-picture digital zoom delivers enlarged pictures through the high-quality reticle. You also have the option to choose from manual, automatic or the semi-automatic calibration modes of your scope.
The software of this scope can be updated with the latest version to make sure that it remains competitive in the market. In your package, the carrying case, adapter, batteries, and the 3.3-pound scope are included.
PROS:
4x digital zoom
Higher resolution 384×288
Long detection range of 950m
Updated software
High refresh rate of 50Hz
CONS:
Relatively high cost
It has no extra batteries. So you have to spend more
Related: Pulsar offers the Pulsar EPS5 Battery Pack to lengthen your duration of using this thermal scope. They are affordable batteries, unlike having to run around looking for other priced models. They have a 20 hour discharge time.
Pulsar Apex XD50A Thermal Riflescope
Weight: 0.01 pounds
Dimensions: 15.2 x 4.8 x 5.5 inches
Specific features: 1.9x magnification, 384 x 288 resolution, 50Hz refresh rate, 1400 yards detection range, wireless control, one-shot zeroing with freeze function
Best use: Spot enemies at a long distance, hunt for wildlife
Pulsar is a reliable producer of high-quality thermal imaging rifle scopes for law enforcement agencies, security personnel, and hunters. The Pulsar Apex XD50A Thermal Riflescope bears evidence to that.
This scope was engineered for perfection to satisfy your long-distance thermal image detection. The scope is approximately $3300. This is evidence that it is of high quality and suited for professional applications.
The thermal resolution of 384×288 is competitive on the market. You can be able to capture images as far as 1400 yards away from you. On top of that, the magnification has been extended to provide you great images by also using the continuous digital zoom.
No more struggling with your long-distance hunting desires because of low-light inconveniences. Law enforcement agencies can also combat crime easily use these advanced thermal imaging scopes.
The refresh rate of 50Hz makes sure that you get a vivid image even if the object is moving. This is high enough to spot fast-moving objects. Other features include the 3 operating modes, which are rocks, forest, and identification for an improved contrast of the images from its surrounding environment.
Furthermore, you can choose from semi-automatic, manual and automatic calibration modes. The lens can be calibrated in less than 2 seconds because of these calibration options.
The other feature worth mentioning is the one-shot zeroing and the freeze function which takes the thermal image of the object to quickly zero the cross hairs to the weapon's point of impact.
This high-end thermal scope is intended for professional users. But the inexperienced can make use of the operator manual included. Others have mentioned the menu not being intuitive. This can be solved by familiarizing yourself with the operator manual.
The other concern was the focus of the scope. This can be offset by the premium quality detection range and target identification.
PROS:
Higher refresh rate 50Hz
Higher resolution
1400 yards detection range
Wireless control
CONS:
Lower magnification of 1.9X
Relatively expensive
Not easy user interface, unless you rely on the operator manual
Related: Add to your price the indispensable Pulsar EPS5 Battery Pack. Without powerful and enough batteries you might not enjoy the fruits of owning this thermal scope. Instead of running around looking for other models, the company has made provisions for this pack of batteries.
ATN ThOR HD 384 Smart
Weight: 1.7 pounds
Dimensions: 6.85 x 3.16 x 3.14 inches
Specific features: Wi-Fi and GPS, image stabilization, iOS and Android app compatibility, range finder, 384 x 288 resolution, w/1080p video,
Best use: Hunting, security surveillance, enemy detection
The technology of thermal imaging scopes is rapidly advancing. Who ever thought that one day the smartphone control can be used to control these scopes?
The ATN ThOR HD 384 Smart is a proof that indeed technology is on another level. If you have your iOS or Android-powered smartphone, you can control this scope efficiently. Moreover, the Wi-Fi streaming and GPS geo-tagging are made possible too. What more do you want to be impressed?
The video resolution of 1080p and the 384×288 sensor are impressive features too. You can capture video to view it later on to reminisce the great moments of thermal technology. The 19mm objective focal length makes sure that you detect a great thermal image quality.
All these features prove that the ATN 384 THOR-HD is technologically advanced on the market. It commands more power, feature-rich, and a lightweight package. Other features include Bluetooth, 3D Accelerometer, 3D Magnetometer and 3D Gyroscope. The RAV (recoil activated video) takes control of your image/video shots.
Thermal imaging is made enjoyable by ATN with its high-end and exceptional products. The thermal vision is of premium quality. Unique features of this scope include the quality reticles and the recoil activated video. You do not have to worry about pressing the video record button when you have the RAV feature.
The downside we have some talking about is the difficulty of using the scope while wearing your protective eyeglasses, especially when you want to adjust the focal lens. The advice would be to remove the glasses and adjust the lens. The menus as well might seem a bit difficult to master, but with the help of the operator manual that you can solve this.
PROS:
iOS and Android app controlled
Feature-rich set with a 3D gyroscope, accelerometer, etc.
GPS for geotagging
Video resolution of 1080p
Image stabilization
CONS:
Not easy to use with eyeglasses
Have to take off glasses to adjust the lens
Menus not intuitive. Have to master the operator manual first
Related: The Company has made provisions to extend your use by offering the ATN 16 Extended Life 16000mAh Battery Pack. These are powerful batteries to last you long.
Wrap Up
This is the end of our best and cheap thermal scopes on the market. The 5 scopes were handpicked based on their great features that are indispensable for hunters, as the scopes are ideal for hunters. We have also endeavored to provide only the product that will not break your bank balance.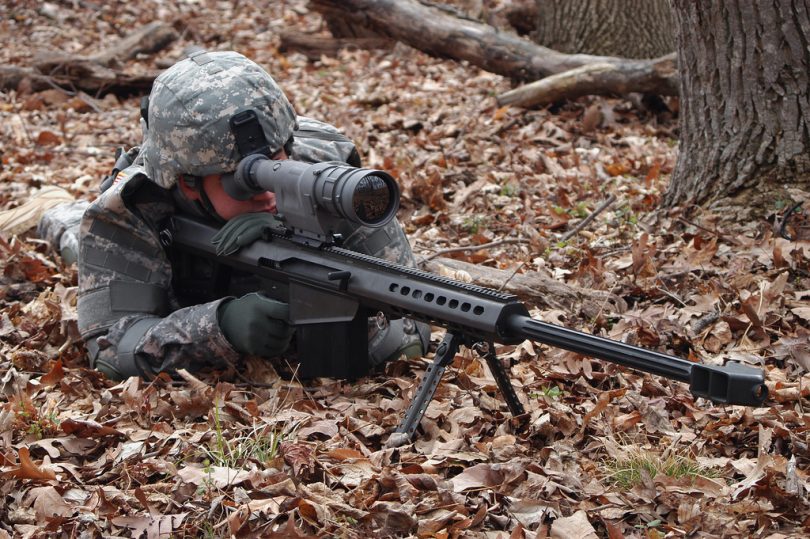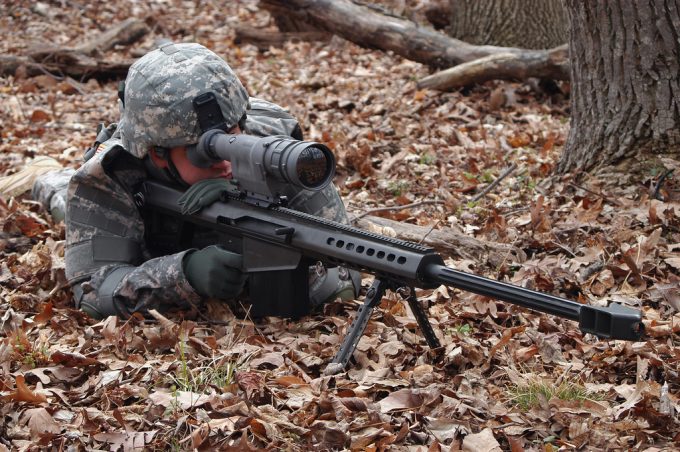 For a record, the most expensive are under $6000. Keep in mind that thermal imaging rifle scopes can even cost over $10000 for high-end features. Our cheapest thermal scope costs under $900.
In our reviews, we have emphasized the important features such as reticles, zoom capabilities, resolutions, magnification and the refresh rate. These are priority features that often distinguish the scopes.
The extra features have also been mentioned such as the smartphone control and the video recording options. But note that if you want superior features, you have to spend more dollars.
Did you ever use any of these thermal scopes? Share with us your experience. If you know of the thermal scope that is also cheap and amazing, please share with our readers below.