There are two things in the name of the Bushnell Bear Grylls Binoculars that will attract anyone's attention; Bushnell and Bear. The term Bushnell has become the synonym for the best optical products. The company has been making optics for over 50 years. Over this time, they have perfected their art, as can be seen in this particular product.
This is the reason why every one of the products you buy from Bushnell comes with a lifetime warranty where there are no questions asked. Towards the end of this article, we compare this unit with other Bear Grylls binoculars from the same manufacturer.
The second term in the name that speaks volumes is bear. According to the manufacturers of this product, this is a reflection of the fact that the product is as strong as the bear.
Product Specifications:
100% waterproof, O-ring sealed and nitrogen purged, fog-free
Premium BaK-4 prisms and multi-coated optics offer crisp clear images with improved light transmission
Non-slip rubber armor and Soft Texture Grip absorbs shock and provides a firm grip
Compact and rugged; 8x magnification and 25mm objective
Center-focus knob for easy adjustments; limited lifetime warranty
The main brief the designers of this product are given is that they must make a product which is as tough as the man they are made for. The manufacturer equates the product with the bear because it is designed for tough and unforgiving conditions.
The people at Bushnell will tell you that this product is made for those who do not shy away from challenges and thus, want their optics to have the same quality. The fact that this pair is compact does not compromise on its durability. Expect 100% water and fog proof. Reliability is enhanced by O-rings and nitrogen filling.
Review
It is easy then to think that since this is a product with a number of good features it would cost a premium. The fact is that the Bushnell Bear Grylls is actually an affordable product. It is ideal someone working on a tight budget but still looking for value for their money.
One of the most important ways of determining whether a product is a good fit for your needs is to look at the specifications. In this section, we are looking at such specifications as packaging, design and durability, magnification, the glass and other such important aspects that make a good optical product.
Packaging
The packaging of a product such as a pair of binoculars is not something that buyers tend to care a lot about. However, as a buyer, you will want to know what you get in the box with your brand new product.
While this should not be the most important element you are looking at when selecting a pair of binoculars, it is still important. When we looked at what you get in the packaging for your new pair, we are tempted to rather talk about what is not there than what is there.
The package actually included just two things. You get the Bushnell Bear Grylls Compact Roof Prism Binoculars and the embroidered carrying case. The carrying case is well constructed and fits quite nicely, if not a little too tight.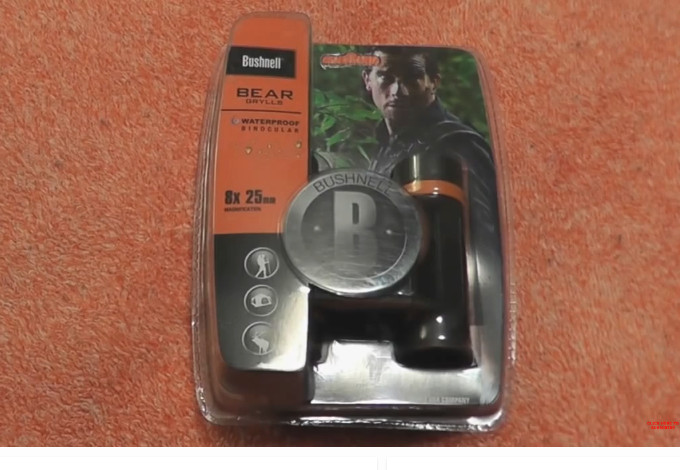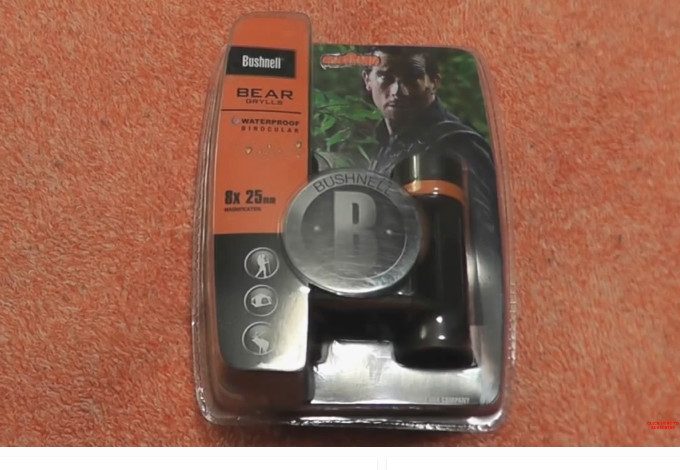 Yes, that's all! There are no lens caps. This would help to protect your glass in the event that conditions are too rough. However, the people at Bushnell will tell you that you do not need these because the pair is as tough as a bear.
Another important thing that is not included is a neck strap. We think this is important so that you can free your hands to do other things when you are not using the binoculars. Apart from not having a neck strap, there are no openings so that you can buy one separately.
Design and Durability
If we were asked to describe the design of this pair in just a single word, it would be compact. It is important that a product such as this one be compact as you do not want something bulky that will cause you discomfort when using it for extended periods of time. However, the fact that it's a compact pair does not compromise on its strength.
Like other good products in its class, and as it is to be expected from a product manufactured by Bushnell, this pair is both 100% waterproof and also fog proof. It is O-ring sealed and purged with nitrogen.
Nitrogen gas enhances the efficiency of optical instruments. Filling this pair with nitrogen ensures that naturally occurring oxygen does not accumulate and therefore cause fogging which will make it a challenge for the product to deliver a clear image.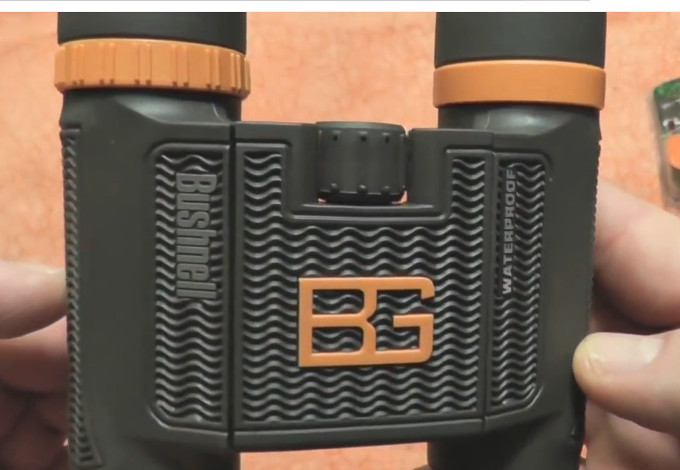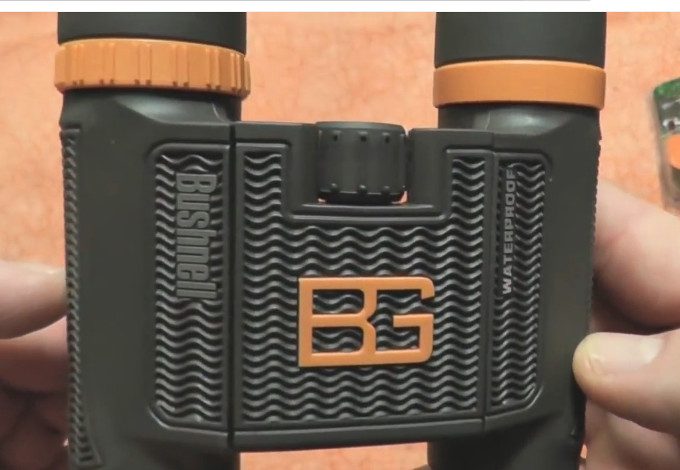 The body of this pair of binoculars is built to last. Thick rubber armor is used to coat the unit right around. This makes the binoculars comfortable to hold and reduces the probability of the pair slipping off your hand.
This is also enhanced by the texture. The closed bridge design, however, makes it a challenge to hold this pair with just one hand when you are using it.
The thick rubber armor also ensures that in the event you drop your binoculars onto a hard surface, the glass will not break. This is also enhanced by the roof prism design. These binoculars are designed for use in all types of conditions.
Optics
The type of optics used in the Bushnell Bear Grylls is the roof prism. The reason why they have selected the roof prism is so that they could keep the product compact while at the same time lightweight. The roof prism also ensures that the image you see when using this pair is erect.
The popularity of roof prism binoculars over the years is ensuring that the product remains rugged but at the same time strong. You no longer need to spend lots of money to get great optical quality in binoculars such as this one.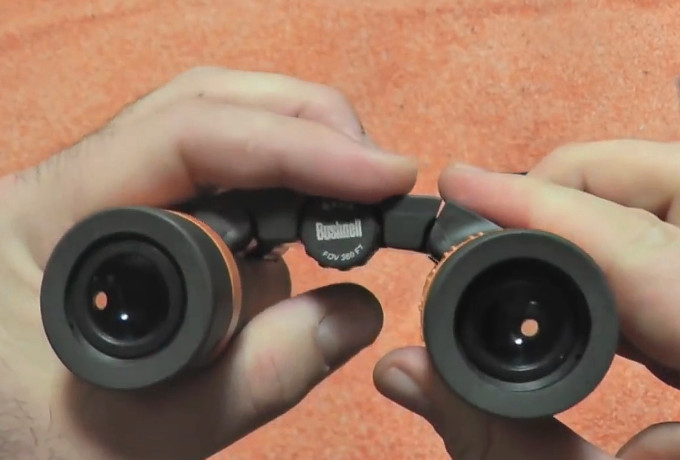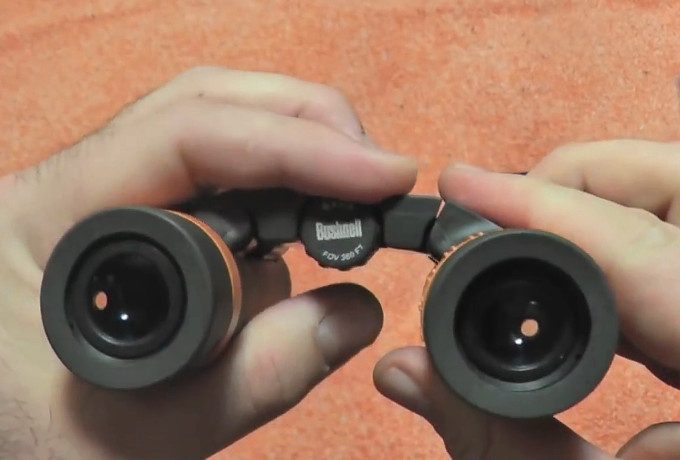 The lens on this product is also fully multicoated on all air to glass surfaces. This is the reason behind the excellent light transmission due to this antireflective treatment.
One of the most important things you should look out for when buying an optical instrument such as a pair of binoculars is the glass used to manufacture the product. Bushnell gets it right again on this one. They have deployed BaK-4 prism glass.
This is the reason why the image quality you get from the product can only be described as superb. This is also the reason behind the exceptional color saturation. It also ensures that the view at different distances is crisp.
Eye Relief
The eye relief on your pair of binoculars is something you want to pay close attention to when you buy. It will determine how comfortable the unit you buy is. This refers to the distance that your eye has to be at from the eyepiece of the binoculars for you to see the full viewing angle.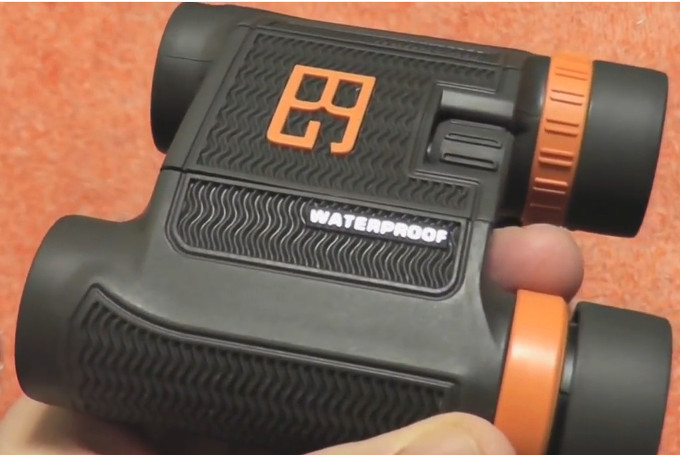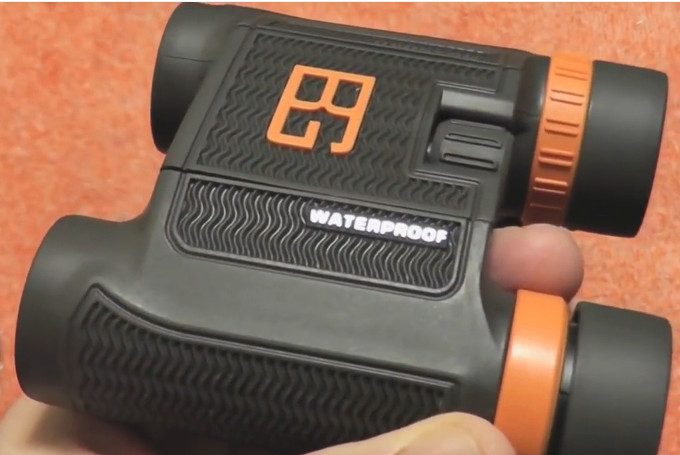 In the Bushnell Bear Grylls Binoculars, you get an eye relief of 13.5mm. We think this is a little too short. Experts will tell you that a good eye relief should be between 14 and 20 mm. However, the eye relief on this pair allows you to use it either with or without glasses. To get your viewing preference, twist the eyecups.
Magnification
The Bushnell Bear Grylls is equipped with an objective lens and a magnification of 8X. The pair provides a good quality image which also comes with a great resolution.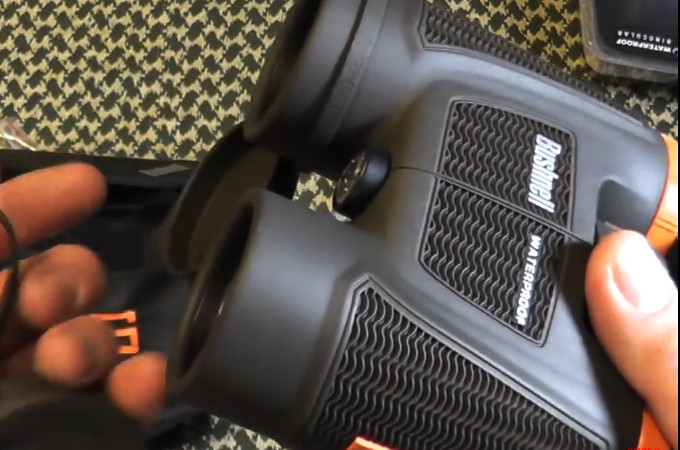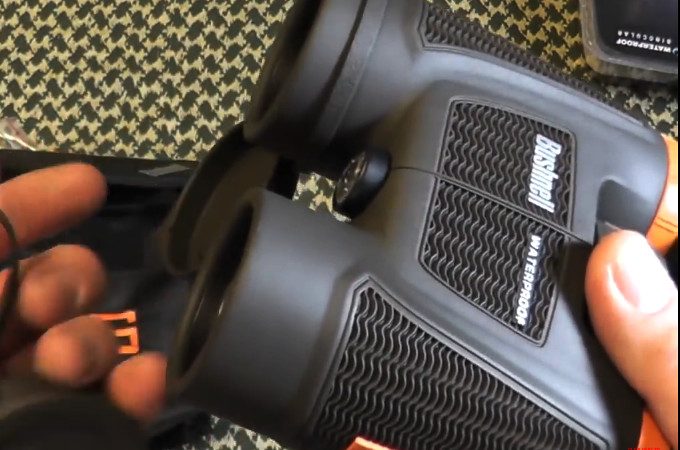 The images delivered are easy to focus. With this pair, you can expect a close range averaging 14 feet. At 1000 yards, you get a field of view measuring 360 feet.
Other Specifications
The product dimensions are 3 x 7 x 9 inches. It weighs a total of 10.2 ounces outside its packaging and has a shipping weight of 15.2 ounces. It uses a center focus system. The field of view is 360 feet at 1000 yards. The close focus is 14 feet.
Value for Money
The Bushnell Bear Grylls Compact Roof Prism Binoculars might not cost a lot but they certainly deliver a lot. We can safely say that this pair is great value for money. They perform just like other units that will cost you twice the money you will pay for this one.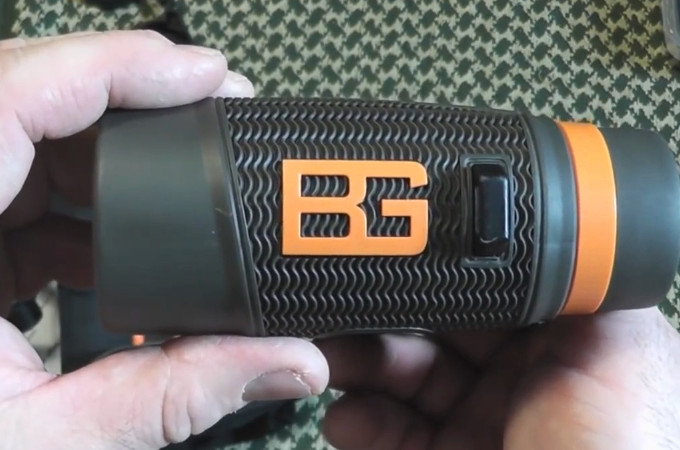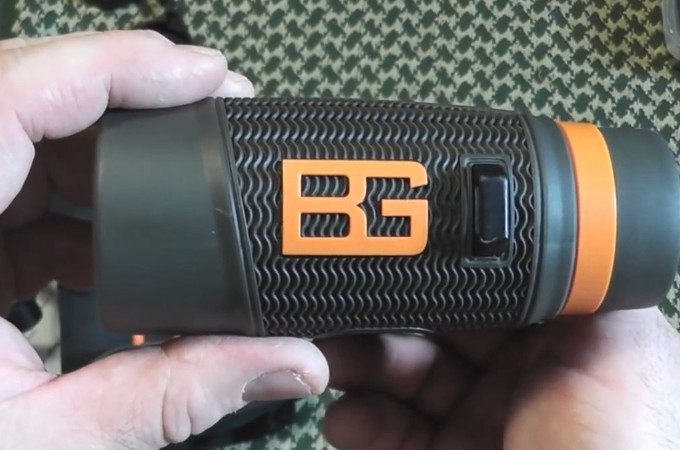 When describing this pair, we can confidently use the term excellent, without a fear of contradiction. Add to this the fact that all Bushnell products come with a lifetime warranty where you get no questions asked, and you will know why this is one of the best products in this class.
Main Competitors
You will never have an idea of how a product compares to others in its class until you take some time to look at what the competition looks like. This also gives you a chance to select another product just in case you do not like the main one we have reviewed.
Bushnell Bear Grylls 10 x 42mm Binoculars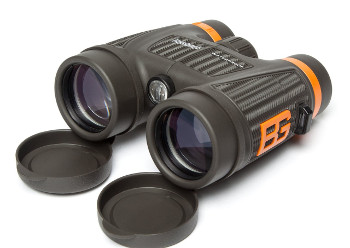 The Bushnell Bear Grylls 10 x 42mm Binoculars has all the features of the Bushnell Bear Grylls 8 x 25mm Binoculars. It also has the word bear in its name indicating that it too is built to be with you no matter how tough the conditions are. If you look at this product, it becomes clear that waterproof and fog proof is standard at Bushnell.
The Bushnell Bear Grylls 10 x 42mm also deploys the class leading BaK-4 prisms. The reason behind the clear images is a result of the improved light transmission made possible by the multi-coated optics.
The body of this unit is manufactured from non-slip rubber armor which ensures you get a good comfortable grip, no matter how long you want to use the binoculars for.
If there is a difference between the Bushnell Bear Grylls 10 x 42mm and the Bushnell Bear Grylls 8 x 25mm, it has to be the size of the objective lens. In the Bushnell Bear Grylls 10 x 42mm, you get the bigger lens measuring 42mm and in the other, you get only 25mm.
What does this mean for you? It means that with the bigger objective lens you get a bigger field of view. Many people believe that a bigger objective lens ensures you gather more light but this has proved to be more of an urban legend.
Seeing that these two products cost almost the same and they are made by the same people, there are very few things separating one from the other, other than the size of the objective lens. If this really is important in your line of work, you can go with the Bushnell Bear Grylls 10 x 42mm.
Bushnell H2O Binocular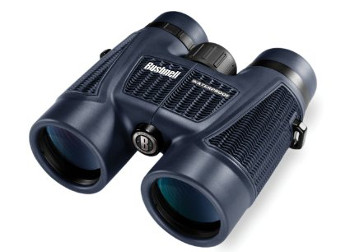 Another product in the same class that you can look at is the Bushnell H2O Binocular. Again, with this product, you do not need anyone to tell you what the credentials of the manufacturer are. We have already done that.
Like the other optical products, we have become accustomed to from Bushnell, this product comes waterproof and fog proof. To show how good things can get, the manufacturers challenge you to immense the binoculars in water completely; they come out dry inside. Even with changing temperatures and weather conditions, do not expect the unit to fog inside.
So, is there a difference between this pair and the Bushnell Bear Grylls 8 x 25mm? Yes, there is. The difference lies in the size of the objective lens. With this unit, you get 42mm. Again, this means you get a bigger field of view. You also get a better eye relief with this product.
We did earlier indicate that we were not so impressed with an eye relief of 13.5 on the Bushnell Bear Grylls 8 x 25mm. If that also does not impress you, then you will certainly go with this one. It also has a 12-foot close focus distance.
When we compare the two, we are inclined to recommend the Bushnell H2O Binocular before we do the Bushnell Bear Grylls8 x 25mm Binoculars. Our reason is that the former has a bigger lens diameter, therefore, delivering a bigger field of view. We also like it because it has a more comfortable eye relief of 17mm. On the overall, it is superior to the later product.
Bushnell 138005 H2O Binocular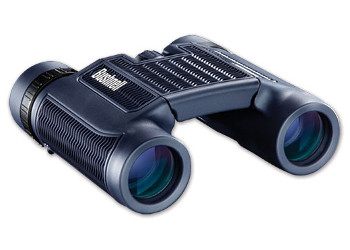 If you do most of your activities on the water, then the Bushnell 138005 H2O Binocular, is exactly what the doctor has ordered. This product comes with all the guarantees and warranties you have come to expect from any product manufactured by Bushnell.  The unit is manufactured to withstand the most challenging conditions out there.
Like all good products in the same class, expect BaK-4 prisms, great glass and multi-coated glass to air surfaces. This is the reason behind the clear views that have become standard in optics manufactured by this company.
Since this product is manufactured to be used in the water, it is 100% waterproof. The inner parts are filled with nitrogen and sealed to ensure that there is no fogging no matter what the prevailing weather conditions are where you are.
We checked the features of this product to see if there could be any reasons why you would choose it over the Bushnell Bear Grylls 8 x 25mm Binoculars and found just one. This would be ideal for someone who wants to view in water with no problems.
Otherwise, the eye relief of 12mm is much smaller than that of the Bushnell Bear Grylls 8 x 25mm which has an eye relief of 13.5. The two products have the same magnifications of 8x and the same lens diameters of 25mm.
Overview
The Bushnell Bear Grylls 8 x 25mm Binoculars is a product manufactured for different uses. Whether you are a bird enthusiast who spends hours following birds in the wild or does so from the comfort of your backyard, this unit will work for you.
If you are a camper who wants to watch everything wild, then you will also discover that this pair will work just as well for you. Maybe the idea is to watch the big city buildings from a distance or see ships as they approach a harbor, this is the product for you.
One reason that gives a buyer of this unit confidence has to be the fact that it comes with a lifetime warranty. This is an indication that the manufacturers have confidence in the product.
When compared to the other products we feature in this article, the Bushnell Bear Grylls 8 x 25mm matches quite well. Of course, it is difficult to see a real difference when you compare products from the same manufacturer.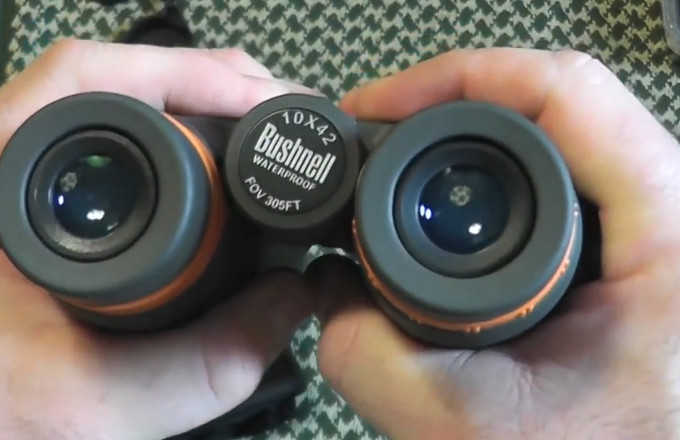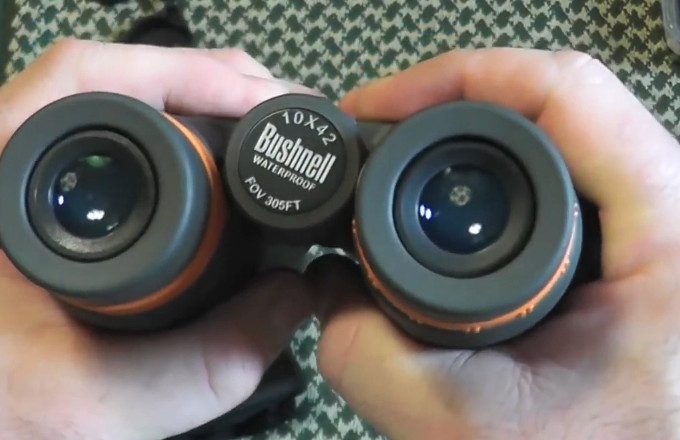 Whether you elect to buy this unit or another one of the others we have featured will depend on what your preferences are and where you are planning to use the product.
The Bushnell Bear Grylls 10 x 42mm will be suitable for someone looking for a bigger field of view and better eye relief. The Bushnell H2O Binocular and the Bushnell 138005 H2O will be more suitable for someone who spends most of their time in the water.
In terms of cost, there is no real difference between all the products we have featured. They are all designed for someone who wants a mix of practicality and value.
The main disadvantage associated with this product is that its design makes it difficult to use while you are holding it with one hand. We did not like the eye relief of 13.5. We think the right eye relief should sit somewhere between 14 and 20mm. The designers can also improve the product by adding a neck strap or at least make the holes on the product where you can buy your own strap and put it.
To ensure that we give an objective review of this products, we want to look at its pros and cons before we call it a day.
PROS:
Good price coupled with great features
Great light transmission
Delivers a clear and crisp image
Water and fog proof
Lifetime warranty
CONS:
Design of the body makes it difficult to grip the unit with a single hand
Comes without a neck strap or mechanism to attach your own
The focus knob is a little too small especially if you want to use it with gloved hands
We hope that the article has helped make the process of selecting a pair of binoculars a lot easier. We also hope that the article taught you something you did not know before you started reading it. Our main aim is to provide you will the information you need to select the right product from a market that can be confusing at times.
Bear Grylls Binoculars
Packaging

Design and Durability

Optics

Eye Relief

Magnification

Value for Money
Summary
If you are looking for a pair of binoculars that will give you years of quality service in delivering clear and crisp images look no further than the Bear Grylls 8×25 mm Binoculars. To a large extent, this unit provides value for money. If you look at many of its features, you will realize that it competes well with products that are in a higher price range. Many buyers tend to stay away from roof-prism binoculars because of the belief that they come with a field of view which is very low. This pair actually throws that belief out of the window.
Did we leave anything out? Please feel free to let us know by leaving a comment below or just let us know what you thing about the article.