Are you looking for a binocular that can provide the brightest view during cloudy nights? Searching for the perfect one can be overwhelming and that's why we're here. Today, we're talking all about Fujinon 7 x 50 Binoculars.
We understand that sighting an object from a far distance becomes much easier with a binocular and because of the special features Fujinon offers it makes it very easy to handle. It can be used for several purposes such as land surveying, geographical data collection, bird watching, hunting, range finding and in the military. This binocular model will provide you a perfect viewing at a very high magnification without shaking, but can also be mounted on a tripod when its weight is unbearable for you.
Product Specifications
Floats when used with provided strap
Exclusive new design
Lightweight

World Compass

Individual Focus

Bright fully-coated Fujinon optics
Extra-long eye relief
Porro Prosm Optical Design

Waterproof

Built in energy-saving LED nightlight
Easy to use in night
Fujifilm's 5-year limited warranty
In order to make a buying decision easier for you, we will explain the main features and the review of the Fujinon 7 x 50 alongside its competitive products that are present in the market.
Review
Perfect for beginners who are looking for a binocular that's easy to use and handle, Fujinon 7 x 50 is the most sellable model from their line. Although a bit pricey, it features lots of options that will amaze you and make you believe it's worth every cent.
Fully 100% waterproof, Fujinon 7 x 50 is durable and made to last. With 7x magnification, you'll have a clearer and closer view of objects. It also features an exit pupil of 7.14 mm, so if you compare it to the 4 x 20 model that has an exit pupil of 5 mm, Fujinon 7 x 50 is better because the larger exit pupil the better the quality of the image is produced.
As for magnification, it is a very important feature to consider as it indicates the quality of the image when enlarged, and this is where Fujinon 7 x 50 also scores. So, let's see all the features Fujinon 7 x 50 offers.
Packaging
Well, Fujinon really nailed it with this model when it comes to the packaging. It was somewhat surprising that they included all sorts of accessories. So let's have a peek at the box.
Everything is packed and sealed nicely in a card box and the shipping weight is 2.75 pounds, which is not much considering the fact that the binocular itself weighs 2.60 pounds. Inside, you'll find a strap casing, an amazing built-in lamp, a compass and an adapter so you can mount the binoculars on a tripod more easily.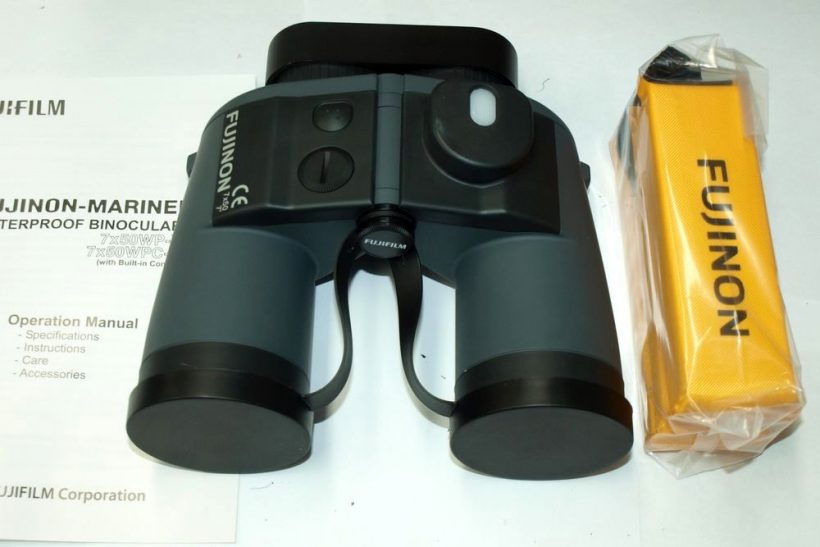 Some standard accessories Fujinon provides are also included such as neck strap, objective lens caps and dual eyepiece caps. It also comes with a 5-years warranty, though the warranty doesn't cover the standard accessories.
Design and Durability
This binocular has one of the best designs and it's very durable. As we already mentioned, and this is important, it comes with a floating strap. So, therefore, when using the binoculars on water, its safety is guaranteed because if it falls into the water it cannot go deep. It will rather float on water.
One particular feature that is unique to this binocular is its Porro prism optical design. You can never be lost while using this device at night because it has in-built lamp for viewing and compass which will always point you in the right direction.
It is built with weight in mind, so it is not as heavy as other products in this category, although it is a bit more costly than other models from this brand. What you need to consider before buying is how you usually take care of your gear.  You should handle this device with more care because it is fragile.
Objective Lens Diameter
This feature of the binocular shows how lights are brought together with the aid of the objective lens to form an image. For example, this Fujinon model has a magnification of 7x and an objective lens diameter of 50 mm. So, keep in mind that the larger the objective lens diameter of the binocular is, the sharper the image is produced.
Even though 7 x 30 model, for example, has the same magnification as 7 x 50 model, the binocular with an objective lens of 50 mm will produce a clearer and brighter image because of its increased object lens diameter. Therefore, this particular model we're reviewing today is highly recommended for users who need a product with perfect magnification.
Unique features
Let's have a look at other unique features Fujinon 7 x 50 binocular has.
Body resistibility: The materials used to construct this device has high resistance to water and other degrading environmental factors because of its body is 100% waterproof.
Exit pupil: Fujinon 7 x 50 binoculars have an exit pupil of 7.14 mm providing great viewing with quality images.
Compact body: The body structure of this device was designed in such a way that it will be easy to handle. This will enable proper safety of the device by not allowing it to fall of the hand without difficulty.
Good magnification: The 7x magnification attributed to this particular products make you have a clearer and closer view of an object in the field. As a result of this, you can get quality and perfect viewing.
Comfortability: With the 18 mm extra- long eye relief system which this product has and its low weight 2.6 pounds, it can be said to give you the maximum comfort that you need during use without stressing yourself that much.
Tripod adapter: For ease of use, this device is made with a tripod adapter. So if you intend to use it as a static point for a very long period of time, it is advisable you mount it on a tripod.
Value for Money and Guarantee
The Fujinon 7 x 50 binocular has a different price range depending on the market, but you can buy for approximately $230. To most people, the price is a bit expensive. But considering the value of this product and what it offers is surely worth it.
It comes with all sorts of accessories so you won't probably have to buy anything as you'll have a full set. Also, the manufacturer provides a 5-year warranty which is more than most other brands and manufacturers offer. If you can go for it, you won't be disappointed.
Close Competitors
Now that we saw what Fujinon 7 x 50 binocular can do it's time to take a peek at some of Fujinon competitors that have similar features. It's always useful to know the range of what can be found on the market today and if there's a better choice. Let's start!
Bushnell Marine 7 x 50 mm Binocular
The Bushnell Marine 7 x 50 mm Binocular has rugged, non-slip rubber armor around it that absorbs shocks and provide a firm grip when wet. Due to the rubber armor, it won't be easy for this device to fall off your hand which is great. It also has a beautiful design, is very durable and it's built to last.
As for the design, the compact body makes it easy to handle during use. The material used for is of high quality and has undergone several tests. This means that it is highly protected from the effect of ultraviolet rays and it's highly built to withstand extreme temperatures which makes it useful for nautical purposes.
What we also love about this model is that it has a waterproof body and a good buoyancy i.e. it floats when thrown into the water. Basically, it is made to resist saltwater thereby preventing its body from rusting.
Its magnification value is good and can give a comparable result with other binocular of its kind and it also has built-in 3-axis digital compass for true heading. The Bushnell binocular, same as Fujinon 7 x 50 can also be mounted on a tripod for ease of use. Bushnell 7 x 50  is a good device that has clarity optics with a perfect HD display.
It also features a premium BaK-4 prism glass with multi-coated optics providing clear, bright and quality image viewing. The optimum stability of this model has a display where its values can be read out. Bushnell binocular is best used for hunting and long range viewing on the water.
Aomekie Ultimate 7 x 50 HD Binocular
The Aomekie Ultimate 7 x 50 HD Binocular is a very good product to get because it can be easily handled with comfort due to its durable rubber-armored coating and its rugged body structure is capable of withstanding extremely harsh conditions. It is highly resistant to water and it's highly stable. Therefore, it is can be used during rainy and windy weather conditions.
It contains nitrogen gas with eliminates fogging and molds on the internal lens of the device. In the package are included a carrying bag, lens cloth and lanyard.
Aomekie Ultimate 7 x 50 HD binocular has a good objective lens of 50 mm, 7x magnification and HD display of an image of an object which means that it provides maximum brightness of an image. This model also features eye relief of 22mm which is more comfortable to view objects without eye fatigue.
It has an angle of view of 7.5°, an internal rangefinder scale which indicates the distance of objects being viewed with the device and orientation. Another great feature is its built-in compass with illumination switch that gives the distance and direction of an object. This Aomekie model is best for hunting and long range viewing on water.
Steiner 7 x 50 Marine Binocular
The Steiner 7 x 50 Marine Binocular is equipped with marine glass that is specially built for navy/military use. It's also waterproof and shockproof. So, in case it accidentally falls into the water, it will not sink nor it will develop a fault.
Other amazing features this device offers also includes BAK-4 prism, an easy to grip exterior and fully multi-coated optical surface. Steiner 7 x 50 binocular has a good autofocus system which makes it have a focus ranging from 20 yards to infinity. Just like other products from our list, it as a moderate magnification of 7x and an objective lens diameter of 50 mm.
This binocular can be used in areas where there is low light due to its light transmission peak which has a value of over 90%. It also has an eye relief of 22 m with a large field of viewing. It is best used by recreational boaters, sailors and anglers has one of the best features and it is also affordable at the same time.
Overview
Fujinon 7 x 50 binocular is an amazing of binocular due to the fact that it has high resistance to water. It also has reasonably good magnification and objective lens diameter.
This model is a most sellable product from Fujinon line, but there are still some other products which are major competitors and can offer the same features at a lower price. It is, therefore, your duty to be on a lookout for the best quality product with perfect features that can best satisfy your desired want. Let's have a look at Fujinon's pros and cons.
PROS:
Compact body with and a beautiful design
Premium BaK-4 prism glass with multi-coated optics
Highly resistant to saltwater
Affordable
Highly resistant to corrosion
Extremely durable and portable
Waterproof body
Very stable
Eliminates fogging and molds on the internal lens
Comfortable to handle
Extremely bright, sharp and quality image
Good eyes relief
Good magnification and objective lens diameter
CONS
:
It is difficult to operate
Limited focus
Not perfect for large field of view
Fujinon 7 x 50 Binoculars
Packaging

Design and Durability

Objective Lens Diameter

Unique Features

Value for Money and Guarantee
Summary
Fujinon 7 x 50 binocular features good magnification, HD lens element, powerful magnification length diameter, wide range field of view amongst others and high resistance to water. It's easy to use and handle so it's highly recommended to those using a binocular for the first time. If you are looking for a very portable, durable and extremely stable binocular, Fujinon 7 x 50 Binocular might be your best choice.
Now it's time you try to decide on whether this binocular is for you.  Have you faced any challenges of using binoculars in the past before? If yes, feel free to leave a comment in the comments section below.