As much as our eyes are affected by the constant and regular use of computer and phones, living without them is not an option for any of us. No matter how guilty this makes us, we find ourselves in front of phone and computer screens more than we would like to admit. They have become a common part of our work and home life both. Cutting phones, tablets, computers out of our life will cause us to lag behind as in this digital era nothing is possible without these.
You would have noticed slight redness in your eyes, excessive squinting or sometimes slight discomfort or blurred vision? Most of us have faced this and the reason for his is none other than spending too much time in front of the screens. This is not because your eyes are getting weaker or your eyesight is poor but because too much glare and blue light are straining your eyes and they need rest.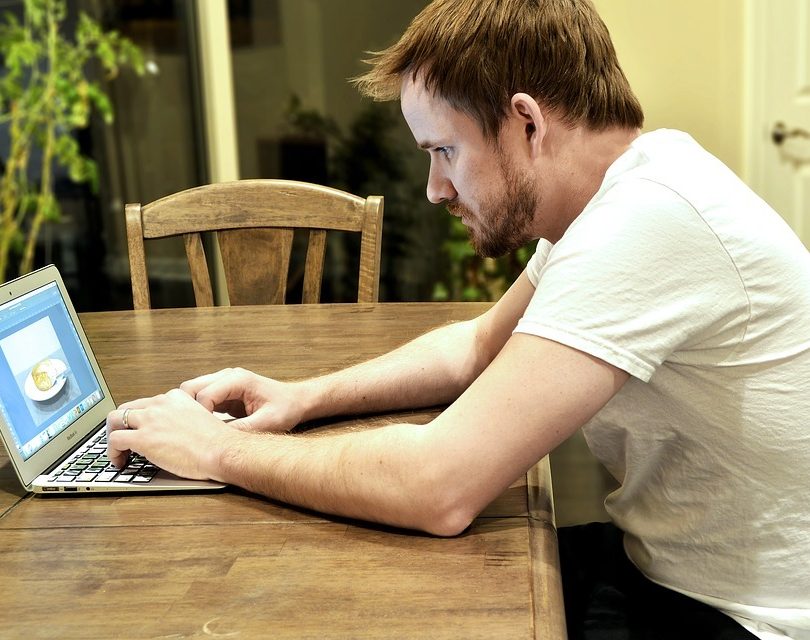 Fortunately! There is something, you can do to help your eyes. The solution to all your problems is computer glasses, also known as "anti-blue light glasses" and "anti-glare glasses." These glasses are specially designed for filtering out the invisible blue light that causes the redness, blurring and straining of eyes. The best part of these glasses is that they can be customized according to your needs. You can buy the frames that you like and get your prescription added to it.
The risk of blurred vision, strained and puffy eyes, redness, as well as ruining of eyesight is reduced largely using these computer glasses. Moreover, it helps in the reduction of back and neck pain due to the stressed muscles.
If you are looking for something that will not only protect your eyes but will give your style, and an extra edge, don't worry we have got it all covered. Instead of buying computer glasses after computer glasses, read a list of premium computer glasses. Wearing these won't hurt your eyes:
Our Top Picks
Premium Computer Glasses
Prospek Artist
These beautiful glasses with the black and gold pattern are ideal for both girls and boys. They have a clear lens that provides 50 percent blockage of blue light and 100 percent blockage of UV rays. The frame is durable and flexible which is designed for people who have to sit in front of the screen all day long. Along with this, they provides zero color distortion and maximizes viewing quality. Anti-flicker technology is also used in it.
Features:
Prospek guarantees that the user will see a prominent difference in the amount of eyestrain, headaches and stressed muscles within days.
The reduction in eyestrain and fatigue lets your eyes blink and function normally.
These glasses are not made for a certain type of screen, they are ideal for all kinds of screens, whether phone, TV, computer screen or tablet.
Complete protection against harmful blue light is given. The harmless 50 percent is let through while the other is blocked.
Zero color distortion is present, which helps in better viewing ability, and clearer, sharper picture.
It comes with 90 days full money back guarantee. No questions asked.
Apart from all this, it is Anti-Reflective, Anti-Scratch, Anti-Oil (Fingerprint Resistant), Anti-Screen Flicker, Anti-Fog, Electromagnetic Ray Blocking, and Anti-Glare.
PROS:
Zero color distortion
Durable and flexible frame
100 percent UV protection
90 days money back guarantee
CONS:
Tight on people with large heads
Prospek Teenager
These glasses have a typical computer glasses look in coral and blue combination. The design is specifically made for teenagers and it gives protection against all kinds of radiation. The high-quality clear lens used is made to last. It is scratch and fog resistant as well. The anti-fingerprint technology used keeps these glasses clean at all times.
Features:
It blocks 100 percent UV radiations whether UV-A or UV-B.
Unlike other glasses, it is not reflective which is why it does not distract the user while working or playing.
Constant screen usage and straining of eyes can be avoided with the help of these glasses.
Patented lenses are used which were constructed after regular sessions of quality assurance and quality control.
The lightweight and flexible frames are highly durable and worth the price.
Comes with a 90 days complete money back guarantee.
There is no color distortion.
Can be used with all kinds of screens.
PROS:
Made specifically for teenagers
It is not reflective
Lightweight and flexible
Cool and dandy color combination
CONS:
Frame is designed for smaller heads (fits teenagers only)
Prospek Premium Computer Glasses
These glasses are one of the best quality glasses available on the market. They have a rectangular frame, which gives a business-like aura. The frame is made very comfortable by adding soft padding and making it flexible and lightweight. All kinds of harmful rays are blocked from reaching the eye. Anti-fog and anti-fingerprint technology used makes these glasses go to glasses, as they are always clean with maximum visibility.
Features:
These glasses are highly lightweight and flexible, which makes these easy to wear all day long.
It blocks 50 percent of the blue light and 100 percent of UV light. This includes both UV-A and UV-B.
The tiredness of the eyes is reduced in a matter of days as it protects from rays emitting from all kinds of screens rather than protecting from a single type of screen.
Most people complain about the high reflectiveness of the lens in computer glasses. With these premium glasses, this is not the case; they are not at all reflective.
The anti-scratch surface of the lens makes it highly durable especially for people above the age of 25 as their prescription hardly changes.
Zero color distortion is present in these glasses.
The style of these glasses is ideal for both men and women.
Comes with 90-days money back guarantee.
PROS:
The frame is lightweight and flexible
Zero color distortion
Anti-fog and fingerprint
Uni-sex style
CONS:
The cleaning cloth that comes with them smears the marks rather than cleaning
Prospek Computer Glasses 99
These glasses have a black classic rectangular frame with the yellow tinted lens. These lenses provide 99 percent protection against blue light and 100 percent protection against UV lights. All kinds of harmful electromagnetic radiations are blocked with these glasses. The frame is quite flexible and has a glassy feel, which does not get rough on the skin. They are quite expensive but give you the premium protection.
Features:
The yellow tinted lens protects your eyes from all kinds of harmful radiations. It passes all the tests whether a blue light test or electromagnetic radiation test.
It can be used with all screen types and is made for extended wear. The lens and frame both are lightweight.
These are made keeping n mind the people who have to sit in front of the screen all night long.
Even though the lens is tinted, it gives a clear and sharp picture.
Like all other spectrum glasses, these glasses are neither reflective nor promote screen flickering.
The anti-fog technology makes it ideal for use in the cold
The design is unisex.
Comes with 90 days complete money back guarantee.
PROS:
It comes with a money back guarantee
Has anti-fog technology
The anti-glare used is of premium quality
The lens is oil resistant
CONS:
These glasses are relatively fragile
Mid-Range Computer Glasses
Cyxus Computer Glasses
These semi-rimless glasses are exactly according to the trend. Apart from giving your eyes the best protection, it also pumps up your style to a new level. They have the clear lens yet provide the best protection. They are also equipped with anti-eye fatigue technology. Moreover, the frame is unisex which makes it ideal according to the price.
Features:
The lens is designed such that hardly any tint is given to the lens yet they protect the eyes.
The clear lens protects against blue light, UV rays as well as other harmful rays.
It prevents any kind of eye-straining and macular problems, which may lead to permanent problems.
The company is registered with FDA, which means no harmful products, and materials are used and the lens genuinely protects the eyes from all kinds of problems.
It comes with a lifetime warranty; in case of any kind of breakage on the lens on the frame, the product will be replaced.
It is available throughout the world.
Due to the clear lens, the viewing quality is not compromised.
Can be tested with a blue light torch, the light is converted into normal white light.
PROS:
No color lens
Lifetime warranty
FDA approved
Dandy and stylish
CONS:
A bit tight for big headed people
Duco Optiks Ergonomic
These gaming glasses are made for people who are too fond of playing games for a long period. They are completely covered wrap around glasses that protect your eyes from all sides. They can also be added to your prescription glasses. With their tinted lens, they are designed to be stylish and cool according to the games. PS4 and Xbox players that use TV screens can also use them.
Features:
They can be easily worn over prescription glasses. The design is such that it does not make you look dumb rather makes you look dandy and cool.
The amber tinted lens comes with anti-glare coating. The ultimate quality lens used to make your vision sharper and clearer.
The digital eyestrain is reduced with the harmful rays blocking technology used. It also helps in improving the vision.
The frame is made of an extremely flexible material that is not only lightweight but is also durable. The hinges are such that they allow 90-degree rotation without breaking. The lightweight makes it easy to wear for a long time. If left on water they will not sink rather float on the surface.
It comes with a 30 days money back guarantee and a lifetime guarantee of any kind of breakages.
PROS:
Can be worn over prescription glasses
Very flexible frame
Lightweight frame
Lifetime warranty
CONS:
Not very effective for progressive lens
Trust Optics FeatherView
These glasses by trust optics are a classic full frame rectangular styled glasses with a combination of coral and black. They reduce the eyestrain to a great extent by blocking all the harmful rays including UV rays and blue light as well. They can be used for both computer reading as well as video gaming. You can also choose your magnification.
Features:
It has a plastic frame with a 136 mm frame arm.
The lens is amber colored with dimensions Bridge Length: 16mm, Width: 52mm, Temple Length: 140mm, Temple Tip Distance: 91mm, Lens Height: 36mm, and Frames Width: 136mm.
The BlueGuard technology used prevents the blue light from reaching your eyes. Due to this, the risk of eye fatigue, headaches, blurred vision etc. is reduced largely.
Apart from blue light UV400 ray protection that comes from the sun is also provided.
The frame is made of lightweight and flexible polycarbonate. The frame is designed to be ergonomic yet stylish.
Comes with impact resistance technology that prevents the glasses from breaking in case of falling or any other accident.
Magnification of lens is also added for the close view, which prevents strain on eyeballs.
It comes with a 90 days money back guarantee and a lifetime warranty in case of any breakage.
PROS:
Protects against UV from the sun
Prevents straining of eyes
Comes with a lifetime
Very reasonable
Unisex glasses
CONS:
The film on the frame is very reflective
Budget-Friendly Computer Glasses
Visionkr Computer Reading Glasses
These glasses are a complete protection for your eyes against every kind of harmful rays the computer screen throws at you. It has anti-blue light, anti-glare and anti-UV technology and a stylish frame with the yellow lens to make you look cool. The blue light blocking lens used are of very high quality and can block up to 80 percent of the harmful blue light.
Features:
The plastic lens has a 50 mm width and 135 mm arm.
The anti-glare coating in yellow color is specifically designed to prevent insomnia and any kind of degeneration in your eyes.
You would have notices watery eyes when you are in front of the screen; the anti-blue technology used prevents that and alleviates dryness.
For efficient blocking of blue light, the lens is
The technology used is of high quality, the lens is anti-fog, anti-scratch with a multi-layer These features added to this product makes it very durable.
It is registered with FDA, which means there is no outgassing of harmful gasses.
It comes with 2 years warranty for all kinds of problems including breakages.
You can add your prescription glasses to it as well.
It comes in a range of different colored frames and lenses.
PROS:
It comes with 2 years warranty
It is FDA registered
It is anti-fog and anti-scratch
You can customize it
CONS:
There is slight reflection inside the lenses
Gamma-Ray 003 Computer Readers
These glasses with an ergonomic design and flexible frame are ideal for individuals who require something durable and adaptive. Along with being ergonomic and flexible, they are anti-glare, anti-blue light and scratch resistant. The lens is amber tinted, this blocks all kinds of harmful lights and prevents straining of eyes. These qualities along with the budget-friendly price they offer make these worth the buy.
Features:
The lens has a 53 mm width and 140 mm arm.
It comes with a complimentary case for carrying the glasses and a cleaning cloth.
The UV400 protection added to it and the glare reduction technology used minimizes eye fatigue and alleviates discomfort caused by long durations of sitting in front of the screen.
The lightweight nylon used for the construction of the frame makes it easy for long-term wear and the flexibility incorporated due to the material used reduced the risk of breakages.
The magnification you require can be selected by the distance at which you place the screen. For 50 percent magnification put your laptop screen at a distance of 19 inches or more.
It comes with a 90-day money back guarantee if you are not satisfied with the functionality of the glasses.
PROS:
It has magnification abilities
It is very lightweight
The frame is flexible
Comes with 90-days money back guarantee
CONS:
They are slightly tight of people with wide faces
Eyekepper Readers
These trendy rectangular frame glasses have spring hinges that make it easy to fit faces of all sizes since the hinges move on both sides without breaking. They provides UV protection as well as blue light protection. The anti-glare technology also keeps your eyes safe from other kinds of rays.
Features:
It has a 52 mm lens width and 138 mm arm. The frame is made of good quality plastic.
It has a slightly tinted lens that will keep your eyes protected from UV and blue light that comes from the screen.
It comes with a hard case and microfiber cloth that makes cleaning glasses very easy.
Superior blue light blocking is used which reduces the risk of all kinds of eye problems due to harmful rays.
The spring hinges used to make them fit for all face sizes and types. The hinges let the arm move on both sides.
The best part is it comes with a lifetime breakage warranty. Apart from that, it comes with a 30 day back money guarantee as well if you don't like the functionality of the glasses.
PROS:
It has spring hinges
It comes with lifetime warranty
Amber colored lens is
Comes in a very dandy style
CONS:
They are not scratch resistant
Gamma-Ray 010 Computer Readers
These vintage styles classy glasses in tortoise style will amp up your vibe. They have all the best anti-glare and anti-UV qualities at a very reasonable price. The frame is extra lightweight which makes wearing them for longer periods easy. It is also made of nylon that is very flexible and increases the life of the frame. Along with this, they are also customizable according to your prescription.
Features:
It has amber tinted glasses that can filter out all kinds of UV and blue light to prevent eyes from straining.
It comes with a complimentary case for carrying glasses and cloth for cleaning glasses.
Along with other rays, it also blocks out UV400 radiation that is quite harmful to the eyes.
It helps in alleviating all kinds of strain, fatigue, and discomfort in the eyes.
The magnification added to the lens can be customized using the distance at which the screen is placed.
The company gives a complete money back guarantee within 90 days in case you don't like the functionality.
Along with the money back guarantee it comes with a lifetime warranty of frame as well as lens breakage.
PROS:
It has nylon frame
Comes with a money back guarantee and lifetime warranty
They are extra lightweight
Amber tinted glasses are used
Buying Guide
The features and qualities that you should look for in computer glasses when you set out to buy them are:
Budget
Once you go out looking for computer glasses you will realize that there are computer glasses ranging from $5 to $200. The ones that you choose depend on the budget that you have. Of course! All the brands sell themselves by saying that they are the best and have used the best quality frames and lenses but definitely there is something more beneficial and protective in high budget premium quality computed glasses.
The difference lies in the quality of the lens used as well as the quality of frame used. The lens used in the low budget is a low quality which is very prone to scratches and breakages. For hassle free buy it is advised that you invest in good quality mid-range budget glasses with anti-scratch and anti-fog technology added to it. These glasses will be durable and also more protective.
Comfort
Always when buying glasses make sure you look for comfort. Try to buy the kind of glasses that are made for your facial type. Usually, some people have a small or larger head as compared to normal, in cases like these one size fits all glasses might be lost or tighter than require. With time this may lead to discomfort and headaches rather than preventing them.
The solution to this is investing in flexible glasses with spring hinges, they fit both large headed and small headed people and does not put any strain on your head. Also, there are some glasses with soft padding on the inside, if you have sensitive skin, it is advised you invest in these glasses.
Lens Type
There are many types of computer lenses in the market. the main difference lies in the type of lens used. There are three basic kinds of the lens that is focused on.
Singe vision: these are the most common one that is used both online and in the markets. They reduce the blurriness of the vision as well as the strain on the eyes. These types of lens are not very heavy on the budget either.
Progressive lens: these are the occupational lens and are multifocal. They are used to fix problems like shortsightedness and long-sightedness both in one frame.
Bifocal or trifocal: these are used to fix a range of problems, which also include disabilities.
Apart from this, tinted and the non-tinted lens is also available depending on your preference.
Types of Frame
There are many types of frames present for such glasses. While thinking about computer glasses, typical bulky and unsmart frame comes to our mind but this is not the case. There are many cool and smart glasses available in all kinds of frame types.
From rimless to semi-rimless, to full frame, to vintage, round frame to classic, all kinds of frames are available. You can buy the ones that suit your facial type best.
Warranty
Very low budget computer glasses do not usually come with a warranty but anything above $12 comes with either a warranty of a limited period money-back guarantee. Make sure you check seller's conditions before buying.
This not only prevents you from getting your money wasted but also saves numerous inconveniences. Most of the glasses come with a lifetime breakage warranty whether it is the lens or the frame.
Conclusion
This article is all about educating you about the best computer glasses on the market. With the digital world around us, cutting back from screen time is not an option especially when all your work is on computer screens. The best way to keep yourself safe from the harmful work of rays is the computer glasses.
And please remember, it is advised that if you have an average screen time of more than 3 hours per day, you should invest in a good quality pair of computed glasses that not only filters out blue light and UV rays but also all kind of electromagnetic radiations. Moreover, for parents, it is necessary to teach their children the habit of using computer glasses when in front of any kind of screen.