If you are a gamer, you must know how tired eyes sometimes hurt. Playing games till 4 am on Saturday nights is probably your best hobby but what about tired, puffy eyes with redness and blurred vision? I am sure most of you will agree with me on this, long screen times can tire your eyes largely. However, using gaming glasses can help you out in this scenario.
Moreover, for gamers, the screen time is not only limited to games, we all also use social media and have to work in an office in front of the screens all day long as well. This makes 70 percent of our day equal to our screen time. Definitely! With such stats, our eyes will eventually give up.
After pulling an all nightery player games and tournaments, your eyes are no less than a desert. They are dry, red and burn like anything. To remove the sensation of dry eyes, your eye's defense mechanism starts producing water, which ends up as watery eyes.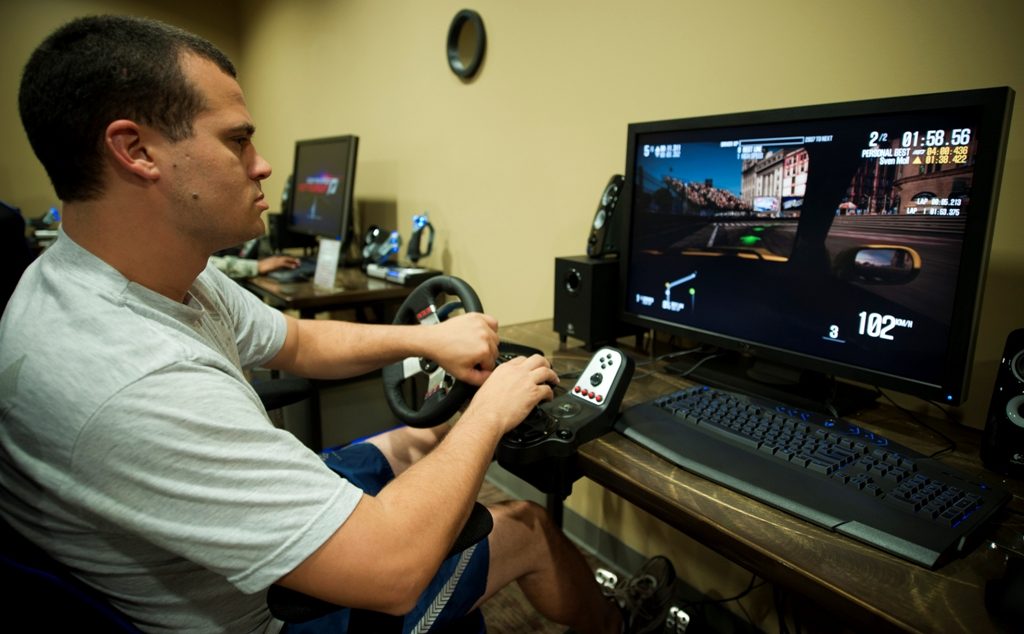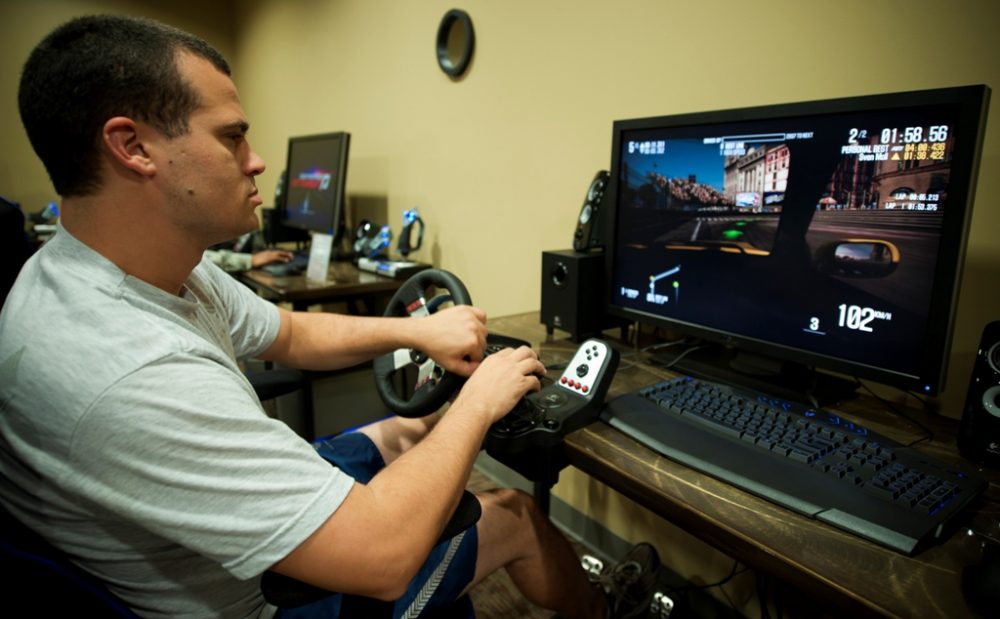 Fortunately, there is a solution to all these eye problems i.e. gamer glasses.
Firstly, we need to understand what causes these problems? It is the UV rays and light blue light emitted from the screen of the laptops, TVs, Mobile phones, and tablets. The solution is to stop these rays from reaching the eyes and for this, you will need a barrier; the gaming glasses provide this barrier.
These glasses have a unique yellowish tinted lens that is the main component, which offsets the artificial blue light. Apart from protecting your eyes, these glasses give you a better and sharp view of the screen and help you focus more on keeping your eyes relaxed.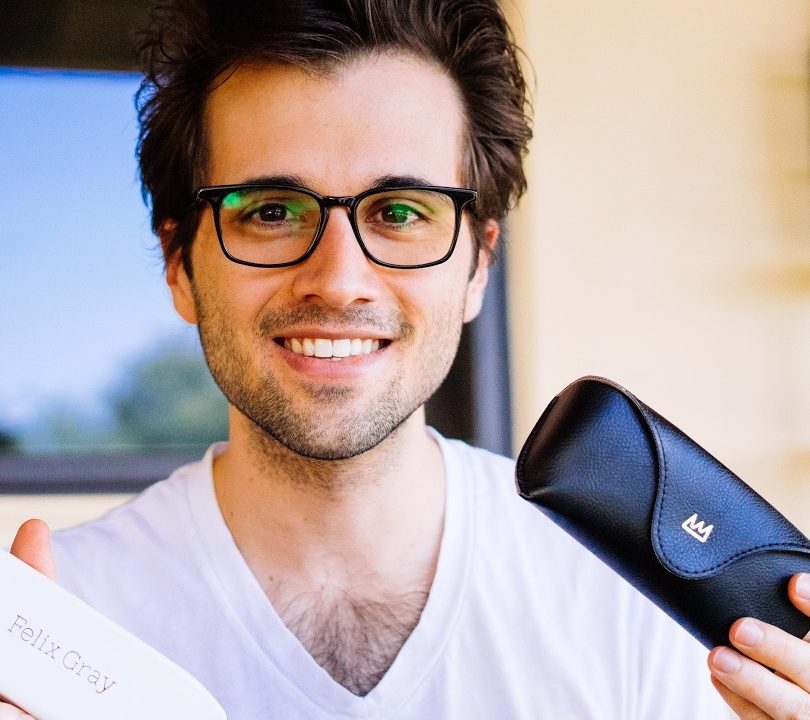 As compared to normal screens, gaming visuals have a high-frequency blue light, which is why these glasses for gaming are specifically made to block out the high-frequency blue light. Normal computer glasses will not be very effective. Moreover, these can be customized according to your prescription.
Choosing the best products is a daunting task and due to that fact, we are here with a list of best gaming glasses which will help you narrow down the possible options for you.
Our Top Picks
Low Budget Glasses
Spektrum Prospek Premium Glasses
These beautiful foldable readers styled glasses in the combination of black and red is everything you want. With a clear lens that provides zero color distortion, you will notice a clear difference in your eyes within the initial 48 hours. After a lot of research and consideration, their glasses were constructed to give the ultimate comfort and protection.
The sole purpose of creating these glasses is to combat all kinds of digital eye strains problems which includes dryness, burning, sensitivity etc. by protecting your eyes, these glasses prevent all hazards that are a result of extensive digital eye strain.
50 percent of the blue light is blocked which includes almost all of the harmful blue light rays. Apart from this 100 percent of the ultraviolet rays are blocked which include both the category A and category B.
These glasses are designed for all screen type. As far as games are concerned, you can use these for your gaming screens but if someone wants to use these for their daily routine or work where their screen time is more than average, then they can sense these glasses have no side effects rather these will only benefit the user by providing the necessary protection. These glasses can even help you get protection from the harmful rays that reach your eyes due to the use of your smartphone, tablet or iPad.
The lens used in these glasses have a layering of anti-fog, anti-scratch and anti-smudge technology used in them. These help in keeping your comfortable all day long and keep the glasses durable since they are not prone to scratches.
If you find any defect in the glasses or are not satisfied with the functionality of the glasses, you can avail the 90 days, no questions asked money back guarantee.
PROS:
Zero color distortion
Anti-smudge and anti-scratch technology used
Dandy design in a combination of black and red
Money back guarantee
KLIM Optics Glasses
KLIM optics has become a very popular brand in the world of gaming glasses, primarily in Europe. These stylish and dandy looking semi-rimless readers will not only amp up your style but also protect your eyes from all kinds of harmful rays including artificial blue light and ultraviolet rays. All kinds of eye problems including fatigue, redness, blurriness et cetera, can be prevented using these glasses.
The lenses used in these glasses are high-quality German lenses that block approximately 86 percent of the blue light incident on them.
As compared to other competitors, KLIM optics have advanced technology as the other companies offer maximum protection of 70 percent.
Apart from this, these glasses have anti-glare and anti- UV technology as well. 100 percent UV-A and UV-B light are blocked. Providing this level of protection at such a reasonable price is amazing.
Coming to the frame of these glasses, it is a lightweight and flexible frame which is made with Grilamid TR90. This is a very high-quality material and is the lightest thermoplastic in the world and is virtually unbreakable. It can resist all kinds of shocks and impacts without breaking. Due to being lightweight and flexible, it is very comfortable and easy to use.
Apart from giving such premium features at such a reasonable price, the glasses come with a stiff box for keeping the glasses safe, a travel case and a microfiber cleaning cloth.
These glasses help in reduction of all kinds of eye strains especially the digital eye strain. Within a few days of using them, you will see a clear change in the cloudiness and tiredness of your eyes. Macular degeneration can be prevented by the regular use of these glasses as well.
PROS:
They are very reasonable
They are lightweight
The frame is virtually unbreakable
86 percent of the blue light is blocked
CONS:
Size is not appropriate for people with a large sized head
Gameking Classic 2006 Glasses
These glasses help in protecting your eyes and improving the visual quality of your gaming screen. All kinds of symptoms of fatigue and tiredness and alleviated with the help of these glasses. These glasses are not only reasonable and premium quality but are also extremely durable due to the quality of material used.
A high quality patented lens with amber color tint is used to filter our approximately 60 percent of the blue light. Out of this 60 percent, 85 percent of the harmful blue light is filtered hence, protecting eyes to the maximum ability.
Along with protection from blue light, they also protects against UV400 light which is very harmful to human eyes. Blue light in the range 400 to 550 nm is not harmful, this light is allowed to pass through.
The lens comes with an advanced 5 in 1 coating technology that works towards the maximum protection of the yes. All kinds of harmful light are filtered by reducing the amount of glare and imitating the natural condenser. The anti-reflective coating improves visual quality as it prevents the production of halos and other illusions which results in distractions.
The frame of these glasses is made with high-quality premium TR90 which makes these glasses flexible, durable as well as lightweight. These qualities make the frame very easy and comfortable to use as well.
The product is FDA registered which assured the user that there is no harmful substance used in this, moreover, it comes with a one year no warranty and a 30 days money back guarantee. Apart from the regular accessories, it comes with a small screwdriver for tightening the hinges.
PROS:
It is lightweight
It comes with a warranty
Filters harmful blue light to a great extent
It is very reasonable
Mid-Range Glasses
Gunnar Intercept Glasses
These classic black glasses whose design is a combination of wayfarers and readers will give your style an extra edge. The amber tinted lens protects your eyes as well as add to your style. These glasses are made to protect the gamer's eyes from all kinds of rays emitted during the gaming session.
You would have noticed that while playing, you don't blink as regularly as you normally do. With this, the protection of your eyes is minimum and the risk of digital eye strain and the problems that come along soars rapidly.
These glasses are made to block approximately 65 percent of the high-frequency blue light. Since the visuals used in gaming are very high quality, the number of rays emitted is also more. Apart from blocking blue lights, these lights block 100 percent UV rays as well. Moreover, the ability of a gamer to target different objects in a game, visual quality and sharpness of the image is improved using these glasses.
By preventing the digital eye strain and blocking the blue light from reaching your eyes, these glasses reduce the risk of cataracts and macular degeneration. Excess blue light can cause headaches, disruptive sleep cycles, low-concentration and focusing span etc. all these problems are prevented with the help of amber tinted lens added to the glasses.
A patented focusing power of 0.2 magnification is added to the lens along with anti-reflective coating. Usually, users complain about the reflection from their glasses distracting them. To prevent this anti-reflection coating is used. The frame of the glasses is made with a comfortable and lightweight material that is made ergonomic with a unique construction. The material used for the construction of these glasses is FDA approved.
PROS:
Ease of viewing reported to be 100 percent
Ergonomic design
Unisex frame design
2 patented magnification
CONS:
No money back guarantee or warranty
Spektrum Prospek Wayfarer Glasses
These wayfarers by Spektrum are all you need to add a chic vibe t your everyday look. They are dandy, stylish and classic all at the same time. With their large sized lens, they provide no barrier to your eyes and only improve your vision.
There is no problem or risk in wearing them all day long, even if they are created for gaming purposes, they are feasible for all screen types and you can use them all day long. They can be your daily partner to work, in break times when you use social media and at the night when you play your video games.
These glasses are specifically constructed to reduce the risk of any permanent damage to the eye as a result of exposure to the harmful high-frequency blue light. Moreover, it reduces the psychological effects that the blue light has on the mind. All this is done by stopping the blue light enter your retina.
Have you ever noticed sensitivity to light or dry eyes that turn into watery eyes, all this is prevented using these glasses? 50 percent of the blue light is blocked using these glasses and 100 percent of the ultraviolet rays are blocked.
Constant screen time can be avoided using these glasses. Since they have a clear lens, you don't receive any kind of color distortion neither does it hinder your vision while keeping them on all day long. They are as effective as other yellow tinted and amber-tinted glasses.
It also comes with a 90 days money back guarantee if you have any doubts about the product or don't like it.
PROS:
Zero color distortion
Works for all screen types
No questions asked money back guarantee
Unisex design
CONS:
Slightly smaller for people with a large head
No warranty
Spektrum Prospek Elite Clip On Glasses
If you don't want to change your previous glasses but want s protection against the harmful blue light then this is the solution to all your problems. Spektrum in their Prospek series has developed an easy way to convert all your glasses to premium gaming or computer glasses. All you have to do is clip them on to your previous glasses and voila, you have brand new gaming glasses.
These clip-on glasses are constructed for thin glasses like readers or frameless glasses. Wayfarers or large framed glasses are not compatible with this certain clip-on.
These glasses have a yellow tinted lens which blocks the blue light and ultraviolet rays from reaching your eyes. They can be used for every kind of screen including, TVs, computer screens, phones, tablets etc.
Anti-glare, anti-fatigue and anti-reflection technology is used in these glasses. Reading about the features of these clip-on glasses we realize that they are made to maximize comfort and convenience. In the above-mentioned glasses, we have seen that some of the glasses are too narrow for people with larger head, with these clip-on this is not the case as you can easily fix them on your own glasses.
Apart from the premium features mentioned, it has anti-bile technology added as well. This technology helps in prevention of macular degeneration, cataracts and all the other hazardous problems that can occur due to long-term exposure to UV-A, UV-B rays, and high-frequency blue light.
These glasses can block approximately 99 percent of the blue light, which is not seen in any other gaming glasses yet. It blocks 100 percent of ultraviolet rays. Moreover, these glasses are anti-flicker which improves the visual quality of the glasses.
PROS:
Has anti-flicker technology
Blocks 99 percent of blue light
Can be used on your previous glasses
Can be used for all screens
CONS:
Not for all types of glasses
Gunnar Optiks Enigma Glasses
These high-end looking glasses with the slightly amber tinted lens are ideal for you if you want something dandy for your gaming night sessions. You can wear them to gaming arcades or a friend's house without feeling nerdy and non-stylish. Rather than making you look non-stylish, it pumps up your style to the next level.
Apart from being stylish, these are very good quality glasses with a lightweight and flexible frame that doesn't make your ears hurt or feel heavy on your face. The high-quality amber lenses added to these glasses prevents all kinds of harmful rays from reaching your eyes.
The visible light just stops at the lens of your eyes but the high-frequency blue light emitted from the screens enter your retina and can cause macular degeneration. The amber tinted lens prevents these kinds of problems as it blocks 65 percent of the blue light reaching your eyes.
Digital eye strain causes headaches and restlessness because the effects of blue lights are beyond your eyes, it also affects your mental health. With the use of these glasses, all this is stopped. Within a few days of using these glasses, you will notice a change in your concentration power and the focusing ability of your eyes.
The lenses used have a magnification of 0.2 mags, which is patented. Moreover, the material used for making the frame is FDA approved. In addition, the functionality of the glasses is checked at the time and again using various tests. Most of the people who have used these glasses have reported 100 percent satisfaction. 90 percent of them highly recommend the product.
PROS:
They are sturdy and durable
The bridge of the glasses is comfortable
It has 0.2 mags patented magnification
It is FDA approved
Premium Gaming Glasses
Gunnar Optiks Sheadog Glasses
These executive looking glasses by Gunnar optics is ideal for university students who have to study for a long time in front of the computer screen and then indulge in video games as their relaxation session.
These glasses are highly durable, flexible and lightweight at the same time. The bridge is made of durable and sturdy yet lightweight and extremely comfortable.
The lens used, unlike most of the Gunnar glasses, are clear which results in zero color distortion. Some people feel conscious while wearing amber-tinted or yellow tinted glasses during the day in their office or to the gaming arcades. For people like these, these chic and stylish glasses are the answer to all their problems. They are flexible folding readers that are made to fit any facial type. They neither cling to your feelings.
They prevent your eyes from getting exposed to large quantities of high-frequency blue light. The eye muscle strain is removed with the help of focusing the power of the lens and the blocking ability of the lens prevent any kind of short-term and long-term problems from developing.
Anti-reflection coating that is done on the lens prevents any kind of reflection r glare from forming and distracting the user from the work they are doing.
The glasses are FDA approved which gives us all the confidence that this is the right product. The rubber tipped temples allow the user to stay comfortable throughout the day.
PROS:
Durable and sturdy
The very executive looking unisex design
Lightweight and flexible
Zero color distortion
CONS:
Uncomfortable with headphones
Has no added glasses casing
Gunnar Optiks PPK Glasses
These premium glasses by Gunnar are a mix of chunky looking yet delicate glasses. The arms of the glasses are quite chunky but the frame is thin and delicate. Despite being delicate the frame is known to be sturdy and durable.
Rubber tipped temples are added to that the metal frame doesn't leave any scars on the user's nose. With the amber-tinted 52mm lens, you can see the whole view clearly. They don't block your view from anywhere.
The height of the lens is kept small to increase convenience and make storing feasible. The frame is very lightweight and flexible, which is why breakages are not an option in this case. Furthermore, the metal frame protects the lens, and for that reason, these are not prone to breakages either.
The amber tinted lens prevents 65 percent of the high-frequency blue light from reaching your eyes and prevents all kinds of UV rays from reaching your eyes including UV400, which is very harmful.
The already developed eye strain is reversed with the help of focusing the power of the lens which is the main feature of the lens used in Gunnar glasses. Apart from this cataract and macular degeneration due to blue light is also stopped with the help of this amber tinted lens.
Within days of using these glasses, you will find a large difference in your headaches, cloudiness of eyes, the low ability to focus and concentrate, everything is improved in just a matter of few days. You can wear them all day long as they prevent your eyes from working hard, hence the eyes don't get tired. In addition to that, it has a positive impact on your sleeping cycle and sleeps quality.
PROS:
Lightweight and flexible
Durable and study
Works for all kinds of the screen, high resolution or low resolution
Unisex design
MLG Phantom Glasses
These carbon and fire colored glasses are an ideal way to keep your eyes protected and staying in style. Their amber tinted glasses protect your eyes from all kinds of electromagnetic radiations including the high-frequency blue light and all categories of ultraviolet radiations.
You are exposed to all kinds of harmful rays when in front of the screen but have you ever noticed that harmful UV rays are also present in the atmosphere especially when the sun is scorching? Furthermore, these glasses aid in protecting your eyes from these radiations.
These glasses are feasible for all kinds of screen. These include high-resolution screens, which emit blue light in great quantities, as well as low-resolution screens. You can use these with iPad, TVs, phones, computers et cetera, rays from everything will be blocked and your eyes are protected. 65 percent of the blue light is blocked which includes almost all the harmful blue light.
Apart from this 100 percent of UV rays including UV400. With the prevention of blue light reaching your eyes, the degeneration of cells inside your retina is prevented. High-frequency rays can cause macular degeneration, which causes long-term and short-term problems.
With the help of these glasses, the risk of these hazardous problems is decreased largely. In addition to that, this assists in better sleeping as the constant exposure to blue light makes your mind restless, which causes problems in sleeping.
Eye strain is developed over time and starts causing problems once it reaches a certain threshold. These glasses not only reduce the risk of eye strain but also reverses the previous eye strain. Moreover, this reduces the number of headaches and restless nights. The glasses are FDA approved as well.
PROS:
Comes in different color combinations
Light and flexible frame
FDA approved
Prevents from all kinds of rays including harmful rays from the sun
Spektrum Prospek Elite Glasses
Spektrum's Prospek series has the best gaming and computer glasses. They have a range of low-budget, mid-range as well as premium quality glasses that have the best of the best features. these glasses are not behind in this as well. They have a classic rectangular readers design and come with a yellow tinted lens.
Although most people and not attracted to the yellow lens but these lenses are the ones that provide maximum protection. About 99 percent of the blue light is blocked which is not seen in any of the amber-tinted and clear lenses.
For people, who spend almost all of their day in front of computer screens or televisions. With such excess screen time, your eyes start deteriorating if enough protection is not provided.
This protection is given by Prospek computer glasses. Although they are expensive as compared to other gaming or computer glasses in this range, their ergonomic design and efficiency make the money worth it.
You would see a definite change in your eyes. Your eyes stay relaxed and strain-free throughout the day. And the best part is that these glasses are made for all kinds of the screen so you don't have to worry about buying particular glasses for the screen type you use.
These glasses will be your partner throughout the day and night when you have late working hours which means more screen time and more strained eyes.
The company is so confident about their product and its functionality that they have given a 90 days money back guarantee in case you don't like the product or have any doubt related to the protection it gives your eyes.
PROS:
Blocks 99 percent of the blue light
Can be used with all screen types
Flexible and lightweight frame
A classic design that suits almost all facial types
CONS:
The yellow tinted lenses are a turn off for many people
HyperX Gaming Eyewear
These stylish glasses in blood red and black combination by HyperX prevents your eyes from getting affected by all kinds of electromagnetic rays. The HyperX is premium gaming eyewear, which helps in preventing all types of problems caused by longer screen times.
The clear color lenses have high-quality blue light blocking technology incorporated into it. This provides zero color distortion along with protection. An anti-reflective film is added at the top of the clear lenses to prevent any kind of reflections from forming.
Moreover, the clear coating on the lenses prevents scratching and accumulation of oil and dust over the lens. Since these glasses are made specifically for gaming purposed, they can be easily paired with gaming headphones without making you uncomfortable.
The paint and materials used in the construction of these glasses make them quite durable. The color added to the frame is retained for a long time. They are made to be socially suitable for any situation. They will not have any adverse effect on your style.
The MR-8 lenses are used for minimum color distortion. The stylish and versatile design along with signature HyperX comfort and convenience make these glasses worth every penny. You can even test it at home with a blue light torch. Almost all of the blue light is filtered. The design is made to suit all facial types and is also unisex.
PROS:
Unisex design
Zero color distortion.
Oil and dust resistant
Sturdy and durable
CONS:
Small for people with large heads
Buying Guide
Buying the perfect gaming glasses for your facial type is not an easy task as there are a number of models and each one of them claims to be the best. Some of the features that should be considered before buying a pair of gaming glasses are:
Budget
You don't necessarily have to buy the most expensive gaming glasses especially when it is not in your budget. If you have a favorite pair of premium gaming glasses, you can always find an alternate cheaper version that gives the same quality of features and provides the same protection.
These glasses are the most accessible gamer's accessories and are developed by all kinds of companies, low-budget as well as high-end companies develop these glasses. They cost less than prescription glasses and are readily available as well. High-end brands have higher priced glasses because they usually use carbon frames and the name of the brand influences the price.
Comfort
Comfort is something you need to take into account in any case. Since we are talking about longer screen times, we should understand that this means wearing these glasses for longer periods of time which is why comfort is extremely important.
Some glasses have a flexible lightweight frame with soft temple areas. These glasses are the best for longer wearing times but if you are investing in metallic frames, make sure you buy the ones with rubber-tipped temples and soft edges so that it doesn't hurt after a while.
Lens Type
There are various lens types for prescription glasses, which include single, bi-focal and tri-focal or multi-focal. Usually, gaming glasses are single focused.
If you want to add your prescription glasses to the gaming glasses you can do that as well. This can be easily corporated into the single focused lens. Usually, the manufacturers of your gaming glasses ask you beforehand if you want any prescription added.
Type of Frame
Unlike previous times, when gaming glasses were a chunkier form of reading glasses, there are many different frame types in form of gaming glasses nowadays.
You will be able to find wayfarers, folding readers, vintage glasses, rimless, semi-rimless and even clip-on. There are hundreds of options to choose from and you can easily choose the ones that are according to your facial type.
Warranty
Most of the gaming glasses come with a warranty. Since the companies put a lot of thought into the construction of their products, they give a lifetime warranty with most of their glasses.
Some companies like SPEKTRUM give a money back guarantee in case of any doubts or problems in the functionality of the product. Their money back period is 90 days and warranty is for 1 year. Therefore, the warranty and money back guarantee totally depend on the company.
FAQ
<strong>1. </strong><strong>What are the Benefits of Gaming Glasses?</strong>
Gaming glasses are specifically designed to reduce any kind of eye strain due to the exposure to blue light emitted from screens. The main benefits are:
They reduce the eye strain by preventing the high-frequency blue light from entering into your retina.
They protect your eyes from UV rays from the sun as well.
They help in improving the focus of eyes.
They prevent the blue light from psychologically affecting your brain which is proven by studies.
Helps in improving sleep cycles and overall concentration power of the mind.
Improves visual quality.
<strong>2. Are These Glasses Just for Gamers?</strong>
Gaming glasses are specifically designed for use while playing video games. These have better protection abilities and have wider angles but this does not make them specific to gamers. Most of the gaming glasses are made for all sorts of screens, and you can also benefit out of these.
The reason they are called gaming glasses is that they have better specifications and blue light blocking technology used as gamers use high-resolution screens which have a great number of harmful rays.
<strong>3. Can Gaming Glasses be Used Outside?</strong>
Yes, you can use them outside but if the glasses are made for indoor use, they will give you no benefit at all. Some of the gaming glasses are made for protection against UV-A and UV-B rays as well. These kinds of glasses can be used outside and will actually help you too.
Some glasses have UV-400 protection as well which are harmful rays of the sun. These kinds of glasses can benefit you outdoors as well.
<strong>4. Are There Prescription Gaming Glasses?</strong>
Yes, many companies provide prescription gaming glasses. There are two types of glasses to buy. Either you can buy clip-on that can be clipped on your previous prescription glasses or you can buy prescription glasses from the company.
To buy prescription glasses from the company, you have to let them know beforehand so that they ship you the correct ones.
Wrap Up
Cutting on screen time in today's digital age is not an option for any of us, especially for gamers, as this is what helps them relax and take a break from the rest of the world. Even though this is leisure time and work, which cannot be prevented, taking care of your eyes is necessary.
For this investing in a good quality gaming glasses, the pair is a necessity. These glasses are not very difficult to find as almost all the optical companies construct these. Make sure you buy the ones that are made for your facial type.