If you are a hunter, security personnel or are in active night combat, you well know how much a night vision scope affects the effectiveness of your work. A high-quality scope is even more reliable in making your working conditions more secure. It is best to gain interest in owning the scope that fits the line of your work without making unnecessary compromises.
This industry is less forgiving when it comes to identifying quality than other sectors. The differences remain undetectable for most users, making it hard for them to distinguish. The terminologies are even more complicated adding confusion to the already heated hassle.
We have taken it upon ourselves to work out a fine solution for you, with the list below; you will certainly identify your style and go for it.  So let's find the best night vision rifle scope for you.
Our Top Picks
Features to Consider Before Purchase
Weight
How do you intend to use your scope? This will guide you on the weight of the scope as heavy scopes limit movement.  Remember if you are planning on carrying your set up a distance you will need to factor this into your rifle's weight.
Durability
The type of construction will help you identify the longevity of the scope. Most scopes are now waterproof, but you'll also want to look for ones that are fog proof and shock resistant.
Ease of Operation
Where does the scope mount?  Will you need a night vision scope attachment or can you use a standard mount?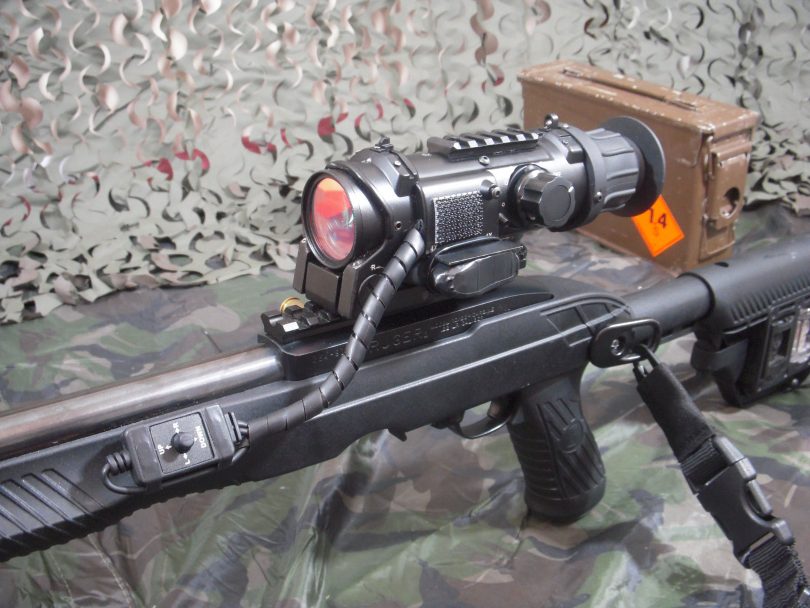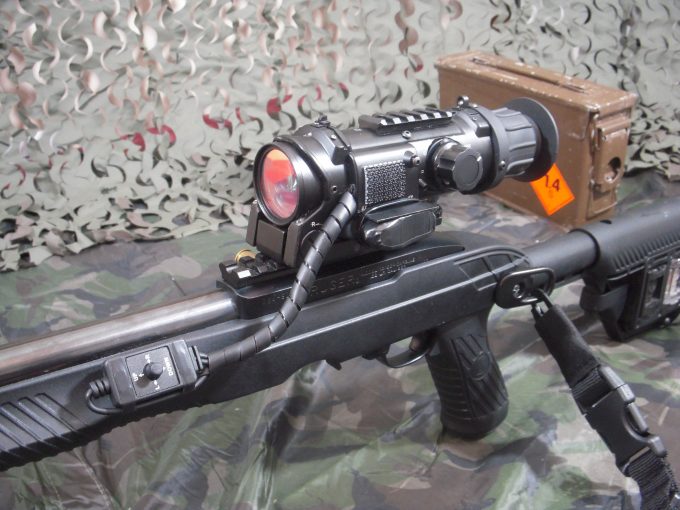 Can you adjust the parts with ease?  Some scopes can have settings adjusted with a simple turn of a knob, others will need a special tool.
Versatility
How flexible is your scope? It should adapt to changing environments while retaining its operating performance.
Reliability
How reliable is the powering mode for your scope? Being in the field with flat batteries is more dangerous than the field itself. You want to know that you can count on the scope that you select.
Reviews of the Top Products on the Market
No matter what your desire is when in need of the best night vision scope, you can find one here to suit your individual needs. Find the night optic for hunting or armed response with us as each of the riflescope reviews here has magnificent features available at an affordable price.
Yukon NVRS Titanium
Magnification: 1.5x
Objective lens: 42 mm
F.O.V: 20°
Weight: 30 ounces
Specific features: Flexible for use in many rifles, generous eye relief, lightweight, adaptable to many rifles, durable, recoil-proof
Best use: Short range to long range shooting, wet and cold environments
The Yukon NVRS Titanium is a uniquely designed model.  It can be lodged on a variety of rifles hence very flexible. It utilizes an infrared illuminator by which it enhances the resolution of targets in the darkest nights.
Its resolution is at 32-36 lp/mm (line pairs per millimeter) which increases clarity of the images you see through your scope. It carries multi-coated enhanced lens on its reticles which allow better transmission of light. This reduces glare and reflects less light so that more light concentrates on the reticles.
The night magnification is at 1.5x42mm which is the best low magnification for night vision rifle scopes on the market today. The low magnification power increases one's field of view. It makes it easier to close in on moving targets in short range hunting.
It features a focus range of seven yards to infinity you can quickly adjust your reticles to compensate for parallax. This rifle scope, however, is parallax free but the parallax setting is so that you can accurately focus when you change your scope to the night vision infrared light.
You will still need parallax adjustments if you plan to shoot targets beyond the 100-yard range. The focus range also means it is long and will allow more light on a full moon or starless night.
The illumination provided by this scope is by a duplex red-on-green on the reticles. It helps in adding accuracy when acquiring a target. This utilization is important because infrared light is invisible to the human eye as such only your scope can see.
This means that when using this scope, your environment remains dark apart from where your scope is focused. It also features a 45mm eye relief which is significantly large for night vision.
This is because your eyes dilate at night, and with this eye relief, your images will be brighter as more light is focused on your retina. It is also made possible by the low magnification power.
For the purpose of windage and elevation adjustment, it allows ½ MOA per click. This way you'll no longer have to guess where your point of impact will be.
You can shift your aiming point horizontally or vertically, and after you set your scope, you can expect to always be in the kill zone for every 100yards. With this scope, you not only get to shoot in windy environments but also get right expectations for your shot.
When it comes to the powering this scope, you'll have up to 50 hours of service. It uses two AA batteries for the infrared imaging. Note that the cells do not affect the weight of the rifle. Instead, it adds a touch of balance on the 30-ounce scope.
You can easily maneuver in hilly areas without it weighing you down. All these aspects are housed in a durable and lightweight titanium frame. This protects it from the outside extremities. It can take a few hits without cracking. It is also sealed properly making it water and fog proof.
The versatility of this scope cannot be underrated. The magnification can be doubled to accommodate a 3x power and can also be transformed to a camera lens with additional digital camera accessories. All these qualities are at an affordable price you'll fee hard pressed to pass on.
PROS:
Uses normal AA batteries
Brightness is adjustable and good
Maintains zero well
Controls are easy to find in the dark
Great for low-light use
CONS:
Battery cover can easily be cross-threaded
Front cover could be better
Related: Just because it is dark out doesn't mean you won't come across some inclement weather.  To keep your scope clear consider the Yukon Weather Guard.
Firefield FF16001 NVRS
Magnification: 3x
Objective lens: 42 mm
F.O.V: 14°
Weight: 30.7 ounces
Specific features: Multicoated optics, adjustable red duplex reticle, and sturdy construction
Best use: Medium-long range shooting, harsh environments, combat
The Firefield FF16001 NVRS works with a blend of 1st Generation intensification of light signals through the built-in Infrared light. It multiplies any light in its path to provide clearer images with high resolution.
This reduces the weight this rifle scope carries. The infrared illumination has a wavelength of 805nm which is completely invisible. Your hunting will never warn animals when you are in the vicinity as it is total dark to you as it is to your prey.
With the 3x42mm specifications, it means that this scope's low magnification power is good for medium range hunting. Especially when hunting dangerous; game this scope will allow shooting up from 100 yards to a little over 200 yards. Because the field of view is large, target acquisition is fast and easy.
It enables low mounting of the scope on the rifle. It is also lightweight as the objective lenses have an outer diameter of 42 mm. You will also get to use low mounting rings to keep this scope on a low profile on the rifle. Therefore, your eyes will always be aligned with the reticles and you'll acquire a steady firing position when upright or kneeling.
It carries multicoated lens which is important in night vision scopes like this one. It can intensify and transmit as much light as possible with minimum reflection. This will significantly help to acquire targets in dense and very dark vegetation. With a fixed magnification power, you can work in the harshest environments safely.
You can range targets from the closest to the furthest position without having to recall what magnification your scope is set. It proves more efficient when setting for windage and elevation adjustment as it will always be true at the same power. You can take shot after shot without losing your target zone.
The design for this scope maintains an ergonomic design that makes it easy to use. You'll always maintain an upright position when taking shots. The parts are readily available by touch for quick adjustments. Since the reticle is adjustable duplex, you can naturally get the center of your aiming point in the dark.
With the 1inch body tube, it reduces the recoil since the rifle remains stable and does not bump unintentionally. The exit pupil is therefore set reasonably for this night vision scope.
You'll love the exterior make of this scope. Bearing a construction from titanium, this scope has received recognition for a few reasons. First, it protects the parts from damage in extreme heat or sub-zero environments. Secondly, it prevents water and fog from hindering your view as the flip-up lens cover is rubber made.
It keeps your lens from getting scratched when moving. It also features a rubber winged eyecup that is soft when completely covering your eye, giving you even an easier time working.
The final aspect is the mounting style which is the quick release weaver style. It allows for fast lock and release of the mounting rings with just a few turns. It mounts on any standard weaver. This scope is both functional and versatile. It is the most affordable night vision rifle scope that is reliable.
PROS:
Affordable
Durable
The reticle is clear to see
Adjustments are in reach
The use of AA batteries is perfect
CONS:
Heavy
Black dots are noticeable in the tube
Related: When you are working in the dark it can help to make sure that everyone is looking at the same target.  To aid that take a look at the Laser Light Designator from Firefield.
ATN X-Sight Smart Riflescope
Magnification: 5 – 18x
Objective lens: 80 mm
F.O.V: 5°
Weight: 45.6 ounces
Specific features: One-shot zero, Wi-Fi enabled, digital compass, internal microphone
Best use: Day and night, digitally record shots, middle-long range shooting
The ATN X-Sight Smart Riflescope is the best description of technology meets expertise. It is every hunter's dream as it is not only used for night vision, but it also switches from day to night vision effectively.
It's the next generation's answer to smart technology in low-light sensors. It features smart optical that gain light in the darkness to produce clear and bright images even at night. The infrared illuminator is detachable for using this scope during the day.
You get to choose between red, green or black color for the crosshairs at night. This factor enables you to focus better as you get to customize your shot. It uses UNV 20 IR illuminator for the lighting with 850nm wavelength. It proves helpful since you do not get to alert targets of your position.
It does not glow in darkness; hence the best for harsh environments when dealing with dangerous game. The zoom is digital for the 5x magnification which is the lowest it can get for this rifle scope. You do not have to change the light modes of the reticle day or night.
Since it is a mid-level magnification, it is advised to keep it at its low at night for a larger field of view. It is brilliant and reliable for up to 100 yards before it starts fading out beyond 300 yards. We can say that it is ideal for the middle range to long range shooting.
Adjusting the zero set up comes easy with this scope. It is a one shot zero since you light up the reticle using the first shot, and then move it to the original point of aim on the xy digital axis to acquire your original zero.
It uses advanced technology on the sensors to produce an HD effect in darkness. It utilizes 1080p ATN L130 Sensor for streaming high-resolution videos from the field.
It encompasses a very sensitive imager that can produce black and white images at night. This optimizes and harnesses the available light to ensure no light is lost; producing high-resolution images. The infra-red illuminator runs on
A unique feature of this scope is the Wi-Fi capabilities. You can access the settings of your scope remotely on your phone through the x-sight app. This also enables you to see what the eye-sight is seeing so can make adjustments on the aim, focus, and brightness.
The eyepiece is technically parallax free since changes are made digitally on the lowest magnification. You can record digital video on a micro SD card at 1080p with sound at 30 fps (frames per second) or record your shots at 720p at 60fps.
The construction of this scope is robust and reliable. It can withstand harsh environments as it has a rugged matte finish that makes it durable. It features waterproof features for its frame and optics.
It also has a GPS tracker to enable you to navigate your hunting zones, and you can also know where you've been by getting the digital display map on the phone app.
It is an unprecedented scope whose settings exceed the normal night scopes. It is reasonably priced, and you are sure to get much more than what you pay for this scope.
PROS:
Zeroing in is quick and easy
Clarity of images is perfect
Works with Lithium Ion and AA batteries
Affordable
Related: You may want to consider pairing this set of goggles with an ATN Laser Ballistics 1500 Rangefinder, to allow you to gauge distances properly even in the dark.
Armasight Vampire Night Vision
Magnification: 3x
Objective lens: 108 mm
F.O.V: 10.5°
Weight: 48 ounces
Specific features: High resolution, sturdy design, IR pivots, adjustable reticle settings,
Best use: Short-long range hunting, busy environments,
The Armasight Vampire Night Vision is a Gen 1 scope that uses new CORE intensifier tube technology. This tube is metallic and covered with ceramic which makes it virtually unbreakable. The sensors are photosensitive to produce bright images.
Its resolution is at a maximum of 70lp/mm which is as good as the Gen 2 scopes on the markets. It also uses a long range detachable infrared light illuminator. This illuminator can help focus images out to 300 yards. Another unique feature is that the illuminator can pivot for when focusing on long range targets.
When it comes to the reticle, it is adjustable on over ten settings for varying the light intensity. The diopter scale will help you focus the reticle successfully. It is useful when watching the background to acquire better accuracy when closing in on a target.
It also uses a red-on-green illumination which serves to see flatter images even on the darkest nights. The objective lens is at 108mm, good for a larger field of view. It allows maximum optimization of light, especially at night. When combined with the fixed magnification power, acquiring range is much easier.
The low power indicates that it has a large exit pupil. This allows for even short range hunting as you can see close with the clearer view. You will be able to take consistent shots without losing your range.
It is even more important because it means the eye relief is short and you can mount your scope further away at the rear of the rifle. This way, every change you make, is fast just by feeling.
This night rifle scope allows windage and elevation adjustments at ½ inch turret, for every 100 yards. The turrets are covered with caps so that they do not bump when the rifle is in use and cause a realignment of your adjustments.
They are also water and fog proof. You'll find that working in fog-filled fields will not change the focus of your scope. It also has parallax adjustment from 10 yards to infinity; you can set your point of impact as closest as possible.
When it comes to mounting this scope, it uses a weaver style such that it fits very low on the rifle. It allows for proper eye alignment with the reticle for quick and fast adjustments. It is a quick release mount which maintains your prior adaptations.
That is if you dismount your rifle, fitting it back will give the previous changes you made on your scope. You will love this property as you can be sure to always rely on your scope for concise adjustments each time.
The manufacturer of this scope realizes that hunting is in unpredictable situations. That is why this scope is rugged and has turret covers to protect it from such extremities. It has a carrying case that fit the scope even when mounted on the rifle.
Its frame is also solid enough as a grainy-rough shell that seals the inner components to secure them against multiple mishandling in the field. It is also one of the best-priced scopes, seeing that it is a Gen 1 with the resolution of its peers with Gen II and Gen III technologies.
PROS:
Great to use for wild boar hunting
The IR Illuminator makes for a good addition
Reasonably priced
Related: If you are taking this on any adventures that require some travel you'll want to protect it while headed to your destination.  To accomplish that you'll want something like the Mil-Standard Hard Shipping/Storage Case.
Armasight Orion Scope
Magnification: 5x
Objective lens: 108 mm
F.O.V: 10°
Weight: 59.2 ounces
Specific features: Reliable batteries, bright imagery, broad field of view, ideal exit pupil
Best use: Dangerous hunting, rough terrains, unpredictable environments
The Armasight Orion Scope has all the necessary features that make excellent night hunting equipment. It has been rated best for night sports and security monitoring.  This scope uses the IIT Generation Gen 1+ image intensifier tube for imagery.
It provides bright and clear pictures through the infrared long-range infrared illuminator. It mounts on top and can pivot so that the beam is where the range is. The illuminator uses one battery to power and can last 40 hours. It also has four adjusting settings for light adjustments on the reticle.
The resolution for the illuminator is at an 810nm wavelength which is quite high to fit the night environment. It allows for accuracy when making aims in long range shooting.
It intensely amplifies the light to give pictures with the resolution power of 30-40 lp/mm. This illuminator covers a range of 100 yards well such that aims out to this point remain precise with all the other adjustments set constant.
You'll grow fond of the optical performance of this night scope. First, at the magnification power of 5x, you can have a field of view of 10-deegrees for every 100 yards. The smaller field of view may seem shallow, but for a night vision scope, you'll need to have a detailed background because your environment is unpredictable and dangerous.
With the fixed power the settings are few; you don't need to keep changing your lenses to adjust to the new power. It will also improve your shooting since you will master shots at one power.
This scope allows 8mm diameter for the exit pupil. It makes it possible to see in dim light since the pupil at this time dilates, so there's need for more light to distinguish between shapes and colors in darkness.
It will help cover your ground better through the eyepiece. It also takes into consideration the senior folks for their pupils require a larger exit pupil. This scope cares for a broad age group of users who need to use a night vision rifle scope.
When you first unwrap this scope, you'll notice how well it protects its inner components. Each adjustment has a cap that is water and fog-proofed with rubber. The whole frame is rubber sealed for optimum protection. It can take falls on rugged terrains and remain intact.
All the lenses are shock protected. It mounts on a standard weaver such that it fits most rifles. It is versatile, affordable and flexible making it a perfect choice for your night endeavors.
PROS:
For the budget minded hunter
Excellent build
Hunters recommend using the optic with two illuminators
Holds zero well when used with heavy recoil weapons
CONS:
Difficult to sight in at first
Adds weight to your rifle
Related: If you are taking this on any adventures that require some travel you'll want to protect it while headed to your destination.  To accomplish that you'll want something like the Mil-Standard Hard Shipping/Storage Case.
Aipa Tactical Combo
Magnification: 4 – 12x
Objective lens: 50 mm
F.O.V: 22.7°
Weight: 26.4 ounces
Specific features: Dual illumination, large field of view, variable power
Best use: Busy, wet and saline environments, short-long range shooting
The Aipa Tactical Combo is the best deal you'll ever get on a night rifle scope. It features a dual lighting system. That is you can mount a flashlight and the infrared laser illuminator.
This gives you a double illuminated on your range. A battery power the laser lighting, and it has a switch to turn it on. It has a range of up to 100 meters. This will give you a clearer view over 100 yards.
It utilizes the red and green dot colors on the reticles. This significantly increases your view on a moonless night. It has five levels of unlimited brightness for every change in the intensity level. The crosshairs are thin to improve your visibility in the darkness.
This also allows better target acquisition in busy backgrounds. You can adjust windage and elevation on the reticles at ¼ MOA. After you have acquired your point of aim on the reticle, these adjustments will always keep you shot in the kill zone.
With a variable magnification power of 4x-16x, you can have the different field of views for the different ranges. This increases the functionality of this scope as you can have a field of view from 10-27 degrees at 100 yards. The low power gives you the widest field of view.
It is even more useful in short-range shooting for you can acquire a target at close range in an instant. The variable power allows for the set exit pupil of 3.3-10mm working properly. With such a range on the exit pupil, viewing at night is way easier for persons of all ages.
The optics is fully coated and can absorb and harness the slightest light out there on a starless night. It enables fast focus as you do not strain to see and acquire the target. With the 50mm diameter on the objective lens, the capacity to transmit light is humongous.
It increases your precision on taking shots at moving targets. The optic allows for a short eye relief of 3-3.4 inches. This concentrates the light on your pupil and obtaining a target in a busy environment becomes more accurate.
This scope is built to last you years on end in good condition. It has an aluminum tubing frame that makes it strong and steady. It is also resistant to corrosion so you can shoot in saline environments without fear of parts acquiring rust.
The aluminum body also gives it mounting balance on rifles for it can be installed further away from the muzzle. It is nitrogen filled for a clean finish. This makes it fog and water proof. It also protects the optics from shock if it hits on hard objects or gets bumped on rough terrain.
It is accurate to say that this scope has the brightest view, basing on the size of the objective lens. It also has a decent resolution, and the dual lighting makes it all the more unique. Seeing that it the lowest price we have for night scopes, it is your best shot at owning a quality scope on a budget.
PROS:
Looks great
The adjustable brightness settings for the crosshairs is great
Have two different switch options for the laser
Includes everything you need related to the batteries
CONS:
Does not work on a rounded dovetail
Related: In the dark, you'll want your shooting platform to remain as steady as possible for those long shots.  To aid in this you should think about the Tactical Rifle Bipod from CVLife.
Pulsar DFA75 Digital
Magnification: 1x
Objective lens: 50 mm
F.O.V: 5°
Weight: 19.7 ounces
Specific features: Mounting ring adapters, wide field of view, lightweight
Best use: Short-range shooting, wet and busy environment,
The Pulsar DFA75 Digital is the only day to night converter we have on the market today. It mounts on any daytime scope with a 42mm objective lens. This is successful by the use of a mounting ring that keeps it in steady and in place.
It uses a remote control for turning on and off the mode you choose. The focusing knob is on top, which makes it accessible by touch for quick adjustments.
This adaptor uses a modular IR illuminator to provide light to the objective lens. It has three settings of low, medium and high such that you can set it according to the light conditions of the environment.
With the CCD chip, this converter produces high-resolution images at 50lp/mm at the set wavelength of 915nm. This illuminator is powered by 4AA batteries, which runs for a maximum of 2 hours.
Its effect on the reticle performance for this adapter is excellent. The reticle retains its point of impact day and night. You can choose to change the windage and elevation via the adjusting knob located on top of this converter.
When focusing the reticle, the adjustments are audible on the knob, such that you can also sight in your scope using this converter. Since it mounts with adapter rings, the scope remains steady and bumping does not displace the point of aim.
When it comes to the light transmission to the eye, it can do so with high concentration. The objective lens allows for favorable light absorbency for the eye viewing. Combined with the low-power, you have a very wide field of view, suitable for short range hunting.
This makes it suitable for hunting where targets are moving fast, and the environment is busy. Due to the large objective lens, the exit pupil is also large. It allows for the pupil to take on as much light as possible.
The make of this adapter is glass-nylon, which is weather proof. Your scope remains protected from the outdoor extremities. It is also frost proof, enabled by the OLED. This allows the scope to work even in sub-zero temperatures.
You can mount it on cameras and take videos under water since it comes with a video recording cable and the whole entity is water-resistant. It has a lightweight construction even with the batteries on.
The unique qualities that make up this scope adapter are what makes it different. It has been rated top best by users and because of its growing popularity, it continues to live up to our expectations. Though you might need to digger deeper into your pockets for this one, it's worth every dollar.
PROS:
Gives a reasonable image
Lightweight
Large objective lens
Can use it on different weapons
Excellent battery use
Uses normal AA batteries
CONS:
Difficult to reach the focus knob
Related: To keep this safe and secure, consider adding a Digital Front Attachment Cover.
Pulsar 1.5x Doubler
Magnification: 1.5x
Objective lens: 50 mm
F.O.V: 8.4°
Weight: 14.4 ounces
Specific features: Rugged design, secure applications
Best use: Increase magnification power for low power night scopes.
The Pulsar 1.5x Doubler attaches your night scope via filter threads. It is a total game changer for your night vision scope. First, it attaches on 50mm objective lens scopes and consequently increases the magnification power by 1.5x So what happens when your night scopes magnification power increases?
Most night vision rifle scopes come with a fixed magnification power. This creates the need to enhance this power, to adapt to the changing and unpredictable night hunting life.
When the power increases for your scope with 50 mm objective lens, the field of view becomes clearer. Images become sharper so you can observe the background more carefully.
This accessory increases the shooting range for your scope as more light transmission, covers a wider field of view. Now, you can make adjustments, to meet the new power for your device. The point of aim for your reticle remains unchanged.
But with the increased field of view, you can adapt new windage and elevation levels for your reticle. The targets on your view also become sharper as more light through the objective lens improve the quality of images.
With the added magnification, you receive the maximum exit pupil for your scope, which in this case becomes large. It allows for more light to reach your eyes through the eyepiece; hence your aim improves and you can take accurate, consistent shots.
The increased power also gives you a short eye relief. It makes your rifle regain balance and reduce recoil. You also get to increase the intensification of light passing through the infrared illuminator since a sharper image is acquired with high power.
The frame of this doubler is a rugged design that is resistant to corrosion and rusting. You can mount it on to other scopes fast and easy. It optimizes the functionality of a basic night scope, to improve the range and accuracy of the user. It is reasonably priced, and it is more reliable for adapting your scope to the current environments.
PROS:
Lens increases the image
Picks up more light to help offset the magnification
CONS:
Minor issues with the fit
Related: High-quality devices need a highly protective case for both storage and shipping and the Pulsar Phantom Hard Protective Carrying Case has been made just for this one.
Final Words on the Subject
Knowing what you want from a night vision scope will serve most importantly to save you from owning defective products. It is true that these scopes are not built equally. But the differences are what make them unique. The information embedded about each of them will help you identify your best fit.
This compilation serves to give you a platform from which you can customize your choice when dealing with the unforgiving market. May your best option serve you well. Do you have any experience with any of our picks?  If so tell us about it in the comments section below.