Night vision devices form an essential part of most low-lit environment shooters. Especially at night when the human eye cannot possibly see in total darkness, night vision units may not have come for a better time. They rely on either an inbuilt lighting source or ambient light to produce reliable visible images.
With the onset of advanced technology, these devices are more than just for night vision. Some of them have the capacity to record events as they take place so one can review and watch them later.  ATN makes a wide range of these devices, so let's take a look at the best night vision from ATN.
As a night vision enthusiast, there are various comparable features which help in picking the ideal scope to fit your specific needs. So, what are some of these considerations?
Features to Consider Before Purchase
Smart Technology
You may want to give careful thought to a scope with the capacity for smart technology. This comes in case if you want to capture all the thrilling moments in the field. They may come at a higher cost since with digital technology comes better focus and correct range settings.
A scope that carries digital technology enables one to manage the functions remotely. You can sight the scope more accurately than you could manually. Scopes with smart technology also have important supporting features like GPS and rangefinders for better navigation.
Type of construction
Look at your environment. What weather conditions are you likely to experience? If you live in extreme weather conditions, like in freezing or sweltering temperatures, you may want to look at a scope whose body is completely weather-proofed.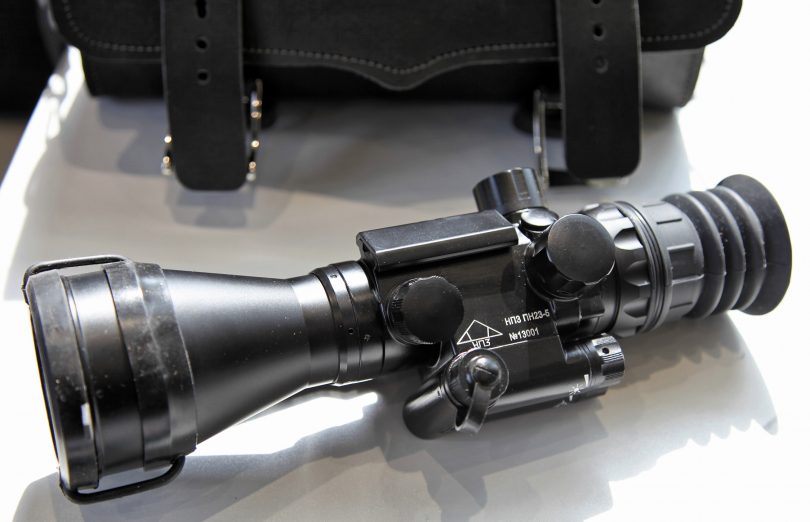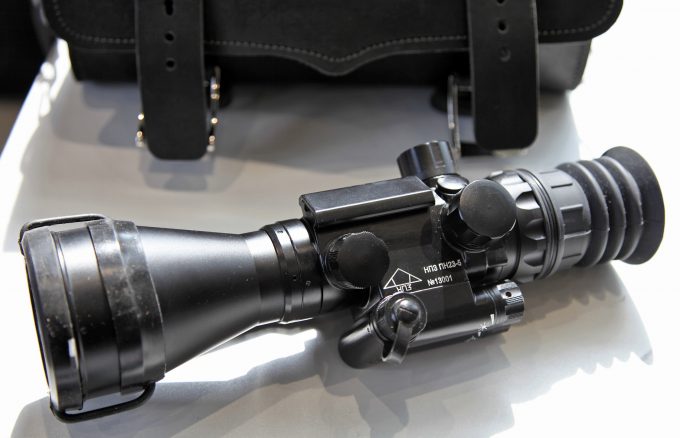 Does it have a seal from water and fog? Good scopes have a nitrogen seal and may come with a neoprene or hard case to shield it from damaging extremities. These are some of the qualities it should meet according to where you are going to use it.
Since the construction affects the durability, if you can't tell how long it's going to last, check the warranty. Most night vision scopes give a limited warranty because the delicate electronics they carry are more susceptible to damage. The longer the warranty period, the higher the durability you get from the scope.
Magnification
This largely depends on the area you want to cover and the range you want to shoot. Short and mid-range shooting require that you have a full field of view, so you will need low power. It implies that long range shooting calls for high power and a slightly smaller field of view.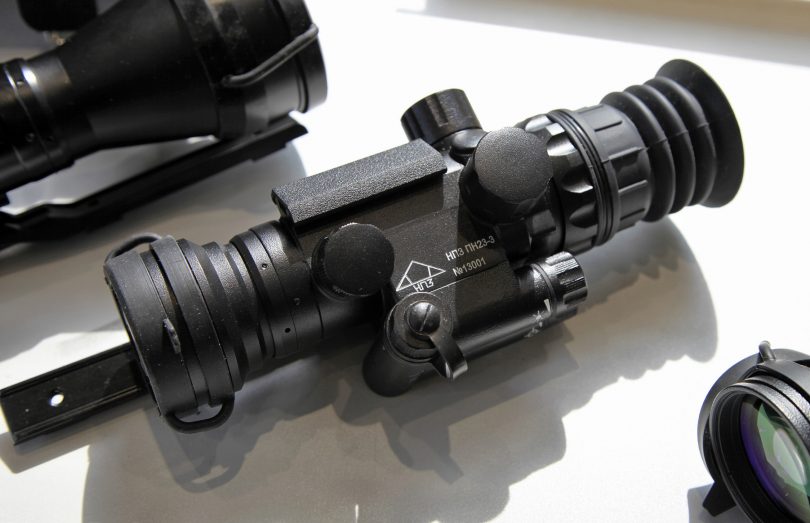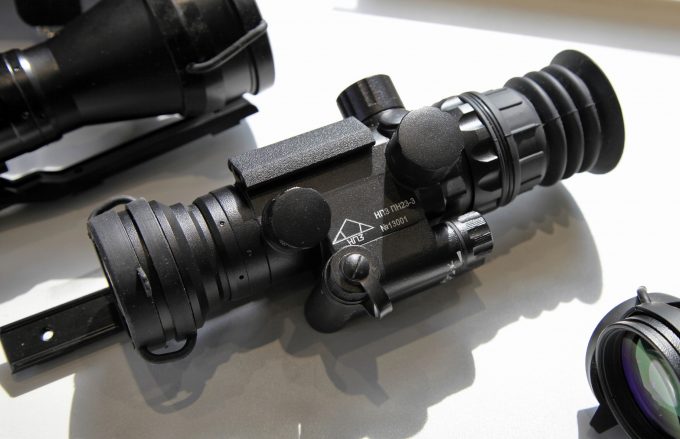 Magnification is also either fixed or variable. If you are going to hunt a variable power may not affect your consistency. But being in the law enforcement and active combat you'll want to focus fast so adding the hassle of a varying power may cost you.
Also, with high magnification, images appear blurry at the highest power, so if you want to range far you will want to look at the light gain ability. High gain will help to compensate for a long scope and blurry images.
The lighting system
This looks at infrared illuminator capacity. A device that uses ambient light (from moon or stars) needs to have the ability to attach to an infrared illuminator. This will help you to use your device even in total darkness.
The lighting for devices that can switch to day should have a dimming effect for the optics so that you can view as you would with a regular day scope. If it has an inbuilt lighting system, then consider if the ON function is automatic.
Top Products on the Market Today
ATN X-Sight II Smart Riflescope
Weight: 2 pounds
Dimensions: 10 x 6 x 6 inches
Specific features: Obsidian ii core digital technology, accurate rangefinder, gps, live video streaming, hd optics
Best use: Adventure hunting
The ATN X-Sight II Smart Riflescope is the latest version of smart scopes which can be of use in the night or day. ATN presents a scope with high capabilities and being a world renowned company; you can be sure to get the highest qualities.
It utilizes the Obsidian II Core technology on the HD optics which aid in both day and night vision. This particular scope is optimized for low light environments with the full1080p resolution on the optics.
One can change from the day by the touch of a button and consequently capture both colored and monochrome images. With a sophisticated CMOS fabrication technology, there's better speed to capture every image in its right.
A unique feature by the ATN X-Sight II is perhaps the inbuilt range finder. You may never have to get too close to an animal before you can take a shot. This is because, with a rangefinder, you can range the exact distance between you and the target.
It minimizes need to track animals for hours and, it adds to nighttime security. Some animals can only be hunted at night. It gives the convenience to know your location through the availed GPS.
It carries numerous communication interfaces which include but not limited to Wi-Fi, iOS and the ability to incorporate various Android apps. With it, you can stream live videos of the hunting process directly to your mobile device.
It does not stop there, using the Obsidian ATN mobile app, you can control the riflescope from a mobile location. This means you can switch from one mode from another, say like someone else is using your device. The ATN X-Sight II houses its components in a robust construction which keep the digital controls protected from the elements.
PROS:
Powerful digital technology incorporation
Vast magnification power
Smart range finder
Live Wi-Fi Streaming
2-years Warranty
CONS:
Blurry images when set at maximum magnification
Related: There's need to include the 20,000 mAh Battery pack, ATN Power Weapon Kit. It is an essential accessory to give you over 22 hours of continuous use of your device. It comes with an L-shape connector compatible with the X-Sight II version. It is rechargeable and can power other units.
ATN Gen 2 PS28
Weight: 1.8 pounds
Dimensions: 7.7 x 3.5 x 3 inches
Specific features: Quick-mount system, front catadioptric lens, multi-coated glass optics, uses ambient light for high-resolution images
Best use: Varmint hunting, law enforcement, home security
The ATN Gen 2 PS28 is a 2Gen night vision scope which equals most Gen 3 scopes. For the upscale price, you can tell the performance is top-notch. It carries on the excellent features by ATN to use your scope in both daylight and night time hunting conditions.
One does not need to zero-in their scope after switching to night vision mode. It's this convenience that forms the major attraction for this device.
It comes with multi-coated glass optics which ensures full transmission of light. The Gen 2 carries an image intensifier tube to give very sharp focus and high-quality images through the reticle. The front catadioptric optic system majorly influences the light transmission.
It is responsible for anti-reflective and refraction ability to enable full light transmission to the eye. As a night vision scope, you'll find it comes with a high voltage 3V battery. It allows all the functions to run smoothly and for long hours.
The easy change from day to night vision sees that it carries forward the zeroed properties. It comes in handy for the impact and eye relief capacity it was previously set. It utilizes ambient light to produce the clear images.
With sustainable help from the infrared light, this device provides a high resolution of 45-54lp/mm up to 100 yards. One can range that far, while telling apart different targets, even in almost total darkness.
The ATN Gen 2 PS28 features a quick release mount. It can, therefore, mount on different rifles fast and easy especially when you want to switch guns.
It also takes on heavy recoil rifles and with an option to mount it on scopes with different tube mm from 42-58.7mm. This device is, thus versatile; note the traditional mount is with the standard Picatinny mounting rails.
PROS:
Quick release mount system
Works on both night/day scopes without need to change configured settings
Short-range to long range shooting capacity
CONS:
A bit pricey unlike other Gen 2 scopes
It's a little difficult to range in total darkness
Related: It will be wise to also invest in the ATN PS28 Mounting System which comes with the rubber rings to directly mount your scope on your rifle. You can significantly reduce the time you take to dismount and install on other devices.
ATN Night Vision Goggle PVS7-3
Weight: 2.8 pounds
Dimensions: 7 x 7 x 3 inches
Specific features: Military design, compliant with the US Mil Spec combat body, fully multi-coated glass optics, inbuilt infrared lighting
Best use: Law enforcement
The ATN Night Vision Goggle PVS7-3 is the only military design scope on this list. ATN again presents a device for use by army troops to tackle every dangerous situation in the field. It is hand-held, helmet-mounted, head-mounted, and rifle mounted.
It is meant to cover the tactical industry of law enforcement. With a 1x magnification power, it adds on to the current objective lens to give a wider field of view at 400 for every 100 yards.
This device features fully, multi-coated lenses, in a Generation 3 tube. The image contrast and quality are highly intensified with the inbuilt infrared illuminator. It goes without saying that this device can be used in total darkness. It can either be set for a very brief period or in a continuous ON mode function.
With a full display of various functions, one can see the battery level, and the infrared mode applied. The switches can be made fast and easy especially in short range target shooting of moving targets. The warnings for low battery come in handy so that one can tell the time to change or carry a spare battery.
The ATN Night Vision Goggle PVS7-3 is an identical unit to the ATN AN/PVS-7. It fulfills the full combat US Mil Spec body to take on the most dangerous surroundings there is in active combat.
When it comes to the protective structure of this unit, it carries a sacrificial window which prevents scratches on the lens. It also comes with demist shields, highly responsible for keeping the eyepiece protected from any form of condensation.
It can withstand working in high or very low temperature from between -400 to500 Celsius. It features three brow pads for the head mount function and front lens cap to shield it from the outdoor elements.
PROS:
3rd Generation Tube gives crisp images
2-years warranty
Weather-proofed
Long-lasting battery
CONS:
It is a one fit for all face sizes which does not always fit small faced individuals
Related: If you need to mount this device on a Modular Integrated Communications Device (MICH), you'll need the MICH Helmet Mount Assembly, to properly attach. You will never have the device blocking your face since the MICH system keeps it away but at a close to the eye level. There's a rugged MIL-Standard Hard Case to store your device while protecting it from elements on the go. It has a breather valve and O-ring gasket to keep your device in high-quality working condition.
ATN 5-20 X-Sight II
Weight: 2 pounds
Dimensions: 10 x 6 x 6 inches
Specific features: 7 reticle configurations, Obsidian II Core digital technology, mobile functions control, GPS, smart rangefinder
Best use: Middle-long range shooting, hunting
The ATN 5-20 X-Sight II represents a versatile unit which provides seven color schemes on imagery. It also offers seven choices on the reticle.
The crossbow reticle option is the newest incorporated function to help hunters use their skills to the fullest. This device can be of use over medium to long range shooting with the capacity to change from different magnification powers.
Its power ranges from x5-x20, which is not exactly fit for short range hunting. It suits mostly long range hunters who do not require a vast field of view. As such, this device fits daylight and night/ low light conditions. It utilizes fully multicoated lenses to give into better light conveyance.
It also inculcates high anti-reflective body through the black matte finish which is crucial for blending with the environment. Other supporting digital technology support includes the mobile control ability. With the ATN mobile app, the system can take adjustments from a mobile location.
The hunting environment is always an entertaining escapade, with this device, one can capture all the moments including taking photos and digital videos. Through the inbuilt Obsidian Core II technology and a micro SD card, all imaging can be acquired n 1080ixels HD quality.
This device comes with a smart rangefinder, just like the ATN Smart Riflescope X-Sight II 3-14. The two scopes carry identical rangefinders useful for accurate aiming. With it on the ATN X-Sight II 5-20, it is most helpful for long range target shooting.
It is harder to close in on moving targets over long distances; it eliminates to go close to the animal. Especially, for dangerous game hunting, this becomes very handy equipment.
PROS:
Includes Wi-Fi ability
IOS and Android Apps incorporation capacity
ATN website provides instant updates
CONS:
Needs spare batteries
The GPS compass may sometimes be unreliable
Related: You may want to purchase the Extended Life ATN 16 16000mAh Battery Pack. They run for longer than the regular batteries for the ATN X-Sight II batteries. They connect via a USB connection to this riflescope, and they are rechargeable so a better value for your money. Also, look at the ATN X-TRAC Bluetooth system to remotely operate your device.
ATN Aries Paladin 4x Mk.390
Weight: 3.2 pounds
Dimensions: 20 x 16 x 6 inches
Specific features: Gen 1 tubing, 45omw infrared lighting, fully multi-coated glass optics, brightness adjustment capacity, easy mounting
Best use: All weather hunting
The ATN Aries Paladin 4x Mk.390 comes with just the right night vision requirements. With simple operating functions which use a push on the knob to control, it's easy to sight in and close on target even on a totally dark night.
It incorporates an infrared illuminator which is best suited for long range hunting. It is also detachable so that the device can carry other forms of illumination like a flashlight.
The reticle system is a red on green duplex type with a great capacity for the eye to meet the target's location. Red is a color the eye readily adopts in low light conditions, and it helps in improving the contrast levels between the target and the surroundings.
It has multi-coatings on all the glass optics which result in better focus and sharp imaging solutions. The F-factor (the proper light allowed through the reticle) is significantly lowered. It allows more light to pass through the reticle and as such, the image processed is clearer and crisp.
With the Gen 1 tubing system, this unit amplifies light to thousands of times to give the visible sharp images. But, the illumination is frequently blurry towards the edge of the reticle so you may find it difficult aiming over very long distance shooting.
This device carries a fixed magnification power. It is most important if you need a constant high field of view because of use in random environments. When you have one low power, zero-in the reticle does not change the eye focus so that what you see whether in short or mid-range shooting remains the same.
PROS:
Affordable Pricing
Detachable Infrared illumination
Duplex reticle system
Weather Proofed
CONS:
The cover has to be on for it to operate as a daylight scope
It cannot mount on red dot sights without magnification
Related: Look at the ATN PS23 infrared IR450B4, long-range illuminator which easily mounts onto this scope if you want to add the viewing distant. It has a lifetime warranty and is very lightweight, so it will not weigh your rifle any further. You may need the ATN HD Action Shot Trak-X Gun Camera to take along your hunting escapes so that you can record full HD videos. It can mount on shotguns, rifles, bows and handguns.
ATN Binox Smart Binocular 4-16
Weight: 1.8 pounds
Dimensions: 8.5 x 5 x 2 inches
Specific features: Obsidian core output system, variable magnification power, smooth zoom ability, records and saves videos and images, Wi-Fi connectivity
Best use: Rough terrain hunts
The ATN Binox Smart Binocular 4-16 is a unique set, different from the typical riflescopes around. Instead of using the standard Generation 1, 2 or 3 tubing system, it uses a charge coupled device. This is a digital sensor, responsible for the 4x-16x zoom action. The edges of the images set are brilliant in the middle but tend to blur as you go into the outer edges.
With image stabilization ability, one can capture high-quality images and videos in the 1920x1080p full HD clarity. Such images retain their quality in the long haul and serve as crucial memorabilia for all adventure seekers.
Through connection to an HD TV, all the pictures and videos recorded can be seen in better view. It needs a micro SD card to store the media you plan to record.
For navigation purposes, this device enables one to know their exact location through the inbuilt electronic compass. If you are on the move through thick vegetation, you'll need the altimeter function to help you know whether you are climbing or going through dangerous hills.
The geotagging feature is also important so you can know where you captured a particular image. It will best serve for social media connections when you start to release the pictures.
This binocular is a lightweight, compact unit weighing only, 1.8 pounds. It feels comfortable on the hands, and it comes with a neck string for easy maneuvering, so you don't have to keep holding it tight. It can range out to 200 yards and still see clear, sharp images.
For the night vision purpose, the optics is multi-coated to convey high ability to capture visible light. The eye relief is set between 10-30 mm for every 100 yards. The inbuilt infrared lighting is capable of precise imaging out to 300 yards.
PROS:
Wi-Fi capabilities for mobile control capacity
Rugged exterior design
Reliable GPS compass
Simple user interface
CONS:
Few hours on the battery usage
User complaints about the buttons turning back to the ON mode after being turned off
Related: So, to extend the time you use with this binocular, it's important to take along the extended life battery pack by ATN. It can last 18more hours than the regular 6-hours attainable with the Binox batteries. It is a 10,000 mAh battery pack with a rubber sealed water protection.
ATN Gen 2+ Night Vision
Weight: 3.8 pounds
Dimensions: 13.2 x 4.1 x 3.7
Specific features: High illumination on the reticle, great clarity on images, long-lasting battery life, duplex red on green reticle style.
Best use: Sports target shooting, rugged terrains hunting
The ATN Gen 2+ Night Vision presents the most dependable night vision scope for accurate shots. There lies great potential for you as a varmint hunter or sports shooter. With the capacity of a military grade precision, this device is high recommended for only the serious shooters.
It carries duplex red on green reticle configuration, easily adjustable with 1/8MOA. You can sight precisely with the help of the 1/6 MOA windage and elevation adjustments. The eye relief and exit pupil are set at 46mm and 11 mm respectively. It is also easy to sight in and maintain the sharp focus with a locking bar.
This means it can withstand high impact and still retain its zero. The center has great illumination for better image clarity even through the darkest of nights.
The operation of this unit shows an easy function with one button. It comes with an automatic brightness control function which sees to it that the tube is fully protected.
It utilizes one AA battery which can run for 30 hours on the highest brightness setting. This unit carries its infrared illumination technique, and the long working battery ensures everything runs smoothly with the device.
The general mounting of this unit poses no real difficulties. It comfortably seats with standard weaver rails which mean a wide variety of rifles to use it on.
However, this scope falls a bit on the heavier side so you may require a lightweight rifle for easy maneuvering with this device. But, if you need balancing on a fixed mount; this scope will come in handy to provide stability against heavy recoil.
PROS:
Automatic brightness control system
Long battery life
Easy one-button operation
Duplex reticle system
CONS:
It cannot be remotely operated
Related: Since this device uses a detachable infrared lighting, the ATN IR850-B1 will prove to be useful long-range infrared illuminator. It is powerful to fit the military, hunting, search and rescue and law enforcement applications. When combined with the Night Arrow they are a powerful kit together.
ATN 4-CGT Gen Night Arrow
Weight: 3.1 pounds
Dimensions: 11 x 4.1 x 3.7 inches
Specific features: Infrared illumination for total darkness, rugged design, retains acquired zero, long-life battery, low charge indicator
Best use: Varmint hunting, target shooting
The ATN 4-CGT Gen Night Arrow also uses a duplex red on the green reticle. It is easy to focus using the ¼ MOA adjustment settings. With the specific range acquired it is easy to maintain since this device is a rugged design. The zeroed components do not shift, so it makes for a very reliable target shooting equipment.
The unique properties of this unit are showcased on the total darkness infrared illuminator. It comes with an automatic brightness control function that quickly identifies the type of lighting in the surrounding to produce images with better clarity than the conventional sighting device.
The sighting with this unit also comes easy. With ¼ MOA windage and elevation adjustments plus the eye relief and exit pupil settings being in the kill range, will be constant for you. It can range from very 10m to infinity, so you can set the zero at a very precise point.
This riflescope extends the high-qualities to battery conservation capacity. It can be of use with 30hours of high brightness settings, where you can tell the battery level through the availed low charge indicator on the 1.5volt battery.
You will never go wrong with the device, but it is advisable to carry a spare battery, in case you plan to subject your device to high usage.
PROS:
Easy to sight in
Sharp focus ability
It has a low battery indicator
Can cut off bright light fast
CONS:
Does not include smart technology
Related: When you need to carry along a spotter, the ATN X-Spotter is a quick accessory to combine with this device for the smart technology purpose. It records in 1080p HD quality and allows for HD streaming. Also, carry along the ATN IR850-B1 long distance illuminator when you want to range further than the capability of your device.
Final Thoughts
As units that profoundly amplify light, these devices are very efficient for a broad class of users. If you are in the military, active law enforcement or enjoy night hunt thrills, these devices are invaluable if you want to go home alive.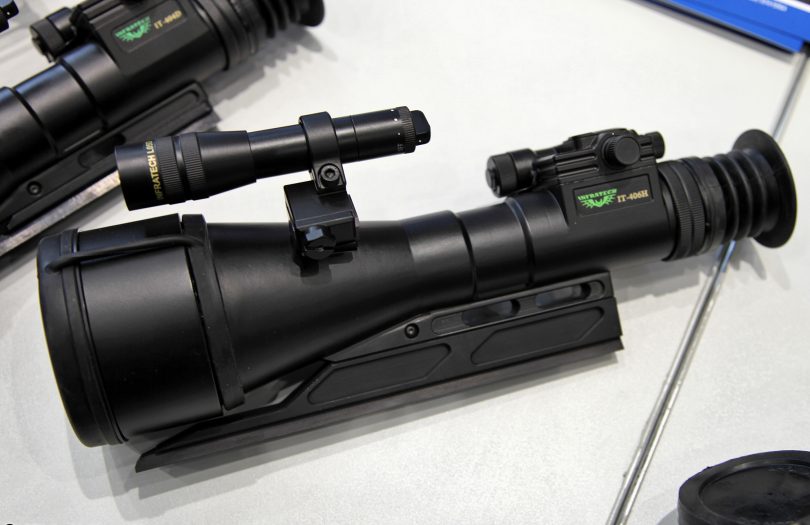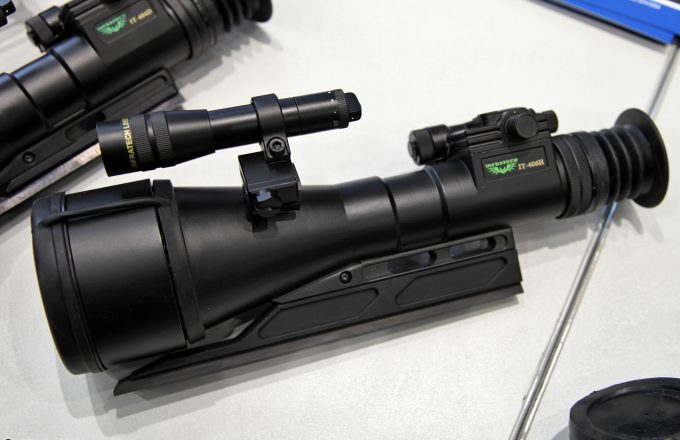 The above list seeks to give you clear guidance on the difference ATN night vision riflescopes there is on the market today. We hope you make an informed decision when buying your next NV device.
Do you have experience working with any of these offerings?  If so we'd love to hear from you in the comments section below.