Ask people who use a shotgun to give you a wish list and you are likely to get the majority of them including a red dot sight as one of the things that they think will enhance their ability in target acquisition. But how do you even start selecting the best shotgun red dot sight in a market which is teeming with so many products? Well, we have an idea where you should start; by reading this article right to the end.
Since the beginning of 2018, we have spent a great deal of our time combing the market with the aim of identifying the best products in this class. The products that made it into our list are class leaders in their own way. Even though we are tempted to tell you which one you should buy, we have decided to desist from doing this; rather let's give you the information and you make the selection based on your own unique needs.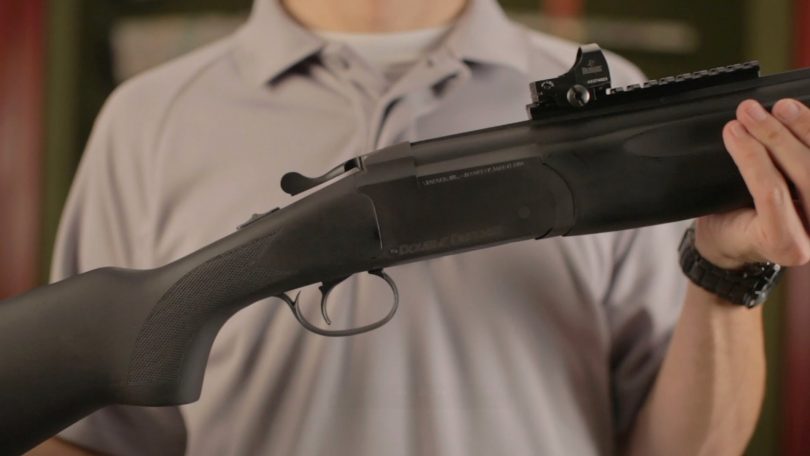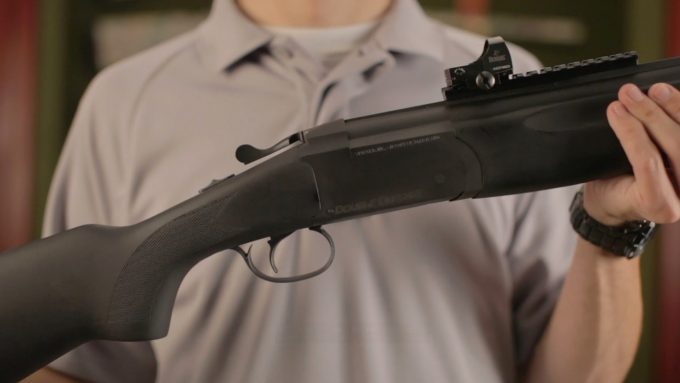 Before we delve into the specific products we have selected, let's start by doing a brief guide on the things you needs to look out for when you are buying a product such as this one. The most important thing to always remember is that the price of a product should never be the only thing you consider when buying such things like a shotgun reflex sight or red dot sight.
What Is A Red Dot Sight?
A red dot sight is a reflex sight, which does not have magnifying features, for devices such shotguns that require you to aim and shoot at something. But, what is a reflex sight? The term reflex comes about because the reticle which aims has a forward projection, from a given point at the back of the objective lens. The reticle is then projected towards the eye of the shooter.
The objective lens of the reflex sight becomes a partial mirror. This ensures that the amount of light passing through it is restricted. Some reflex sights work by deploying ambient light that is collected by a fiber optic mechanism, yet others have a tritium lamp unit which supplements the light when the light is not adequate.
Why You Need a Red Dot Sight
If you already know how to use a shotgun, congratulations. But do you remember the number of things you had to learn to do things right? Yes, you had to learn all sorts of things including keeping the finger near the trigger, how you should stand and where the foot should be, focusing on the sight and blurring the target. Remember learning how to press the trigger without jerking.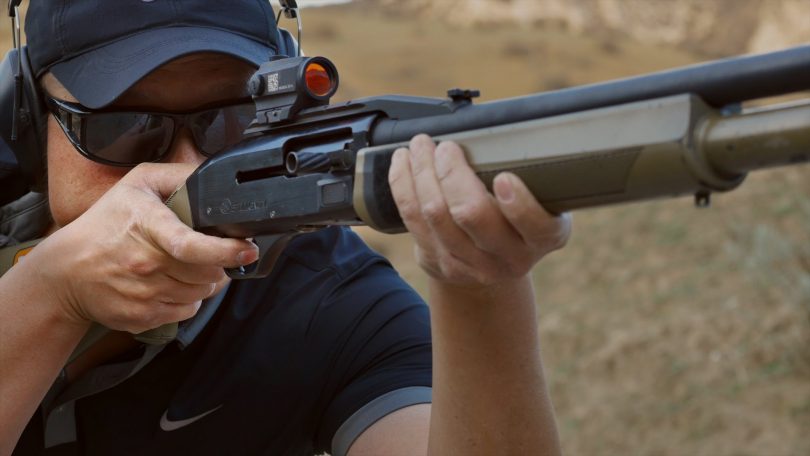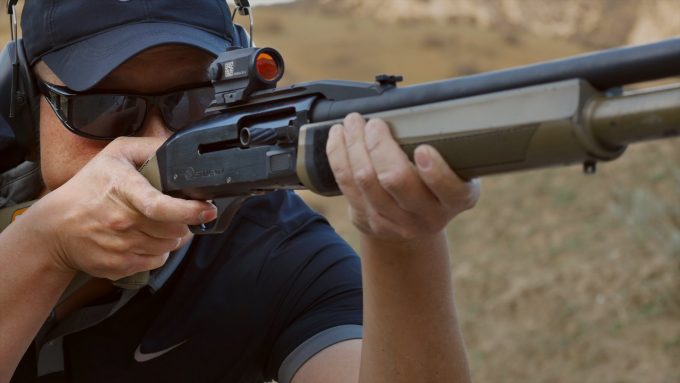 Well, this whole process could have easily been simplified by deploying a red dot sight. The red dot optic is a shortcut to learning a process that would have taken ages; sometimes with limited results.  The red dot does not only allow the new shooter to learn the skills faster but makes it rewarding too as the hits are produced earlier.
Red dot optics that are not magnified have unlimited eye relief. This means that you can mount the reflex as far forward as you want on the firearm. This ensures that the scope does not present problems to the shooter while in recoil. There is another advantage that red dots deliver; speed. How? These devices are fast to use. The process is simpler because the visual plane and the target are on one aiming point. All you need is to place the dot on the target and then shoot.
When the optic is not magnified, as is the case with the red dot sight, you can use them with both your eyes open when it's possible. The advantage of this is that it helps you to acquire the target more rapidly. This makes your job easier if you are moving between different targets.
Things To Consider When Buying A Red Dot Sight
There are a few things you will need to consider when you are buying a red dot sight including the size of the reticle, the price, and batteries.
Your Needs
The first thing to consider when you are buying a product is your needs. This applies to your red dot sight. Ask yourself what your preferred shooting stance is. This will determine the type of eye relief you will want to go with. Poor eye relief negates the purpose of having the instrument in the first place, it makes the process of acquiring the target more difficult.
While still looking at your needs, it is important to consider issues of the budget. You do not want to just go for the most expensive product because more expensive does not always mean that the product is better quality.
It could actually mean that the manufacturer is not selling enough units and therefore not benefiting from the economies of scale. A cheaper product may also not provide the value you are looking for as we have learned over the years that you get what you pay for.
Red Dot Size
The sizes of red dot sights differ in various products. In some sights, the size of the dot can be adjusted. You will need to consider the room you have on your firearm. This is what will determine the reticle that you need when you are making a decision on the red dot sight you buy.
The Objective Lens
Look at the objective lens. Of course, this depends on the situation but it is a crucial part of the instrument. If the diameter is wider, you have the ability to see broadly over the target area.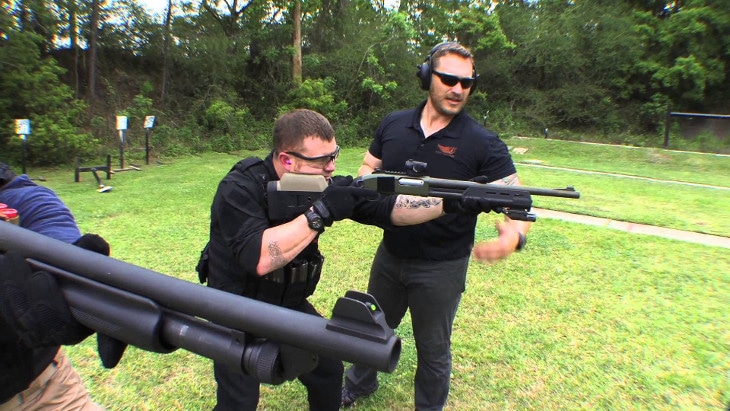 When the diameter is smaller, it also means that you have a smaller target window. A smaller profile could actually be the reason why you will be more accurate when you are shooting.
Warranties
We believe that a manufacturer who is willing to provide a warranty for their products is indicating that they have faith in the product. Check the condition for the warranty. Read product reviews to get an idea of the brand's customer service just in case you meet problems after buying the red dot scope.
Top Products Currently on the Market
Now that we have dealt with the basics of red dot sights, it's time to look at the specific products. For every product we review, we look at specific features such as its weight, the dimensions and where it can best be used.
Bushnell Trophy TRS-25 Red Dot Sight Riflescope
Product Dimensions: Length (in/mm): 2.4 / 61.8
Specific Features: Power / Objective Lens: 1 x 25mm, Field of View: Unlimited
Best Use: Sports, Hunting
Every time when we see a product from Bushnell like the Bushnell Trophy TRS-25 Red Dot Sight Riflescope we can't help but look up. The reason for this is that Bushnell has proved itself over the years to be an industry leader when it comes to optics.
They have been doing this kind of stuff for over 50 years. In the past 50 years, they have been driven by the same philosophy of providing reliability, quality, and affordability within the same product.
This particular device is equipped with Amber-Bright optics. This is the reason why it is easy to distinguish objects when you are using this device. Like all good scopes, expect the optics on this scope to be multicoated. If you are a hunter, you will not have a lot of problems identifying the target even if light conditions are poor.
The product is 100 percent waterproof, shockproof, and fog proof. The housing is filled with dry-filled nitrogen.
The Bushnell Trophy TRS-25 gives you the advantage of using both your eyes. This allows you to be aware of the surroundings which allow you to acquire your target. The parallax free design ensures that you will not need to center as the dot has the ability to follow the user's eye as it moves.
When we look at the prices of this red dot sight and what it can do, we certainly feel that when you buy it you are getting value for your money. The optic has a number of good features that we think a good product should have.
BSA 30mm Red Dot Scope
Product Dimensions: 5.2 x 4.8 x 3 inches
Specific Features: 5 MOA red dot, 11 position rheostat
Best Use: shotguns, crossbows, rifles
The BSA 30mm Red Dot Scope is designed for medium and close quarter targets. The device is lightweight so it will not add undue weight to your shotgun.
The fact that this red dot sight is lightweight and compact makes it suitable for small calibers. This, however, does not compromise its ability to work on crossbows and rifles.
It is understandable when you look at the price of this scope and get concerned; especially if you consider that fact that these products can cost anything from around ten bucks to a thousand bucks. Many people who see the cost of this one start off with the assumption that it must be some sort of toy. Once you get this device you will be pleasantly surprised as it is more solid than we had initially thought.
The red dot is reasonably clear. When you use this product at around 100 yards, things start going south. Hitting small targets at this kind of distance becomes more difficult.
The BSA 30mm Red Dot Scope is a product we can certainly recommend. However, we advise anyone who decides to buy it to do so knowing that this is an entry level device. If you expect it to give you the service that you would otherwise get with scopes that are higher in the price range, you will be disappointed.
Field Sport Red and Green Reflex Sight
Product Dimensions: 3.25 inch
Specific Features: 1x magnification, 4 Reticle
Best Use: Shotgun, Rifle
When we saw that the manufacturers of the Field Sport Red and Green Reflex Sight were claiming that this product is a top rated product, we decided to look at it more closely. Yes, it has four reticles. This means that your aiming is more centralized. This also means that the product can be used in various settings, conditions, and even different targets.
The 33mm reflex lens aperture is quite powerful. This together with the tubeless design ensures that you are getting a field of view which is wider. The eye relief is infinite in rapid shooting. The reason why you are able, when using this unit, to aim at targets that are 50 to 100 yards away with accuracy is the 4 dot patterns for sighting.
Manufacturers of good optics know that aircraft grade aluminum is the material to use when making these products. This makes your red dot sight suitable for use in different climatic conditions. We are also starting to notice that all serious manufacturers of optics, like Field Sport, make their products water resistant, shockproof and fog proof.
When we look at this product, we are quite impressed by its price and the features it presents such as the four reticle patterns and a built-in mount base. We will not call it an excellent choice for moving targets as the manufacturers do but we will say it works fine for this type of work.
If you remember how much you paid for the product and do not expect too much from it, you will certainly love your new acquisition and what it can do for you.
Barska Red Dot Riflescope
Specific Features: 1x magnification, 5 MOA reticle
Best Use: Rifle
There are a number of really not nice things to say about the Barska Red Dot Riflescope but let's see if we can get a few good things to say before we get to the stuff that we did not like about the product. The red dot scope comes at an affordable cost.
This would be a product of choice for someone working within a budget. But this is one product which shows that the adage "you get what you pay for" is true.
The Barska works fine in some conditions but at times the dot blurs. This could be due to different conditions in different light conditions in shooting ranges. Well, you wouldn't want to wound up with a product that restricts you in certain ranges. For us, this is a big no-no. Good red dot sights are now made to work well in different light conditions.
The scope is easy to mount. However, you will notice that the screws loosen just as easily when you are shooting. Using tape to lock everything in place usually solves this problem.
If you ask us whether you should buy this particular product, we will tell you that it is not one we can recommend easily. It seems to have a lot of issues. It may work fine in the beginning but do not expect this to be long lasting. Well, if you consider what you are paying for this product, you can understand why it will no wow you or anyone else.
Pinty Red & Green Reflex Holographic Rifle scope Dot
Product Dimensions: Housing Size: 3.2×2.6inches/82x66mm
Specific Features: Object Aperture: 33mm, Field of View: 15.8 at 100m Tube diameter: 33mm
Best Use: Rifle
If you are looking for a red dot sight that has a solid look and which is durable, you can turn to the Pinty Red & Green Reflex Holographic Rifle scope Dot with confidence. The product comes with some desirable features such as being lightweight, fog proof, waterproof and shockproof.
Like other good scopes, the Pinty Red & Green Reflex Holographic Rifle scope Dot has a reticle with four patterns. If you add the fact that this scope delivers corrected parallax and infinite eye relief, you will get an idea why it can easily be put in a list of the good products currently in the market.
The quality of this product is enhanced by a tubeless design which is also equipped with a 33mm reflex lens. This allows a field of view which is wide. Together with your new red dot sight, you will also get the tools required for the elevation and windage.
The unit also comes with an inbuilt mount base which ensures that mount sighting is made easy. For a product coming at this price, we think that buyers are getting value for their money. The product can do with some improvements but we are sure that once this happens, this will mean that you have to pay a little more for it.
Ohuhu OH-RG-SC Reflex Sight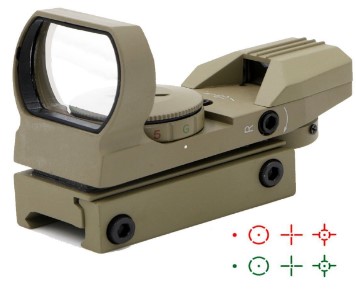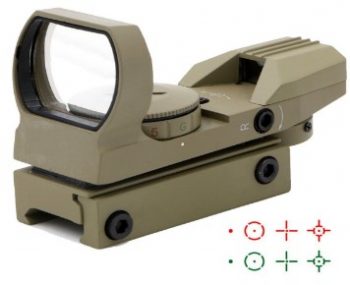 Specific Features: Multi-Reticle (4 patterns), 33mm reflex lens aperture
Best Use: Shotgun
If you are looking for a red dot sight that screams solid construction, then you may as well say that you are looking for the Ohuhu OH-RG-SC Reflex Sight. However, whether this impression will last long enough, is another question.
Whether you have adequate or suspicions levels of light, you can expect clear reticles. It is easy to look at this product and dismiss it because of its price, but that would be a mistake.
After mounting this sight to a shotgun, and this can be done quite easily, you will Zero with no major problems. We were also impressed by the 4 reticle choices. You can also choose between red and green depending on the situation at your shooting range.
Another feature we loved about the Ohuhu OH-RG-SC Reflex Sight is the option you get to set the brightness.
This is an entry level product, so the quality is just fine. You will need to handle the unit with care as the lens seem to crack at the slightest excuse. After using it for some time, things will start to become loose, especially the adjustments.
When you buy a product, you buy it so that you can use it, not to spent hours trying to fix it. The good thing is that if you have a genuine problem with the product, customer support is always ready to assist.
UTG 4.2″ ITA Red/Green CQB Dot
Product Dimensions: 2 x 1 x 1 inches
Specific Features:
Best Use: Rifle, Pistol, Shotgun
Word from the people at UTG is that this dot is designed with the aim of offering a dot that can only be described as crisp if what you want to do is precision shooting. We looked at the UTG 4.2″ ITA Red/Green CQB Dot with the aim of determining if there was any substance to this claim and our first impression was that this is not an exaggeration at all. The product has the features that allow you to aim quickly.
The fact that this red dot sight is compact has not compromised its ability to do what it is designed for. Like other good products we have already reviewed, this unit delivers unlimited eye relief. The reason why you get instantaneous target acquisition lies in the fact that it delivers a crisp MOA Dot. The ITA in the name stands for Instant Target Acquisition.
This product comes with what is known as the UTG advantage. This is an exclusive lock-down feature only found in UTG products. So what does this feature do? It ensures that once your sight has been zeroed in, you will never have to worry about it again as it will be locked in place using a provided Allen wrench.
It also features the famous True Strength Platform. The manufacturers of this unit are always at work collecting the views of the users. They then integrate these ideas when they test their products.
Wrapping Things Upon the Subject
After looking at the shotgun red dot sights we reviewed in this article, we hope that you have seen one that specifically answers to your needs. Even though most of the products we have on this list are entry-level products, we are still impressed by the features they deliver.
As long as you approach the products with an understanding that for a certain price, there is a certain level of quality that can be expected, you will agree with us that the majority of the units we have here are great value for money.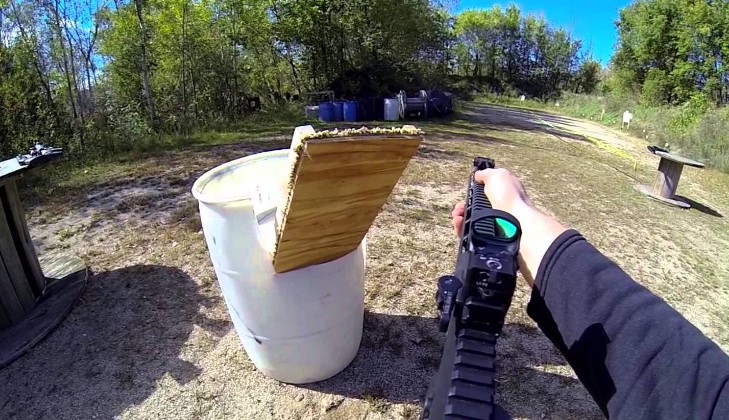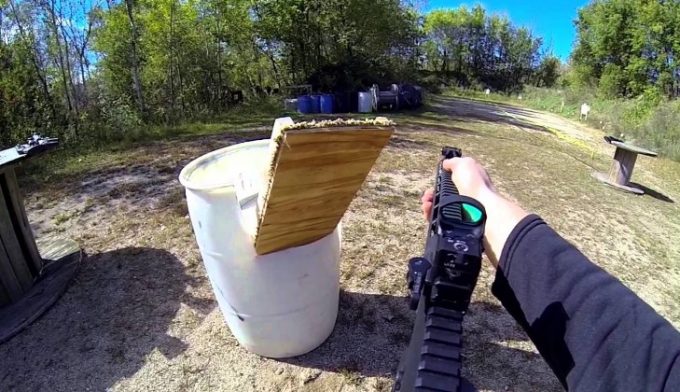 We'd like to hear from you as to which choice you've made and why. Let us know in the comments section below.