Don't you require accuracy when shooting in the dark? Well, if you are a hunter who has to get rid of hogs after sundown or just love practicing target shooting in low-lit conditions, you must agree that a night vision scope is an essential equipment.
Best Pick
Good Choice
Don't Miss
Also Consider
Yukon Sightline Digital Night Vision Riflescope
Firefield RapidStrike 1-4x24 SFP Riflescope Kit
Sightmark Photon Digital Night Vision Riflescope
Sightmark Wraith Digital Night Vision Riflescope
Best Pick
Yukon Sightline Digital Night Vision Riflescope
Good Choice
Firefield RapidStrike 1-4x24 SFP Riflescope Kit
Don't Miss
Sightmark Photon Digital Night Vision Riflescope
Also Consider
Sightmark Wraith Digital Night Vision Riflescope
We first thought of night vision as just reserved for the military, primarily because of the steep prices attached to them. But now with high tech, you can get your hands on an excellent night vision scope for a good price. Our goal is to let you in on the best of these devices which does not mean spending extra on high-quality features that you can get at a much lower price.
We have combed the market to find only the night vision scopes that actually matter. These models carry the best optics in different generations. They prove to be reliable and convenient in all your after-dark endeavors. And, their best quality must be their affordable price tag. The best night vision scope under $500 not only exists but can be yours.
Top Products on the Market
Now that you are familiar with some of the top features in these scopes, it is time to take a closer look at some of the top offerings. Any of these could be a great choice, so keep in mind your particular needs as you go through them.
1. Yukon NVRS Titanium 1.5×42 Scope
Weight: 1.9 pounds
Product dimensions: 8.6 x 3.1 x 3.3 inches
Specific features: 42 mm objective lens, illuminated reticle, pulse infrared illuminator, titanium body, 200 yards detection range
Best use: Varmint hunting, target shooting
Description
Yukon NVRS Titanium 1.5×42 Scope represents a high-end device that comes at a very affordable price. It is one of the smallest in its class, such that it fits low on the gun giving it the advantage of taking recoil with grace. It comes with a 42 mm objective lens to provide high-resolution images. Its lens is powerful enough to gather as much light in the darkest of conditions; hence you get a clear view replete with all the details you'd want to see in the background.
This night vision riflescope is equipped with an infrared pulse illuminator which comes in handy to light up the images you see even further. What's more, it bears a multicoated lens and an illuminated reticle which lets you have high contrast over all the pictures in your line of your sight. This way, targeting and making the kill shot is fast and easy.
This scope comes with the advantage of being able to accept a digital camera. It can also take a whole range of other accessories including dual-lens, IR Illuminator, laser pointer, and even an AK adapter.
Other additional features include a flip-up lens cover which acts as a protective layer against the elements. You'll also like that the components are in a titanium body which makes it a durable piece. And, because of this construction, it can accommodate a range of rifles even those that have a bolt action style.
PROS:
Sturdy and lightweight
Carries an illuminated reticle
It has low power for full field of view
It has an ergonomic styling to acknowledge a vast array of rifles
CONS:
It comes in green color which is not everyone's liking
2. Armasight Advanced Integrated AIM Pro Scope
Weight: 0.4 pounds
Product dimensions: 6.7 x 3.4 x 1.7 inches
Specific features: 100% full field of view, digital brightness adjustment, eleven intensity settings, submersible,
Best use: Law Enforcement, hunting, professional shooters
Description
Armasight Advanced Integrated AIM Pro Scope comes from a popular brand. The features are exceptional to serve you in its best condition.
This scope mount carries the capacity to convert any standard day vision monocular into a night vision monocular so that you won't be spending extra on night vision equipment like a co-witnessed red dot sight or infrared lasers. It comes complete with a mounting platform where if you mount it together with day or night vision monoculars, you can switch between day and night modes effectively.
This mount allows you to acquire a full field of view thanks to the fact that it allows focusing digitally. The brightness on the reticle can be easily readjusted for quick targeting. With it, you can make up to eleven different types of illumination changes; hence it allows you to have a custom view. You'll also love that it is submersible up to 1meters for around half an hour.
When it comes to the aiming solutions, this mount makes it easy on day focusing by giving the option of 3.5x magnification. This system is perfect for hunting at close range as it allows for quick sighting in changes in the case of random and dangerous situations.
You'll also love that it has a subtle HUD-type prism which allows the scope of a 65 MOA circle to project. It also acquires a 3.2 MOA reticle which helps in fast target acquisition even in the darkest of nights.
PROS:
It achieves high focusing accuracy
Comes with a digital reticle adjustment system
It can take a 3X night vision monocular
Eliminates the need to keep readjusting when switching between night vision and day vision
CONS:
It has a generally short warranty period
3. Firefield FF16001 3×42 mm Scope
Weight: 1.8 pounds
Product dimensions: 9 x 3.2 x 3.4 inches
Specific features: Illuminated reticle, multi-coated optics, adjustable brightness settings
Best use: Hunting, mid-long range shooting
Description
Firefield FF16001 3×42 mm Scope is a new entry in the night vision industry. This does not mean the features are mediocre in any sense. In fact, this is one of the most decent scopes on the market today. This is a generation 1 scope that provides high levels of accuracy in mid-range to long-range shooting. The powerful IR illuminator is crucial in extending your possibilities since it increases the qualities of the imagery.
This scope has a low 3X power which allows you to recognize objects in the dark. You'll also be able to separate the point of aim from the other targets since the duplex reticle can change brightness settings from one to another. You'll be able to hunt in a wide range of environments, owing to the rugged frame construction. The titanium body keeps it secure when venturing in rough terrain as it can take a few bumps and remain in top working condition.
The Firefield utilizes a quick detach mounting system. The Weaver mount makes it possible to change the iron sights, and still, it maintains its point of aim. You don't have to refocus the elevation and windage as it locks the zero into position even after reinstalling it on a different gun. Not to mention; it comes with a lens cover to protect the lenses against bright light.
PROS:
It uses multi-coated optics
Comes with an illuminated red duplex reticle
It allows for brightness adjustments
Uses a quick weaver detach system
CONS:
It has a short battery life
Related: Get to expand your observation capabilities with the Firefield 5×50 Nightfall 2 Monocular. It is ergonomically designed for a tight grip since it is textured. The magnification is high to provide for better clarity in long-range shooting.
4. Armasight ORION 5X Scope
Weight: 3.7 pounds
Product dimensions: 12.7 x 4.6 x 4.1 inches
Specific features: Gen1+, 8 mm exit pupil, infrared illuminator, 40 hours battery life, shock-protected optics, long eye relief
Best use: Hunting, target shooting, sports shooters
Description
Armasight ORION 5X Scope comes with many technical advantages. It has an ergonomic styling in a rugged tube which is contained in a rubberized aluminum body. It is the perfect match for extreme weather conditions since it is water and shock-resistant. The rubber finish gives a sure grip so that you can focus without losing your point of aim.
You'll agree that the 5X power along with the infrared illuminator provides the best viewing experience. It allows for ½ MOA windage and elevation adjustments making it easy for you to focus and take accurate shots. This scope also has a large exit pupil at 8 mm to give a comfortable view. It eliminates peeking into the focus lens when it is dark. The objective lens makes this happen since it is not too big to interfere with the focus lens.
You get up to work with 40 hours of battery life with the 3V CR123A battery. This convenience extends further with the battery indicator plus its battery type is readily available. Another excellent aspect is that it mounts in standard Weaver which allows it to sit low on the rifle. This means that it can retain zero even when you use a gun with high recoil.
PROS:
Uses a detachable infrared illuminator
It has a robust construction for extended longevity
Reticle brightness is adjustable
Optics is shock protected
CONS:
It is not the lightest of scopes
5. Sightmark Digital Photon XT 4.6x42S Scope
Weight: 1.4 pounds
Product dimensions: 18 x 4 x 4 inches
Specific features: Long eye relief, lightweight, Gen 1+ intensifier tube, LED emitter, high resolution, IPX4 weatherproof
Best use: Varmint hunting, crossbow hunting, mid-range shooting
Description
Sightmark Digital Photon XT 4.6x42S Scope lets you improve your night shooting abilities. The manufacturer knows exactly the after-dark conditions; that's why they provide technology advancements to ensure maximum comfort.
First, you can use it for both day and night vision. With six reticle styles, you'll be able to customize your shooting style from using a crossbow to varmint hunting and even being able to use it on rangefinders.
This scope is digitally designed to adapt a video output record. You can view your expeditions after being out in the field; thus giving you the chance to relive your best moments. It is 30% lighter than other scopes so as not to add any weight to your rifle. You'll like that it has a LED display which provides for a detailed view. The resolution is over the top which makes it possible to identify objects for fast focusing.
The Sightmark is a must-have if you wear glasses. This is because it comes with a long eye relief which makes it easy for you to watch the subject in a comfortable view, closer to the eyes. You'll love that with the 810nm infrared wavelength; you are set for a quiet night since it is invisible. This way, you can get to the closest safe distance without being detected.
PROS:
It meets IPX4 weatherproofing standards
It uses a high-performance Gen1+ intensifier tube
It comes with a large objective lens
Can be of use for day and night vision
CONS:
2x AA batteries have a short life
Related: You'll also benefit greatly from the Sightmark Photon 6.5x50S Scope. It is also a digital night vision riflescope. It has six digital reticle styles to improve your accuracy in different shooting environments. It has high resolution plus it comes with an 810nm LED infrared illuminator.
6. Armasight ORION 4X Scope
Weight: 3.2 pounds
Product dimensions: 5 x 1.8 x 1.5 inches
Specific features: Illuminated red crosshair reticle, rubberized body, Gen1+ image intensifier tube
Best use: Security personnel, hunting, sports shooting
Description
Armasight ORION 4X Scope is not only powerful, but it is also compact with high-performance features. The magnification power is crucial in providing a wide-angle of view hence giving you every detail of the subject. You'll be able to focus on simplicity thanks to the fast focus diopter. It is in a textured design to provide a tight grip in wet conditions and when you wear gloves.
This scope comes with an illuminated reticle which makes it easy for you to figure out dark targets like hogs. You'll not need an extra source of lighting, but for long-range hunting, the detachable infrared light is an essential accessory.
With the long battery life of around forty hours, you can be out longer than when using a scope with regular batteries. You are also in luck since it has an indicator and as such, the scope will never die on you without prior warning.
The ORION 4X is completely weatherproofed, starting with the shock-protected optics. Now you can be on random grounds, and it still manages to deliver high-resolution images. The aluminum tube is rubberized to act as a shock absorber when it bumps onto rough surfaces. You'll also be pleased by the multi-coated lenses which prevent reflection of light to allow for bright pictures each time.
PROS:
Elements are in an image intensifier tube
It has an illuminated reticle
Comes with a detachable infrared illuminator
It achieves a full field of view
It has a sturdy design
CONS:
It may fail to retain zero amidst heavy recoil
7. Yukon Varmint Hunter Titanium 2.5X50 Scope
Weight: 1.9 pounds
Product dimensions: 12.9 x 4.5 x 4.4 inches
Specific features: 50 mm lens diameter, titanium body, pulse infrared illuminator, adaptable to many accessories, ergonomic shape
Best use: Law enforcement, hunting, military
Description
Yukon Varmint Hunter Titanium 2.5X50 Scope comes from a company that continues to prove it can produce durable and convenient products. The Yukon 2.5×50 has convenient features that will make your nighttime shooting go smoothly. The low power is just the correct remedy to ensure that you get a wider than usual field of view. The infrared illuminator is the solution for superior imagery when you want to make quick kill shots.
The imaging does not stop at the illuminator since it also uses multi-coated optics. This way, you can be in dangerous situations, but the scope will provide a discrete view. It makes it hard for light to be reflected away enabling the user to hide their position. The red on green mil-dot reticle is a crucial entity as it has an internal allowance to adjust for windage and elevation. The brightness intensity is also changeable with an outer knob.
This scope comes in a Gen 1 titanium tube. The tube protects the compartments from being subjected to any exterior bright light which may damage the optics. The oblique shaped eyecup comes to offer a snug fit closer to the eye. It eliminates the strain that comes with viewing objects when you have insufficient eye relief. Also, it achieves a high resolution such that you can see the target more clearly out to further distances.
PROS:
It has a long battery life
Comes in a rugged titanium construction
It has a high resolution for clear and bright images
It has precise internal elevation and windage adjustments
CONS:
The eyecups do not provide a comfortable view for persons who wear glasses
8. Armasight WWZ 4X Scope
Weight: 3.2 pounds
Product dimensions: 12.7 x 3.8 x 4.5 inches
Specific features: Gen 1+ intensifier tube, shock-protected optics, large objective lens, quick focus lens system, illuminated red crosshair reticle
Best use: Tactical shooting, hunting, sports shooters
Description
Armasight WWZ 4X Scope is made for the experts in demanding shooting situations. It is a small and lightweight unit that mounts fast and secure on many different types of guns. It allows for quick target acquisition thanks to the precision lens focusing system. Sighting in is always comfortable with the illuminated red cross reticle; thus accuracy improves immensely.
This scope allows quick windage and elevation adjustments at ¾ MOA. You can never go wrong with such accuracy at hand along with variable reticle brightness. This way, you can be in random environments and still be safe as you set the intensity to just the right position. It also comes with a detachable long-range infrared illuminator. It provides for extended usage when shooting far distances.
When it comes to protecting the optics, you'll like that it comes in an aluminum housing. This way, all the internal elements can face outdoor conditions. The tube seals completely against water, fog, and dust. You'll always take consistent shots since with the shock-corrected optics and recoil is better managed.
PROS:
It mounts to standard weaver rails
Illumination intensity is adjustable
It completely shock and weatherproofed
It has a big exit pupil for comfortable viewing
CONS:
It can add some weight to your rifle, but this setback helps when it comes to taking recoil
Features to Consider Prior to Purchase
But first, let's look at the factors you need to consider before getting yourself a night vision scope.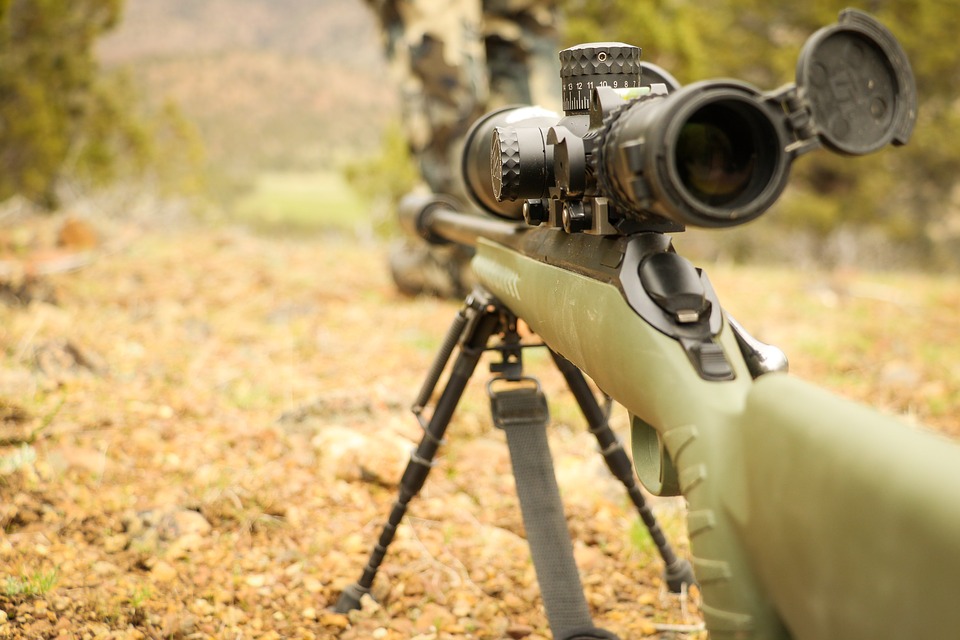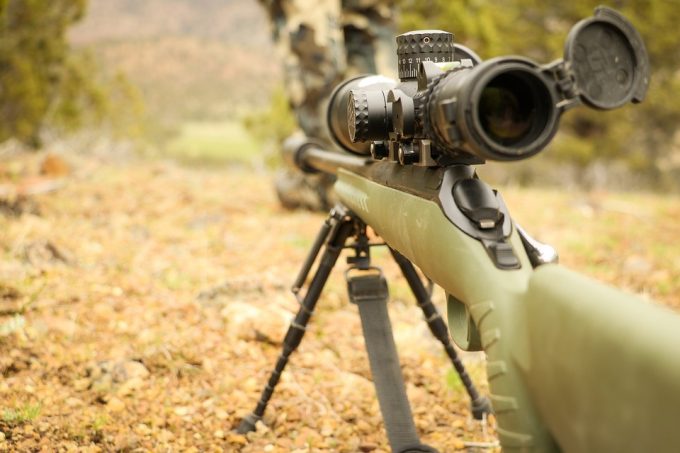 Size and Weight
Heavy optics may cause fatigue when using the scope for extended periods. It's always important to note the effect the size of scope has on your rifle. For hunters who do not always take shots in a standing position, this may not always be a concern.
For hunters and other users who shoot when standing, you'll want to eliminate strain when taking consecutive kill shots. Hence the scope should have easy to manage weight. It's always preferable to carry a small scope when you have to walk for hours. Consider the size of the objective lens as it increases the weight and size.
Resolution
This aspect is usually indicated by lp/mm. To gain a clear view each time, the number on the NVD will provide an indication of the clarity you'll get with that particular scope. A high number gives bright images with a contrasting background as opposed to a small number.
It's also important that you look into the lens system. Multi-coated optics add to the detailing of the images you see. The high-quality glass is the best as it provides brightly-lit images without distortion. Remember that viewing in the dark poses the challenge of magnifying every small detail in your line of sight. As such, choosing the scope with the best resolution will save you from delays in target acquisition.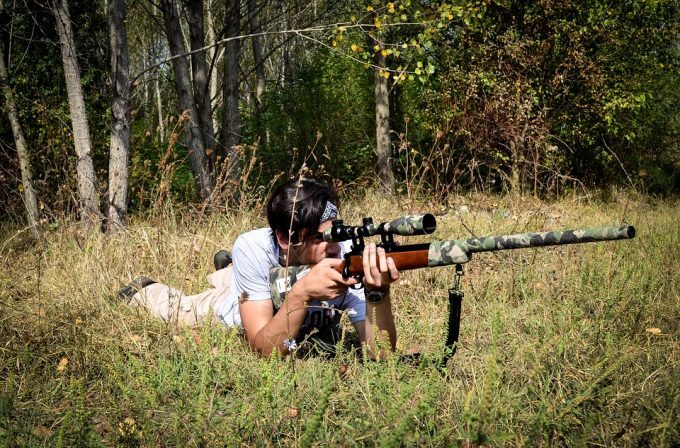 Construction
When using your scope in different environments, you'll want it to have robust construction. The tube should withstand heavy usage including recoil and extreme weather conditions. Look for scopes that can handle rifles with heavy recoil, so you don't keep on readjusting the settings.
As much as your scope is well-made, it should also be light enough. Titanium and aluminum provide shockproofing without adding any significant weight. When you want your scope to last a long time, then it should balance between the weight and the materials that make it.
You should also consider whether the unit you invest in is protected from bright light exposure. This aspect is important in preserving the life of the optics.
Batteries
Batteries power nearly all civilian night vision scopes. The difference lies in the battery life and the availability of particular model cells. Pick a scope with long battery life if you are going to be out in the field for many hours.
You should consider the cost of replacing batteries and if possible whether you can get rechargeable ones. Alkaline batteries are readily available while lithium is only in specific stores.
Range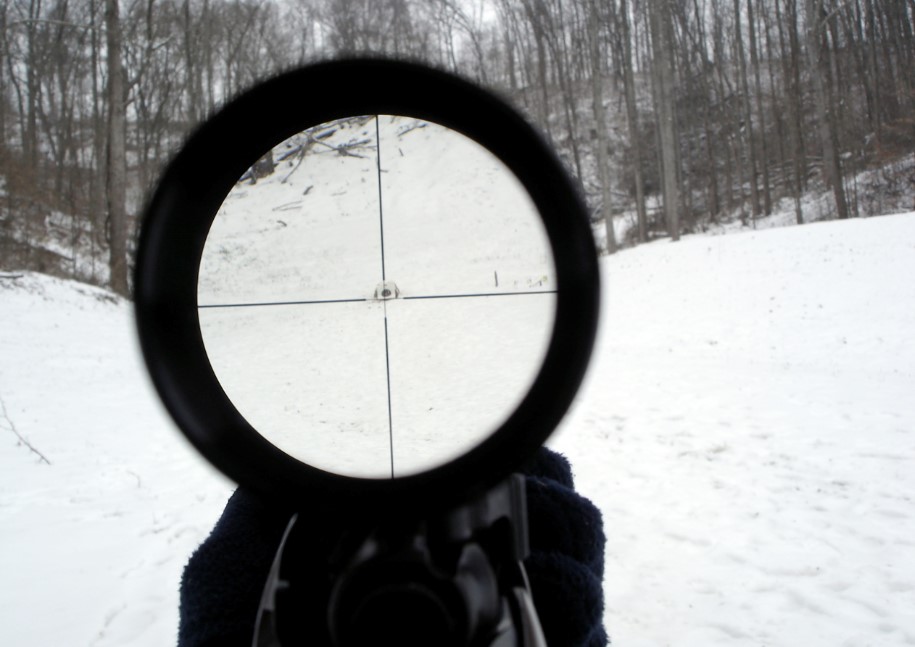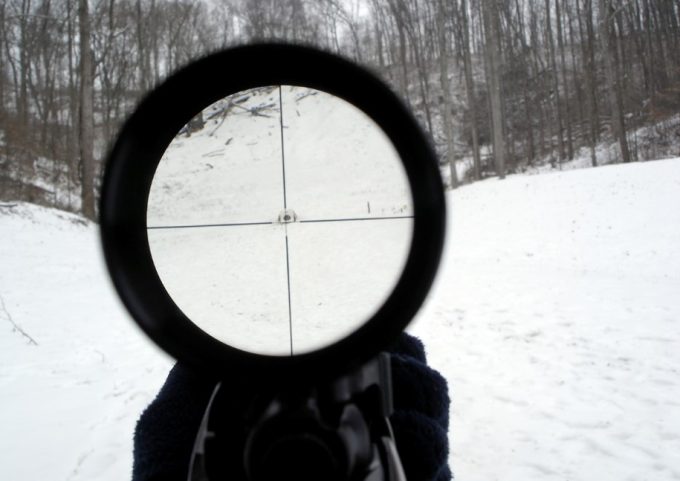 You will no doubt also consider the range that your scope can cover. There are some differences to take into account even if you are familiar with normal day use scopes. First off you will need to accept that the scope will not have the same range as a daytime scope.
Also, you will need to understand that the range may be dependent on the ambient light of the situation. In some cases, like a full moon, you may find yourself with a lot of light and reach the maximum advertised range. However, on a cloudy moonless night, your range may be greatly reduced.
Final Thoughts
Increase your accuracy when shooting in low-lit situations with the above night vision scopes. The optics along with the illuminated reticle gives you the most comfortable shooting experience.
By looking at the features that make each unit, you can tell which model stands out when meeting your needs. Hopefully, with this information, you can pick out a night vision scope without making many compromises.
Finally, we'd like to hear from you. If you have any experiences with our picks, please let us know in the comments section below.
Take a look at these scopes:
ATN MossyOak X-Sight-4k Pro Smart Day/Night Camouflage Scope w/Full HD Video rec, Smooth Zoom,...
Obsidian IV Dual Core Processor and Ultra HD Sensor - an ideal combination to satisfy your 24/7 hunting needs. Rich color palette for the daylight,...
Dual Stream Video Recording - Wifi Streaming and Video Recording now can be turned on simultaneously with no negative effect on performance
Ballistic Calculator feature makes every shot a kill. Point of impact is adjusted automatically with consideration of ammo type, range to target and...
Recoil Activated Video - focus on the game, let X-Sight handle the routine tasks. As the scope senses the recoil, video is automatically stored on the...
Ultra Low Power Consumption - over 18 hours of active use. No more lost opportunities due to drained batteries
Burris Thermal Series Handheld Thermal Vision Device for Night Hunting BTS 35 Thermal Scope,...
THERMAL IMAGING CAPABILITY: The Burris BTS 35 Thermal scope is equipped with a thermal imaging sensor that can detect heat signatures from targets in...
HIGH-QUALITY OPTICS: The scope features high-quality optics that deliver clear, crisp images, even at high magnification levels; This makes it easier...
EASY TO USE: The Burris BTS 35 scope is designed with ease of use in mind; the scope features a simple interface and intuitive controls, making it...
DURABLE DESIGN: The scope is built to withstand harsh environments and extreme temperatures; it's made with high-quality materials and is designed to...
MULTIPLE RETICLE OPTIONS: The Burris BTS 35 Thermal scope offers multiple reticle options, including crosshairs, dots, and duplex reticles, this...
4-16x50 AO Rifle Scope Red/Green Illuminated Range Finder Reticle W/Green Laser - Holographic Reflex...
NEW ADD ON: 5 lighting modes LED flashlight (high/ medium/ low/ strobe/ SOS) can satisfy your hunting needs in dark environment. Independent
NEW UPGRADE: Adjustable objective with parallax from 15 Yds. to infinity, providing ultra-clear and accurate vision to you. Magnified from 4X up to...
NEW CONTROL SYSTEM: Reflex sight uses new electronic button control system for easier setup and operate. Detachable GREEN laser sight, reaching over...
Each scope part has universal 20mm mount individually, detachable and fit standard 20mm picatinny or weaver rail.
Made of high-strength aluminum alloy. Completely sealed and nitrogen filled makes it 100% fog & water proof; 1000G shockproof test before release.