Today's optical market is booming of a variety of options for the twenty-first-century shooter. Long gone are the days when iron sight ruled.
These days, the majority of gunners depend solely on sight systems to make a perfect kill. But with a revolver in hand as your hunting gear, you need a tremendous scope system that can handle this short-barreled firearm.  So you'll want to track down the best revolver scopes.
Best Overall
Good Pick
Don't Miss
BURRIS 2x20 Gun Scope, Plex Reticle, Matte Black (200218)
Leupold FX-II 4x28mm Handgun Scope, Duplex Reticle, Matte Finish
NcStar 2-7X32 Pistol Scope/Blue Lens/Ring (SPB2732B) Black
Best Overall
BURRIS 2x20 Gun Scope, Plex Reticle, Matte Black (200218)
Good Pick
Leupold FX-II 4x28mm Handgun Scope, Duplex Reticle, Matte Finish
Don't Miss
NcStar 2-7X32 Pistol Scope/Blue Lens/Ring (SPB2732B) Black
Revolver scopes are forgiving in nature as they forgo the harsh recoil effect emitted by today's hard kicking and heavy-hitting handguns. For a bull's eye target, you need to rely on its optical abilities.
However, the technicality in these scope's features and a multitude of options complicates the selection process.
For guidance, it's best to familiarize yourself with the different terminologies used to describe revolver scopes. Remember, no one handgun scope is suited for every job.
By understanding its semantics you will have a better idea of which revolver scope is likely to accomplish the job at hand. Let's first consider the tabular comparison of these revolver scopes to give you a glimpse of their differences.]
Best Products on Today's Market
Judging from the given information, by now you may have an idea of what to buy. But as a start-off spot on some of the best revolvers in the market, here is a detailed review of the best revolver scopes you might want to consider adding to your cart list.
They meet most if not all the qualifications that make a good revolver scope. Lets' dig in to find out more on each selection!
1. Leupold FX-II Handgun
Weight: 7 ounces
Dimension: Length – 8.4 inches
Specific features: Standard duplex reticle, lockable fast-focus eyepiece, fixed parallax adjustment, 4x maximum magnification, 28 mm objective lens diameter.
Best use: Hard hitting handguns.
The Leupold FX-II Handgun makes the mark for its no-nonsense and user friendliness capabilities that make shooting short or long range targets a possibility. This scope is not only durable and reliable but a performer when pushed beyond limits.
The revolver scope highlights some exceptional features that make hunting a breeze. This handgun scope delivers extended eye relief with bright crystal optics needed when shooting with today's modern high-power revolvers. Its optics system is fortified with Multicoat 4 and diamond coat 2 for better light transmission.
The Xtended twilight lens system makes hunting possible even in twilight conditions. Its standard lockable eyepiece makes reticle focus easy to achieve and maintain.
The Leupold FX-II 4x28mm makes a statement mainly due to its exclusive 2ndgeneration argon-krypton waterproofing that eliminates thermal shock. However, even though proven to be a performer, its pricing range limits many users from buying this incredible revolver scope.
Nevertheless, this handgun scope is a must have for gun enthusiasts who want quality in hand.
PROS:
2nd generation argon-krypton waterproofing that eliminates thermal shock
Xtended twilight lens good for twilight conditions
Lockable eyepiece helps with reticle focus
Fixed parallax adjustment
Compact and lightweight
CONS:
Objective lens diameter of 28mm is not impressive enough given the fact that many scopes have 42mm. Nonetheless, it's still a good feature given the profile of the scope and the pricing.
Magnification of 4x is not impressively good for objects far away.
Related: You might also want to consider Leupold's FX-II Handgun 2x20mm and VX-3 Handgun 2.5-8x32mm as they highlight similar features to FX-11 4x28mm.
2. Simmons ProHunter Truplex Reticle
Weight: 9.7 ounces
Dimension: 14.5 x 2.8 x 2.9 inches
Specific features: 32 mm objective lens diameter, 2-6x magnification, standard truplex reticle, Multi-coated lens for HD images, limited zero windage and elevation adjustments
Best use: Extreme hunts.
Precision, reliability, and durability are among if not the best ways to describe the Simmons ProHunter Truplex Reticle revolver scope. This scope is a perfect fit to any hand gunner's rifle. It is packed with features that bring your hunting game to a whole new level.
This pistol scope is made using high-quality materials. Take for instances its multicoated optics that takes full advantage of all the available lighting for crisp clear images.
These lenses heighten target definition in dusk or dawn conditions, inclement weather, or when in deep cover. Furthermore, the scope's 2-6x magnification proves bright distort-free images.
The revolver pistol scope also features a raised tab on the power change ring that offers easier grip and better adjustment. Its ergonomic design is for an all-around, recoil proof and weather proof scope.
Simmons ProHunter Truplex Reticle 2-6×32 mm comes with spectacular highlights. Its field of view at 100-yards covers a maximum of 14 feet with parallax adjustments of 50-yards.
A 20- inch eye relief is also incorporated in the scope's optics. Furthermore, its limited TrueZero windage and elevation adjustment of 70 MOA provide solidness that lasts even in the most extreme hunts.
The one-inch tube scope also features a second focal plane position for its standard Truplex reticle. Your zoom ratio stands at 3.1. It comes in either silver or matte finish with a limited lifetime warranty.
The iconic feature of the ProHunter Truplex Reticle 2-6x32mm series is the Exclusive TrueZero windage and elevation adjustment system that offer locked in zero lasting through the toughest hunt. Overall, this is one revolver scope you don't want to miss in your cart list.
PROS:
Standard truplex reticle
Magnification range of 2-6x to view objects close by or far away
FOV at 100 yards covers up to 14 feet
Parallax adjustment of 50 yards
20-inch eye relief beneficial mostly to the wearers of protective eyeglasses
CONS:
Objective lens diameter not the greatest on the market. In most scopes, the minimum lens diameter is 42mm. But this is not a high-end scope as also evidenced by its pricing
Related: You might also want to consider picking up a pair of Detachable Rings from Leupold to give you a secure mount that you can quickly swap off when required.
3. Weaver Classic Handgun Scope
Weight: 6.7 ounces
Dimension: 12 x 3 x 3 inches
Specific features: 28 mm objective lens diameter, standard dual-x reticle, nitrogen purged tubes with zero internal fogging, limited life warranty.
Best use: extreme hunting.
The Weaver Classic Handgun Scope is built to withstand the brutality of powerful revolvers and single-shot pistols. It is designed for the incredible recoil of 1000 rounds from a standard shotgun. This revolver scope delivers the good on rugged yet consistent accuracy.
The revolver scope features some of the basics that make up an excellent revolver scope. Its optics deliver crystal clear images even under the jarring recoil of powerful handguns. The solid one-tube construction embeds the optics in a way that keeps them intact shot after shot.
Some of the major highlights of the Weaver 2x28mm include, fully multi-coated lenses, nitrogen purged tubes with zero internal fogging, silver finish, the 21-feet field of view at 100yards, standard dual-x reticle, 50yards parallax adjustment, 16mm exit pupil and battle tested to withstand the most powerful handgun calibers. The scope also has a limited lifetime warranty.
One of Weaver 2x28mm impressive features is the incredible 4-29 inches eye relief. However, it still does not outmatch that of the top featured revolver scopes.
Regardless, this Weaver optics line up will enhance your firearms on a level only weavers do. Buy one today and begin to enjoy its magnum force dependability and outstanding high impact accuracy.
PROS:
21 feet field of view at 100 yards
4-29 inches of eye relief to help use it even with eyeglasses
Standard dual reticle
Parallax adjustment at 50 yards
16mm exit pupil
CONS:
Magnification of 2x may not be sufficient for tiny objects seen far away.
The objective lens diameter is also not the largest
Related: You'll want something to mount this to your revolver with and the Weaver Quad-Lock High Rings should do an excellent job.
4. Burris Ler Fixed
Weight: 7.0 ounces
Dimension: length – 8.9inches
Specific features: 27 mm objective lens diameter, 10-24 eye relief, 80 inches maximum windage at 100yards, matte or nickel finish, waterproof
Best use: Handgun hunters
The Burris Ler Fixed is a tough yet reliable scope with precise optics fundamental for any handgun use.
This revolver scope comes in a lightweight package that offers 10-24inch eye relief. The 27mm objective lens and 35mm ocular lens are the reason behind the scope's optical success rate.
They feature High-grade optics for excellent illumination, clarity, and durability. Furthermore, their index-matched, patented Hi-Lume multicoating helps in glare elimination and low-light performance.
Some of the revolver scope's featured specs include the 21-feet field of view at 100-yards, 10-mm exit eye diameter, Plex reticle and ½-MOA windage and elevation adjustments. All these are housed under its stress-free, durable solid 1-piece outer tube that withstands shocks from the heaviest-recoiling calibers.
Other major highlights of the Burris LED FIXED 2X finish Handgun Scope to include, dual internal spring tension system that enables the scope to hold zero through vibrations, recoil, and shocks, positive steel-on-steel adjustments for continuous accuracy, and nitrogen-filled scope tubes that eliminate internal fogging even in rain and cold.
This revolver scope is guaranteed by the Burris Forever Warranty.
The short gun scope gets its praises for its multi-coated lenses that maximize contrast in low-light conditions while eliminating glare and providing superb clarity. The amazing bit is that the revolver scope is available in different variations to meet individual needs. Bottom line, this is one handgun scope you don't want to miss in your cart list.
PROS:
21 feet field of view at 100 yards
½ MOA windage and elevation adjustments
Dual internal spring tension system that enables the scope to hold zero through vibrations, shocks, and recoil
Nitrogen-filled scope to shield against the climatic conditions such as rain and moisture
Multi-coated lenses to enhance contrast in low-light conditions
CONS:
Insufficient objective lens diameter of 27mm
Related: To keep your scope protected and dry when not in use you should look into the Burris scope cover.  It is made from micro fleece to ensure that your scope doesn't get scratched up.
5. Hammers Long Eye Relief
Weight: 20.8 ounces
Dimension: Length – 1.25 inches
Specific features: 32 mm objective lens diameter, 2-7x magnification, 13-17 inch eye relief, 11.5-24.5 ft field of view at 100yards, silver chrome or matte finish.
Best use: Forward mounting scout scope
With a wide plate of combat and tactical products on offer, you need a name you can trust; the Hammers Long Eye Relief is definitely all that plus much more. This amazing revolver scope is a must have for any serious hand gunner. It makes a sound purchase for your combat gear and tactical ability.
The scope features fine line 4plex reticle for pin-point accuracy, premium high-grade optics fully multicoated for clear sharp viewing, and standard one-inch main tube for a solid feel.
Other major highlights include finger adjustable elevation and windage turret screws, matching Weaver mounting rings and bungee-corded lens and quick focus ring at the eyepiece hinder. This scope is also recoil-proof, waterproof and fog proof. Overall this Hammer series has some nice touches that add value to your money.
PROS:
2-7x of magnification enables to select the best image of your target
4plex reticle for pin-point accuracy
High-grade multicoated optics for crystal image finder adjustable elevation and windage turret screws
Weaver mounting rings
Recoil and waterproof
CONS:
Its objective lens diameter of 32mm not really the largest/best on the market. But considering the price tag, it is still the best product to buy
Related: It can be tiring to hold the scope in your hands while traveling. We, therefore, recommend the Scope Shoulder Holster to carry the scope conveniently and safely on your shoulders.
6. Ncstar® 2.5×30 Mm Pistol Scope
Weight: 11 ounces
Dimension: length – 9 inches
Specific features: 30 mm objective lens diameter with a 2.5 magnification, 10.5 inch eye relief, 12 mm exit eye diameter, Mil-Plex non-illuminated reticle, 19.5 inch field of view at 100-yards
Best use: Extreme hunts
The NcSTAR® 2.5×30 mm Pistol Scope offers long-range precision for your favorite rifle. This revolver scope is a blend of sturdiness and superior optics performance in a compact affordable package. It is a must have on your cart list for any serious shooter.
Some of the main features of this 1-inch tube scope include a multi-coated blue lens, one-inch weaver style rings and lens caps, black finish, recoil-proof, waterproof and fog proof.  With its 2.5 times magnification, it will get you closer to your target.
PROS:
12mm exit eye diameter
5-inch field of view at 100 yards
Fog proof
Recoil and waterproof
Compact and lightweight
CONS:
Fixed magnification of 2.5x may not be sufficient for objects far away
Related: To mount this revolver scope, you may be interested in the NcStar 1″ Ring-3/8′ Dovetail-Medium to help you secure it.
7. Nikon Force XR
Weight: 11.5 ounces
Dimension: 12.2 x 3.5 x 2.8 inches
Specific features: Standard truplex reticle, 28 mm objective lens diameter, 2.5-8x magnification, 9-30 inch eye relief, field of view at 100 yards: 4.1 – 13.1 ft
Best use: Extreme hunts
The Nikon Force XR is an upgrade to your usual revolver scope. Its fine hand-turn adjustments, extended eye relief, and quick focus eyepiece make the scope highly dependable and user-friendly.
With a combined power of durability and unmatched brightness, this scope is sure to meet the needs of the most demanding shooter. Its recoil proof and weatherproof capabilities keep hunters confident even in the harshest elements.
The scope is also nitrogen-filled and O-ring sealed. It features a fine silver finish, 40MOA max internal adjustment for windage and elevation, multi-coated lenses, and a limited lifetime warranty.
PROS:
Magnification range of 2.5 to 8x
Extended eye relief
Recoil and weatherproof
Quick focus eyepiece
Fine silver finish
Multi coated lenses
40MOA maximum internal adjustment for windage elevation
CONS:
Fairly expensive
28mm objective lens diameter not necessarily the best on the market with this big price tag
Related: We recommend the Warne Scope Mounts Quick Detach Rings to mount this revolver scope on it for stability and ease of use.
Things to Consider Before Buying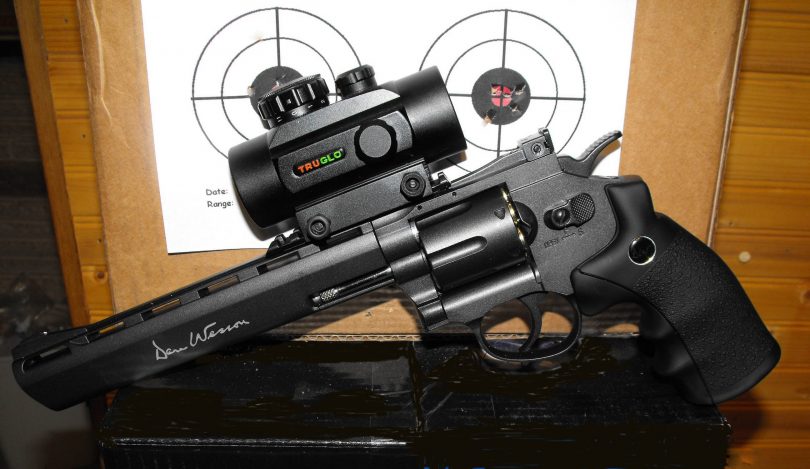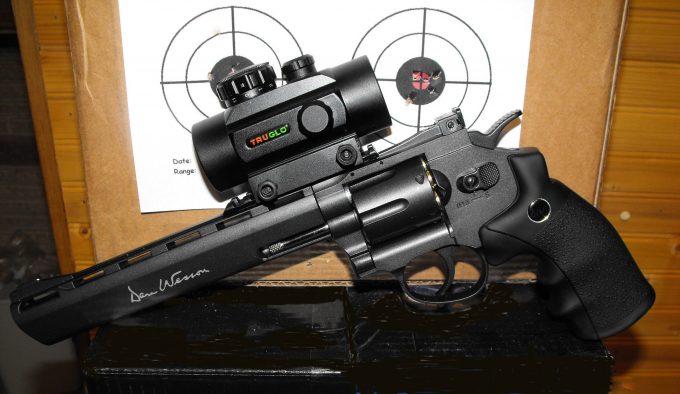 As we highlighted above, the technicalities and the specs of these revolver scopes makes the selection a perplexing task at hand. It is therefore important to be familiar with the important terminologies and aspects before choosing any of these scopes. No scopes can be all in one. The higher the spec is the higher the price tag.
Optical Power
Optical power refers to the magnification strength of a revolver scope. It is usually noted as '4×32' in that the 4x indicates the magnification power while the 32 stands for the objective lens diameter of the revolver scope.
A revolver scope may be fixed or have varied optical power. Usually, they are indicated; fixed scopes (4×32) while variable scopes (2-6×32). Variable scopes tend to have a larger following, unlike the rest due to their several power options benefits.
However, fixed scopes have an upper advantage over variable ones when it comes to pricing. They tend to be more pocket-friendly, unlike their counterparts. Regardless, all revolver scopes are good depending on the shooter's wants and needs.
A scope's magnification power is going to determine the limits of its usefulness. Revolver scope 101 states that the higher the magnification strength the less area you can see through your scope. That's why it is important to consider the kind of task you are involved in before selecting a scope.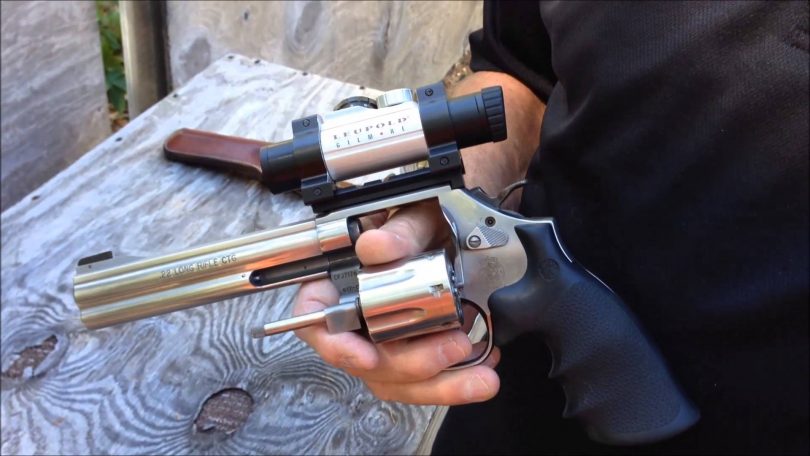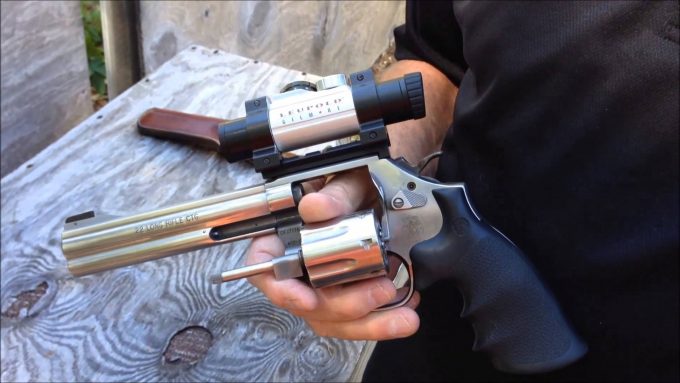 Take, for instance, a 1000 yards bench shooter with a 4x power revolver scope is tremendously underequipped. While a 16x power scope in the hands of a rain deer hunter has no use as he or she will have a hard time making a kill.
This is because fixed power scopes below 10x magnification are also better suited for offhand shooting of 500yards or less. A 4x and 6x are good for general shooting and hunting. While those ranging between 9x and 12x are ideal for long distance shooting.  Those beyond are great for stationary targets and may require the help of a bipod.
Please note that a high magnification consumes up a lot of light. With all factors constant, a 16x revolver scope will show an image darker than a 4x scope. This is because high magnification scopes tend to have more lens coating that eats up the light.
However, there are different ways to increase your scope's illumination. You may invest in a larger lens scope tube diameter, but if that factor is not properly regulated, you may end up with a large scope that is difficult to mount.
Reticles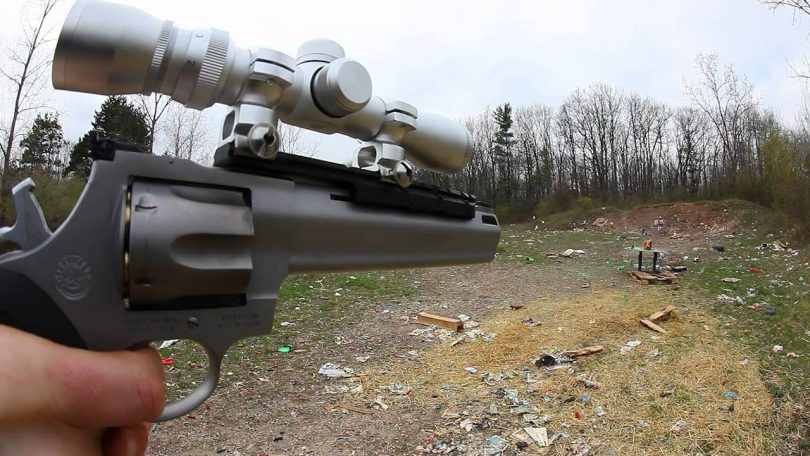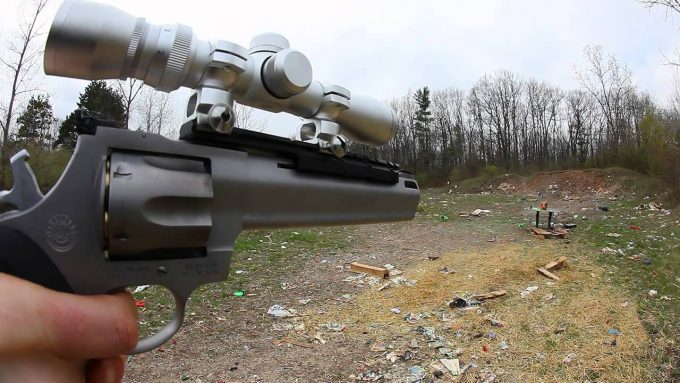 When we talk of reticles we simply are referring to crosshairs. They usually consist of vertical and horizontal lines crisscrossing. Reticles may be lines etched on the glass lens or thin metal wires housed in an erector tube. Adjustment knobs move the tube in the direction desired.
Reticle lines appear centered in most revolver scopes with a small exception of European scopes that have crosshairs that move within the field of view. However, the majority of revolver shooters prefer centralized ones.
There are different types of reticles but only a few stands out from the rest. Just to mention some here are four different kinds of reticles available for revolver scopes.
Plain reticle: Consists of two lines that intersect at the center with zero additional features. The only liberty you have with such reticles is how thin or thick the lines are. This type of reticle is mostly used on paper targets and because of that, a thin line is mostly recommended. However, for general use, the vise is the best as you are able to see the thick lines clearly.
Duplex reticle: The duplex is a market favorite. It starts off as thin lines that thicken at the other area of the scope. The thin lines provide a more precise aiming point, while the thick lines help during low light intensity where the thin crosshairs cannot be located. The design of the duplex reticle naturally focuses the eye towards the center of the scope. Scopes with such a design are perfect for target shooting and hunting.
Mil-dot reticle: This kind of reticle is derived from the duplex reticle and is gaining admiration from air gunners. The mil dot reticle is a military design that gives extra aim points and is great at determining range. Small dots with precise distances are placed along the lines of the plane The power of mil dot reticle lies in its ability to help a shooter determine a target's range as long as the size of the target known and for making fast adjustments for elevation and the wind.
Bullet Drop Compensator reticle (BDC): This type of reticle allows shooters to aim at different kinds of target range without altering the scope's elevation settings. The BDC reticle has several aiming points fused into the reticle pattern which corresponds to different target ranges. These types of reticles offer a lot of utility that surpasses that of the duplex and mil dot reticles scopes.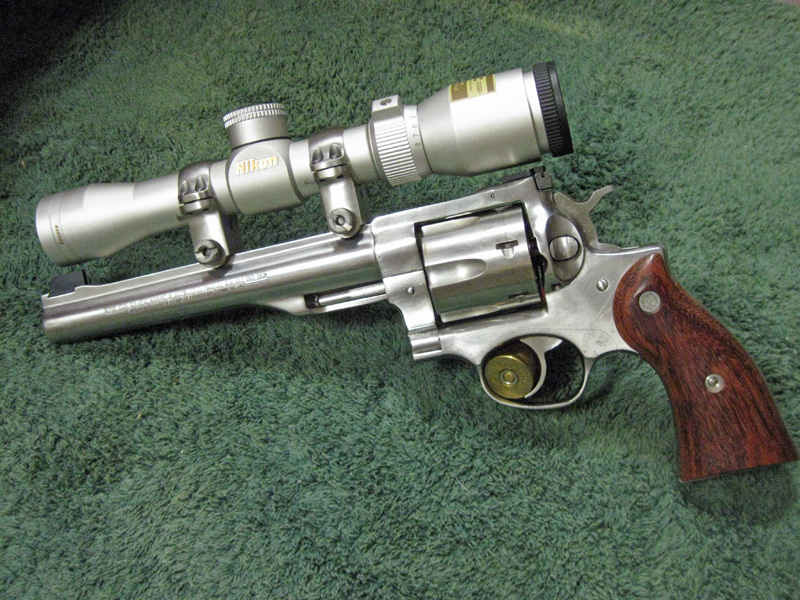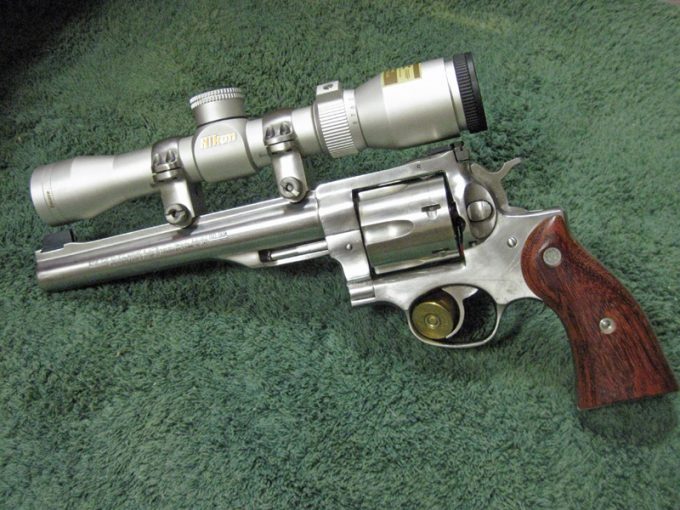 Today's revolver scopes feature two different positions for reticles within the scope. These positions are named:
The first focal plane position (FFP): The size of the reticle scales down or up with the change in magnification. FFP is best suited for long range shooting with high magnification settings. However, it's not ideal for low magnification settings of 3x to 5x since locating the reticle becomes tricky.
The second focal plane position (SFP): Unlike in FFP, the reticle size stays the same in relation to image size when the magnification is adjusted. This is useful because it presents a consistently clear picture sight at different magnification levels. Most revolver scopes these days use this reticle position.
Scope Adjustment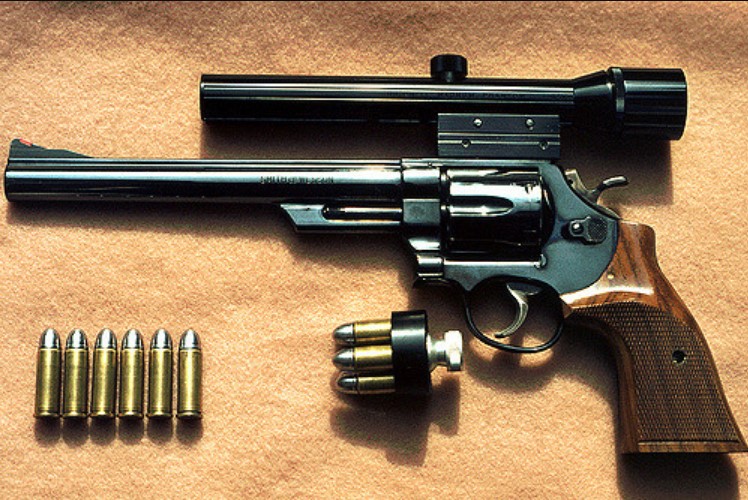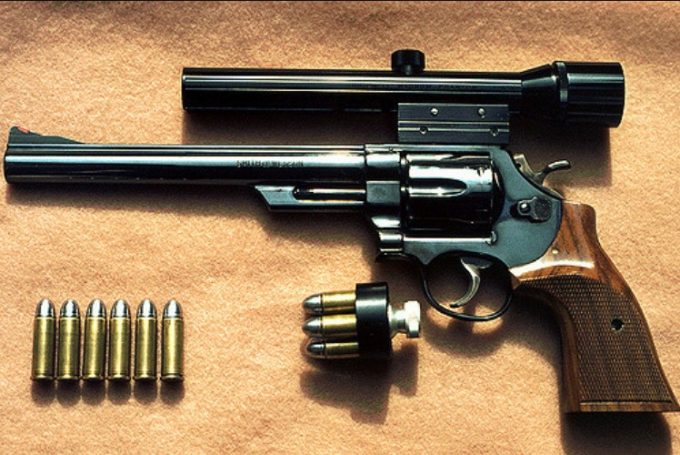 After determining the optical power and the kind of reticle to choose, it is time to focus on the scope's adjustment. There are two kinds of scope adjustment measurements namely:
MOA (Minute of angle): Most revolver scopes tend to rely on this adjustment scale as it allows for a more precise zeroing capability at long range. This type of adjustment works best with BDC and Duplex reticles. The main drawback of MOA is the complexity in calculating adjustments at ranges other than 100yards.
MRAD (milliradian): Represents a fractional section of an angle.
Parallax Adjustment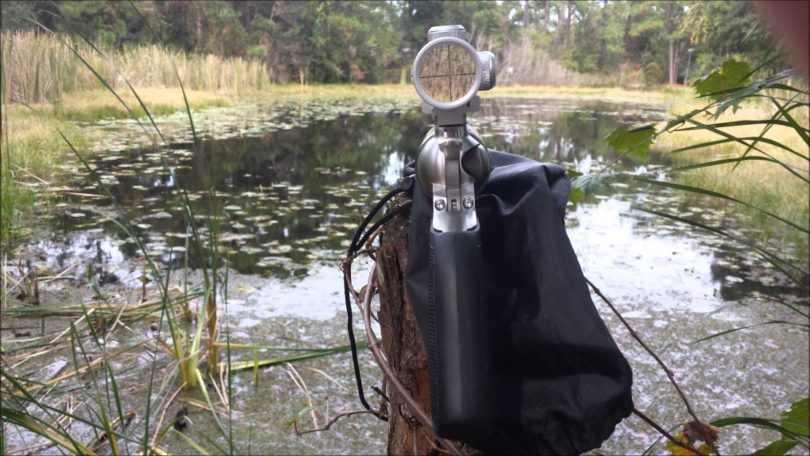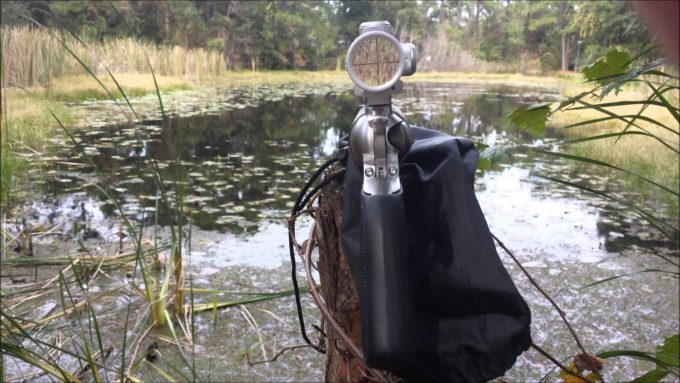 Parallax describes the difference in angles between up close and far objects. In revolver scopes, parallax refers to the ability of the reticle to change position with the target. Parallax adjustments are made if the object and the reticle can't be focused on the same focal plane resulting in a potential misfire.
Before buying a revolver scope, it is best to consider the parallax adjustment settings especially if going for high magnification power scopes. Low power magnification scopes, however, tend to have zero parallaxes incorporated in their design.
Final Remarks
When it comes to hunting, a revolver scope might be the thin line between a miss and a successful kill. With such a comprehensive review and a descriptive explanation of the different terminologies and how they affect your revolver scope selection, finding the right fit won't be as hard as before.
We have also recommended some of the related products to pair with the revolver scope. Also of significant importance is the tabular comparison of these scopes to give you a glimpse.
Feel free to select any of the suggested revolver scopes as your final choice.  And after you do, let us know which you chose in the comments section below.
Take a look at these revolver scopes also:
Primary Arms SLX 4-14x44mm FFP Rifle Scope - Illuminated ARC-2-MOA
Optimized ARC-2 MOA reticle stays true through the first focal plane scope's variable 4-14x magnification
Partial red illumination with 6 brightness settings powered by a common CR2032 battery
0.25 MOA click adjustments match the reticle to make sighting in and adjusting for range easy
Waterproof, fog resistant, and nitrogen purged with durable aluminum construction
Covered by a 3 year warranty for defects due to materials or workmanship
Sale
Sale
Vortex Optics Crossfire II 2-7x32 Scout, Second Focal Plane, 1-inch Tube Riflescope - V-Plex Reticle
The 2-7x32 Crossfire II Scout Riflescope is perfect for Use on your Scout rifle, The V-Plex reticle is a popular all-purpose hunting reticle intended...
With 9. 45" of eye relief and an ultra-forgiving eye box, you'll be able to quickly get a sight picture and acquire your target, The fast focus...
Anti-reflective, fully multi-coated lenses provide bright and clear views for the user
Capped reset turrets are finger adjustable with MOA clicks that can be reset to zero after sighting in
A single piece tube constructed from aircraft grade aluminum ensures strength and shockproof performance, O-ring sealed and Nitrogen purged, the...
Leupold VX-3 2.5-8x32mm Handgun Scope
Leupold Model #67825 - VX-3 2. 5-8x32mm with Duplex reticle and Matte finish
100% Waterproof, fog proof, & shockproof
Precision 1/4 MOA finger click adjustments for wind age and elevation offer absolute repeatability and dependability over a lifetime of extreme use
Twilight Max Light Management System adds up to 20 extra minutes of shooting light
Ultra-lightweight 1-inch main tube design
Sale
Sale