With a wide selection of Arsenal taking center stage, only the selected few can handle the prowess that comes with pellet guns. These air rifles are the first choice for game hunting enthusiasts. However, their powerful recoil action calls for no ordinary scope that is the norm to other firearms.
For this reason, anyone looking to upgrade their sight needs to dig deep for the best pellet gun scope. For those with zero clues on where to begin, here are a couple of things you need to know about pellet gun scopes. We will take you through the criteria of selecting a good pellet gun scope.
Also, included on the menu are six reviews of some of the top gear pellet gun scopes that will bring an A game to your air shooting experience.  For more let's begin!
Difference Between Pellet Gun Scopes and Firearm Scopes
Most individuals can't differentiate pellet gun scopes from firearm scopes. As a result, you will find people investing in the wrong scope for their air rifle only to be disappointed with its performance. Bottom line, not all rifle scopes are designed the same.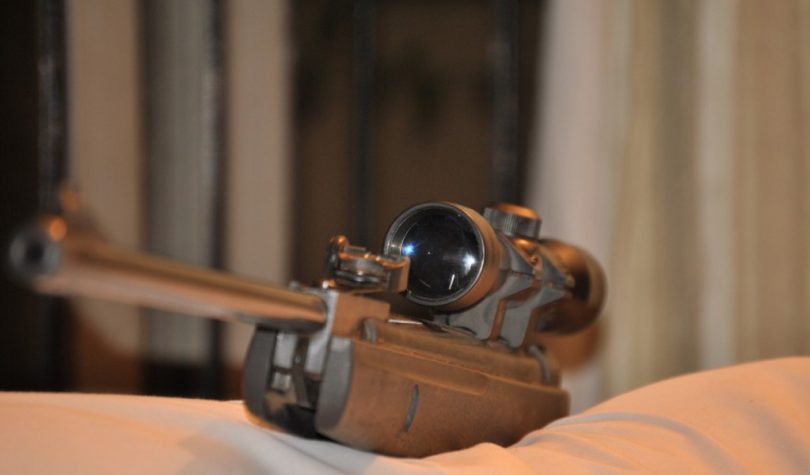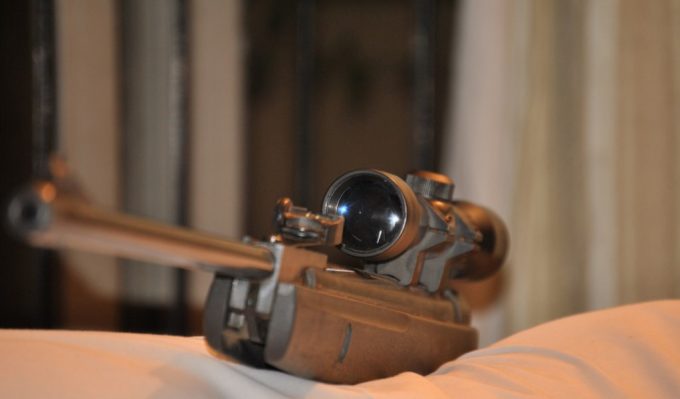 The difference between pellet gun scopes and firearm scopes lies in the type of gun used. Air rifles tend to dispatch excessive thrust when firing, unlike their counterparts. These guns use excessive force to first push down the compressed air and finally launch the pellet into the air. In the case of firearms, they only need to push the BB ammunition out minus the compressed air. In the end, they experience less recoil action than air guns.
When it comes to the optics, the variation lies in how well adapted are they to the massive recoil effect experienced in air rifles. Rifle scopes are well adapted with extra shock-proofing as a counter measure. But firearm scopes lack the extra toughness needed to withstand the harsh sound emitted especially by high powered air rifles. The lenses tend to get out of alignment if forcefully used on a pellet gun. For this reason, it would be wrong to mistake pellet gun scope with a firearm scope when going out for a hunt.
Types of Pellet Gun Scope
Just like other firearm scopes, there are two main types of pellet gun scopes namely, fixed magnification scopes and variable magnification scopes. Fixed magnification scopes are normally abbreviated as 4×32. They come with a predefined magnifying power. The magnification cannot be adjusted beyond what is indicated. The limitation that comes with such scopes makes them not further adaptable for anything beyond small game hunting and pest control. For this reason, they are usually not the best for big game hunting. However, they require less tuning, unlike variable scopes.
Variable scopes usually calibrated as 3-9×44 are special scopes that have ranging magnification. These scopes are well adapted for long-distance shooting and are good for big game hunting. They offer the user a chance to select varied magnifications for a precise amplifying effect.
Features to Consider Before Purchase
It is always worth going through those areas that you should be paying special attention before diving into the scopes themselves.  In this case, we'll walk you through the things that will help you pick the best optic for your particular needs.
Is the Scope Suited for Your Pellet Gun Caliber?
Different pellet gun calibers shoot at different ranges. In this case, you need a scope that is well adapted to your gun's caliber. The most common caliber is the .177 that is a standard ammunition for target shooting not only in the US but also internationally. They feature flatter trajectory and achieve the highest velocity. But on the downside, they are not ideal for big game hunting. The .177 caliber lacks the power to dispatch a huge prey.
Fixed or Variable Scope
The basis of selecting the right scope depends on the kind of work you want to use it for. Remember, each type of scope is well adapted for a particular kind of task and comes with its own share of good and bad.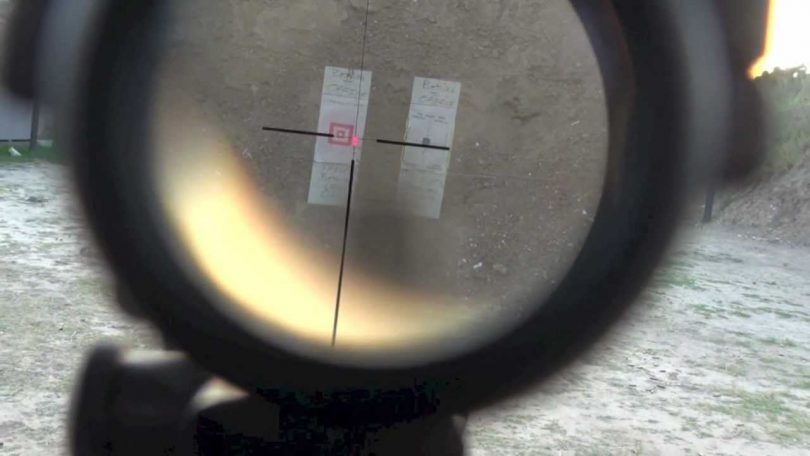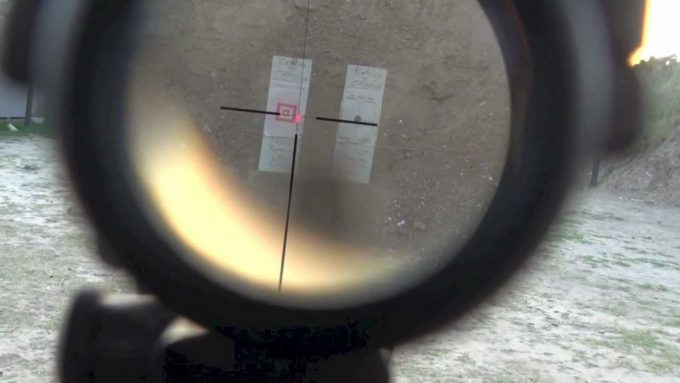 Before settling on one, it is important to consider the kind of magnification you are going for.  Fixed scopes are excellent for small range shots. In the case of variable scopes, they offer more target resolution. However, they tend to get larger and heavier compared to fixed air gun scopes.
Scope Size
When we talk about the size we refer to its magnifying power and objective lens diameter. Pellet gun scopes with low magnification and small objective diameter such as 4x32mm offer better target tracking and are more intuitive for fast shooting. They are not as heavy as variable scopes since they require less light intensity, unlike variable scopes.
The small objective diameter is able to gather enough light sufficient for the scope's use. Variable scopes, on the other hand, come with the extension of greater magnifying powers that can range as low as 3x to 16x. These scopes tend to be large and heavy as stated earlier due to the big objective diameter that offers extra illumination.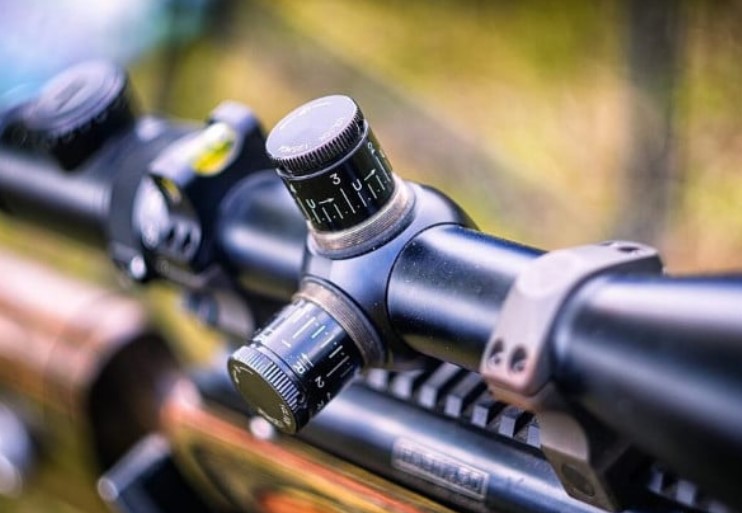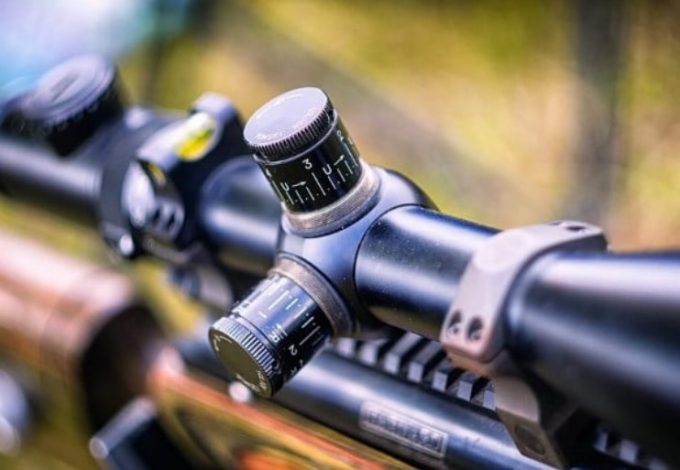 Remember, the greater the magnification, the darker the image. To avoid dark images, variable scopes use bigger lens diameter that focuses more light into the scope.
Comes with Mounts or Not
All pellet gun scopes need mounts for them to stay in place when firing a gun. Before selecting a pellet gun scope, check if it comes with mounts. There are certain brands that though good, they force users to invest in extra mounts as a marketing strategy. You can avoid this by investing in a good pellet gun scope brand that comes with mounts inside the package.
Price Range
You can never forgo the concept of price when it comes to making a selection. No matter how good a pellet gun scope is or how well suited it is to your activity, if it does not fit the bill, it won't cut. It is better to narrow down your selection to scopes within your pocket's range without compromising on quality optics.
Easy to Use
Check to see if the scope is user-friendly or if it is meant for an advanced shooter. Consider, the reticle type, is it mil-dot, does it come with special features that I can adapt to easily?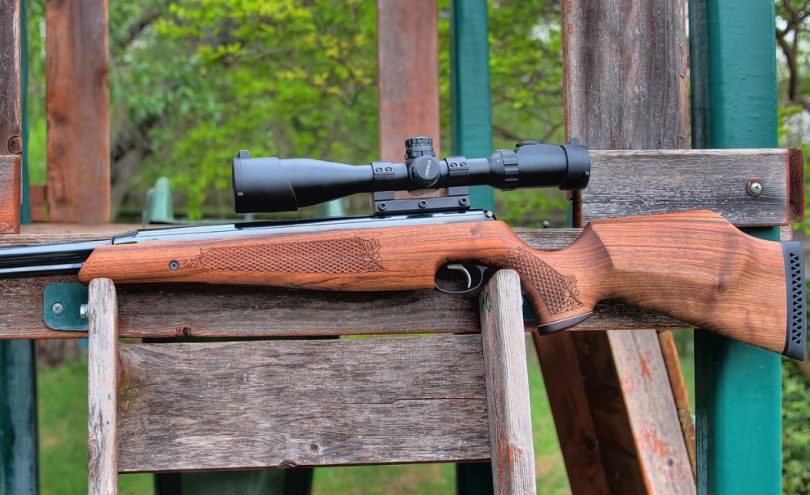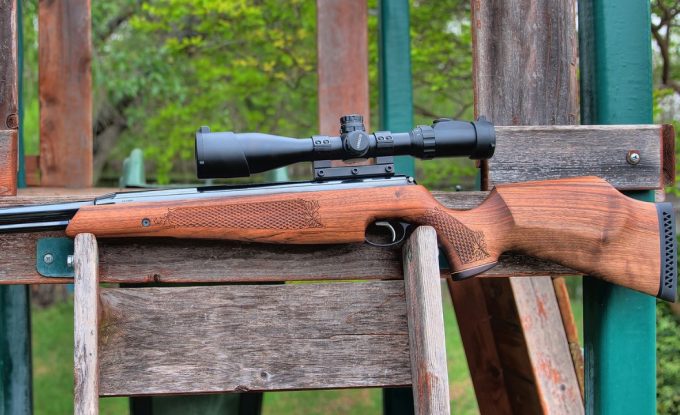 By doing so, you won't end up with a selection that is way complex for a beginner shooter.
Does it Suit You
Consider the kind of working you are going to use the pellet gun scope for, before investing in one. Hunting scopes for the bigger game usually differ in features to small game hunting scopes. Are you going to use the scope for long range or mid-target shooting? Such factors should be your main driving force when selecting pellet gun scopes.
Look for AO Settings
When selecting a pellet gun scope, look for a brand that indicates AO on their eyepiece. AO stands for the adjustable objective. The AO compensates for any parallax you might experience at close range. These settings are available in both fixed and variable pellet gun scopes.
Top Products on the Market Today
Pellet gun scopes can be tricky to choose mostly due to the wide variety available in the market. To narrow your selection options, here are six detailed reviews of some of the current bestselling scopes. They have been carefully selected are proven to offer amazing features needed for air rifles.
CVLIFE Tactical 3-9×40 Optics R4
Price: Approx. $25
Weight: 0.76 pounds
Dimensions: 12.20 inches length
Specific features: 3 – 9x magnification, 1.57 inches objective diameter, 1-inch mount ring diameter, 0.2- 0.67 inches exit pupil
Best use: Air rifle hunting and target air shooting games
When it comes to advancement in rifle optics, the CVLIFE Tactical 3-9×40 Optics R4 air rifle scope is unmatched. It combines quality, performance, and affordability under one solid build. For a scope of its caliber, the pellet gun scope offers clarity that is unseen.
Packed with optical enhancements, the scope features fully multi-coated lenses that are scratch resistant and offer brilliant image quality with amazing color contrast. The green-red mil-dot illuminated optics also allows you a maximum of 9x magnification.
The CV LIFE Tactical 3-9×40 is one large pellet gun scope that requires extra care when fitting on several air rifles. It comes with two free outer rail mounts of 0.76inches.
Built on a standard solid strong 1-inch aluminum tube, the scope is completely sealed with 100 percent nitrogen fill for rain and fog resistance. This feature makes the scope all-weather-proof.
The scope also features an outer and inner structure that controls the interaction between the dual-tube systems. This feature offers maximum durability by ensuring that the reticle will not rotate when adjusting. The unique design thus makes the scope shockproof with precise windage and elevation adjustments.
Included in its package are, a lens cover, Allen key, and two scope mounts for 20mm rail. Overall, this black matte finish scope makes a great optical addition to your pellet gun.
PROS:
Has an objective diameter of 1.57″ (40mm)
Exit pupil: 0.2″-0.67″.
Specification: 3-9×40
Elevation and windage adjustment.
Fully multicoated glass.
CONS:
It is very hard to zero.
Light reflects from both front and sides.
It doesn't focus at shorter distance.
Related: CVLIFE 6- 9 Inches Tactical Rifle Bipod is perfect for this scope. It has an adjustable leg length and can be quickly attached to or detached from the rifle using existing swivel stud.
Hammers 3-9X32AO Air Rifle Scope
Price: Approx. $55
Weight: 1.6 pounds
Dimensions: 14.7 x 3.2 x 2.5 inches
Specific features: 3 – 9x magnification, Mil-Dot reticle, anodized black matte finish, 32 mm parallax adjustable objective, 1 inch one-piece main tube
Best use: Target air shooting activities
The Hammers 3-9x32AO Air Rifle Scope has quite a following mostly cause of its superb features that are well oriented for air hunting magnum rifle.  The scope features a very sturdy 1-inch tube construction that fortifies its exceptional optics.
High image quality is not a miss in this Hammer pellet gun scope series. It offers you a minimum 3x magnification that can be increased to 9x with parallax adjustable objective. The mil-dot reticle scope is also shock and weatherproof.
This pellet gun scope spots internal reinforcement that solidifies it against recoil effects experienced in high-powered air rifles. It's solid one mount piece fits on a 3-8inch dovetail or groove.
The scope also features three clamping screws with inbuilt removable stop pins that hold the scope in place during the most powerful recoil action. It also comes with finger-tight windage and elevation adjustments. This scope is further aligned in place with its integral rings.
PROS:
Full-size scope with adjustable objective.
Solid one-piece mount with the built-in stop pin.
3 Clamping screws.
Finger tight windage/elevation adjustments.
Integral rings for better alignment of the scope.
Internally reinforced to stand the unique shocking from piston type high power air rifle.
CONS:
It doesn't hold zero on some rifles.
It is not waterproof or shockproof.
Single rail mount is of poor quality
Related: The Pellet Pen, as it holds 20 .177-cal Pellets it is mostly bought alongside this scope in order to the next round of pellets for shooting.
UTG 3-12X44 30MM Compact Scope
Price: Approx. $110
Weight: 1.4 pounds
Dimensions: 10.4 x 1.6 x 2.1 inches
Specific features: 3 – 12x magnification, 44 mm objective lens diameter, and parallax free from 10 yards to infinity, EZ-TAP illumination enhancing technology
Best use: Target air gun shooting
The UTG 3-12×44 30mm Compact Scope comes with some of the best features in the market at an affordable price. It was designed by experts looking for a way to improve accuracy in air rifles. As a result, it is highly recommended by world class professional shooters for any tactical range estimation.
This solid design scope, straight out of the box, is easy to mount and adjust. It is featherweight with minimum weight add-ons to your pellet gun. The scope spots a 30mm tube design that is built on a true strength platform. This tube houses its full 36-color EZ-Tap mil-dot reticle.
The scope features multi emerald coated lenses that take advantage of the most illumination. Integrated into its design is the front sunshade with flip-open lens caps. The scope is further sealed with nitrogen for fog-proof and rainproof abilities.
The UTG 3-12X44 30mm Mil-dot compact scope also features first-class zero resetting and zero locking target turrets with most precise and consistent windage and elevation adjustment. It also comes with a lifetime warranty.
Bottom line, this is one scope that offers uninterrupted illumination thanks to its shockproof casing. It makes a great selection to add to your cart list.
PROS:
Scope features 30-millimeter tube with multi emerald coated lenses for optimized light transmission.
84-to-72-millimeter eye relief.
Includes limited lifetime manufacturer's warranty.
The scope is completely sealed and nitrogen-filled for shocks, fogs, and rain-proof performance.
CONS:
It is quite heavy.
The scope doesn't hold zero on some rifles.
The glass is not durable when used with higher recoiling rifles.
Related: UTG Add-on Index Wheel for Side Wheel AO Scope is used with this scope. It is used to help you zero in on finer levels of parallax correction.
Winchester Scope by Daisy
Price: Approx. $40
Weight: 1.4 pounds
Dimensions: 12.6 x 3.6 x 1.8 inches
Specific features: 2 – 7x magnification, crosshair reticle, fog proof, shockproof, adjustable for windage/elevation
Best use: Incredible for pest control
The Winchester Scope by Daisy is one of the under 50-dollar pellet gun scopes you can find in the market with an adjustable objective. With its inbuilt AO feature, you don't need to be 50-100yards to experience parallax free aims.
One of the best features of the Winchester by Daisy 2-7×32 is the lenses. They offer perfect color corrected illumination with a wide field of view minus blurriness. The scope is completely adjustable for windage and elevation.
Another plus to this amazing pellet gun scope is the fog-proof and shockproof settings. However, its one-ring mount feature comes minus a stop pin for stability during heavy recoil action. Overall, this is one dependable solid pellet scope that works with a range of target distances.
PROS:
Adjustable for windage and elevation.
Has a cross-hair reticle.
It is fog proof, shockproof and color corrected.
2-7 x 32 with adjustable objective.
CONS:
Cross-hairs tends to lose zero.
The variable zoom knob locks up and won't turn at all after a few shots
Related: The UTG Medium Profile Air Gun Rings are a great choice to ensure that this rifle is securely mounted to your pellet gun.
Hammers 3-9×40 AO Scope
Price: Approx. $75
Weight: 2 pounds
Dimensions: 13.5 inches length
Specific features: 3 – 9x magnification, Mil-Dot reticle, standard 1-inch main tube, 40 mm adjustable parallax objective lens
Best use: Air target shooting
Unlike its predecessor, the Hammers 3-9×40 AO Scope features superior optics that make air shooting bliss. The scope has a 3-9x magnification variation with 40mm objective lens for clear images. This mil-dot reticle is housed inside a one-inch main tube.
The scope comes with a solid one mount piece design with one stop pin fastener that holds the scope intact during recoil. It is also internally reinforced to withstand pounds from high power air rifles. This scope also features finger-tight windage and elevation adjustments with integrated rings for proper scope alignment.
PROS:
Ample 3x-9x power paired with large 40mm adjustable objective.
Focus as close as 5yards down the range.
Come with a solid one-piece mount with a stop pin that holds the scope in place under recoil.
Internally reinforced to stand the unique shocking from piston type high power air rifle.
One piece airgun mount with 3 clamping screws plus built-in removable stop pin helps the scope to stay in place against powerful shocking during shooting.
Integral rings for better alignment of the scope.
CONS:
Has durability issues as windage gets easily broken.
Does not zero in some rifles or holds zero for only about 20 shots.
Related: The Pellet Pen, as it holds 20 .177-cal Pellets it is mostly bought alongside this scope in order to the next round of pellets for shooting.
UTG 4X32 1″ Hunter Scope
Price: Approx. $50
Weight: 0.56 pounds
Specific features: 4x magnification, 32 mm objective lens diameter, Flip-open lens cover, Mil-Dot Reticle
Best use: Pest control or plinking
For an entry level line up, the UTG 4×32 1″ Hunter Scope makes a great choice for fixed pellet gun scope. Though not packed with features, it makes a great selection due to its spectacular optics.
It offers a fixed magnification of 4x with the wide 32mm objective for strong light illumination. Another plus to this scope is the mil-dot reticle that makes targeting ranging objects easy.
The scope also comes with front sun shade and flip-open lens caps that protect the lenses from harsh sun rays. With find adjustable turrets, elevation and windage adjustments are made easier. Just like other featured scopes on this list, the UTG 4×32 scope is also sealed with nitrogen for fog-proof.
The major flaw in the 4×32 UTG hunter scope is the internal lens that is unfixable if knocked out of place. But this should not discourage you from exploring the scopes magnificent optics.
PROS:
It is Completely Sealed and Nitrogen Filled, Shockproof, Fogproof and Rainproof.
Premium Finger Adjustable Target Turrets with the Most Consistent and Precise 1/4 MOA per Click Windage/Elevation Adjustment.
Mil-dot Range Estimating Reticle.
Parallax Adjustable from 5 Yards Close Range to Infinity.
Complete with Medium Profile .22/Airgun Rings and High-Quality Flip-open Lens Caps
CONS:
Eye relief is very poor.
The cross hairs do not last more than 800 rounds.
It increases the point of impact
Related: UTG Medium Profile Airgun Rings with Stop Pin are designed to perfectly hold this scope, giving you a better focus.
Final Thoughts
Pellet gun scopes are well adapted to the harsh recoil effect that comes with powerful air rifles. However, finding a good fit for your .22 or .177 caliber is not that easy. You have to factor in a lot of features that we have discussed. With this comprehensive guide, we hope making the right choice won't be as hard as before.
Feel free to select any of our review pellet gun rifles to break the bad cycle of depending on firearm scopes when out for a hunt. Then let us know which you ended up going with in the comment section below.