It is a fact that for the efficient use of a shotgun, the importance of a parallax-free red dot sight cannot be overemphasized. Say this to any hunter or any shotgun user and virtually all of them will undoubtedly agree with this fact.
Best Pick
Good Choice
Don't Miss
Also Consider
EOTECH 512 Holographic Weapon Sight
TRUGLO Tru-Brite Open Red-Dot Dual-Color Multi Reticle Black
HOLOSUN HS403C Solar Power Micro Red Dot Sight, Black
Best Pick
EOTECH 512 Holographic Weapon Sight
Good Choice
Don't Miss
TRUGLO Tru-Brite Open Red-Dot Dual-Color Multi Reticle Black
Also Consider
HOLOSUN HS403C Solar Power Micro Red Dot Sight, Black
For switching to a target quickly, efficiently, and accurately, you need the best parallax-free red dot sights. These sights make aiming with both eyes easier by displaying a red illuminated dot which eventually allows the user to shoot quickly, accurately and efficiently.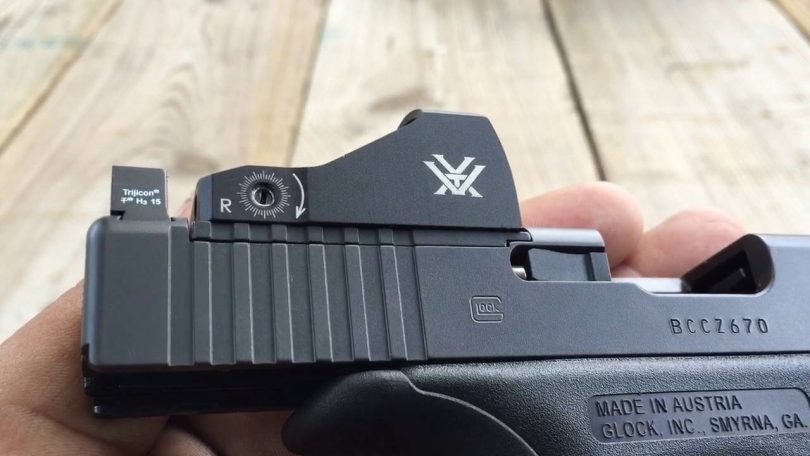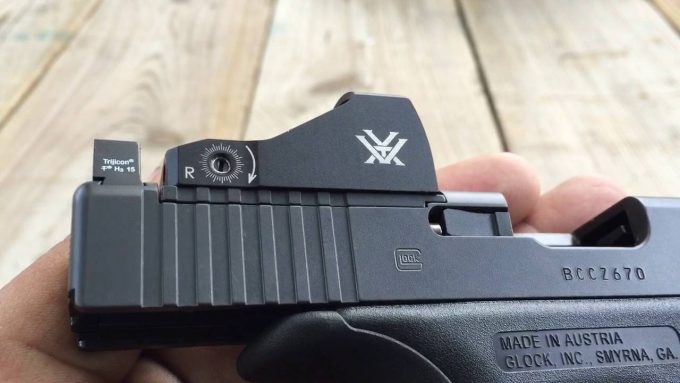 Recently, parallax-free red dot sights have become very popular due to the fact that they allow users to put the sight into maximum use even under rare or abnormal conditions.A lot has been said about parallax-free red dots and their functions, but it all circles back to this; after a particular range, no matter where you see the dot in the optic, it will remain on target.
Best Products For Perfect Aiming – Currently on the Market
Now that you know what to look for in a parallax-free red dot sight and have some idea why you would need one, let's dive into some of the best of the best.  Any of these options are a great choice, now you just need to pick the one that is best for you.
1. HOLOSUN HS403G Paralow
Price: Approx. $200
Weight: 4.2 ounces
Product dimensions: 2.4 x 1.6 x 3 inches
Specific features: Parallax-free, fully waterproof and submersible to 100 legs, 50,000 hours of operation using one battery pack
Best use: Hunting
Holosun Technologies have always been known for manufacturing red dot sights for primary arms, until recently when they decided to go into the manufacturing of optics.
They used the design of the HS403A to make the HOLOSUN HS403G Paralow and both devices look very similar with the main difference being that the location of the battery housing has been changed to the right side of the optic which has enhanced battery replacement.
The mount now has full T1 compatibility and any T1/H1 can be used for this sight. They have also updated the turret adjustment mechanism and it is now just 3mm higher than the HS403A which has resulted in easier adjustment with gloved hands.
Its 2MOA red dot has 12 brightness settings, of which its brightest settings can be easily seen even in the most sun-filled days.
It has a very strong battery life of 50,000 hours which could amount to 5 years of usage and coupled with its 8-hour automatic shut off, you need not worry about it when you drop it in your safe without shutting it off. It has automatic turn on too and it turns itself on at the slightest tap.
The control of the push button feels good but has a soft rubber texture which seems to attract dust. The turrets have great clicks and the optic doesn't seem to fail in maintaining zero. Although the aim point has a two-prong key and losing the caps could cause a problem.
This device is really a top product and we totally recommend it. It is also a good value for money and we're sure nobody will regret the decision to purchase it.
PROS:
Over 50,000 hours of operation with one battery
Turret adjustment mechanism is 3mm higher than the HS403A
Parallax free when the red dot is on the target resulting in 2MOA dot size, high quality, clear lens with crisp, bright red dot
Fully waterproof and submersible to 100 feet
Lifetime warranty
CONS:
Inconsistent sight with the dot
The screw isn't tightened well
Related: HS403A is bought with the HOLOSUN AACW1.4 T1 Compatible Mount. It is made of high strength aluminum and is compatible with T1.
2. EOTech 512.A65
Price: Approx. $475
Weight: 10.9 ounces
Product dimensions: 5.4 x 2.25 x 2 inches
Specific features: Parallax-free, uses AA batteries, low battery indicator
Best use: Recreational Shooting, CQB
Over the years, the holographic EOTech has completely changed the face of game hunting and warfare, and their most known and most popular model is Model 512. It's suitable for agencies that require the very best in CQB speed and versatility, with no need compatibility of night vision and simple AA battery power.
Among the EOTech sights because of its AA battery power and can stop unhindered access to the two operation buttons, depending on the firearm. The EOTech 512.A65 has become the most suitable site for people looking for the fastest and most durable weapon sight. It is basically designed for close-range usage.
The EOTech 512 has the capability to reflect a laser into a reticle than a conventional red dot optic. It has a square body, square lenses and also features an open design which allows its user to see over it more efficiently. This gives the shooter a wider view which presents him a higher awareness of situations.
This device also features a 4-8 hour automatic shut-off after the time it was adjusted last. This is great for battery conservation and ensures the battery doesn't run down even if the user forgot to shut it off. It also has a light that indicates low battery among many other features.
It is easy to operate. Just hit the right up button and it powers on immediately to normal brightness, you may adjust the brightness of the reticle if you want by using the up and down buttons. The 512 is great for situations when it has to be used for a very long period.
Its AA battery is also easy to get in any convenience shop, but the same thing can't be said of the CR123 batteries. With all these great functions, the 512 has some shortcomings that may make it less suitable for some applications. It is not compatible with night vision and it also lacks a flip to the side magnifier.
Nevertheless, the EOTech 512 should be up on your list if you want an affordable workhouse sight. It is military proven, but it is more than that. It is gaining massive popularity among hunters.
PROS:
Holographic sight designed for close-in combat speed and versatility
Supports 1-inch Picatinny or Weaver rails
Uses laser light to illuminate holographic red reticle projected on the target
Improves target acquisition, boosts accuracy and increases control
CONS:
The red dot might sometimes not adjust
The sight loses its zero due to thermal drift
The buttons are quite unreliable
Related: This red sight is bought with Gg&G EOTech Lens Cover for 512/552. It covers the lens and increases its durability.
3. LUCID Red Dot
Price: Approx. $180
Weight: 5.4 ounces
Product dimensions: 3 x 1.8 x 1.8 inches
Specific features: 25 MOA circle, One-piece housing and battery compartment, 2-hour auto-shutoff
Best use: Recreational Shooting
With the durability it is known for, the LUCID Red Dot sight is bright, precise and fast as well. It has an aluminum housing and has a 25 MOA circle, coupled with a 2 MOA center dot reticle.
The housing and the battery compartment are all in one piece; generally, the main body of this optic is dense. The battery and the elevation caps are both joined together with wire so you won't lose them.
The exterior is nicely made with a flat and fine finish. The M7 is strong and nothing rattles around, inside or outside– always a positive sign. It uses an AAA battery that can be found everywhere and automatically shuts off after 2 hours.
One special feature that the Lucid M7 has is its adaptive brightness feature which allows it to adjust to existing light automatically and either reduce or increase the intensity of the reticle. This feature is very handy because without it, reducing the intensity while wearing gloves would be difficult.
Another advantage of this feature is that a battery life of 5000 hours or thereabout can be expected. An "eye" is located on the optic that is useful for detecting ambient light levels. When it is turned on, the sight goes automatically into one of two modes – auto-brightness adjustment and manual.
To switch between the two modes, you can easily hit the power button. The device always comes up in the last mode you used when you powered it down.
PROS:
Parallax Free Lower 1/3 Co-Witness
Picatinny Rail Mount Built in
100% Waterproof Fogproof and Shockproof tested to 458 SOCOM
4 Operator Selectable Reticles with Capped 1/2 MOA Adjustments
Reticle Auto Brightness Sensor with Auto Shut Off after 2 hours
CONS:
It has a poor reticle
The compartment is poorly designed
Prone to battery acid leakage
Related: The LUCID 2x Screw-in Magnifier uses a screw in magnifier to increase the sight of a lucid microdot. It is 100% water and shockproof and can be used in extreme conditions.
4. Vortex Optics StrikeFire 2
Price: Approx. $180
Weight: 7.2 ounces
Product dimensions: 5.6 inches
Specific features: Ten brightness settings, option for red or green dot, night vision compatible
Best use: Sport, hunting
The Vortex Optics StrikeFire 2 is a non-magnified optic built for the acquisition of quick target and long usage. The sight features a 4 MOA red/green dot and ten brightness levels, of which two of them work well with night vision, for aiming your target easily.
All of the optics don't have parallax and are multi-coated for the purpose of increasing light transmission. This sight has unlimited eye relief for the acquisition of the rapid target.
The sight has a 1/2 MOA shot correction feature to keep you on-target, with a 100 MOA elevation windage and adjustment range that allows you to maximize it even under harsh conditions. Its housing is filled with nitrogen and O-ring sealed to make it fog and waterproof.
The Strikefire 2 is a perfect example of what a mid-range optic is all about. Although the Strikefire 2 doesn't have some features you might find in some more costly optics, it is also brilliant in its own right. It comes with two options; the first has a red and green reticle, which can be selected by the user.
The second option is a single and bright red dot to make the design simple. It is worth mentioning that both are compatible with night vision at their lowest settings. The button does its work of course and it turns the optic on and off and toggles the reticle between green and red.
The button seems to have been designed for right-handed shooters and can be used without having to move the firing hand. The hard thing is that the button has to be pressed directly in the center of the button for it to be activated. This requires some practice without looking, and it is actually had to get a hang of it.
Although the Strikefire 2 has a few shortcomings, most about its lenses, but generally it is still a brilliant optic. This is the perfect example of a mid-range optic that provides excellence in the basics. Generally, if you can handle its few shortcomings, this is really a great optic and it's quite affordable as well
The Mossy Oak Cap gives you a sporty and casual appearance which is great for hunting season. Its camo design fits in with the wilderness and keeps you disguised and safe from getting your prey alerted. The Mossy Oak Cap is made with a six-panel construction with fabric-covered seams and is made with 100% cotton.
Designed like a conventional baseball hat, it also has a closure at the back that is adjustable for close fitting and a visor to protect your eyes from the sun—making sure that you're comfortable regardless of the conditions. This one-size-fits-all cap can be washed with a machine and sports the Vortex logo on the front.
PROS:
Unlimited eye relief, 6-hour auto-shutdown feature maximizes battery life
Night Vision Mode
Co-witness mounting Red/Green Dot Sight 4 MOA Dot
Waterproof optics are O-ring sealed to prevent moisture, dust & debris from getting inside. Nitrogen purged to inhibit internal fogging
Comes with Free Vortex Lens Pen, cleans fingerprints or smudges fast and easy
CONS:
The red dot sometimes gets
Doesn't come with a cleaning pen as advertised
Related: The Vortex VMX-3T Magnifier with Flip Mount is used in mounting these optics. It is simple, fast and effective and allows for quick 3x magnification of red dot sights.
5. Truglo Red-Dot Open Sight
Price: Approx. $70
Weight: 4.3 ounces
Product dimensions: 5 x 5 x 1.2 inches
Specific features: 5 MOA reticle, anti-reflective coating, four reticle designs
Best uses: Sports shooting, hunting
The Truglo Red-Dot Open Sight is very accurate, can be depended on and it's so easy to shoot. It is perfect for shotguns, handguns, muzzleloaders, rifles, crossbows, and paintball.
This site has four reticle designs. For unrivaled versatility, every one of the reticles can be lighted in red or green at different brightness settings.
This site provides a 5 MOA reticle for acquiring the target quickly and allows you to make your choice between red or green dot, depending on your shooting background and preferences. The Sight is built to be lightweight and the design is compact that it resists water and shock.
This tactical sight is very innovative and offers two choices of reticle colors, red or green, for clear contrast against different backgrounds to be ensured and four different reticle shapes for improved accuracy under any condition.
Coupled with a 24x33mm window for acquiring the target quickly and a wide field of view, the Truglo Tru-Brite Dual Color Multi-Reticle Red Dot Sight makes sure that you never miss the target again.
This device features a rheostat that can be adjusted for controlling image brightness and it is also free of parallax up to a range of 30 yards.
Truglo has added an anti-reflection coating on the target side of the sight, but there is no coating at all on the other. Due to this, you will have difficulty with sun reflection on the glass when the sun is at a particular angle.
Although this only happens when you are at a certain angle to the sun, it could cause a lot of problems, you have to be at a specific angle to the sun for this to happen, but sometimes the blinding light can be extremely disturbing and you might have to swap sights because of this.
The dot brightness is virtually perfect, and the various brightness settings make brightness adjustment easy. Yes, this sight is very simple to use, and its perfect for hunting and any kind of targeting.
PROS:
Open red dot sight
25MOA and 25MOA Center dot.-5MOA and 5MOA center dot
Adjustable range: 30″ at 100 Yards
Unlimited eye relief
CONS:
You have to support the mounting screw with a dab of Loctite/thread locker
The reticle gets blurry/duplicated unless you have absolutely no parallax
It has a very poor dot
Related: UTG Hi-Profile Compact Riser Mount is the perfect mount for Truglo red dot sight. It is 1.6″ Long Picatinny Rail with 3 Slots and has a side plate with spring tension for quick easy installation.
6. WNOSH Tactical Red Dot
Price: Approx. $20
Weight: 5.6 ounces
Specific features: Picatinny rail base, 4 reticles, tubeless 33 mm design
Best uses: Tactical, sports shooting
With competition in between tactical, survival and combat products higher than ever, it is nice to have a renowned name such as this. The WNOSH Tactical Red Dot Laser Pointer Sighting Scope will surely be very suitable to you needs.
Built of high-quality, aircraft grade aluminum alloy durable Red-Green, 4 reticles, red dot sight has an integral Picatinny rail base for easy mounting on rifles and shotguns.
An infallible choice for beginners and seasoned users, this sight is perfect for firing, normal shooting, and moving targets. It gradually enhances stability and aiming accuracy.
It features a tubeless design with 33mm reflex lens gives sighting width and depth which are unmatched while the sight is parallax free to avoid discomfort to the eyes.
The scope has both green and red illuminated dot, which allows the user to make brightness adjustment. It is built to be lightweight and very durable and it is ideal for military and law enforcers. It's strong and long lasting battery makes it suitable for long usage and hunting adventure
PROS:
Adjustable Power: <5mW Voltage: DC 4.5V
Battery runtime: 2-3 hours
On/off switch is located in the back of the red light Sight Windage elevation adjustable with supplied hex key tool
Shockproof and can be used on real fire caliber
CONS:
Has durability issues in real firearms situations
Very hard to zero
Laser tends to flicker a lot
7. Holosun HS403C Solar Power
Price: Approx. $140
Weight: 4.2 ounces
Product dimensions: 2.4 x 1.6 x 3 inches
Specific features: 8-hour automatic shutoff, automatic intensity adjustment, night vision compatible
Best use: Hunting, sports shooting
After the success of the Paralow HS403A Red Dot, HOLOSUN has a version that is solar-powered, named the Holosun HS403C Solar Power. This new product features dual power systems, one is operated by battery only, while the other is operated on solar power alone.
The red dot intensity is automatically adjusted to the ambient light. Such as night, if the light is not enough, just hit the + or – button and solar power will be activated. Now the operation will be like a standard red dot. The intensity can also be adjusted by hitting the + or – buttons.
Press both buttons simultaneously when you want to power off the device or just drop it and it will automatically shut off battery after 8 hours, and the device automatically switches to solar power mode.
By covering the solar panel, you can easily confirm which mode power made you are on. When it is on battery mode, the red dot is illuminated, but when the red dot is off, the power mode in use is solar.
The HS403C Red Dot Sight is designed for day use and also night vision. It also has a very long-lasting battery, which allows about 50,000 hours of operation.
It also has some great features like 2 MOA on dot size; Easy to zero, as a result reduces ammunition and training time; very wide field of view; free of parallax unlimited eye relief; It can be used in any weather, regardless of the condition;
The sight is very durable and the construction is reliable, and remember, just press the brightness setting button and it adjusts the brightness automatically.
PROS:
Two power systems: Primarily Solar Powered, the red dot brightness auto adjusts according to available light; Switch to Battery power in dark (50,000 hours battery life)
A high-quality clear lens with crisp red dot and 12 brightness settings (10 Daytime and 2 Night Vision)
Fully waterproof
Parallax free
CONS:
It has durability issues as it arrives with defaults
Very difficult to zero the red dot
The battery does not switch sometimes as advertised
Related: HS403C is bought with the HOLOSUN AACW1.4 T1 Compatible Mount. It is made of high strength aluminum and is compatible with T1.
8. Vortex Optics SF-BR-503
Price: Approx. $179
Weight: 9.6 ounces
Product dimensions: 7.5 x 6.2 x 3.2 inches
Specific features: 4 MOA reticle, rear-facing controls, ten intensity levels
Best use: Hunting
This device is a combination of several features which meet all customer's wants. It is a real value for money.
It is made of polymer, features multi-coated lenses and also a brightness regulator that is highly adjustable. Similarly, the Vortex Optics SF-BR-503 is also free of parallax with a design that features a bigger scope.
The presence of the 4 MOA bright red dot reticle (SF-BR-503) allows any shooting fan to shoot quickly and also with both eyes open when circumstance requires fast shooting.
It comes with smooth rear-facing controls mainly to power it on/off and the adjustment of intensity levels often —with the lowest two settings are compatible with night visions.
When you power this device on, it automatically goes to the last dot intensity used before it was powered off. The 30mm aluminum alloy chassis gives high recoil rating and it is also waterproof and fog proof.
Finally, the waterproof covering that is present, and also for the fact that it can be mounted on different weapons, shows that it is one of the best choices for anything where shooting is involved.
PROS:
Multi-coated lenses.
Parallax-free design.
Includes Free Vortex Cap, Color and style may vary.
Anti-reflective coating.
Adjustable brightness and red dot intensity, Magnification 1x, Eye relief unlimited
Related: The Vortex VMX-3T Magnifier with Flip Mount is used in mounting these optics. It is simple, fast and effective and allows for quick 3x magnification of red dot sights.
What Is A Parallax-Free Red Dot Sight?
What is a red dot light first of all? A red dot sight is a non-magnifying reflex sight for firearms that provides an aim point for the shooter in the form of a red dot.
Parallax-free red dot sights are quite complicated to explain, but to put it simply, when a shooter is aiming at something, the red dot makes an adjustment for angular parallax without the shooter moving his rifle at all.
A parallax-free red dot makes it easier to aim at greater ranges and still be able to hit the target without too much effort. Put on a red dot and look through it, adjust your head afterward without moving your rifle.
You will see the dot moving around in the optic and that's because of physics and math. Although the dot has moved, your rifle hasn't moved, and that means the point of impact remains the same, and that's because the red dot has made a correction for angular parallax.
Why You Need a Parallax-Free Red Dot Sight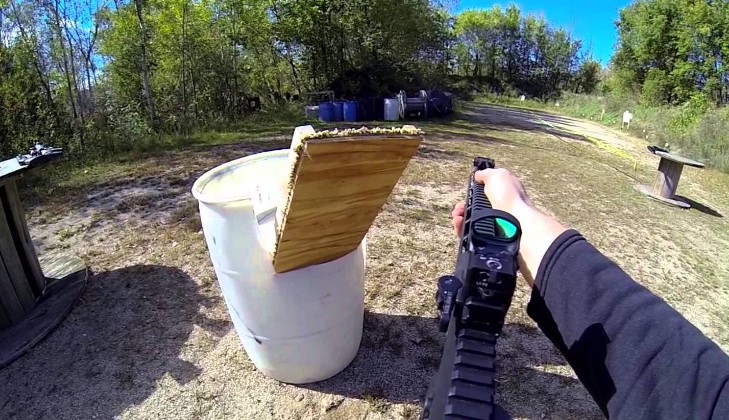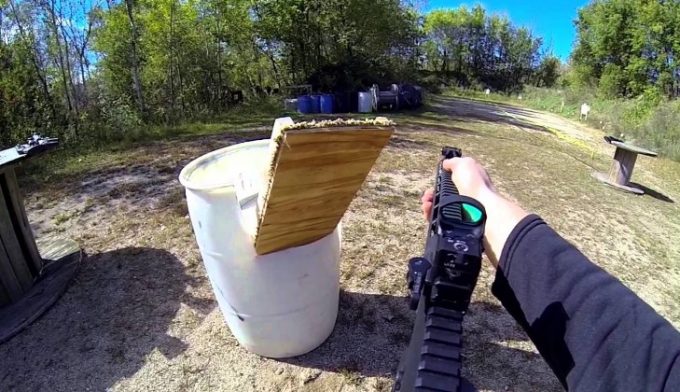 Parallax is the main reason red dots can be essential to shotgun users. Parallax is the shift in the position of a stationary target when using a scope to keep it on lock, then you suddenly move your head a little and this results in the object appearing to be indifferent position.
The speedometer in your car is a practical example of this. It is easy to see the precise speed at which you are traveling if you are looking at the speedometer from the driver's seat.
Now, still traveling at the same speed, ask someone sitting in the passenger's seat right beside you to look at the speedometer from his angle, and you will see the person will see another thing entirely to what you saw. The contrast in viewpoint is a result of parallax. For shotgun users, this is exactly why the use of parallax-free red dot is very crucial.
When using a parallax-free red dot, it eliminates the possibility of shooting off target as a result of parallax, as it provides an aim point for the user in the form of a red dot.
You may have minor parallax issues when aiming from a longer distance like 75 yards or more but you can also fix this by getting high-end red dots, as they have features that deal with this issue.
Features to Consider Prior to Purchase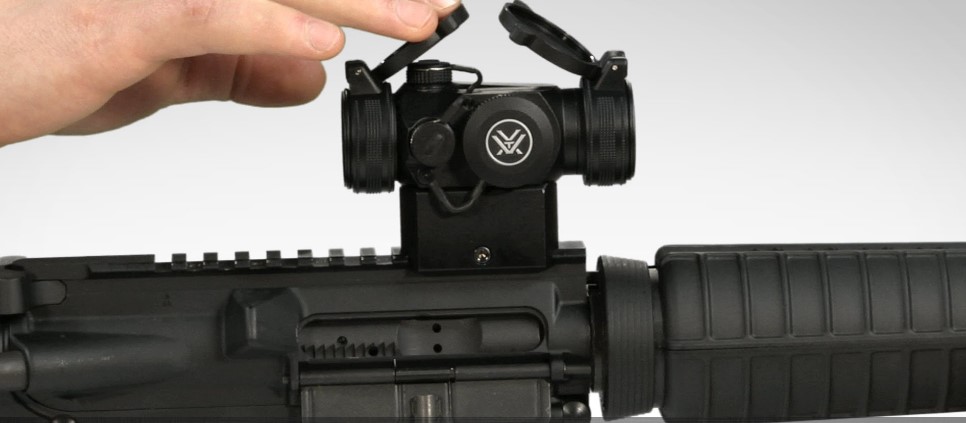 When you decide to purchase the red dot sight, there are some important factors you should put into consideration when buying, such as your needs, the size of the reticle, battery life, and warranty. It's important to consider these factors before making your final decision so you wouldn't regret anything in the end.
Your Needs
Before you purchase any product, you should, first of all, ensure that it would suit your needs. This is very important as there are lots of times that people would make a decision to buy something, maybe because it's a trend or something like that, then they would later realize that they didn't need it in the first place.
Another factor relating to this is the issue of budget. You shouldn't opt for the costliest product just because you believe expensive things often have the best qualities.
This notion might be wrong sometimes and there are actually some expensive products that wouldn't really be a value for money after all. However, a cheaper product may not have the features that you want, so you should make witty decisions.
Battery Life
One of the first and important things you put into consideration when purchasing a device should, of course, be its source of power. It's very necessary to choose a device with strong battery life as you wouldn't want your device to be down at the time you need it most.
Warranties
Only a manufacturer that has total trust in their products offers a warranty, as manufacturers that have produced inferior products intentionally would never dare to do this, as it would result in a huge loss for them in the long run.
So, ensure you check the condition of the warranty and make finding out about the brand's care for a customer just in case you have one or two issues with the product.
Final Thoughts
Humans are visual creatures. Seeing something with our own two eyes gives it credibility. Especially when dealing with something unknown or even unknowable, laying eyes on it gives us some sort of comfort. Of course, there are many options to select from, and different makes and models.
But with the products listed above, we are very sure that you will consider well the best choice to make, thereby without further delay, simply go for the device that is suitable for your needs perfectly. We'd love to hear which device you ended up going to within the comments section below.