Are you in the market for a new telescope? If you have bought one before, looking for a new one may not be as intimidating as doing this for the first time. However, if you are doing this task for the first time, then there is no need to worry; we have created this article with the aim turning a daunting task into an easy one.
We want to provide you with the right information that will allow you to make sense of the hundreds of telescopes out there that you have to choose from. We've created this article in such a way that after reading it, you should be able to select the best telescope for your needs.
The process of buying the right telescope should start with you knowing the important features that constitute the instrument.
This right knowledge will allow you to ask the precise questions when dealing with the hundreds of products that you will be faced with out there. You will also need to have the right knowledge about the different parts of a telescope.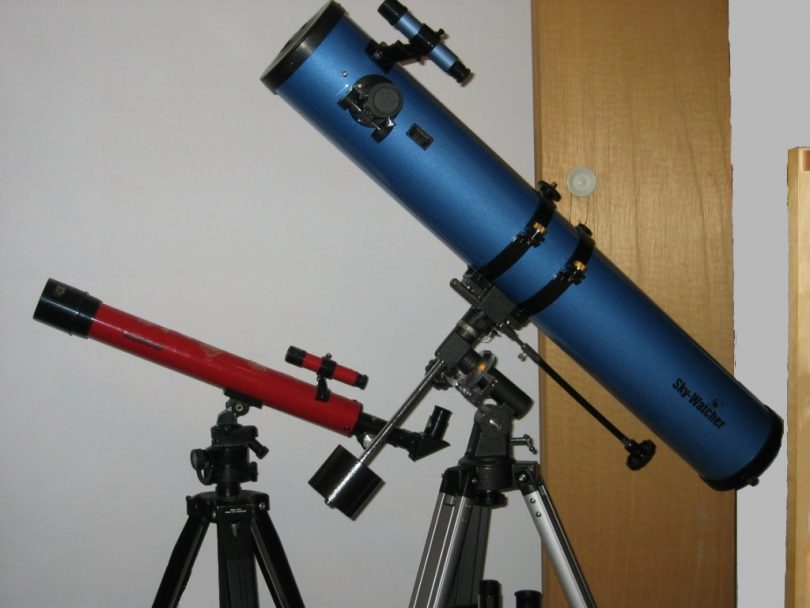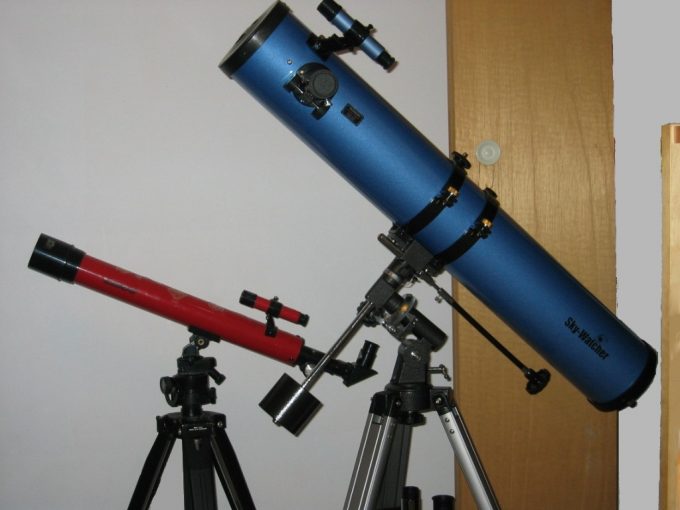 Once we have dealt with the basic knowledge that everyone looking for a new telescope should have, we will then do some telescope reviews of the top rated models currently in the market. For each telescope we review, we will look at its approximate price, the product dimensions, specific features, and where you could best use it.
We will also be looking at other products that you could compare the one we have elected to review with.
Our Top Picks
If you have ever tried to buy an optical instrument such as a telescope, you will know that there is a lot of technical jargon that you have to deal with. A telescope is a technical device that can become complicated whether you are a beginner or a pro.
Most Important Features to Consider
If you do not have the right knowledge about the mechanics of a telescope you may end up buying a wrong one. Apart from leading to disappointments, this could also waste your money.   We now look at some features that you need to look at before buying one.
Types of Telescopes
Before you head out to buy your brand new telescope, you will need to have a basic understanding of the different types of telescopes available in the market. You can select between refractor and reflector telescopes.
Reflector Telescope: This type of telescope deploys a mirror in order to gather light. It has several advantages when compared to refractor telescopes. It does not have the problem of a chromatic aberration since it reflects all wavelengths off its mirror in a similar way.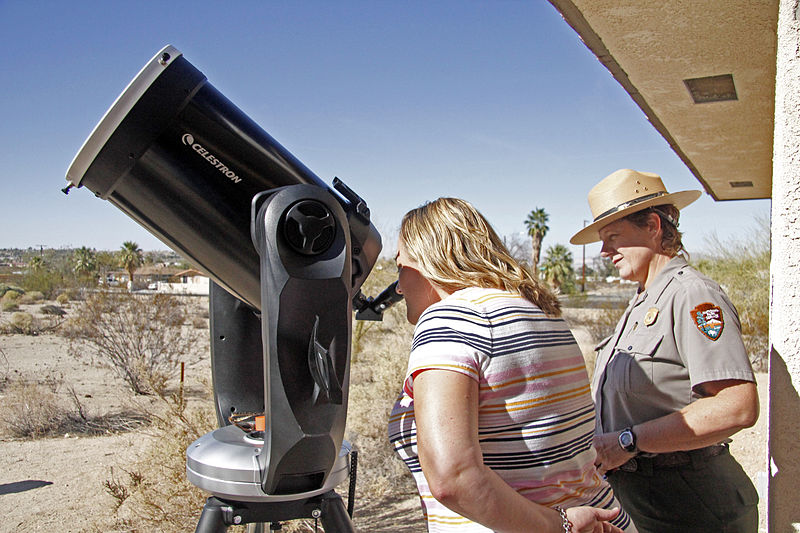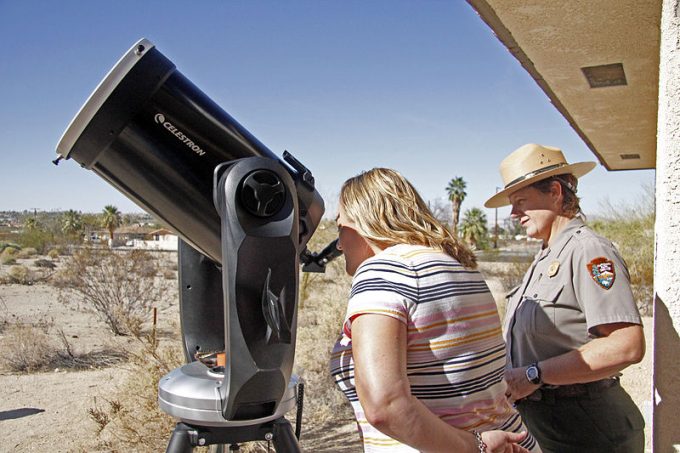 They are cheaper to make. Light gets reflected from the object and does not have to go through it, only one objective side of this telescope will need to be perfect.
Refractor Telescopes: These telescopes deploy a lens for the purpose of focusing and gathering light. When telescopes were invented, they were refractors. Most of the small telescopes you will see in departmental stores are usually refractors.
This type of scope comes with their own advantages such as being rugged and coming with an optical system which is resilient after it has been initially aligned. The glass surface of the tube does not need any cleaning, thanks to the fact that it is sealed inside.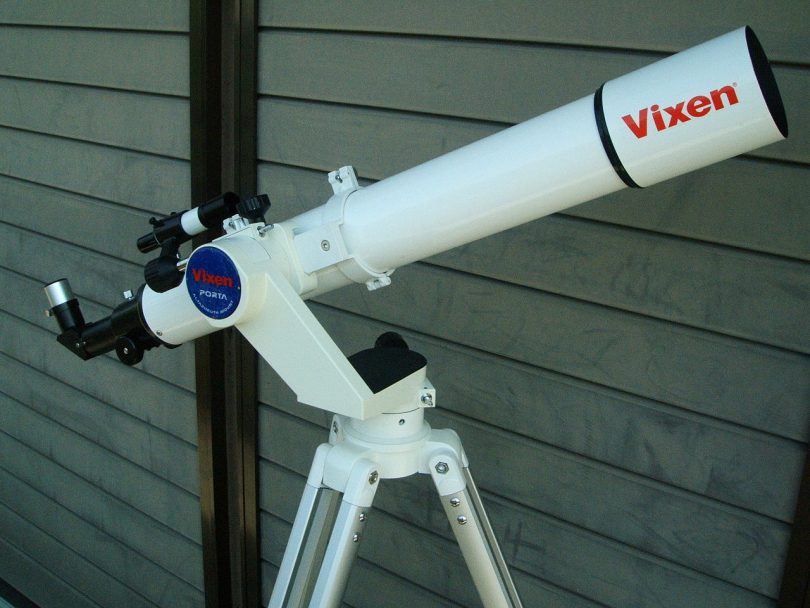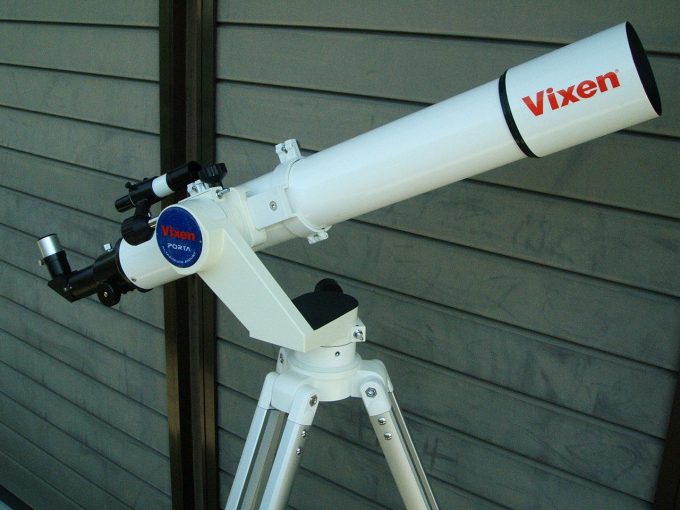 This also eliminates problems related to changes in weather conditions. This is the reason why the images you get are much sharper and steadier when you compare it to reflector telescopes.
Aperture
Ask anyone who knows anything about a telescope and they will tell you that the aperture is the most important feature of a top rated telescope. But what is the aperture? The aperture is the passage through which light travels.
Even though the things that this part of the telescope does are quite complicated, it's enough for one to know that the difference between the sharpness of the image you will see depends on the size of the aperture. If the aperture is narrow, you get a sharp focus on the image plane while a wide aperture leads to a sharp focus only in relation to rays being delivered from a given distance.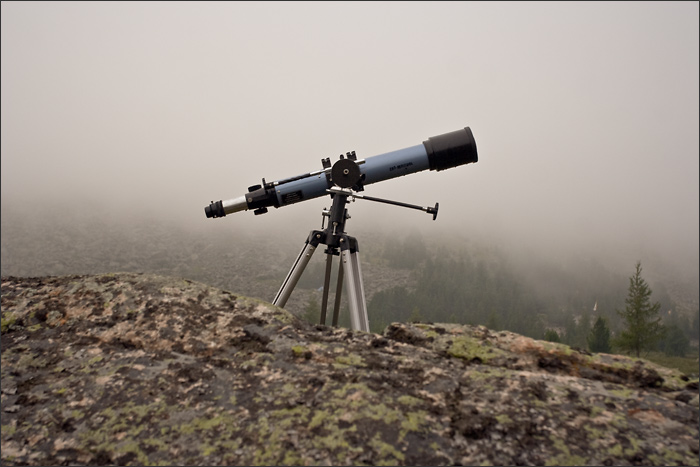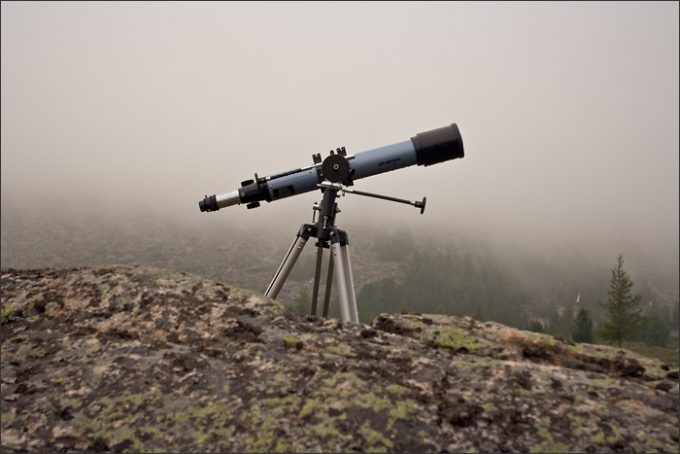 The main question that people looking for telescopes usually ask is whether to go for a narrow or wide aperture. If you want to ensure that you can view whether you have sufficient light or not, then you will need a telescope with a lot of aperture.
This will ensure that the images delivered are more impressive than they would have been if you were looking at them through a narrower aperture.
Even though a telescope with an aperture of 3.1 inches will allow you to see a number of galaxies, this is still considerably small. You will need an aperture almost double that in order to see comfortably from an average backyard in the suburbs.
The Mounting
Once you are satisfied that you have the right aperture the next thing you want to make sure of is that the telescope has the right mounting. The mounting is an important feature if you are going to get a view that is both stable and fixed.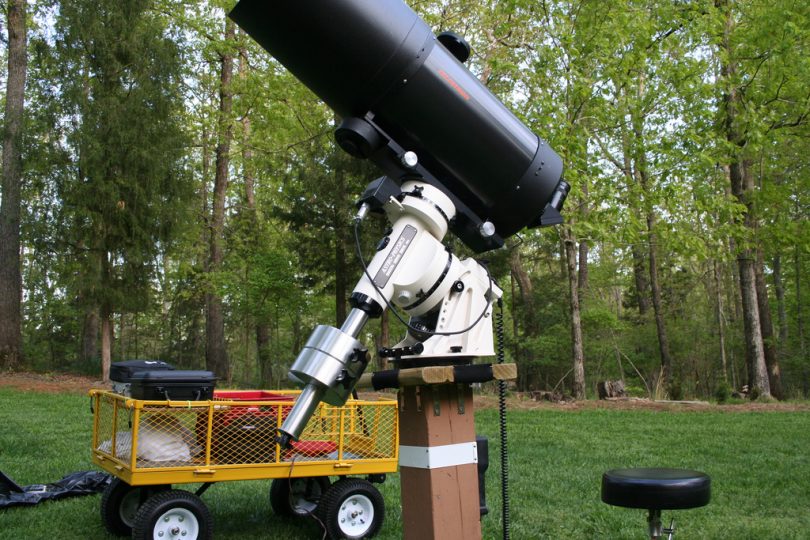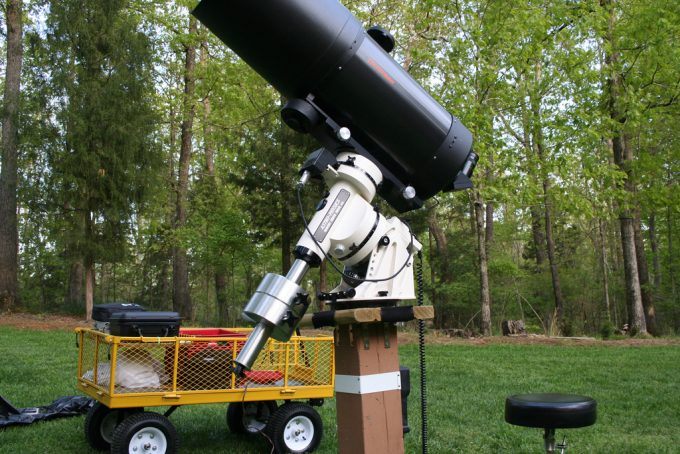 The reason why you want a good mounting is that the earth is always spinning, which could lead to objects constantly moving out of shot.  When buying, you have a choice between two different mounts. Each of this mounts delivers an experience which is different. These are the Equatorial Mount and the Altazimuth Mount.
Equatorial Mount: This type of mount is expensive of the two options. It is, however, the best for ensuring that objects remain in place while the earth is turning on its axis. The reason why the mount is able to keep a track of the objects even when the earth is moving is because of a clock motor which is fitted to various mounts.
Altazimuth Mount: This alternative is much cheaper. It relies on two separate controls. These manipulate both the horizontal and vertical movement. The disadvantage with this mounting mechanism is that its movement is not as seamless as an Equatorial mount.
Magnification
Magnification is an important part of optical instruments but it must be approached with care. As a buyer, you should be careful when a telescope is advertised by its magnification. If you see those magnifications as outrageous as 600x should be approached with care.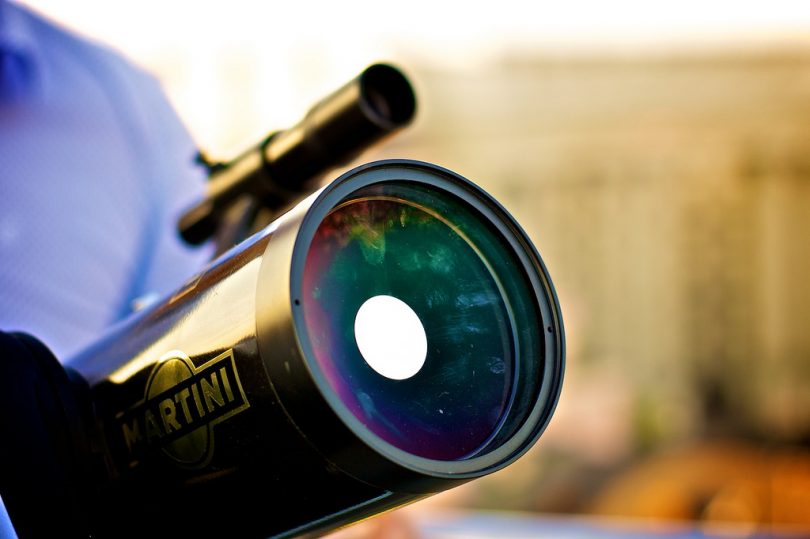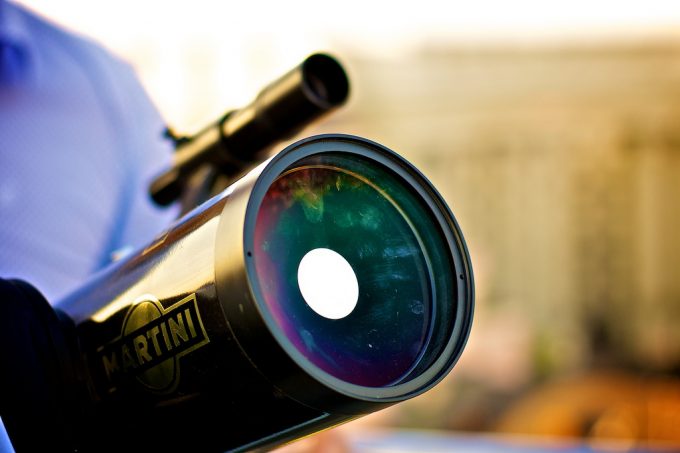 New telescope buyers often make the mistake of dwelling more on magnification as opposed to the aperture. Magnification speaks to a telescope's ability to magnify objects.
Well, magnifying objects is not a telescope's main job; it is to collect light. In actual fact, too much power can result in images that are inferior when you compare them to the ones you get when using a much lower power.
Your average home telescope would usually come with magnifications of below 100 times. However, many can go up to anything in the region of 400X. Those who are really serious can get themselves different eyepieces that they can use in different circumstances.
The Focal Ratio
The focal length refers to the distance from the primary lens of the telescope and the specific point where rays of light congregate in focus. Why do you need to care about this? It is the major factor that determines the magnification power of a telescope.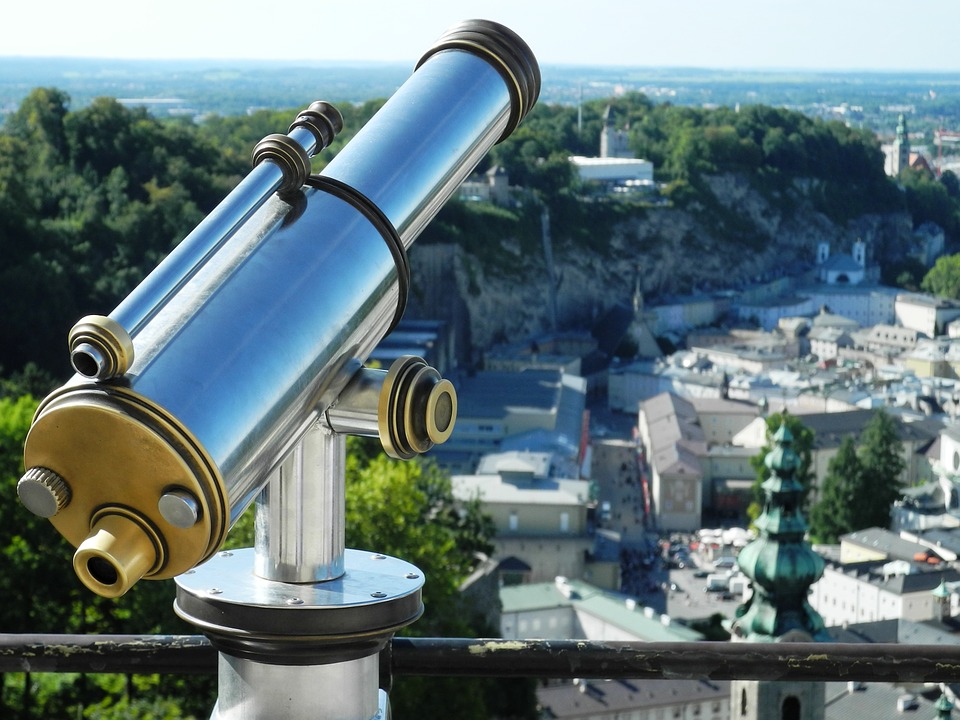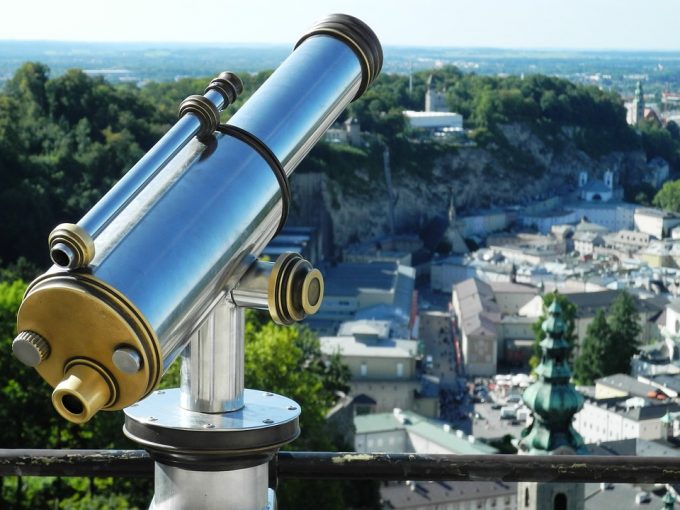 If you want to know what a device's focal ratio is, you will need to take the size of the aperture and divide it by the focal length of the telescope. Let's take an example of an aperture of 5.5 and a focal length of 55 inches your focal ratio will be f/10. Salesmen will tell you that higher ratios will result in images of higher quality, this is simply not the case.
However, you can use this information when making a buying decision. We would advise you that if you are faced with 2 telescopes with the same focal ratio but costing different amounts, it would probably be best to go with the cheaper one.
The Product Reviews
Now that we have an idea of what to look for when buying the best telescope for the money, let's look at some of the products we have identified from the market. In order to ensure that the telescope reviews we have here are objective, we will also be identifying the pros and cons of each product.
This will ensure that when you buy, you make a decision which is informed. The prices we quote are approximate as they can change without notice.
Celestron 21024 FirstScope
Weight: 9.3 pounds
Dimensions: 16 x 9 x 9 inches
Specific features: Maximum magnification 11x, 2 eyepieces; 4 mm and 20 mm, 76 mm reflector optical tube
Best use: Stargazing
Description: To get an idea of the type of product that the Celestron 21024 FirstScope  is. we will start by telling you that it was the product if the year at the 2009 International Year of Astronomy. The manufacturers of this telescope say that they are inspired by the famous Italian science scholar Galileo Galilei.
This reflector telescope is based on a table stand that can easily rotate. This makes it easy for you to view the sky. In order to navigate using this telescope, you just need to move the tube towards the object of your interest and then use the eyepiece to see it.
When you add the FirstScope Accessory Kit, which comes as an optional extra, your ability to see local objects is boosted.
Do not be fooled by the 76-millimeter main mirror, the telescope remains lightweight. It also features a compact design. This is the reason why this is a telescope that will come with you for your next outing. The good looks ensure that when you are not using it, you can add it as a decorative piece in your study or wherever else you fancy.
If you look at the price of this scope and other features, it becomes clear that this is not one of those powerful scopes. Those who remember this will see that this is the best telescope for the money. If you see anyone complaining loudly that this is a useless scope, you should just know that they are forgetting just how much they paid for it.
PROS:
Great telescope for beginners and children with an interest in astronomy
Affordable but providing value
Lenses can be replaced with more expensive ones
Highly portable and sets up easily, thanks to its compact design
CONS:
Low magnification
It is manual
It has a cheap feel, but no one promised that it was expensive
Related: If the Celestron 21024 is not your cup of coffee, you can check out the Meade Instruments LightBridge Mini 82 Telescope. It comes a little more expensive but it also has a more generous aperture that will allow you better views of the moon and the stars.
Levenhuk Blaze 90 Spotting Scope
Weight: 5.8 pounds
Dimensions: 22 x 7.9 x 5.7 inches
Specific features: Magnification 30–90x, BK-7 glass, Field of view: 1.5–0.8°, Eye relief, mm: 18–15.
Best use: Military use, advanced observations, hunting
Description: The Levenhuk Blaze 90 Spotting Scope is the telescope for someone looking for a product that delivers views that are not only clear but also brighter. We are talking here about magnifications ranging between 30 and 60 times.
You now you are not dealing with those outrageous magnifications that can easily end up giving you a blurred image. The telescope comes with a lens diameter of 90 mm.
The magnifications on this scope are variable, meaning that you can adjust them according to your needs and circumstances. The reason why the scope delivers sharp images is because of the fully multicoated lens. The shell of this product is manufactured from strong polycarbonate.
It is filled with nitrogen so that there is no risk of fogging on the internal parts. It is also 100% waterproof.
An optical instrument is as good as the glass from which it is made. Like other good products in this class, the optics of this telescope are made from BK-7 glass that is fully multi-coated.
This is the reason why the images you see through this instrument are not only sharp but also clear and the colors distinct. The scope is manufactured to be comfortable with the use, thanks to an angled eyepiece that has a rubber eye cup.
The scope can be used for military tasks, advanced observation, and hunting. Together with your new scope, you will also get the metal table tripod, a manual of instructions on how to use your scope, cleaning cloth, and storage case to ensure that your instrument is safe when you are traveling.
PROS:
Multicoated glass
Carry case for convenience when traveling and keeps the scope safe
Lifetime warranty
User manual gives you the instructions on how to use your scope
CONS:
Struggles with ranges above 200 yards
Related: Another product in the same class you can check out is the SVBONY Shooting Hunting Bird Watching Spotting Scope. It comes with a universal phone adapter so that you can take video clips when you are in the outdoors. It also makes it easy for you to store images. Magnifications can be adjusted between 20 and 60 times. You can also adjust the objective lens between 65 and 80 mm.
Celestron NexStar 6 SE
Weight: 30 pounds
Dimensions: 32 x 26 x 12 inches
Specific features: 6-inch telescope, 8 AA batteries required.
Best use: Stargazing
Description: The makers of the Celestron NexStar 6 SE  promise that this is a device that has been manufactured to bring together two qualities that everyone is looking for in such a product; serious portability and performance. This telescope has all the features you can expect from a product coming at this price range.
This includes the fact that it is computerized.
The products come with a total weight of 30 pounds when you include the tripod. The telescope boasts an accuracy optical structure with a focal length of 1500 mm. It delivers almost 50% more light gathering when compared to a 5-inch scope. It is also equipped with the famous Celestron's GoTo computerized system.
Other features you can expect from the NexStar 6 SE include the SkyAlign, a hand control that is easy to use, a database which contains in excess of 40 000 celestial objects, and a feature which allows you to do the sky tour.
Add to this the CN-16 GPS accessory that comes as an optional extra which gives you the ability to download data from satellites in orbit so that you get alignments that are quick and easy, and you will know why this is one of the best products in this class.
The Celestron NexStar 6 SE Telescope sits at the top of its class due to some of its computerized features which include the NexStar.
You can use the devise's Autoguider which is included for purposes of extended exposure astrophotography. Both axes of the device are equipped with DC Servo motors. It also comes with the NexRemote software. You will enjoy advanced control of the device through a computer, thanks to the RS-232 cable included.
PROS:
Portable enough to take with you on a camping trip
Easy to set up for those ad hoc occasions
Delivers bright and sharp images
CONS:
Spur gears are not the best for fine tracking
The gear produces an amount of noise that is noticeable even though we did not see this as a deal breaker
Being controlled by computer leaves the device with some errors that are found in computer operated instruments
Related: If you like the brand but do not have a pocket so deep to get the Celestron NexStar 6 SE, you can always go with the Celestron NexStar 127SLT Mak Computerized Telescope. At approximately $439.99 you will save a lot.
Orion 9024 AstroView
Weight: 32.1 pounds
Dimensions: 38 x 17 x 11.5 inches
Specific features: 36 to 91 X magnification. 910mm focal length (f/10)
Best use: Stargazing
Description: If you have always wanted to enjoy the sharp images produced by a refractor telescope but you are working on a budget, the Orion 9024 AstroView  just made this possible. The people who designed and manufactured this product at Orion promise that the outstanding AstroView 90 delivers the type of returns you can only expect from products that cost a lot more than this one.
As you may already now, a scope is as good as its lens. This one comes with a multicoated objective lens measuring 90mm and a focal length of 910mm (f/10). T
he lens is accommodated in a tube constructed from enameled aluminum. Another promise you get from the people who manufactured this project is that gathering light, whether from the objects deep in the sky, the moon, and other planets will always be a breeze.
The Orion 9024 comes with the advantages of refractor scopes. These devices are famous for delivering views that are not only high contrast but also crisp.
If you notice that the scope frames the moon nicely, you should know that this is due to the power of an eyepiece magnifying at 36 x. On the other hand, when you get the crisp close up image filled with detail, you should know that it is because of the 10 mm eyepiece magnifying at 91 x.
Your brand new telescope comes with an equatorial mount which is equipped with AstroView 90 EQ so that you will have the power and ability to track the stars. Get the best results by setting up the telescope to point in the directions of the North Star.
This will help you to maintain, within the field of view, the celestial objects, by just rotating a single slow motion dial.
PROS:
Comes with the advantages of the refractor design
The moon and other planets are shown brightly and clear
Equipped with two eyepieces for you to use in different circumstances
Come with Starry Night Software
CONS:
The equatorial mount on this scope is not one of the best you will get in the market
Related: In the same range and at about the same price, you will get the Celestron Inspire 100AZ Refracting Telescope. This is an entry level scope that you will love for being easy to set up. If you are a novice in this type of game, this is the one that will work just for you.
Orion 10015 StarBlast
Weight: 13 pounds
Dimensions: 25 x 18.5 x 23.5 inches
Specific features: Minimum magnification 16x, 4.5-inch aperture, f/4 focal ratio
Best use: Entry level astronomy
Description: The Orion 10015 StarBlast  can simply be defined as a portable device designed for someone just starting out in using telescopes. The makers of this device promise that this is a compact product that will certainly inspire the whole family to want to explore.
Do not let its price fool you into thinking that you are being asked to buy a toy; it is manufactured to be a real telescope that is quite easy to set up.
The promise from the people who have designed and manufactured this product at Orion is that the Orion 10015 StarBlast is equipped with the kind of features you can expect from products in the higher price range.
The reason why this device has become famous for being suitable for all the members of the family is its simplicity which does not compromise its ability to perform at a high level.
The high-quality optics built into the Orion 10015 StarBlast are intended to nature a lifelong interest in amateur astronomers.  This does not, however, mean that this scope is not suitable for experienced astronomers who are avoiding the cumbersome mounted telescopes that require time to set up and also maintain.
If you are looking for a present for a child, this could just be the right one. It offers an immense educational potential to learners. You can also buy the filters sold separately. Also, sold separately are the extra lenses.
PROS:
Excellent telescope for beginners because it is easy to set up and use
Affordable but coming with some great features
CONS:
With no instructions in the package, you are expected to make the rules as you go
Sometimes rotates slightly while you are gazing
Related: Celestron advertises the Celestron NexStar 130 SLT Computerized Telescope which comes a bit more expensive than the Orion 10015 StarBlast. This telescope is equipped with a computerized hand control and it also has a database with up to 4000 objects. It is also equipped with a SkyAlign feature which gives you the ability to find your alignment on any three bright celestial objects.
Celestron NexStar 127SLT Mak
Weight: 20 pounds
Dimensions: 40 x 19 x 11 inches
Specific features: SkyX Planetarium software
Best use: Entry level astronomy  
Description: The Celestron NexStar 127SLT Mak  is an entry level product that is designed to be affordable without necessarily being cheap. It is computerized and equipped with the GoTo feature.
To get an idea of the kind of power we are looking at from this telescope, it will allow you to see the bands on Jupiter, Great Red Spot, and the rings of Saturn. When looking at Mars, you will be able to see some color although this is just about as much detail as you will get from this planet.
However, when it comes to the moon, you can expect some great detail. We know that no telescope worth its salt would struggle with the moon. The telescope will also allow you to see some clusters of stars with great clarity.
When using this telescope, you will need to remember that everything will depend on how well your telescope is aligned and the eyepieces.
Concerning the eyepieces on this particular scope, we can tell you that they are not the best you will get. So, if you want to get a better experience then you will need to separately buy a good eyepiece, possibly 6mm.
In terms of focal ratio, you are looking at f/5, which makes this a scope that can be described as fairly fast. One of the things we loved about this particular scope is the auto-orientation feature. It works like a bomb, especially when you have given it an exact location and time.
This means that it will not give you the best results if all you tell the telescope is the city in which you are. While the controller is able to remember the last location of an observation you did before, it will lose the time when off. So every time you switch it on, you will have to set the time again.
In order to orient the scope, you will just need to point it in the direction of any three objects. You do not have to know what those objects are. In order to get the best results, you will need to ensure that the scope is level. To get it level, you can use the built-in bubble.
PROS:
Great scope for beginners but you will use it for a long time after beginning
The scope can accommodate larger 2″ eyepieces, the adapter is removable
Delivers good clarity especially when you equip it with the more expensive bigger eyepieces
CONS:
The eyepieces which arrive with this scope are not the best you will get
The tripod can get wiggly in the wind
Motorized mount is power hungry
It also gets affected by the famous bootloader error
Related: Another product from Celestron you can check out is the Celestron NexStar 4 SE Telescope. At approximately $499.00 it is quite affordable. It allows you access to a database with almost 40000 objects.
Orion 10014 SkyQuest
Weight: 22 pounds
Dimensions: 19 x 23 x 41 inches
Specific features: Minimum magnification 17X
Best use: Beginners and intermediate stargazers
Description: The Orion 10014 SkyQuest is a device designed to make it possible for everyone who wants to know anything about space to enjoy this activity without having to part with a lot of money.
This is a telescope that will work as well for the beginners as it will for those who have been doing this kind of stuff for a little longer. This scope is equipped with an 114 mm diameter mirror which is used for gathering light. This mirror is accommodated in an enameled tube.
If you are buying the Orion 10014 SkyQuest, we can confidently tell you that you are using your money well. We say this because you can expect the primary mirror to come at a good quality. The focal ratio is f/8 and you get a finder and two eyepieces. The CD-ROM delivers The Sky software, albeit watered down.
Your brand new telescope will arrive in two boxes; one will have the base and the other has the optical tube. You will need to assemble these together yourself. The tools and hardware you need will be supplied. You also get an instruction manual on how you will assemble the optical instrument.
As you probably have figured out from the price, it comes with a number of measures designed at cutting costs. For example, the focusers are made from plastic. We do not mean to suggest that this will break at the slightest excuse but we know well that plastic is not as strong as the metal.
Look at the scope for the first time and you will agree with us that it a little too short to be used by an adult. We are talking here about an eyepiece which is only 3 feet from the ground. This means that you will need to stoop over when you are using the scope. The best was to mitigate this is to sit on a stool as you observe.
PROS:
For the price you pay, this is a great optical instrument with equally great mechanical performance
It comes with two eyepieces, a finder telescope, software and other accessories
CONS:
Plastic focusers are not as durable as metal
A little too low to be used by an adult
Related: If are a little short on cash, you can try the Celestron 127EQ PowerSeeker Telescope. It comes at approximately $142.00. It is equipped with an equatorial mount. It will be delivered with a tripod made from aluminum and a tray for the accessories.
Orion 8945 SkyQuest XT8
Weight: 29.3 pounds
Dimensions: 50.2 x 17.5 x 15.5 inches
Specific features: Minimum magnification 29 x
Best use: Beginning astronomy enthusiast
Description: If you are looking for a telescope that your family will be comfortable around, then you may as well say you are looking for the Orion 8945 SkyQuest XT8.  This reflector scope is equipped with a large aperture but still coming at a price which is affordable.
The detail you get when looking at the moon and other planets is a result of a reflector measuring 8".
There are a number of features which make the Orion 8945 SkyQuest very popular including a coming together of simplicity on the mechanical front, great stability, and precision optics. This is the reason why this scope is carving itself a name among the best optics for the whole family.
The aperture of the XT8 is the right size when it comes to gathering light from celestial objects that are at a distance and delivering them clearly.
The scope arrives in two boxes; one has the optical instrument itself and the other has the base. You will be supposed to assemble this on your own. Allow us to warn you that this could take a little more time for those who are not technically inclined.
This, however, does not mean that this is difficult. The scope is quite bulky but it comes with a nice handle to help you carry it around.
The scope's tube can be rotated and pitched. If you do not want a tripod because of the extra weight or you just do not want to pay more this is your scope. The base that comes with this product is very basic. However, the base is practical.
PROS:
This is a fairly decent optical instrument that gathers light well
The finder allows you to see the stars and the moon
Equipped with springs that ensure the scope does not keep drifting up and down slowly
CONS:
The focuser is low quality
Related: The better version of the XT8 Classic is the Orion 8974 SkyQuest XT8 PLUS Dobsonian Reflector Telescope. It comes more expensive at approximately $500.00. It has a beautiful metallic design and a base whose altitude you can adjust.
Wrapping Things Up
We have now come to the end of our article of the best-rated scopes you will get in the market this time around. We hope that at this point, you will approach the process of buying a telescope with some confidence.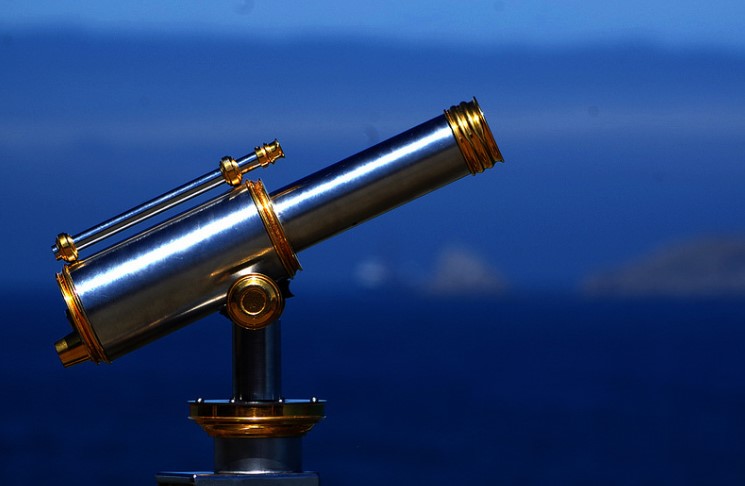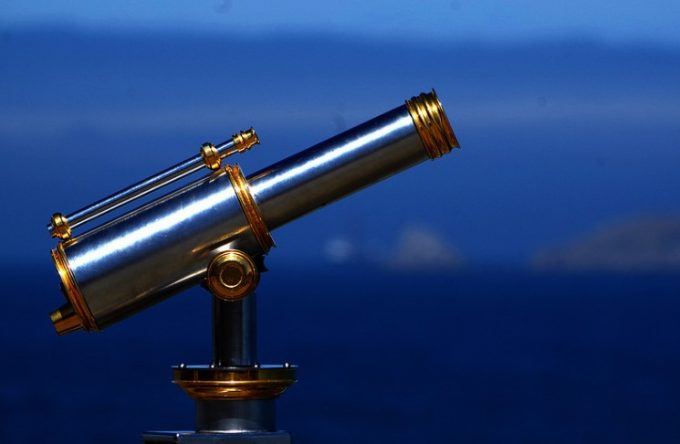 One thing you will always need to remember is that when buying a technical instrument such as a telescope, you will need to invest the right amount of time looking at telescope reviews such as the ones we have included here. We hope that you have seen that there is a telescope which will suit any budget.
Did we leave anything out in this article? Do you have any stories involving telescopes? We would love to hear them. Please leave them in the comments section. If you believe that someone you know can benefit from this article, please feel free to share.