Vortex scopes are the best optical tools available for birding, hunting, racing, backpacking, and field sports. Vortex has manufactured them with a strict focus on style, performance, and value. Since the use of Vortex optics is not restricted to any particular area, outdoor enthusiasts can use them to watch wildlife, explore distant galaxies and carry it just anywhere you feel like.
Trench soldiers and coastguards to rely on them to execute their tasks effectively.  So, let's dive into our Vortex Diamondback Spotting Scope Review.
Vortex optic scopes can also benefit theater goers especially if they are sitting in the back and cannot have a clear view of the stage shows properly due to the long distance between them and the stage. These scopes have magnificent magnification abilities to make every element of the stage visible to you.
Product Specifications
Dielectric Prism Coatings

XR Anti-Reflective Lens Coatings

Waterproof and Fogproof

ArmorTek exterior

Angled Body
Even if the lighting is dim, they strive to collect as much light as possible to deliver crisp, clear images.
Vortex Diamondback spotting scope series has gained popularity among the people who have already used them. These models deliver performance beyond their price range. In addition to this, the manufacturers offer unlimited, transferable, and lifetime warranties which are matchless in the optics industry.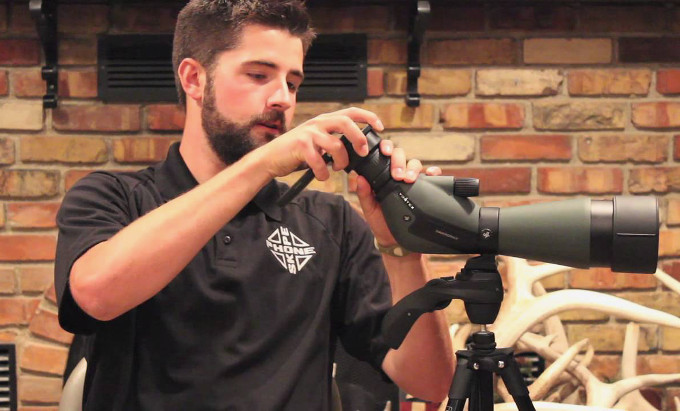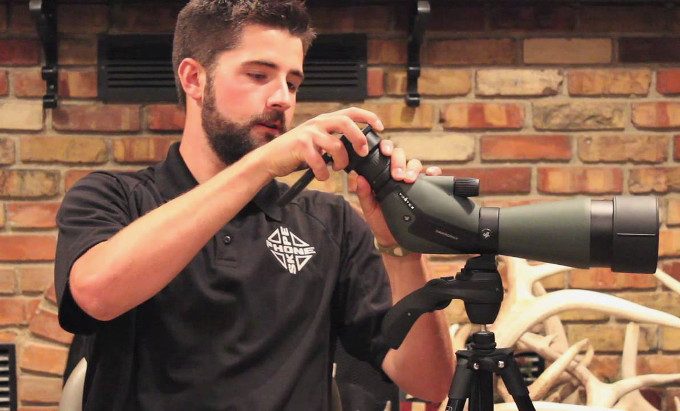 In this Vortex Optics review, we will outline for you all the features of the two most common Vortex Optics Diamondback Spotting Scopes; 20-60×60 and 20-60×80. Both scopes feature exact same specifications apart from the slight difference in the objective lens diameter. We will also review some of the closely competing models so you have several options to choose from.
Review
Heading out for some sporting, hunting, or camping? Want something that will capture all your target in finer detail? Vortex Optics Diamondback Spotting Scope could be what you are looking for.
This scope is endowed with generous optics that comes from its widened objective lens, multicoated lenses, and the high-quality glass used. This scope doesn't sacrifice anything in pursuit of giving you image clarity.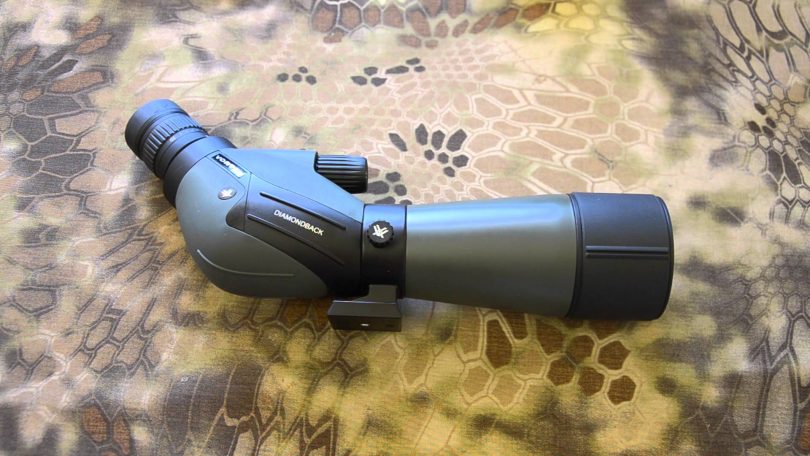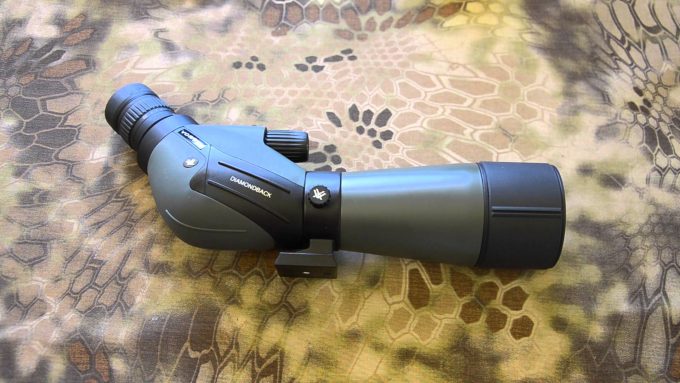 With a wider objective lens, the Diamondback can help you spot tiny, fast-moving objects with much ease. Resolution and contrast are taken care of by the top-quality glass used. The adjustment knobs are also strategically placed and have a clicking mechanism to signify a shift in settings.
Although some people prefer the straight body scopes due to their speedy target acquisition, angular ones too are advantageous in certain situations. This design enables low mounting which results in stability of the scope in windy conditions. Angled design also allows the use of lighter and portable tripods.
Weather elements, dust, and debris can coat on the lens and interior of a scope leading to limited optics. To do away with that, Diamondback is equipped with an O-ring seal to keep out dust, debris, and moisture. Nitrogen is also present in the scope rendering it fog and waterproof.
Vortex Diamond black doesn't lock out those who wear glasses. Although not impressive, the eye relief works fairly better under low power. Remember even under low power, this spotting scope still delivers stunning images. Also, the adjustable eyecups can be twisted up or down for comfortable viewing without the need to remove your glasses.
We have already pointed out that this scope's clarity is superb. However, the scope is a beginner's model, clarity gets muddled under higher magnification. This should be expected and it certainly doesn't bother many people since from 20 to even 50X, you can still obtain well-detailed images.
Packaging
Vortex Optics Diamondback Spotting Scope comes packaged in a see-through carry case with other essential accessories like a variable eyepiece, Eyepiece cap, Objective lens cap and Vortex VIP no questions asked Lifetime Warranty card.
Although this scope comes with a huge objective lens, the overall weight of the package lies somewhere around 2 pounds.
Best use
The quality of glass, the presence of proprietary coatings, and the size of the objective lens determine where a scope could be best used. Diamondback Spotting Scope's impressive optics makes it suitable for birding, hunting, racing, backpacking, and field sports. The scope is also waterproof to ensure continued use when it's drizzling.
Design and durability
This scope's design comes in two variants; straight body and angle. Each offers various advantages to the user. The rugged nature helps to get the scope past the rough days unscathed.
For ease of use, you can easily sport the focus knob at the top and/or the side of the device. These knobs are knurled to provide a firm grip and click to indicate a change in reading so you don't go too far.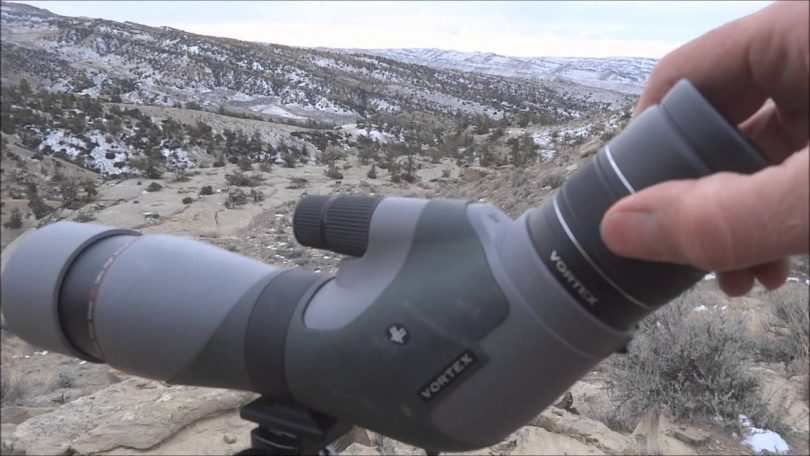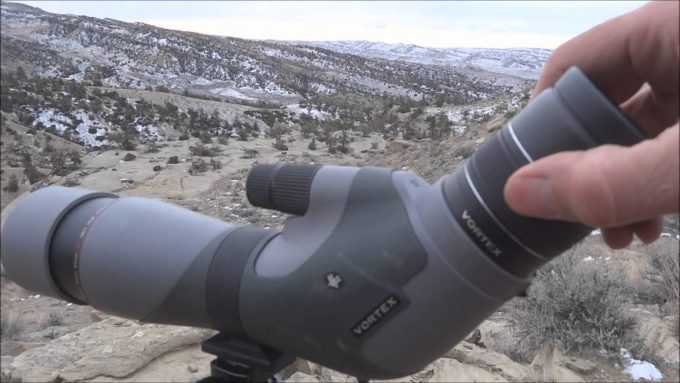 Diamondback's design goes far in ensuring the device is safe from any conditions by protecting some of its delicate parts like lenses from harm. ArmorTek technology which consists of the ultra-hard scratch-proof coating is applied on the lenses to ensure they remain in a good condition for long.
Optical ability
Besides weight, waterproofing ability, and design, most enthusiastic outdoor individuals will consider a scope with the best optics even if the other factors do not align with their expectations. You would rather use a slightly heavier scope with exceptional quality imaging rather than a paperweight item that displays shaky images, right?
First, Diamondback scopes have wider objective lenses between 60 and 80mm to permit adequate light into the scope. Dielectric Prism and XR Anti-Reflective lens coatings also contribute to the light gathering ability of the scope thus making it optically powerful. The lenses have a sunshade to block stray light and shield the lens from dust, snow, and other weather elements.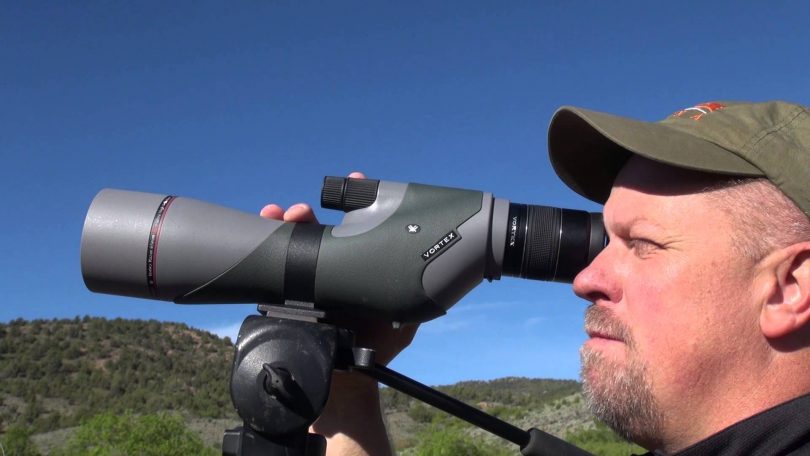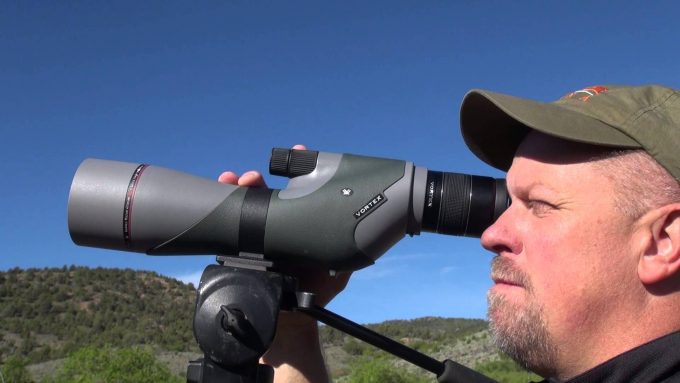 This scope's optics include an adjustable eyecup that can be twisted up or down for a comfortable viewing-whether wearing glasses or not. The eye relief is favorable under low power but not under high.
Unique features
Fog proof- Vortex Optics Diamondback Spotting Scope has an O-ring seal that prevents fog as well as dust from entering into the scope. Fog and dust can severely mar the quality of pictures being processed.
Digiscoping-Diamond back's impressive image quality enables it to take digital photos
Porro prism-it offers better image quality
Exit pupil-this is an essential part of light transmission hence the bigger it is, the better. The exit pupil in this device is 4mm under low power and 1.3mm under high power magnification.
Value for money and guarantee
Vortex Optics Diamondback Spotting Scope comes at approximately $399-$500. This model is considered one of the cheapest products offered by Vortex. Although cheap, they actually render services that can be found in high-end models only. The scope is fully water, fog proof, and extremely durable making it the perfect company to have in any weather condition.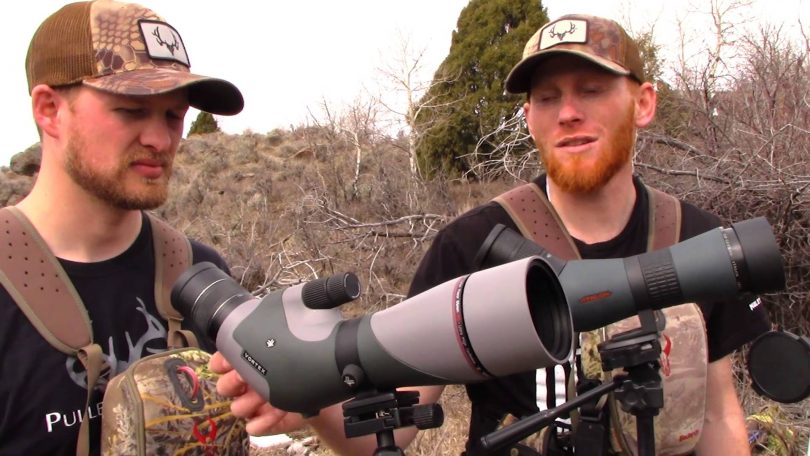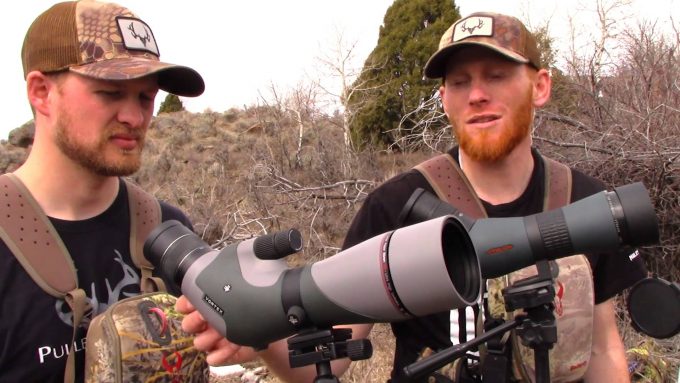 Vortex believes its products to be of outstanding quality. That is why they offer an unlimited and unconditional VIP warranty. No need for receipts or proof of ownership is necessary to get them to repair it. That means, you can buy one from a stranger, and if it has ANY kind of damage, they will still repair it for you.
Similar Products Available
Vortex Optics Diamondback 20 60×60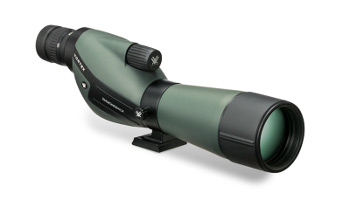 Vortex Optics Diamondback 20-60×60 Straight Spotting Scope provides heavyweight performance in a light and compact form. The scope's optics includes a 60mm wide objective lens, 20-60X magnification.
Proprietary coatings to increase light transmission and anti-reflective coatings on all air to glass surfaces. No matter the lighting condition, Diamondback 20-60x provides ultra-clear images no matter the range of magnification used.
When it comes to ease of use and comfort, Vortex Optics DBK-60S1 Diamondback performs pretty well. To begin with, the scope's eye relief of 14mm and twist-up eyecups make it less strenuous for those with glasses to use it.
There is also a sunshade to minimize anti-glare and protect the objective lens from raindrops. On the outside, this scope features rubber armoring to provide a firm non-slip grip.
The straight body design of Vortex Optics DBK-60S1 makes it suitable for viewing scenes from an elevated platform like a patio or a deck. The rugged design ensures it survives the rigors of day-to-day use. The scope is water and dustproof thanks to the O-ring seal. The interior is purged with nitrogen to avoid fogging.
Other design features that make this scope great for outdoor activities include a close focus of 20 feet, a field of view of 115 ft/1000 yards, 3mm exit pupil, rotating tripod ring, and Porro prism glass. The scope comes along with an eyepiece cap, view-through case, Objective lens cap, and VORTEX's VIP lifetime warranty.
Bushnell Legend Ultra HD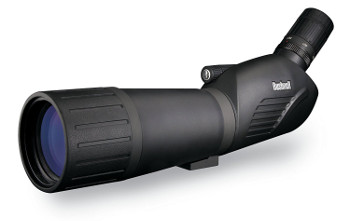 Bushnell Legend Ultra HD 20-60 x80 boasts of a very wide objective lens that permits plenty of light into the scope. When this objective lens is coupled with the ED Prime extra-low dispersion glass, fully multicoated optics, and HD coating, the image produced is of unparalleled clarity.
The field of view leaves something to be admired. Even smaller, fast-moving targets can be viewed vividly at any magnification range between 20 and 60.
This legendary spotting scope provides enthusiastic individuals with a great outdoor time at a price most avid individuals find manageable to pull off. In low light conditions, the scope's Bak-4 Prism strives to bring you bright images with sharp contrast.
Added to its controls is a dual focus knob (though small-sized) to allow you to make both fine and rapid adjustments. The lenses spot a useful Rain Guard HD to ensure foul weather or your own misguided breath doesn't impede you from obtaining bright images.
The angled nature of Bushnell Legend Ultra HD makes sharing easier as well as provides longer observation sessions without getting tired. The scope is best suited for observation and digiscoping.
Regarding the outer construction, this legendary scope has a rubber-armored housing that makes it waterproof even under the most trying conditions. The nitrogen-purged into its interior renders it fog-proof as well.
Bushnell Legend has a long eye relief (18mm) thus making it quite friendly to glasses wearers. The exit pupil is also wide enough to permit more light into the scope. The only downside is that the scope's size is a bit hefty; this is something you should expect for spotting scopes with a wider objective lens.
Tradeoffs can't be avoided, anyway. Bushnell Legends is protected by a no-questions-asked unlimited warranty. The package comes along with the scope itself, Lens, Soft carrying case, and eyepiece caps.
Vortex Optics Viper HD 15-45×65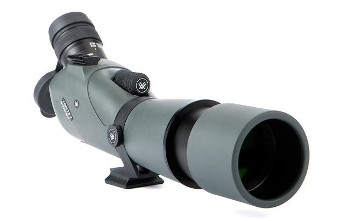 Getting bright and color-accurate images is one thing that many outdoor lovers cherish. Vortex Optics Viper HD does deliver stunning images that are well-detailed even in dim light thanks to its Multilayer Prism coatings. At 45mm, the objective lens permits sufficient light to get through without making the scope unnecessarily burdensome.
The optics of this glassing device are further enhanced by the Porro and Bak-4 prism designs. The ED glass also comes in handy in providing excellently detailed images. Vortex Optics Viper HD efficiency takes into account phase shift and other factors that can mar the picture quality; perhaps one of the reasons why its price is a little bit stretched.
Focusing on this device is pretty simple. Its dual focus system allows you to obtain a sharper image through the use of smooth turning knobs. The knobs are small and knurled for a finer grip. However, their small size makes it a bit of a problem when wearing hand gloves.
Vortex Optics Viper's angled design provides comfort that allows one to glass for many hours. This scope is durably built with a rugged appearance that makes it thrive well even in the most challenging environments. Like most scopes, this one too is 100% waterproof and fog proof. Its eye relief is generous under low power but not high power.
Viper HD 15-45×65 allows for lower mounting. This is something that many people like since it improves the scope's stability in windy weather. The scope also allows the use of smaller, lightweight tripods.
Other features it stacks up include an exit pupil of 4.3-1.4mm, a close focus of 16 feet (for a close observation), and an angular field of view of 2.7-1.2 degrees. The package comes with the scope itself, an eyepiece cap, an objective lens cover, a soft case, and a VIP no questions asked lifetime warranty card.
Overview
Vortex Diamondback Scope is an entry-level model that is meant to provide the best views to those who can't afford the high-end models. It's a good glassing device that even experienced outdoor individuals will find much reliable.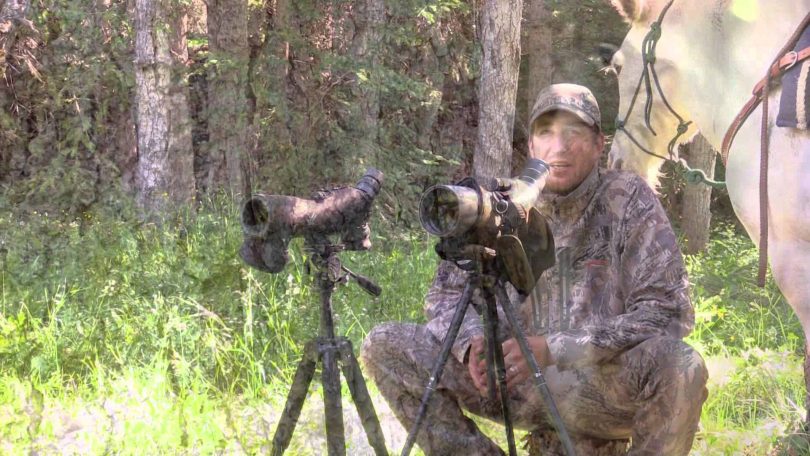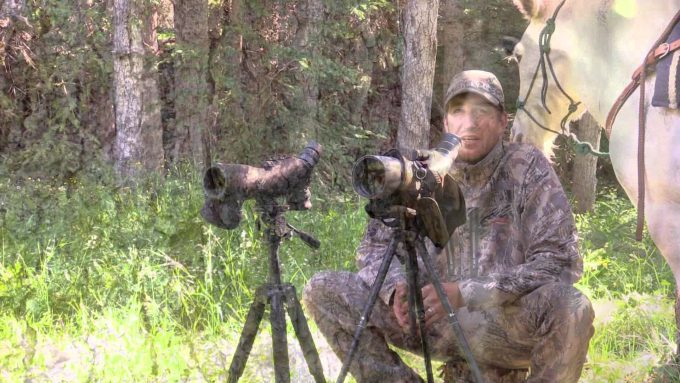 The objective lens is wide enough, and the interior and the lens consist of proprietary coatings to optimize light gathering ability. This is exactly what you will get in the high-end models. On top of that, the scope is lightweight and portable.
As always, even great products have their ups and downs. Let's have a look at the pros and cons of Vortex Diamondback spotting scope.
PROS:
Lightweight and portable
Comes at a moderate price
Ultra-clear images even in low light
Built to last long
Waterproof and fog proof
Secured by unconditional and unlimited Vortex's VIP warranty
CONS:
Focus adjustment knobs are too small and thus hard to control while wearing gloves
The eye relief could use some improvements
The reasonable price, powerful features, and thoughtful engineering makes this beginner-level scope a great product to have during your outdoor activities. Although the material is definitely designed for low-end use, Vortex did put in much effort to ensure the scope survives the test of time. Try it for yourself and see if all the high-end bells and whistles about it are what you need.
Vortex Diamondback Spotting Scope
Packaging

Best use

Design and durability

Optical ability

Unique features

Value for money and guarantee
Summary
This is where we wrap up our Vortex Diamondback spotting scope review. While this scope may not be Vortex's best work, a lot of hard work has gone into it making it not only cost-friendly but functional as well. The scope's optics are the best technology thus reliable to any serious outdoor individual. Still, if Vortex Diamondback spotting scope doesn't seem to be what you are looking for, we have reviewed three of its closer allies to help you have several options.
Do you have any experience with the scopes we have highlighted here?  If so, would you please let us know your impressions of them?  You can drop a line in the comments section below.