Besides iconic names like Nikon and Celestron, Leica too is a recognized scope making company with an impressive resume. One of its products that you can use for bird watching or digital photography is Leica apo-televid 82 scope.
This watertight scope is loaded with exceptional features making it one of the few top-of-the-line models. With numerous cool features, you ought to expect to pay top dollar for this one, and it's worth it.
Leica's scope is made for individuals with high demands. Those who would like to get the best shots even when the weather is unfriendly. Its apo chromatically corrected optics coupled with a wider diameter and fluoride lenses allow this spotting scope to gather as much light as possible to make the target visible.
Product Specifications
2 pounds
Waterproof and Fogproof
Angled Viewing Design
Fluoride Glass
25-50x Wide Angle Zoom Eyepiece
German made
It's quite the real deal. It's generally rugged design means it can handle tough times.
Leica sports a wide-angle zoom eyepiece that contributes to light gathering for the production of stunning images. Its angled body makes it suitable for high-angle viewing.
In this review, we will uncover some of the main features of this scope that make it a worthy outdoor companion. As an avid photographer or nature lover, we believe some of its specs could be what you are longing for. We have also discussed a few competing models to help you widen your options.
Review
Before you buy a scope, one of the most important aspects to address is the purpose you are going to use it for. This will help you figure out if a lower end or high-end model will work for you. The Leica 25-50x Spotting Scope is an all-round spotting scope.
This means you can use it to take digital photos, watch nature or take it with you for hunting. For best results, make sure you have some kind of support to prop it on.
Packaging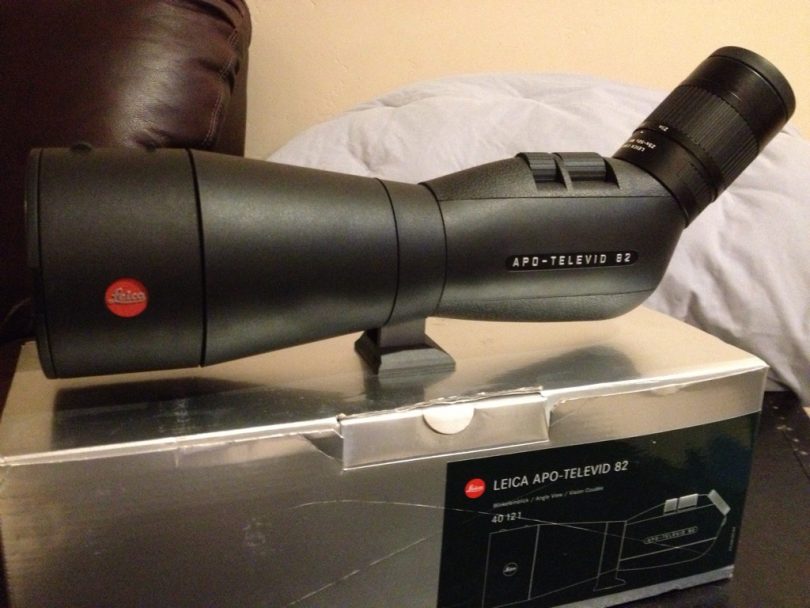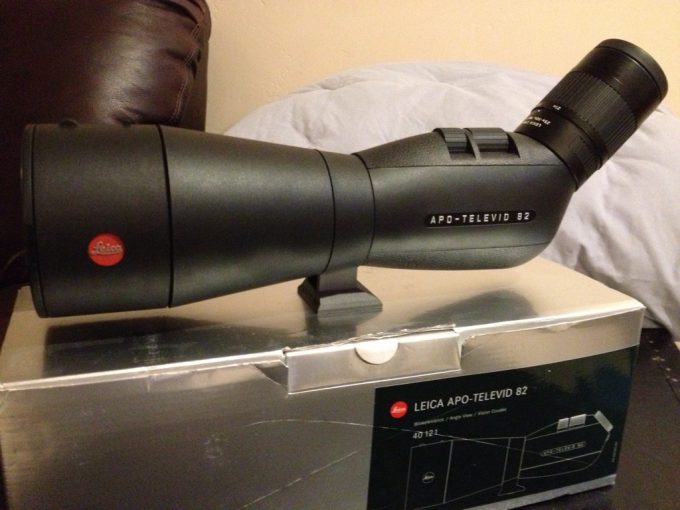 When you buy Leica apo-televid 82 scope, it comes packaged in a rectangular box with a net weight of about 4.8 pounds (out of the box, it weighs 2 pounds). The box contains the scope and a warranty card only.
There are no additional accessories considering this fine piece of work has everything you could ever ask for. Nevertheless, the need for extra items like a tripod stand, extra eyepieces, a lens cloth among others cannot be avoided.
Design and durability
The Leica is toughly built to accompany you on as many spotting sprees as possible. It's made from aluminum die-cast and reinforced with a rubber armor making it extremely durable. The scope is rugged and compact with an angled body, 82mm length, and Aspherical Eyepieces covered with a lens cap.
This scope's angular body design is advantageous especially if you dislike the frequent tweaking of the tripod stand's height to get a good watching position. The angular tilting makes viewing at an upward angle an easy task. Also worth noting, this scope's Porro prism lens not only provides a quality image but last a long time as well.
Water resistance
When working outdoors, you are exposed to all manner of weather conditions that can hamper your spotting session; this includes rain. The Leica apo-televid 82 scope features a robust aluminum die-cast body with rubber lining making it water resistant up to 5m deep. The scope is also lined with an AquaDura coating that makes the lens drain off any moisture and stays dust-free as well.
Optics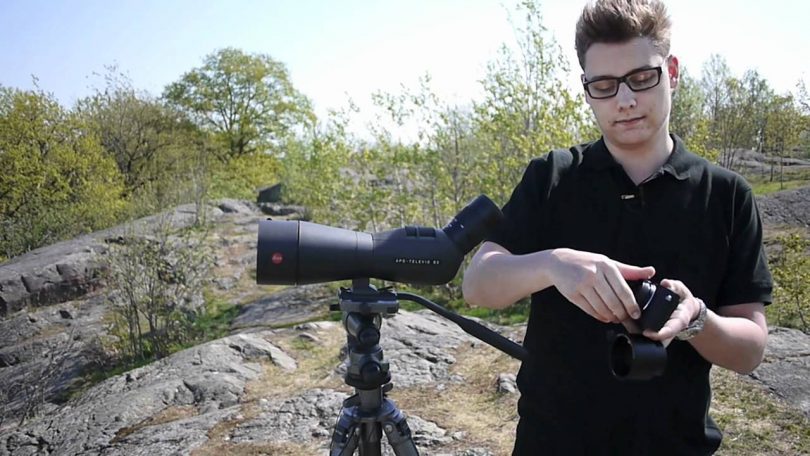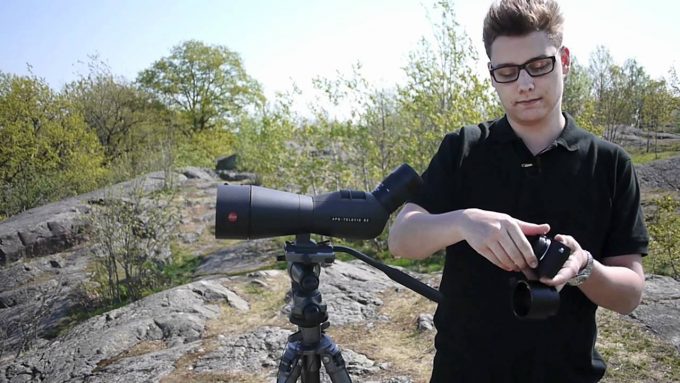 When it comes to optics, the Leica apo-televid's capabilities are almost unrivaled by many other premium priced scopes. First, this scope features a four-part fluoride 82 mm objective lens, wide enough to gather as much light as possible contributing to clear view of the images. The fluoride glass enhances resolution resulting in superior color images at better contrast levels.
Secondly, the scope's dual focus is fast and precise making it less strenuous to view your target whether far or near. Its interior is filled with nitrogen to purge air and moisture making this spotting scope waterproof and fog proof. The Aquadura coating on the lens drips off any water droplets thus keeping the scope dry all through.
Ease of use
Like most spotting scopes, this one sports many complex features that are easy to use. For example, the Leica 25-50x APO-Televid's dual focus is fast and precise making targeting of objects quite easy. The fine and coarse adjustment knob can help you bring an image into focus for close viewing.
Rubber armor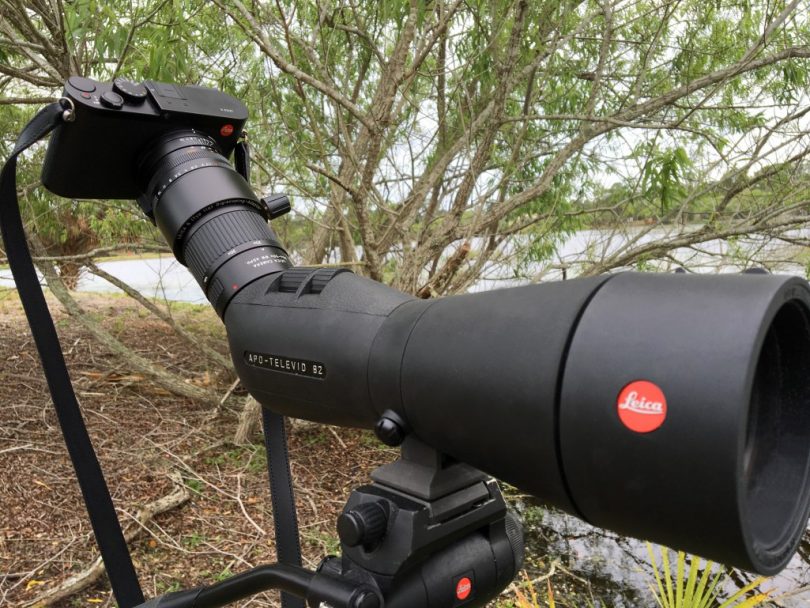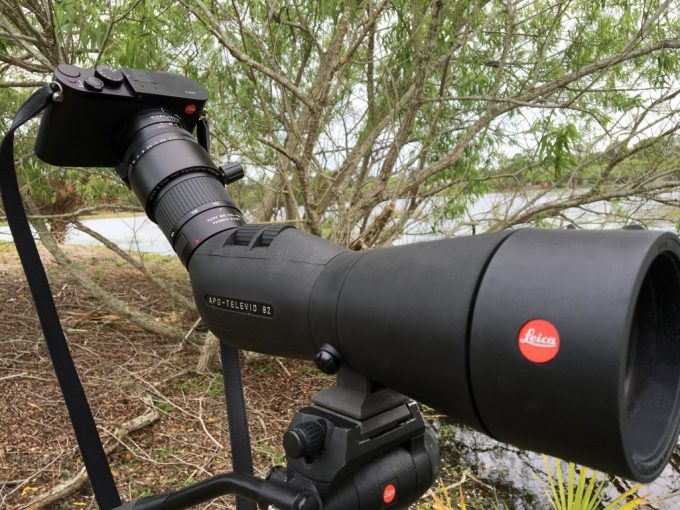 The rubber armor helps you have a secure, non-slip hold of the scope even in moist or sweaty conditions. This material also assists the scope to absorb vibrations and other impacts.
The absence of rubber coating can make a scope lighter but at the expense of absorbing vibrations.
Adjustable eyecup
To prevent eye straining, Leica 82 has eyecups that can be twisted up and down thus providing a comfortable view whether you have eyeglasses or not. While this looks trivial, it actually determines the number of hours you can spend outdoors using the optic.
Sunshade
A sunshade is essential in minimizing glare and protecting the lens from rain or moisture. This feature ensures that you won't take a break to wait for the weather to get better.
Value for money and warranty
At approximately, $2699, the Leica 25-50x APO-Televid 82 may appear a bit costly but it isn't. Other optical products come at lower prices that introduce the need for accessories whose price could total up to even a bigger figure. Instead of going through all that hustle, (and end up with a sub-par product) all-inclusive scopes like Leica apo-televid 82 becomes the best alternatives.
This scope's higher magnification takes out the need for Barlow lens in order to get sharp and visible images. The Fluoride lens also provides images that are rich in color hence no need for optical accessories.
Leica secures new products with a lifetime warranty, though limited in some aspects. Additionally, they offer a 3-year Passport Protection Plan. Leica demos are secured with a limited warranty of 10 years. It's not known if the warranty is transferrable. Therefore, if you resale this scope or give it away as a souvenir, makes sure to pass the warranty card along.
Similar models
Vortex Optics Razor Hd 27-60 x 85
At almost $1000 less, the Vortex Optics Razor Spotting Scope puts up quite a competitive fight regarding optics. The scope features triplet apochromatic lens with HD glass to display images with unmatched color sharpness.
On top of that, its extra-low dispersion glass provides the best resolution and color fidelity thus contributing to the production of stellar images. The scope's superb image quality makes it useful anywhere, be it in the forest, at the shore, or on a mountain.
The ability of a scope to provide clear images directly relates to the amount of light entering the scope. Hence, this spotting scope's wider diameter objective lens (85mm) is advantageous.
The Vortex Optics Razor Hd also features a Multilayer Prism and premium proprietary coatings that ensure adequate light transmission for sharper and crisp clear images. Moreover, the air-to-glass surfaces have also been lined with anti-reflective coatings to increase brightness inside the scope and to reduce glare.
The Razor Hd 27-60 x 85 is angular, making it easier to view objects under different angles. Material wise, the scope is made of die-cast magnesium alloy and rubber armoring making the scope not only tough but waterproof, fog proof and shockproof as well.
The rubber material protects the interior of the device as well. This scope's water and fog proof abilities come from the O-ring and argon gas presence in the device.
There are several features that make using this scope super easy and offer additional protection as well. These features include an eyecup, for comfortable viewing (regardless of whether you are wearing glasses or not), a dual focus for fast and fine adjustments, and a sunshade to minimize glare and protect the lens from rain and dust.
Razor Hd 27-60 x 85 is secured with a VIP warranty that's transferable. So, if you are not financially better off but still need something that can provide you with an exceptional view of the outdoor, go with this scope.
Swarovski Spotting Scope HD-ATS 80
Unlike Vortex Optics Razor, Swarovski Spotting Scope HD-ATS 80 is approximate $400 shy of Leica apo-televid 82 scope's price. Despite the considerable price difference, this scope's performance is impressive.
Beginning with the optics, Swarovski Spotting Scope has a fluoride lens that minimizes color aberrations while producing well-detailed images. The exceptional long-distance focusing, high magnification power, and fantastic light transmission capabilities turn every observation into a moment of enjoyment.
This aluminum-made scope features an objective lens with a wide diameter (80mm) for excellent light transmission that helps the device work well even in dim lighting or at a high magnification power. Additionally, the Swarotop coatings ensure production of bright images even at dusk.
The HD lenses, on the other hand, are terrific for normal viewing but are more important for digital photographers due to the colorful images produced. One image to note is that this device's eyepieces are sold separately.
Regarding design, the Swarovski Spotting Scope HD-ATS 80 displays a bold and extremely ergonomic design that's awe-inspiring. The lenses are lined with a nonstick Swaroclean coat to prolong their lifetime by making them water, fog, resin and dust repellant.
The scope's angled design is perfectly suited for bird watching at various heights, like in the trees or the air. There is also a rubber armoring on the side of the scope to make it shock and waterproof.
Swarovski Spotting Scope's aluminum body makes it scratch and dent proof. The scope is 13.98 inches long, weighs 2.8 pounds (pretty light) and is secured with a lifetime warranty.
This device is similar to Leica apo-televid 82 scope in many ways apart from the shorter objective lens diameter and the lenses' coatings. Feel free to grab it if you can't raise the approximated $400 more needed to get Leica.
Kowa Prominar ED 88mm Scope
The Kowa Prominar ED 88mm Scope is remarkably small, compact and lightweight. Without the eyepiece, the scope measures 13 inches; when attached, its measurement springs to 16 inches. The scope is made of magnesium alloy which explains why it's so light.
By being small and lightweight, you only need a lighter and more compact tripod stand to achieve the needed support. Kowa's rugged appearance and tough build make it suitable for use in tough conditions.
Still, on design, Kowa Prominar ED 88mm has a wider diameter (88mm-wider than any other in this review) thus guaranteeing superb light gathering even at dusk or in dim lighting. The same light transmission aspect is enhanced by fluorite crystals in the lens of the scope and the C3 fully multi-coated lens system.
The interior of the scope is nitrogen-purged and completely sealed with a water repellant housing. This scope is not lined with rubber which has considerably reduced its weight but has rendered it vulnerable to shock and other impacts.
Kowa's optical clarity is impressive, especially when lower power is used. It excels past many other scopes when used in different weather conditions. Under extreme brightness, the scope's Prominar lens prevents fringing of the images thus improving the photo quality.
For further objects, the scope has a fine and coarse adjustment knob that will help you get a clear view of your target. By having an angled eyepiece, you will find this scope quite comfortable and effortless for high-angle viewing.
Kowa's dual focus system is one of a kind. There are two quick focus modes; fine and course. Course focus of Kowa Prominar ED is used under low magnification while fine focus is normally used under high magnifications to provide accuracy. This explains why this scope is preferred for digiscoping.
There is also the Prominar lens technology. This technology is similar to fluoride lens in that it minimizes chromatic aberrations while improving the image contrast as well. Another features worth pointing out, the Kowa Prominar ED lenses are made from environmental glass that is devoid of lead and other harmful elements.
Kowa Prominar ED 88mm Scope is great in every way. It's one of the few exceptional scopes you will appreciate looking through them. At approximately, $1600, yet loaded with cool, sophisticated features, you can understand why it's a close competitor of Leica 25-50x APO-Televid 82 scope. It's secured with a limited lifetime warranty.
Overview
Leica 25-50x APO-Televid 82 is an irresistible spotting scope for avid digital photographers and birdwatchers. Every aspect of its design is geared towards providing an exceptional outdoor time.
The scope weighs about 2 pounds making it very light to use. With a sunshade, this scope keeps you in the game enjoying the nature and taking your photos without the interference of light glare and rain drops.
Leica APO-Televid 82's waterproof, fog proof and dust proof capabilities prevent images from being marred. The scope keeps itself dry in three main ways; rubber lining, Aquadura coating and nitrogen filled in the interior of the scope.
The amount of light entering a scope will determine the clarity of the images obtained. Leica 25-50x APO-Televid's 82 mm objective lens is wide enough to allow maximum light transmission that provides finer details of the images when viewing under high resolution.
Unlike most scopes lenses, these ones are fluoride made resulting in detailed, color-rich images. The lens sport a cap to protect them from dust.
PROS:
Well detailed and colorful images even under high resolution
Wider field of view
A complete set no need to buy anything else
Angled body makes positioning and viewing easy
Fog-proof, waterproof and dust repellant
Built to last for a very long time
Secured with a lifetime warranty
We have reviewed for you one of the most indispensable spotting scopes you can buy to enjoy your outdoor adventures. To make it even better, we have gone ahead and outlined a few similar scopes with slightly varying features to widen your choice.
Leica APO-Televid 82 Scope
Packaging

Design and Durability

Water resistance

Optics

Ease of Use

Unique features

Value for money and warranty
Summary
Leica 25-50x APO-Televid 82 Spotting Scope is a great spotting scope for anyone looking to get the best view of the outdoor or take some photographs. The scope has magnificent optics and it is toughly built to last longer than medium-lower end models. It's a must have scope for anyone who desires a product that doesn't compromise on quality. Even though its price is a bit on the high-end, it is still infinitesimal considering the sophisticated features this spotting scope has.
Have you used any of the spotting scopes reviewed in this piece? If so, we would like you to share your experience with our readers via the comment section.