Are you looking to buy a telescope? Finding the right model isn't simply a matter of budget. To find the best high-end telescope for yourself, you need to look into all of the important details that make a quality one.
This review aims to help you find a right model of telescope. We will do this by outlining the most important features in a quality telescope first and then presenting you with our best picks. The market is more than saturated with a variety of telescope models, but not all of them are made equal.
Though some of the scopes cost a small fortune, it still doesn't guarantee that you are dealing with a genuine high-end telescope. To begin with, let's compare some of the best professional telescope models of our choice by their features. They are listed in the table below.
Our Top Picks
Things to Consider Before Buying
Before you look at any particular models of telescope, you should get a good feel for the parts of the telescope.  This will help you know which features are truly important and which are just marketing to get people to think a choice is the best.
Aperture
This is the most important characteristic to look in for when you are buying a telescope. Aperture is the diameter of the telescope's mirrors or light gathering lens. Telescope's aperture diameter is most often expressed in inches or millimeters. To have a good experience, your scope should have at least 70 mm or 2.8 aperture, the more the better.
A Dobsonian telescope is a type of a scope that will provide a lot of aperture at an affordable price. The larger aperture your telescope has, the better you will see the small and fine objects and details. However, you don't need large values in aperture unless you are experienced or a professional at observing skyline.
The number one thing you need to observe successfully with a telescope is no excessive light, which means you need to get out of town and find a good location. This way, you will have a great experience using even a smaller aperture. While the price of a telescope won't be dictated simply by the aperture diameter, there will definitely be a connection.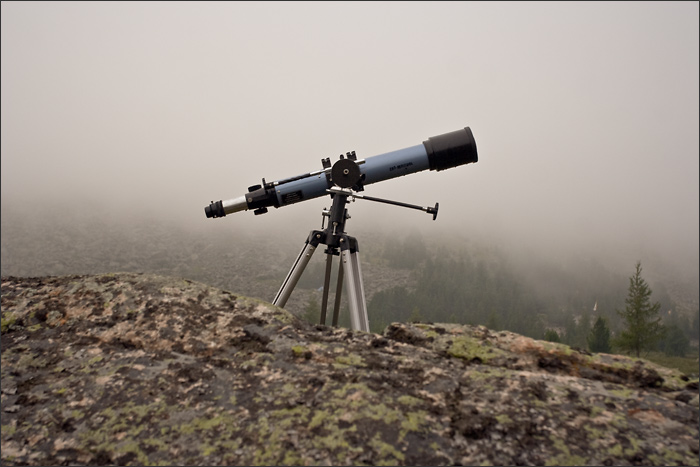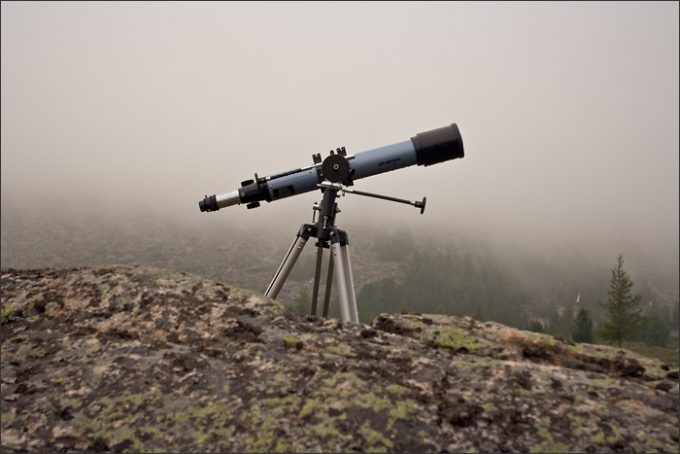 Also, the scopes that have a larger aperture diameter will also be larger in size, hence more expensive and less portable. When you are shopping for one, look for the aperture diameter that fits your needs.
Magnification
Don't buy telescopes that are advertised by their magnification. An impossible amount of magnification should be a red flag that the scope is of poor quality. Instead, look for the magnification that is no more 50x aperture diameter.
Type of the telescope
There are three basic designs of telescopes that serve one single purpose, and that is to make distant objects look bigger and brighter. Refractors are the types of telescopes that have optical lens placed at the very front of the tube. While these are beginner-friendly and low-maintenance in general, their price increases with the aperture diameter.
Reflectors are the least expensive type of the telescope. They gather light using a mirror at the back of their main tube. Though they have a decent amount of aperture at an affordable price, they need frequent adjustments of the optical alignment. However, this process is not overly complicated.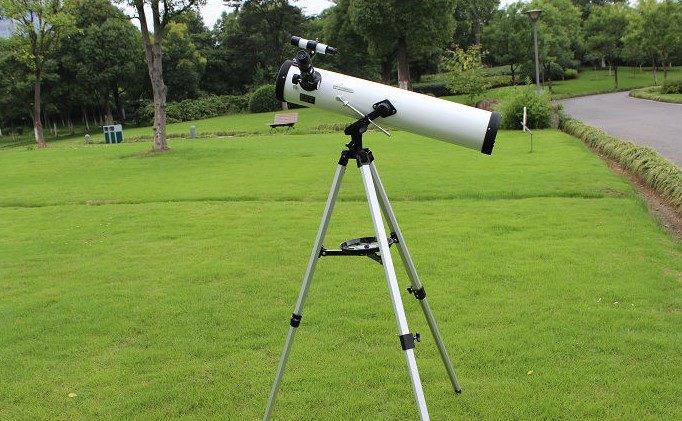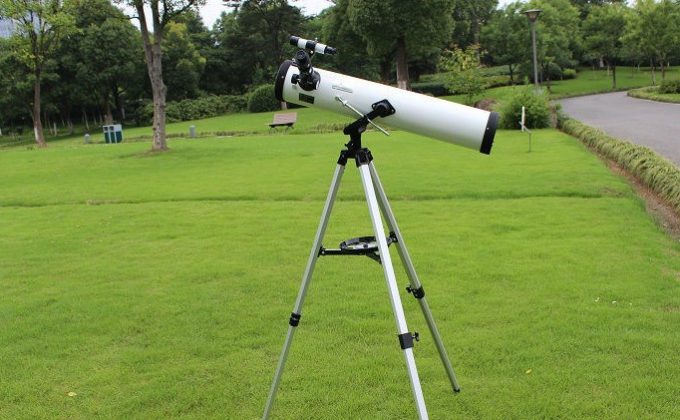 Compound telescopes combine lenses and mirrors and have compact tubes that are generally light in weight. These are most appropriate for carrying around.
Objective focal length (FL)
This is one of the most important features in the power of the scope's magnification. The number reflects focal length divided by the length of the eyepiece.
The Mount/Tripod
The mount/tripod is an installation that supports the telescope. However, you can't use just any tripod to support your telescope. Go with the one offered by the manufacturer, since its sturdiness determines the quality of your experience. A good tripod will allow you to control the telescope by moving it in different directions, but the screws will be hard enough to not let it move around on its own.
Best Telescopes on Today's Market
Observing a variety of telescope manufacturers and models available, it is no surprise that finding the right model is not going to be simple. Now that we have gone over some of the features to keep in your mind, you'll want to look at specific models. Here are some of the best telescopes available on the market.
Celestron COSMOS 90GT
Price: Approx. $400
Size: 37 x 57 x 37 in
Weight: 13.2 lbs
Specific features: Cosmos Celestron Navigator app, 3D SOTI nebula badging
Best use: Amateur astronomers.
Description: The Celestron COSMOS 90GT is designed for amateur astronomers to allow them control over the telescope using the Cosmos Celestron Navigator application which can be used iPhones. Androids and iPads.
It has 3D SOTI nebula badging which is designed on fork arm, and a 90mm refractor with coated glass to provide the quality view of the Moon, nebulae, and planets.
The model comes with a tray that is rubber-lined to keep a smartphone or a small tablet. This telescope includes a Cosmic Calendar poster, the app for the free planetarium, mirror star diagonal, 2 Kellner eyepieces and a StarPointer finderscope.
You will praise its design and ability to generate wireless iPhone pairing network, as well as its ability to produce crisp, sharp images. The model provides the great quality at a very affordable price. It is also quite easy for assembling with a very satisfying software. Wi-Fi also performs well.
On the other hand, there are issues with understanding the instruction manual. In some cases, batteries came in a poor quality package, and the battery compartment was difficult to find. The alignment was difficult to do for a small number of users.
PROS:
Easy to assemble

Good Wi-Fi performance

Quality software

Sharp image
CONS:
Manual difficult to understand

Issues with alignment
Related: Orion 8974 SkyQuest a dual speed focuser of 2'' and has fine 11:1 focus which provides sharp view and a precise focus adjustment. It comes with a tripod made of stainless steel, rechargeable battery. It has the focal length of 1500mm and a focal ratio of f/10. Celestron 127EQ has 3x Barlow Lens and the German Equatorial Mount. It also comes with an accessory tray and an aluminum tripod. It has 127mm aperture and the focal length of 1000mm.
Celestron NexStar 130 SLT
Price: Approx. $500
Size: 8 x 12 x 28 in
Weight: 34 lbs
Specific features: 19x max magnification, 130mm aperture, 650mm focal length, SkyAlign of 3 objects
Best use: Professional astronomers.
Description: The Celestron NexStar 130 SLT has 130mm aperture and the focal length of 650mm. it is compatible with 2in eyepieces. These features provide quality performance, sharp and quality images. The model is designed to be easily portable and used on a variety of altitudes and terrains.
It also has light gathering power of 345x, and a 4000-object database computerized hand control. This telescope has f5 focal ratio and a focal length of 650mm.
You'll love its wide field views, which guaranteed satisfying user experience. The model being light and portable made it quite appealing to those who wanted to use the telescope in different locations and while traveling.
On the other hand, there are some issues with its short battery life, you might not be able to use the telescope in remote areas for a longer time. Also, there are some issues with the model being sensitive to vibration.
PROS:
Wide field view

Light and portable
CONS:
Vibration sensitivity

Short battery life
Related: Celestron NexStar 4 SE has standard StarBright XLT high transmission coatings and a StarPointer finderscope, which helps with alignment and object location. It has a database of approximately 40000 objects. Celestron CPC 1100 has 11-inch diffraction limit and it is designed to be easily portable. It has GPS alignment, the focal length of 2800mm and 280mm aperture.
Meade Instruments 1205-05-03
Price: Approx. $1000
Size: 12 x 6 x 29 in
Weight: 80 lbs
Specific features: Open design of truss tube, new anti-reflection coatings, aperture of 12in, 1524mm focal length
Best use: Amateur and professional use.
Description: The Meade Instruments 1205-05-03 is designed to have an open truss tube and coatings for antireflection on castings and trusses to provide a clear and sharp image. Its laminated base has roller bearings on the telescope's azimuth axis.
It performs excellently and gives a clear and sharp view of a night sky. While setting the telescope up might take up to an hour, the effort is worth it since it takes no more than a couple of minutes to set it up and disassemble it afterward.
There are some issues noted with this telescope included problems with magnification eyepiece which makes it difficult to center an object and center it to view.
A small number of users experienced issues with stars not forming sharp. Instead, they appeared oval shape and spread out. You may also note that while the image is recognizable, it may be blurry.
PROS:
Clear and sharp images

Quick assembling and disassembling
CONS:
Fuzzy and distorted image

Technical issues with focuser
Related: Orion 8974 SkyQuest has an eye-catching optical tube which is placed on a newly designed base and has an altitude attention knobs which adjust. It provides easy manual collimation with a secondary mirror that is convenient and adjustable. Celestron CPC 1100 is 11-in diffraction limited and has a fully computerized altazimuth mount with a dual fork arm. It is also designed to be portable. It has an aperture of 280mm and focal length of 2800mm.
Orion 10018 SkyQuest
Price: Approx. $700
Size: 22.5 x 23.9 x 50.3 in
Weight: 21 lbs
Specific features: Over 14000-object database, diffraction limit of 11 inches, fully computerized altazimuth mount, compact design, 8" aperture
Best use: Observation of planets, galaxies, and nebulas
Description: The Orion 10018 SkyQuest has 8" aperture which allows the view of the deep-sky celestial objects like galaxies and nebulas, thanks to the IntelliScope Object Locator that is completely computerized. The software includes a database of 14000 and points to finding each one of them.
It comes with a Dobsonian telescope base, which keeps the optical tube perfectly balanced. The telescope allows the use of 2" larger format telescope eyepieces.
You may find that it gives a fantastic view of planets. Object viewing is simple with the use of directional arrows which are displayed on the telescope's hand controller.
The telescope is rather very easy to point and use. They are also satisfied with its wide field of view. Another strong feature in this telescope has proven to be its fine focuser and a 2in eyepiece with a wide angle. You'll appreciate that the telescope arrives with accessories for better adjustment as well.
On the other hand, you may find the product difficult, close to impossible to assemble, with a user manual that can be complicated to read and understand. You may have to build it from scratch, which suggests that, at least in some cases, manufacturer failed to make the setup easy and convenient for the users.
PROS:
Database of 14000 objects to find

Large format 2-inch eyepieces
Related: Celestron CPC 1100has an 11 inches diffraction limit. It is a fully computerized telescope with a dual fork altazimuth mouth. It is designed to be compact and easily portable. Gskyer Telescope 130EQ has an aperture of 130mm and a focal length of 650 mm. Its focal ratio is f/5, and it has a Rack and Pinion Focuser. It features a German equatorial mount and comes with an accessory tray and a stainless steel tripod. It comes with multiple sets of eyepieces- 25mm, 10mm and 5mm, and with a triple Barlow lens.
Celestron NexStar 4
Price: Approx. $500
Size: 32.4 x 27.2 x 13.4 in
Weight: 30 lbs
Specific features: 4 inches telescope, Starbright XLT coatings, StarPointer finderscope, 40000-object database
Best use: Professional or amateur use
Description: The Celestron NexStar 4 is a 4in telescope with standard high transmission Starbright XLT coatings included. To provide accurate object location and help with alignment, this telescope has a StarPointer finderscope built in.
For easy set-up that doesn't require any tools, this telescope has an accessory tray, an optical tube and a fork arm mount with a quick release. With the SkyAlign built-in, this model promises to ensure easy alignment of any 3 celestial objects, making the process easy and quick.
Its database contains close to 40000 objects and comes with 200 objects definable by users and additional information for over 200 objects.
You'll love its substantial database, along with the accessories that make the setup easy and convenient. You will agree with the manufacturers claim that this telescope is easily portable, and love its accessible computerized tracking. The overall impression is that the telescope delivers great performance at an affordable price.
On the other hand, you may be disappointed to find that the product is missing rechargeable batteries, which a major drawback is considering that they had to provide them at an additional cost. There is also a limited deep space viewing capability due to the small size of this telescope.
PROS:
Light and portable

Easy to assemble

Great computerized tracking
CONS:
No rechargeable batteries included

Limited deep space viewing
Related: Orion 8974 SkyQuest features a redesigned base with a metallic blue optical tube, with tension knobs that are adjustable included. It comes with a convenient secondary mirror included providing easy, no-tool collimation. Celestron NexStar 5 provides easy setup without tools with a quick-release optical tube. It has a database of close to 40000 objects, enhanced Starbright XLT coatings and features SkyAlign for top clarity, light transmission, and accurate object location.
Celestron CPC 1100
Price: Approx. $2500
Size: 36 x 19 x 37 in
Weight: 118 lbs
Specific features: Fully computerized altazimuth mount with dual fork arm, portable, GPS alignment, NexStar technology for computer control, 2800mm focal length, 280mm aperture.
Best use: Professional astronomers.
Description: The Celestron CPC 1100 has internal GPS receiver which automatically downloads data like location, time and date from satellites. It has SkyAlign system built-in for easy alignment. You can control the telescope from your PC using the NexRemote software package.
The quality of the image, as well as sharpness and brightness, is improved thanks to the secondary mirror with low magnification and internal baffling. The model is appropriate for astrophotography as well.
You'll like both the quality of image this telescope provides, as well as its compact, portable design. Its size and weight made it appropriate for carrying around and using in different locations. It also takes very little time to set it up compared to its size.
On the other hand, you may not like the fact that the telescope comes without a power cord, and that it needs to be purchased separately.
PROS:
Image quality

Portable

Practical to set up
CONS:
No power cord

Sometimes arrives damaged
Related: Celestron NexStar 6 is a 6-in telescope with standard high transmission StarBright XLT coatings and a StarPointer finderscope for easy object location and alignment. It doesn't require any tool to set up and is designed to provide quick and easy alignment. Orion 8974 SkyQuest is upgraded to provide multiple key enhancements, including an adjustable altitude tension knob and an adjustable secondary mirror for easy collimation. It has 11:1 fine focus and a 2" DS Crayford Focuser built in to provide precise focus adjustment.
Celestron Advanced VX 8″
Price: Approx. $500
Size: 41 x 16 x 18 in
Weight: 85.5 lbs
Specific features: Celestron Advanced VS system, StarPolar Alignment, easy set-up, enhanced motors and base castings.
Best use: Astrophotography.
Description: The Celestron Advanced VX 8″ has Celestron Advanced VX system built-in, which makes it great for astrophotography. It is equipped with the support of Autoguider and the Celestron AllStar Polar alignment, which makes the telescope easy and practical to set up.
It features Advanced Series VX Mount and the Celestron Advanced Series Mount for easy stacking additional accessories. It comes with base castings and enhanced motors which allow it to handle bigger load imbalances.
This telescope is easy and practical to set up and use. However, you may find that there are certain parts missing from the packaging, which only becomes noticeable a certain amount of time after ordering.
PROS:
Clear and sharp image

Easy to set up
CONS:
Arrives with parts missing
Related: Celestron 52334 has multi-coated optics which serve to increase light transmission through its optical path, which results in sharp and contrasted images. It focuses easily on an object and has the ability to fine-tune the image. Orion 8974 SkyQuest is built to be easily set up and portable. It has an adjustable secondary mirror for no-tool collimation. The model has a 2" DS Crayford focuser and comes with an 11:1 fine-focus. This makes the image adjustable to achieve sharp view.
Orion 09565 EON
Price: Approx. $3000
Size: 5.12 x 5.12 x 32 in
Weight: 22.5 lbs
Specific features: 130mm aperture, EON 130m triplet refractor, multi-coated anti-reflection glass.
Best use: Professional astronomers and astrophotographers.
Description: The Orion 09565 EON was designed for passionate astronomers as well as for astrophotographers who are looking for the top-quality telescope. This telescope is made with air-spaced, 3-element lenses of 130mm aperture and 1 element of FPL-51ED glass, which provides high-quality color, sharpness, and correction.
It is appropriate for observation of both deep sky and solar system, thanks to the EON 130m Triplet Refractor and its f/7.0 focal ratio. It is made of glass with multiple coatings for antireflection. Its advanced features guarantee sharpness and high contrast.
You'll be pleased with its top-notch performance with astrophotography. The scope delivers the sharp, contrasted and high-quality image. On the other hand, its focuser demands a replacement after a while. For serious use in astrophotography, the model required a field-flattener, which wasn't included by the manufacturer.
This is one of it minor drawbacks since it requires additional investment for the customer. The overall impression is that the model can provide a great experience to deeply devoted astrophotographers, but it is questionable whether or not regular professionals might have particular benefits of using it.
CONS:
Issues with focuser performance

Field flattener needed for astrophotography
Related: Celestron CPC 1100 has 11-in diffraction limit and comes with a fully computerized mount. It is designed to be easily portable. It has GPS alignment, the focal length of 2800mm and a 280mm aperture. Gskyer Telescope, 80mm has 400mm focal length, the focal ratio of f/5 and an 80mm aperture. It comes with 3-size magnification eyepieces and additional triple Barlow lens included. It promises high-quality, clear image.
Wrap Up
This review aimed to provide you with clear and concise information about the top models of professional telescopes. We hope to have helped you learn useful information on the key features that make a good quality telescope, as well as appropriate suggestion for buying particular telescope models.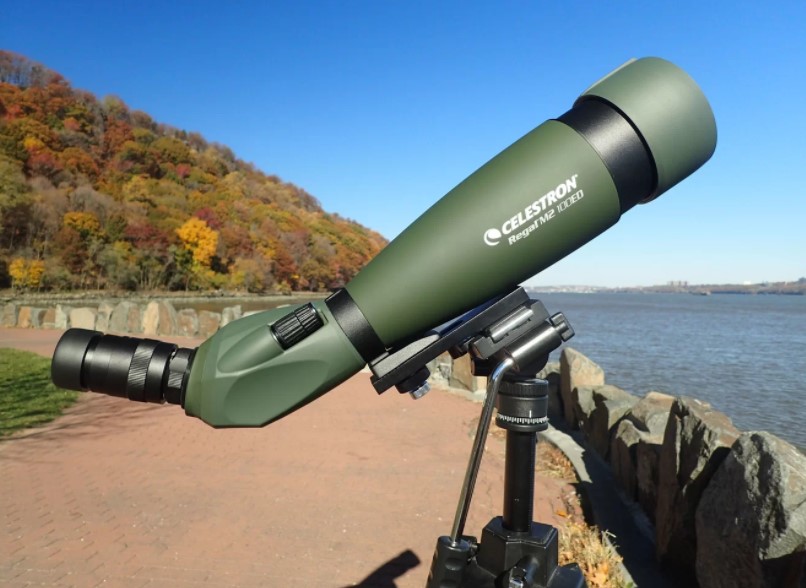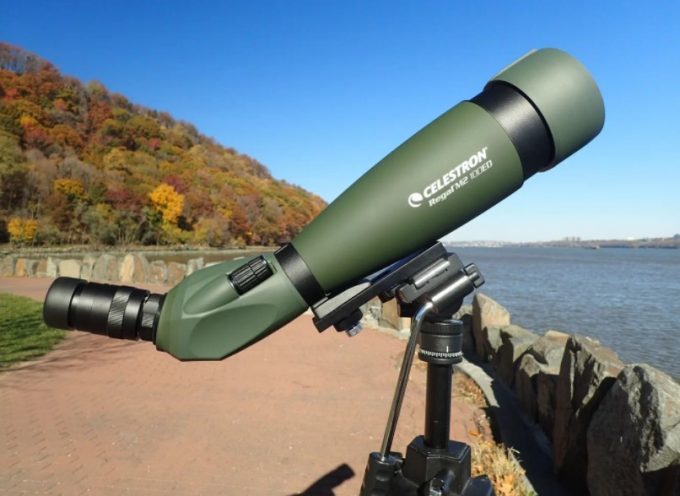 After reviewing the top models amongst available telescopes, it becomes obvious that the right choice strongly depends on your own understanding of the features you are looking for. The top quality telescopes are a blend crucial features, that vary based on the level of professionalism they are intended to be used for.
Also, those looking for an easily portable telescope might have to compromise when it comes to focal length and aperture, given that these sizes often go hand-by-hand.
Those looking to use a good-quality telescope for astrophotography may enjoy some of the top quality models, but these also stand out as the most expensive ones. Do you have any thoughts or comments? Feel free to share them with us in the comments section below!