Are you a passionate golfer looking for the best way to gauge distances on the course? A rangefinder such s Bushnell Medalist Laser Rangefinder comes very handily when measuring the distance to the next flag, or the range to the ball, even when there are some obstructions in the field.
A nice, solid choice for a laser rangefinder such as the one we're reviewing today will fulfill the necessary golfing standards and will not cause a serious dent in your budget. Bushnell Medalist is a reasonable choice with a reasonable price tag and many interesting characteristics.
Product Specifications
1,000 Yard Range

Rainproof

4X Magnification

Includes 9 V Battery & Case
Built-in PinSeeker technology
Calculates distance to pin or objects on the course within plus-or-minus 1 meter
4x magnification and 20 mm objective diameter
Designed and built with the sole purpose of helping the enthusiastic golfer, it features several targeting modes like SCAN, rain, and reflector, along with the PinSeeker technology, has small, compact, very handy dimensions, lightweight body and many other interesting features that every golfer will find desirable.
Review
Bushnell Medalist Laser Rangefinder is known as compact, ergonomically designed rangefinder that easily fits in the hand. Considering the fact that it's an entry level golfing laser rangefinder, be sure that it will provide precise measurements and won't disappoint.
With 5 – 1000-yard range and measurements that are displayed in metric and imperial units, Bushnell Medalist can be bought at an affordable price and has some nice features. Let's dig into his basic and unique features we're all interested to see.
Packaging
When it comes to the packaging, the rangefinder is packed nicely in a box and weighs  13.4 ounces (shipping weight). When you open the box, inside you'll find 1 piece of Bushnell Medalist laser rangefinder, battery, 2-year Bushnell Manufacturer warranty and its own carrying case.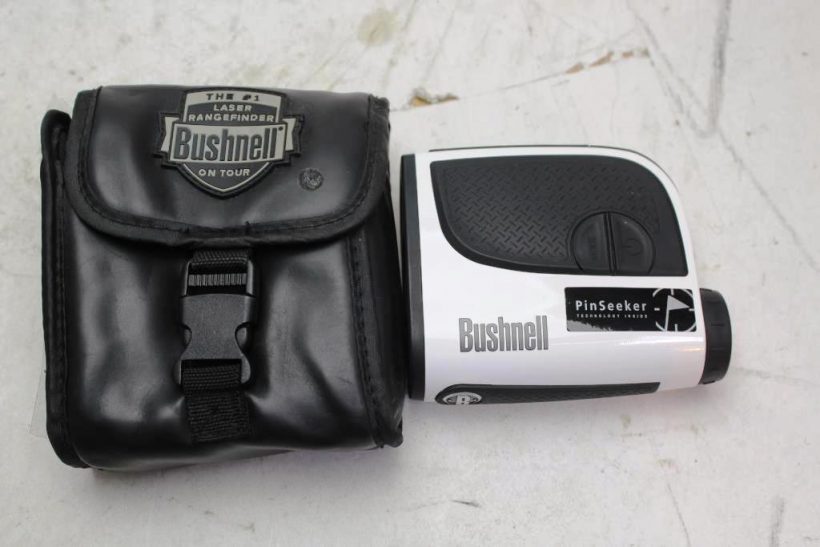 Medalist uses a 9 V battery, which, in our opinion, is much easier to buy and is less expensive than the 3V battery some other rangefinders use. Battery life is pretty much the same as other batteries so don't forget to carry a backup battery.
Although the rangefinder itself is weatherproof and can withstand some harsh weather conditions, it is not waterproof. This is why Bushnell secured a premium carry case to store your device.
Design and Durability
Designed and built by the Bushnell Golf division of the famous Bushnell brand, this rangefinder features a nice, comfortable, ergonomic body.  The size is very compact: 4.5 inches wide, 1.7 inches high and 3.8 inches deep. It weighs only 9 ounces with the battery included and fits comfortably in almost every hand.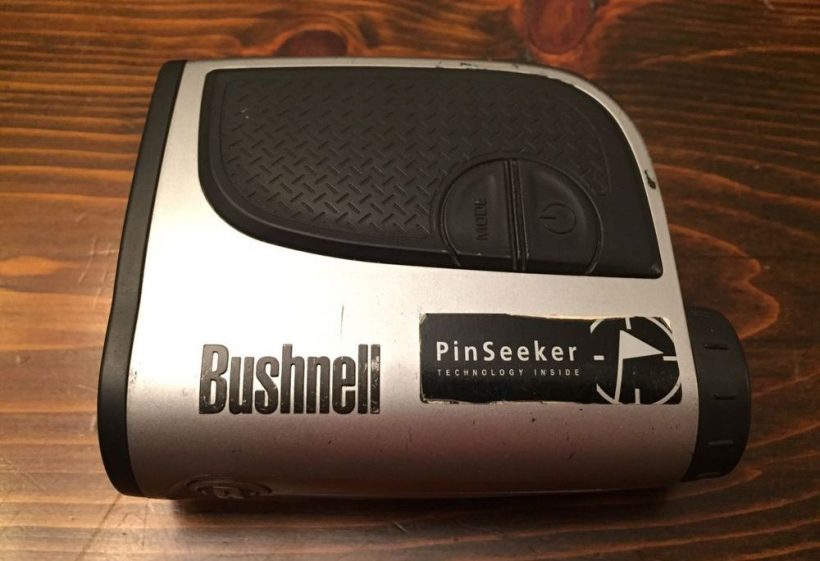 The Medalist laser rangefinder comes with a nice silver and black body finish, with an easy to grip and ergonomically designed rubber armor on the body for secure holding. The body of this rangefinder is rated as weather resistant, meaning that it can withstand usage in some light rain, but should be properly protected and not used in heavy rain as it is not rated as waterproof or fog proof.
Optical Features
The rangefinder is basically a monocular with built-in range-finding technology. The Medalist has a magnification power of 4x, with an objective lens diameter of 20 mm. The 4x monocular design really helps with the holding and reduction of the shakiness of this rangefinder.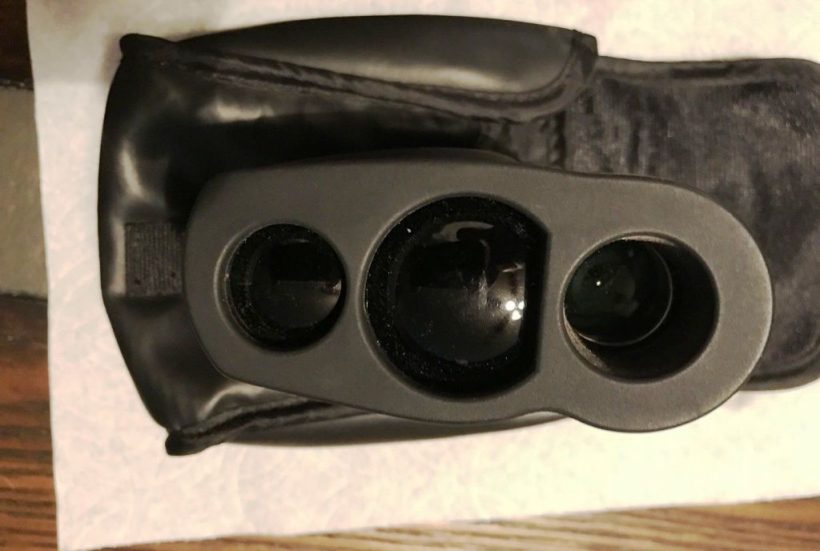 It is designed to be used horizontally, which some users may find odd at first, but will later get used and have no issues with this. It is intended for one hand operation, although some users with shaky hands may find this somewhat difficult. This rangefinder can be adapted and mounted on a stand which can help with the possible shaking.
Laser Rangefinder Features
The Medalist rangefinder range goes from 5 yards up to 1000 yards. This, however, depends on the conditions of use. The distance can be shown in yards or meters, per the user's choice. The accuracy of the rangefinder is +/- 1 yard (or +/- 1 meter).
The Medalist uses an invisible, Class 1 Laser beam (eye-safe, FDA classified) which is aimed at the desired object. The laser beam bounces are reflected back and the integrated digital clock measures the time it took the laser to get from the rangefinder to the target and then back to the rangefinder. The electronic components inside make some calculations based on the measurements and show the distance with an +/- 1 yard/meter accuracy.
The laser is reflective, and its maximum range is 1000 yards. In a tree line, it is accurate to distances up to 700 yards, and can precisely measure the flag up to 250 yards.
The display is an LCD display, seen through the lens. The display is simple to read, with high resolution and clear visibility. The readings come very fast; it takes a fraction of a second after pressing the laser button to the display time of the measured distance. The reticle on the display has crosshairs and you get an instant readout of the measured distance with the press of the button.
The rangefinder uses a single 9-volt battery that lasts for a very good period. There is also a low battery indicator on the LCD display that flashes when the battery charge gets low.
PinSeeker technology
It sounds simple and common, but the PinSeeker technology is anything but simple and common. This technology, which is proprietary to Bushnell, brings a very desirable edge to the game, and can even influence the final score.
The Pinseeker technology locates the pin in almost all weather and course conditions, even without the use of a reflector. It works on identifying the pin, and once it is located, all the targets in the distance are ignored. This means that you will not get interference from the trees and always have an accurate (+/- 1-yard) distance to the flag. If there is another target close to the pin/flag, then the PinSeeker chooses the closer object and that distance is shown on the LCD display screen.
It takes some time to get used to the PinSeeker technology, but it is quite simple and easy, and once you get used to it you will get the accurate, consistent measurements of the pin/flag. This rangefinder does not have built-in slope measurements, which may have its limits, but it is making it legal for tournament use.
Unique Features
Even though it is not the most expensive or the cheapest Bushnell laser rangefinder, it still comes with some nice features that add to the unique experience when using this little gadget.
Lightweight, ergonomic, compact body: Compact size to fit all hands, very lightweight body enables carrying this rangefinder without fatigue, ergonomic rubber coatings for secure, firm grip and shock protection.
Four different targeting modes: SCAN, Rain, Reflector and PinSeeker modes for accurate measurements in different conditions and targets.
Targeting modes: This rangefinder comes with 4 different targeting modes: SCAN, Rain, Reflector, and PinSeeker.
LCD Display: Behind-the-lens LCD display with fine resolution and clear readouts of distance, with built-in low battery flashing indicator.
Scan mode: This feature enables continuous measurements over the landscape with real-time updates of the measured distances.
Value for money and guarantee
The Bushnell Medalist Laser Rangefinder comes at a very reasonable price at approximately $210. It has some nice range-finding characteristics and optical properties. It is also tournament legal and for posting scores for handicap purposes anywhere in the world.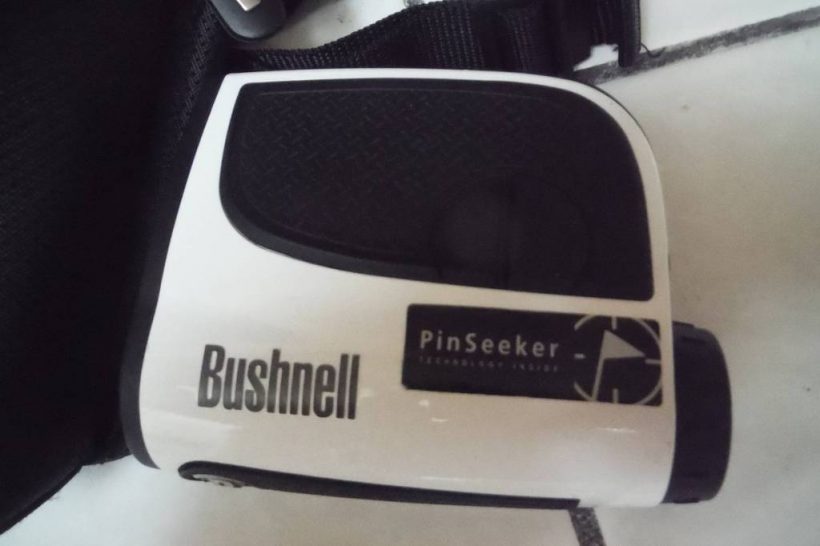 This is a Bushnell product, meaning that it is built with a dedication to quality and can be used right out of the box. Considering the fact that it comes with a battery, a nice premium carry case and a convenient 2-year warranty, this rangefinder is a really good deal.
Close competitors
Looking around at other rangefinders will allow you to understand what you really need and some other options that are available to you. So, let's have a look at some of Medalists' close competitors before deciding that this rangefinder is right for you.
Bushnell Scout DX 1000 ARC Laser Rangefinder
The Bushnell Scout DX 1000 ARC Laser Finder is another great Bushnell product. This model features some amazing features at a very affordable price. The body is compact and weighs just 6.6 ounces, and comes in black or realtree camouflage.
The Bushnell Scout DX 1000 features 6x magnification over a 21 mm objective lens diameter, 2x more magnification and somewhat larger objective lens than the Bushnell Medalist model reviewed here. The range in both these rangefinders goes from 5 to 1000 yards.
The Scout DX 1000 has the same Class 1 laser as the Medalist, but unlike the Medalist, this one has a built-in inclinometer. The ARC Bow Mode enables true horizontal distance measurements up to 99 yards, while the ARC Rifle mode enables bullet-drop and holdover measurements.
The display on the Scout is in imperial units and is extremely precise with +/- half a yard accuracy and 1/10 yard display precision. This gadget has the option for diopter adjustment to get the perfect view according to the user's eyesight. The Scout DX 1000 Laser Rangefinder uses a single 3-Volt CR2 battery and has a Variable Sight-In feature that allows you to set holdover/bullet–drop info on the rifle's zero and select between 4 different preset distances.
Unlike the Medalist, which is rated as being weather resistant, the Scout is fully waterproof and fogproof and can be safely used in all kinds of weather conditions. This one also comes with a carry case, battery, and a neck strap.
The Scout DX 1000 is also compatible with a magnetic attachment system, although we don't think that you would use that on a golf course, as this one is intended to be used in a more different situation like during a hunting trip.
Callaway 300 Pro Laser Rangefinder
A company that is known for its premium golfing equipment, the Callaway has brought the interesting Callaway 300 Pro Laser Rangefinder which is specifically designed with the need of the golfer in mind. This model features a 6x magnification, larger than the 4x magnification on the Bushnell Medalist.
It weighs less than the Medalist at 7.8 ounces and has similar dimensions of the body with 4.25 x 3 x 1.7 inches. Its body has a nice, ergonomic design with the signature Callaway red and silver color finish. Callaway 300 PRO features the same range and accuracy as the Medalist, from 5 to 1000 yards, with a +/- 1-yard accuracy.
The measurements can be displayed in yards and meters. It has an LCD display much like the Medalist and several modes like SCAN the surrounding landscape seeing the distance to multiple targets, Pin Acquisition Technology (P.A.T.) that locks on the pin, accompanied by the Birdie technology that chirps when locked on the pin.
This rangefinder has the ability for slope measurement, measuring on incline/decline and automatically calculating the adjusted distance. The slope function can be turned on and off meaning that only when the slope measurement is turned off, the Callaway 300 Pro Laser Rangefinder can be legally used in tournaments.
It is waterproof and fogproof and comes with a nice carry case and a limited 1-year warranty. It is similarly priced as the Bushnell Medalist.
Leupold GX4i Rangefinder
The Leupold GX4i Rangefinder is a digital golf rangefinder. The body of the Leupold GX4i is made from lightweight aluminum meaning it is slightly lighter than the Medalist at 7.8 ounces, with slightly smaller dimensions of the body at 1.4 x 3 x 3.7 inches. The Leupold GX4i has red OLED display that enables easy readouts of the measured distances.
It has several targeting modes: SCAN across different targets with real-time readings of the distance, PinHunter mode and Prism Lock. The Prism Lock feature can only be used on courses that utilize prism technology on the pins. This rangefinder is loaded with many features like slope measurements, factoring in temperature and altitude and can even make club recommendations.
Similar to the Medalist, the body of the Leupold GX4i rangefinder is coated with a non-slip rubber coating for easy holding. The Leupold GX4i uses a CR2 battery for powering this nice optical gadget. This one, however, is much, much more expensive than the Medalist and is not tournament legal due to the many enhancements it offers.
Overview
The Bushnell Medalist 6×20 Laser Rangefinder is a very nice choice when looking for a golfing laser rangefinder. This is a compact little rangefinder that easily fits in the hand. It is intended to be used horizontally, which may need taking used to, but once you do get used to it, there will be no issues and you can have the precise measurements.
The rangefinder's range is between 5 and 1000 yards with an accuracy of +/- 1 yard. The measurements can be displayed in both imperial and metric units on a nice, bright LED display. The range of measuring is different for the different targets: for a reflective target its range is up to 1000 yards, for trees, it is up to 700 yards and the pin/flag can be measured with precision at a distance of up to 250 yards.
The overall weight of the Medalist, battery included, is mere 9 ounces, which is extremely lightweight and the small body is very easy to carry with you around the golf course. It has several targeting modes like SCAN, PinSeekers, Rain, and Reflector.
The SCAN allows panning across the landscape while getting real-time readouts on the different targets in the path of the laser beam. The Rain mode can compensate for precipitation, enabling you accurate measurements during light rain or even light snow. The Reflector mode increases the maximal measuring range for an object with highly reflective surfaces.
Every product has some positive and negative sides, and here are the pros and cons of the Bushnell Medalist Laser Rangefinder:
PROS:
Very accurate measurements
Lightweight body and easy operation
Works on all courses with no issues or requirements
Very long battery life
Tournament legal on all accounts
CONS
:
Difficult to read in low-light conditions
Not fully waterproof or fog proof
The horizontal use takes a lot getting used to
Little difficult to hold steady with one hand
The most interesting feature for the golf lover is the PinSeeker. This technology enables easy acquisition of the flag/pin without interference from the background objects. The Medalist is rated as weather resistant, meaning that it is not completely waterproof and should not be used in harsh weather conditions and needs to be properly stored.
It uses a single 9-Volt battery, has very long battery life and comes with a nice carry case and a limited 2-year warranty. What is most important about this nice device is that it is tournament legal without any additional conditions.
Bushnell Medalist Laser Rangefinder
Packaging

Design and Durability

Optical Features

Laser Rangefinder Features

Unique Features

Value for Money and Guarantee
Summary
The Bushnell company is famous for its optical and golfing rangefinder products. The Bushnell golf rangefinders have been used in this sport by many professionals for many years.
The quality and reliability can be also be seen in the Bushnell Medalist Laser Rangefinder. Even though this is an entry level golfing laser rangefinder, it has some nice features and an affordable price to match.
So if you are a beginner golfer or a seasoned player and want an addition to your golfing gear and not break the bank in the process, then the Bushnell Medalist Laser Rangefinder is the right choice for you. If you already have experience with this device, please share your opinions with our readers.