When distance matters, nothing is more important than accuracy. Knowing the distance to your target is a great benefit especially for bow hunting and archery. If you want to shoot accurately, we might have the answer (and the right tool) for this – the Nikon ProStaff 7 Laser Rangefinder.
If you still wonder why you need a rangefinder, the answer is easy. Knowing the exact distance will give you security and will help you make a decision on whether to shoot or not.
When looking for a rangefinder, you should consider the following factors: magnification, lenses, budget, the number of features, the field of view, size of the device, etc. We believe it isn't easy to choose the perfect one, so it has to be the right one for you.
Product Specifications
Nikon's ID (Incline/Decline) Technology

An improved LCD display with an LED backlighting

Single-button operation for fast easy measurements of the

Simple to use and automatically powers down after 8 seconds

Ultra-compact

Comfortable for all-day use

Easily fits in a pocket or a pack

18 mm eye relief
Because there are so many rangefinders on the market of different brands and with different capabilities, we take pride in offering you a complete review of a product that we believe will help you excel in your hunting skills. The Nikon ProStaff 7 Laser Rangefinder is a small and compact device that manages to combine fast measuring speed, accuracy in low-light conditions, and great optics at an affordable price.
With so many options out there, we are here to help you narrow down your search. This being said, make sure to read the following review of the Nikon ProStaff 7 Rangefinder, which we believe is a great rangefinder for both the money and value.
Review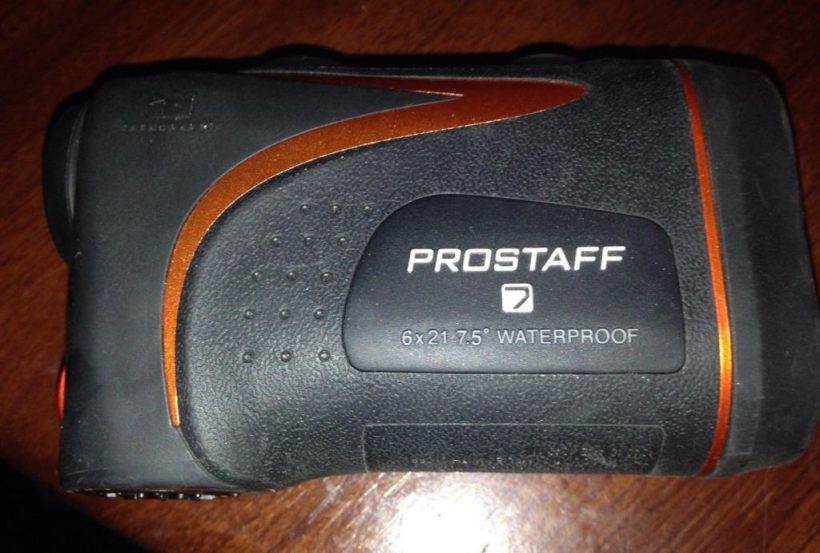 Precision measuring devices are nothing new to Nikon, their survey equipment and their reputation for optics strive at providing top quality instruments. Also known for their famous photography devices, Nikon has developed their line of rangefinders for hunting. With a known industry for its optical equipment and awesome design features, Nikon has always delivered its customer's top-notch products.
The Nikon ProStaff 7 Laser Rangefinder is designed to take your hunting experience to the next level, delivering incredible ranging capabilities. This rangefinder meets the demands of the toughest hunts. With a large ocular of 18 mm, it provides a faster way to view an active brightness control viewfinder with outstanding readability in bright and dark conditions.
Sinking deeper in describing this rangefinder's features, we hope you will convince yourself that it delivers confidence before every shot.
Packaging
We all know how important the package is. It communicates a purpose and offers a shortcut to making your decision. It's always a pleasure to unbox Nikon products, their brand identity, and strong logo reveal from the beginning quality and performance. We think you are anxious to unbox this gadget, so, let's take a peek inside and see what we have.
Once you have opened the sealed box you've got some literature – the manual and guarantee. The unit itself comes in a black carrying case with a little strap for wearing it at your belt, and a long lanyard.
Outside this black case, the Nikon ProStaff 7 comes in a plastic wrapper. Inside you might also find, depending on your order, the CR-2 batteries and the field-ready case for extra protection.
You will notice the rangefinder itself has a compact size. It is lightweight, at 5.8 ounces making it easy to carry around in the field. The overall length is 4.4 inches and the height is 2.8 inches.
Design and Durability
The Nikon ProStaff 7 has a nice design; it's easy to wear on your belt and fits every pocket. First of all, it is a really small product, which is great if you are hunting or hiking because you don't want to take anything big with you. Secondly, it has a rubberized exterior which means that even if you have your hands wet it doesn't slip. If it's raining or snowing it's the least of your worries.
As far as the shape is concerned, it looks like a small box with a little bump at the bottom, helping you grip the rangefinder in your hand. It fits perfectly and your index finger automatically rests on the control button. Everything you're going to do with this rangefinder you will do it with this button.
It is a durable little product, as well as waterproof and fog proof, meaning that it will survive the worst weather conditions. It is made of nitrogen-filled and also O-ring sealed which provides extra confidence under any conditions. The multiple layered coated lenses add consistency in terms of durability to this valuable rangefinder.
Specifications
Knowing your product specifications will help you understand its features and how to differentiate and make the right decision when comes to choosing the right rangefinder.
The Nikon ProStaff 7 is a great rangefinder that has several characteristics that will help with your hunting and target shooting. We all know that Nikon products are not cheap, but in this case, you will be paying for quality, which we all know is an important decision factor. This being said, let's sink deeper and see what important features this rangefinder has.
Magnification Power
The magnification of the rangefinders is really important. It makes you confident knowing how much to hold and how many clicks to adjust your scope, increasing your chances to hit the target.
This small gear has a magnification range of 6x which is good but it's not the highest on the market, however, is enough to allow sight in the target.  It is also accurate and it offers a fast reading. At 6x, your target can be seen quite perfectly.
If you are surrounded by any obstruction, the Nikon ProStaff 7 offers a strong magnification with True 600 yards ranging capability. This device has an objective lens diameter of 21 mm, which will allow you to focus on the target with accuracy.
Unique Features
Don't underestimate the importance of high-quality lenses as your hunting techniques are really dependable on them. In this case, the multi-coated lenses of the Nikon ProStaff 7 provide high clarity, helping you achieve those great shots. It also performs well in low light, offering clarity vision, and contrast.
When it comes to accurate rangefinders, Nikon's ID Technology measures the distance horizontally to your game, for different angles, up or down to 89°. Tru-Target Technology offers the possibility to choose between two ranging modes.
The targeting mode allows you to set priority targets, the first target can be an object as small as a fence while the distant target displays the range to the farthest target set among a group of measured targets. It offers a real angular field of view of 7.5° and an apparent one of 43°.
With its Easy-To-View Display LCD, this gadget offers accuracy by selecting the mode that contrasts best against subject and background. The LCD displays the distance in meters and yards. The 18 mm ocular lens provides seconds fast view of your target. The eye relief of 18 mm offers easy viewing.
As mentioned above, all you need to do with this rangefinder is operated by a single button, is easy to use and powers down after 8 seconds, which reduces battery use.
Value for Money and Guarantee
If you are serious about hunting and shooting, you need to have high-quality equipment. Sometimes, the budget might be a concern and if you don't want to spend too much on a rangefinder, the Nikon ProStaff 7 offers both values and is quite cheap for its amazing capabilities.
At around $299, this device offers the best values on the market for a true and accurate rangefinder out to 600 yards. You are covered in case of damage with a 2-year limited warranty.
Main Competitors
There are so many competitors on the market and all are designed to give you the range to your target quickly and reliably. Below we have reviewed some competitors which we believe, they offer innovative technology for all the pockets, satisfying the needs of most hunters.
Bushnell The Truth ARC Laser Rangefinder
The Bushnell The Truth ARC Laser Rangefinder is well known for its ClearShot Technology, providing feedback on your shot clearance instantaneously. All passionate hunters are aware that the line of sight and the line of the arrow are two completely different things.
The Bushnell ClearShot Technology shows you the highest point of your arrow flight before it leaves the bow. If there are no obstructions in the clear-out zone, you've got a clear shot.
You can use this gadget, during hunting season with confidence. Comparing it with the Nikon ProStaff 7, the Bushnell is also used for establishing shooting range during tree stands setup.
It offers accuracy by pointing it and pushing the button and you will know if you have clear shot. Measuring 1.4 x 3.8 x 2.9 inches and weighing 6 ounces, this pocket-size equipment has a 4x magnification with an accuracy of +/-1 yard, offering the lowest power on any archery rangefinder available.
Bushnell The Truth ARC has an anti-slip sure grip design. It helps you shoot at a minimum of 7 yards and to a maximum of 850 yards. It works well under severe adverse weather too, with its waterproof technology.
When compared with Nikon ProStaff 7, the Bushnell is inferior offering a lower magnification power, however, it compensates at proving the right distance to your target with ARC technology. This rangefinder is available for around $140, which is a good price considering its specifications.
The 2-year warranty, great battery life, and battery life indicator add value to this small piece of equipment.
Nikon Arrow ID 5000 Laser Rangefinder
Another fantastic Nikon brand rangefinder is the Nikon Arrow ID 5000 Laser Rangefinder. Yet again, we find the ID Technology (Incline/ Decline) which helps overcome the severe angles, up to a near-vertical +/-89 degrees. Same as the Nikon ProStaff 7, the Arrow 5000's LCD display reports with a simple push of the button the distance up to 600 yards.
With a 2-year warranty, this compact gadget is lightweight, comes with a neoprene carry case, and is waterproof. For clarity in low light conditions, this rangefinder is extremely accurate, with 6x magnification. This magnification is great for medium-range hunting. However, a 4x magnification would be even better if you are interested in brush hunting or bigger targets.
For archery hunting this is a great product, however, for bowhunting, the Nikon ID Arrow 5000 is not the best on the market, in terms of value. The main features like, angle compensation, scan mode, and target priority are missing.
More accurate than any rangefinders on the market, this one has great optics for the price. But with a similar price as the Nikon ProStaff 7, you would hope to have a clear sight window making it easy to pick up the target, which in this case is not.
Leupold RX-1200i DNA Laser Rangefinder
The Leupold brand continues to push the boundaries of rangefinding technology and the Leupold RX-1200i DNA Laser Rangefinder is no exception. With accurate uphill and downhill shooting, this rangefinder delivers fast accuracy with a clear picture. It is, of course, waterproof and made from durable aluminum.
The Leupold RX-1200i is a great rangefinder with a maximum range of up to 1.215 yards. It's a lightweight and compact product, with a fully multi-coated lens, and many other awesome features.
With 6x magnification and good power, it provides almost 90% light transmission making it easy to acquire targets in low light situations. The Illuminated Red Display Readout provides cutout contrast when ranging targets against dark backgrounds.
The Leupold RX-1200i delivers accuracy with its DNA (Digitally eNhanced Accuracy) Engine allowing hunters and archers to obtain faster measurements. It displays ranges from non-reflective targets like trees at 800 yards, while active targets can be ranged up to 1.200 yards. You can stand the moving targets by holding down the power button and following moving objects within the viewfinder.
When comparing it with the Nikon ProStaff 7, the Leupold RX-1200i is closely similar and if you want to maximize long-range accuracy, the TBR (True Ballistic Ranging) will give you the horizontal shooting distance to your target. It should be the tool you have in your arsenal regardless you use a rifle or a bow, at a price of around $320.
Overview
Nikon truly stepped up their game with Nikon ProStaff 7 Laser Rangefinder. This device is a pocket-sized rangefinder with Nikon ID Technology. It provides incredible accuracy at an extremely affordable price. It is accurate when tested on bow hunting and target shooting.
This equipment utilizes a waterproof design making it ideal for extreme weather and even for the wettest conditions. Together with its compact size and single button operation, it's sure to make any hunting a successful one.
Below is a summary of the pros and cons of this rangefinder.
PROS:
Easy to view display
Large ocular lens
Accurate performance with ID Technology
Perfect measures with Tru-Target Technology
Easy to use by simply pushing one button
Compact size, accurate and easy to operate with one hand
Waterproof and fog proof
High-resolution images with bright multi-coated 6 x optics
Affordable price
 CONS:
Requires CR2 batteries, which are quite expensive
When playing golf is not easy reading flags
Limited modes to choose from
Range is lower comparing with other rangefinders at the same price
As you can see in the Pros and Cons section, the advantages of the Nikon ProStaff 7 clearly overcome the disadvantages, making it a good product. For those hunters looking to reach 600 yards with great accurate measurements, this product is a solid piece of an investment worth the effort.
We hope our review will help you make an informed decision when trying to select the right rangefinder to serve your needs. Pointing out the reputation of Nikon, the ProStaff 7 Laser Rangefinder will guarantee you success next time you go hunting.
Nikon ProStaff 7 Laser Rangefinder
Packaging

Design and Durability

Specifications

Magnification Power

Unique Features

Value for Money and Guarantee
Summary
Nikon continues to offer its rangefinders with the popular ID Technology for which the horizontal distances are given based on incline or decline shooting angles. This compact unit provides precision, consistency, and speed at 600 yards.
It is a solid rangefinder which performs really well. Suggesting by the price mentioned above, it's not the cheapest rangefinder on the market, but compared with other brands and models at the same price, its features make it a valuable purchase.
Now it's your time to give your opinion on this rangefinder. Have you tried it? Would you recommend it to other hunters? Feel free to leave a comment in the comments section below.
Take a look at the list below: