Are you looking to improve your golf game with the addition of some technology? Or searching for the best golf rangefinder that can take the guesswork out of determining how far away the hole is?  You've come to the right place! Golf rangefinders can be found at an affordable price and won't take up much space in your golf bag, but will help you know the distance that you can get a ball with each club in your bag.
That knowledge, when paired with knowing the exact distance to a target from a rangefinder can help ensure that you always pick the right club and can even help to shave a few strokes off your score. In this article, we have rounded up eight top contenders of the golf rangefinders that are available on the market today.
For each one, we cover the pertinent details and give you a look at both their strengths and some weaknesses.  Additionally, we go over some of the important considers that you'll want to keep in your mind as you ponder which rangefinder is right for you.  As we begin, let's take a quick look at the models we will be highlighting.
Our Top Picks
Things to Consider Before Buying
Now that you've seen our list of the top golf rangefinders you have an idea of what you are in for.  However, before we dive into a discussion of their merits, we should take a moment to consider what makes a top model stand out from the crowd. We have highlighted some points that you should keep in your mind, but the exact order of importance given to them has to come down to you.
Pin Seeking Tech
Many rangefinders that are designed for the golf course have some option to lock onto the flag on the green and give you a reading directly to it.  This lets you know your exact distance to the hole, whereas a GPS watch will only give you a distance to the front and back of the green.  Generally, this option is only available for a limited portion of the overall range of the rangefinder.
Some models simply lock on and display a range.  Others will put a little flag icon on the view screen to let you know that you have locked on.  Another option employed by some companies is to have the device vibrate or beep to ensure you know you have the pin.  You'll have to determine which method works best for you.
Cross Use
Some people enjoy hunting and golfing and want a single rangefinder that can handle both activities.  This normally means that the rangefinder will not have a lot of features specific for one activity or the other, but will tend to offer a longer range and options that can be used both on the course and on the hunt.
You will have to consider visibility if you are using a single device for both.  Many purposes made golf rangefinders are produced in colors that are made to be easily visible, helping to ensure you don't misplace your tool.  Hunters prefer that their gear blends in.  There are various covers that can be employed to help a rangefinder swap from blending in to easily seen.
Range
One major consideration of your rangefinder needs to be the actual range that it can reach out to.  In many cases, the maximum advertised range is achievable on a clear, flat, level surface with a reflective target.
In real life, these conditions are not usually found when you need to get a range to something.  With that in mind, consider that you will probably be safer assuming half to three-quarters of the advertised maximum.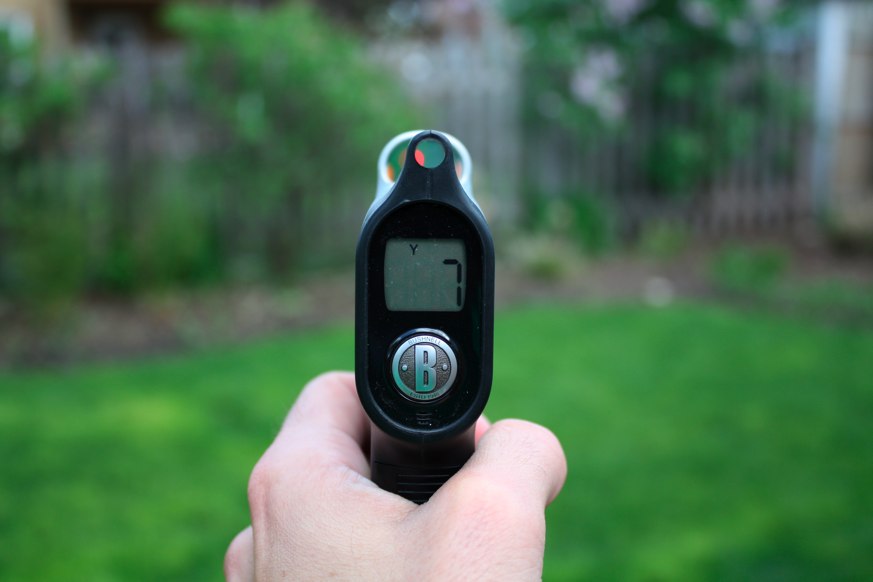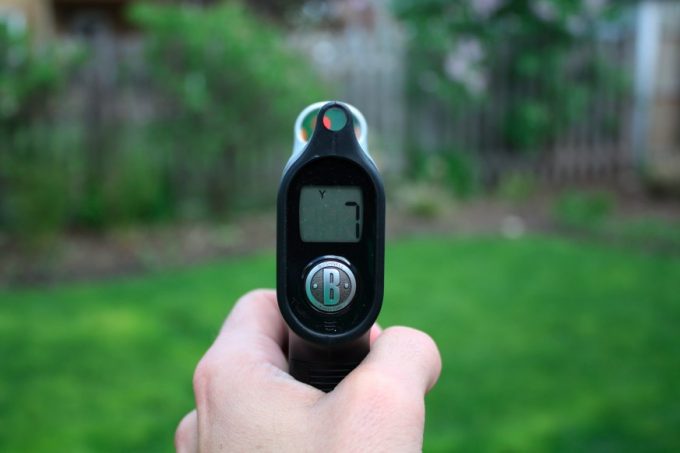 With this in mind, you can begin to see why you might want to consider a rangefinder with a 1,000+ yard range when a long par 4 is only about 500 yards.  Also, keep in mind that you'll be ranging in a straight line.  This is great off an easy fairway, but if you come to a dogleg you rangefinder won't be taking the corner.
Weatherproofing
When some people think of weatherproofing they first think of making it waterproof, or at least water resistant.  This is a key feature, but not the only one that you should consider.
A fully weatherproof rangefinder will also be sealed to keep out dust and dirt as well as not fog up for those morning rounds.  You also need to think about the temperature range of your choice if you find yourself playing in areas that can hit one extreme or the other.
An important distinction is if a rangefinder claims to be weather-proof, water-resistant or waterproof.  In the first two descriptors, the company is saying that it will be alright if the device gets some rain on it.  In some cases of the model being fully waterproof it should survive falling into a water hazard, but it is best to be sure of the capabilities before risking too much.
Weight and Size
You'll want to consider how big of a rangefinder to get.  This has a number of factors that come into play.  First, you should consider how you move about the golf course.  If you always use a golf cart the weight might not be a major factor, though you still won't want to hold a really heavy option up for any length of time.  As a walker, you might be more interested in a lightweight model.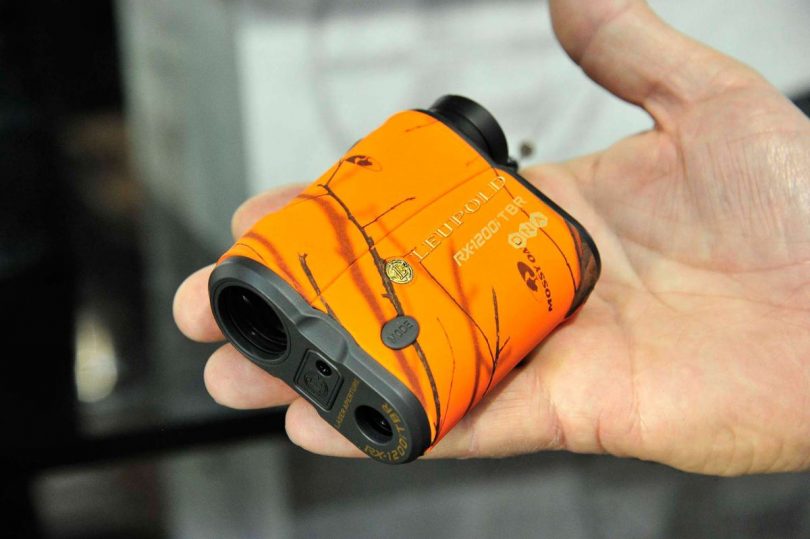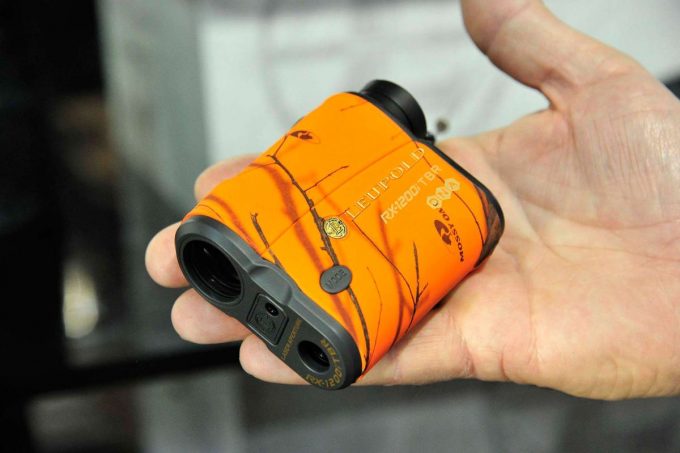 Additionally, you want on that will be sized to fit your hand comfortably.  Too large a model for your hands and you will end up having to use both to get it working properly.  Though, if you go with too small a model it can start to be hard to work it easily and feel like a toy.
Slope Compensation
Going uphill or downhill can add an extra bit of difficulty in calculating how much power you need to apply to the golf ball.  A basic rangefinder will give you a straight-line distance, but not take into account the slope of the hill and how that is going to affect performance.
The top models on the market can be turned into slope mode and will not only calculate the angle of the hill, but the factor.  This means that the distance that they display will no longer be a simple straight line answer, but one that takes into account the actual lay of the course.
Tournament Play
This is something that may or may not be all that important to you when it comes time to pick a rangefinder.  Certain rangefinders have been approved for tournament play, normally by the USGA.  This means that in an American tournament there is nothing wrong with you using one and many of the pros do, to give them as much information as possible.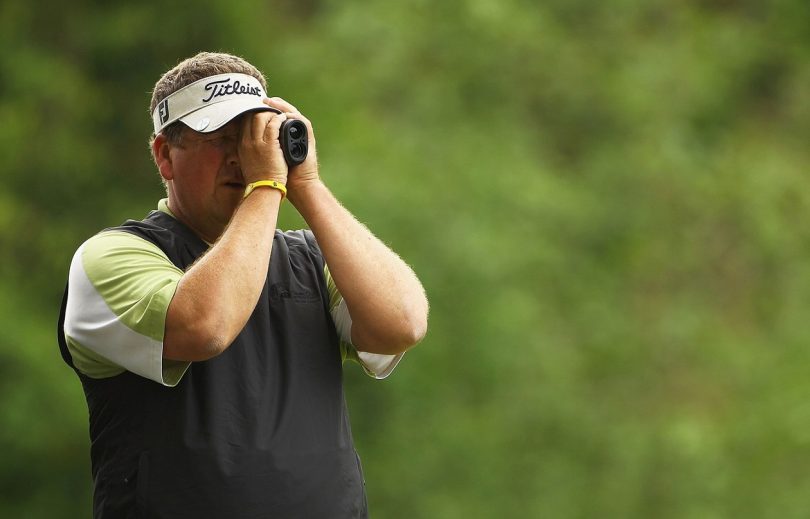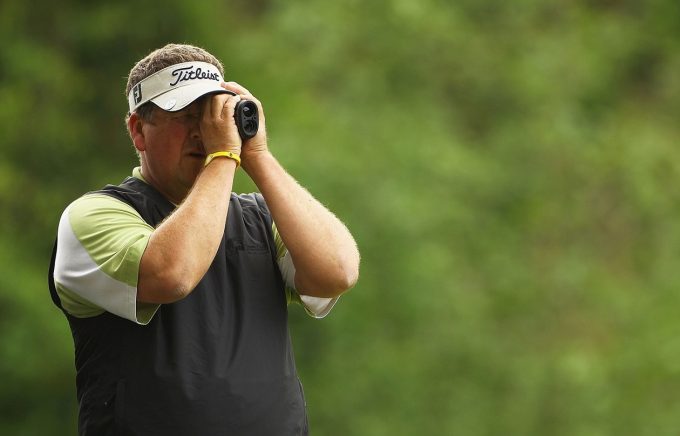 If you are just going out to have a good time with your friends this might not be a factor in your choice.  However, consider the long-term of your golf playing.
You don't want to get to the point that you are so used to relying on your rangefinder, only to eventually enter a tournament and be told that you are not permitted to use it.  Consider this as a method of "future proofing" if you don't currently play in tournaments.
Best Products on Today's Market
Now that you have a firm idea of what you should be on the lookout for, we can begin an in-depth look at our list of the best golf rangefinder for the money.
We have gone through the options that are available to today's golfer and come up with a list of eight stands out models.  Remember what we discussed above and your particular needs and style of play.  These are the things that will help you zero in on the one that is just right for you.
Bushnell Pro X2 Rangefinder
Price: Approx. $500
Weight: 2.1 oz
Dimensions:  6.8 x 5.1 x 3.4 inches
Specific features: Waterproof, slope compensation, dual display, metal housing, jolt technology for pin seeking
Best use: Golf
Description:  If you are looking for a great way to start off our list you can't do much better than with the Bushnell Pro X2 Rangefinder.  This model has a stunning range that can take you all the way from 5 yards out to 1,300 yards.  Now while this is an amazing range in its own right, it also has slope compensation.
This means the device can determine the slope of the angle you are heading up and can adjust the yardage accordingly.
To show that this one was made to find a spot in your golf bag this has what Bushnell refers to as Jolt technology.  So long as you are within 450 yards of the pin, once you get the flag locked in your reticle the rangefinder will pulse to let the holder know they are exactly on the flag.  This gives the golfer certainty that they have the true distance to the hole.
PROS:
Extreme range for a golf rangefinder
Jolt technology assures distance to pin
Waterproof
Related: If you select a quality rangefinder you'll want to make sure you have it at the ready.  That is where the Frogger Universal Rangefinder Fastening Strap comes in.  It lets you mount your rangefinder on the frame of your golf cart.
Nikon Aculon AL11 Rangefinder
Price: Approx. $152
Weight: 6.4 oz
Dimensions: 3.3 x 6.8 x 5.1 inches
Specific features: Single button operation, rainproof, 1-yard increment display, class 1 laser product,
Best use: Golf, hunting
Description:  The Nikon Aculon AL11 Rangefinder can be a great option for those who need a rangefinder that can work well for both time on the course as well as time in the woods hunting.
This model delivers your range in single yard increments, giving you a clear and uncluttered display.  It can range from 6 yards out to 550 yards and has a lightweight end of the spectrum.
The model comes with two modes, priority and scan.  In priority mode, you will get the distance to the furthest target found.  This can be useful if you are ranging a target that is behind the grass or trees.
In scan mode, you have 20 seconds to scan the area you are interested in.  The rangefinder will continuously display the range of targets.  Additionally, you have the ability to switch from meters to yards easily.
When it comes to extra features, due to the fact that they wanted to keep this model budget-friendly, all extra options and features are kept to a minimum. We advise you keep it away from water and as much dry as possible as one of the features that's missing, and we would love to see it, is waterproofness.
PROS:
Lightweight
6x magnification
CONS:
Difficult to get exact distance to a specific point
Not waterproof
Related: If you are hunting or just out on the links you want your rangefinder to be ready at a moment's notice.  That is where the Nikon Retractable Rangefinder Tether comes in handy.  It keeps your rangefinder just where you clipped it, even if you drop it after you are done getting a range.
Breaking 80 Golf Rangefinder
Price: Approx. $130
Weight: 9.6 oz
Dimensions: 4 x 1 x 4 inches
Specific features: Lifetime warranty, 550-yard range, long battery range, includes both a carry case and a battery
Best use: Golf
Description:  While you might not have heard of the company, the Breaking 80 Golf Rangefinder is a solid entry-level model that you can easily add to your golf bag right away.  This model can deliver accurate ranges up to 550 yards out, which covers the majority of holes on the golf course.
The company claims that knowing the exact distances for each shot you are taking you can shave about 3 strokes off your game.
This model sports a flag mode that can help you determine the exact distance to the closest target in a group of them.  For most situations, the pin will be the closest target in the group.  The company offers a lifetime replacement warranty.  If at any point your device breaks the company will repair or replace it with no questions asked.
As for some additional features, this rangefinder model has a vibration alert system which is perfect for golf sensory as it indicates it has locked on the yardage. Useful, right?
PROS:
Lifetime replacement warranty
Battery included
Comes with carrying case
Vibration alert system
Related:  When you are out on the course it helps to keep your rangefinder right within arm's reach.  To accomplish that consider the Stick It Magnetic Rangefinder Strap.  It wraps around your rangefinder and lets you attach it anywhere you can put a magnet.
Bushnell Tour V3 Rangefinder
Price: Approx. $565
Weight: 6.6 oz
Dimensions: 1.6 x 4.3 x 2.8 inches
Specific features: 5x magnification, Pin Seeker Technology with Jolt Vibration, legal for tournament play, class 1 laser product
Best use: Golf
Description:  Bushnell is a company that is known for producing high-quality optics in a wide range of uses.  The Bushnell Tour V3 Rangefinder is an example of one of their golf line, with specific features to help you while you are hitting the links.  One such feature is their Jolt technology.
This produces a series of pulses when the rangefinder has locked onto the flag and allows the golfer to be sure that they are getting the distance to the pin.
This rangefinder also sports a scan mode. This keeps continuously updating the displayed range as you scan across an area.  This gives you an idea of the distances to a wide range of targets.
Now you have a full view of the area, instead of just a single distance.  This one is sized to be easily used with a single hand and light enough to not weigh you down.
This rangefinder model includes a 3-volt battery, a carrying case and comes with a 2-year warranty. It has a compact ergonomic design that will allow you to easily grip the rangefinder. It's not waterproof, but weatherproof, but we're sure you won't have any troubles using it while it's raining outside as the battery compartment is sealed pretty well.
PROS:
Lightweight option for easy use
Pin seeking technology up to 300 yards
Up to 1,000-yard range
CONS:
One of the more expensive options
Related: If you invest in a top of line rangefinder you will want to keep it safe, especially due to the fact that it's not waterproof. With that in mind and the fact that you don't want scratches on your new rangefinder, we advise you opt for this Customshop911 Silicon Case that fits perfectly to this rangefinder model.
Callaway 300 Rangefinder
Price: Approx. $230
Weight: 7.0 oz
Dimensions: 4.2 x 1.8 x 3 inches
Specific features: Pin acquisition technology, waterproof and fogproof, 6x magnification, includes golf balls and divot tool
Best use: Golf
Description:  While you might have heard of Callaway in terms of golf clubs, they have expanded out to a number offer a wide array of golf-related gear.  For the purposes of this article, we will look at the Callaway 300 Rangefinder.
Now, in many rangefinders, the company will use the number to give you an idea of the max range of the model.  Don't be discouraged, Callaway has gone with a bit of a different method with their model.
The 300 seems to go with the 300-yard range of the pin acquisition technology (P.A.T.).  This is designed to lock onto the flag, so long as you are within 300 yards, even if there are other targets in the area.
As far as the full range, the company claims that this model will give you accurate ranges from as close as 5 yards all the way out to 1000 yards.
This should more than cover any needs on the golf course, and even though it is not designed for it, puts it in the range of a solid hunting rangefinder.  This particular model comes as part of a pack, sporting a sleeve of golf balls and a divot tool.
PROS:
1000 yard range
Pin acquisition Technology
CONS:
No vibration to assure that you have the pin
Related: If you are looking to add some more tech to your golf game why not check out the Callaway GPSy Golf Watch.  This not only gives you the layout and distances to the green, even beyond the rangefinder's range but will also keep track of your score.
TecTecTec VPRO500 Rangefinder
Price: Approx. $150
Weight: 6.6 oz
Dimensions: 1.6 x 2.8 x 4.1 inches
Specific features: Eye-safe class 1 laser, displays distance in both yards and meters, 1-yard accuracy, pin sensor technology, scan mode
Best use: Golf
Description:  If you aren't sure that adding a rangefinder to your golf kit is really right for you, it is a safe option to go with one that the company is willing to stand behind.  The TecTecTec VPRO500 Rangefinder is one of those options.
First, it is available at a very affordable price, but the company wants you to take it out and use it.  If you aren't happy with it, you can return it for your money back in the first 30 days.  Past that, the company extends a two-year warranty on their rangefinder.  Even if you have issues after that they offer lifetime customer support.
This setup comes with everything you need.  In addition to the rangefinder, they throw in a carry case, a strap, a cleaning cloth and even the battery for it.  Once you get it up and running it offers the golfer single button operation, so you can get a reading on how far away the pin is without having to go through a complex series of steps.
PROS:
Excellent warranty/refund set up
Low cost
Water resistant
CONS:
Black coloring could make it easy to misplace
Related: If you want to make your rangefinder a bit easier to see and add an extra layer of protection, you need to look into some armor.  One such option would be the TecTecTec Silicone Case.  It wraps around your rangefinder to add some drop protection in a highly visible red silicone.
Nikon COOLSHOT 20 Rangefinder
Price: Approx. $200
Weight: 4.5 oz
Dimensions: 3.6 x 1.5 x 2.9 inches
Specific features: Lightweight, USGA tournament play compliant, single button scan mode, two-year warranty
Best use: Golf
Description: When you hear Nikon, many people immediately think of cameras.  However, they also make a wide range of optical gear, to include the Nikon Coolshot 20 Rangefinder.  This model comes in a distinctive white, making sure that you won't misplace it or overlook it while out on the course.
A single push of the button brings the rangefinder to life in an 8-second scan mode, returning the range of whichever object you move the rangefinder to point at.
This offering is weatherproof and will keep kicking in a wide variety of temperatures and rain.  It also doesn't require a reflective surface to give you a range which means you can easily range the sand traps, doglegs, or even the trees to give you a full picture of what is ahead of you.
At only 4.4 ounces of weight, this model is the most compact model of the entire Nikon golf rangefinder line. Despite the fact that it's so small, it won't disappoint you on delivering big on precision.
PROS:
Lightweight
No reflective surface needed
Single button operation
Related: As you go high tech with your golf game, why not pair your rangefinder with a golf watch, like the Garmin Approach S20 Golf Watch.  This one will record stats of your game for post round analysis.  It also provides metrics to help improve swing consistency.
Bushnell Tour V4 JOLT Rangefinder
Price: Approx. $290
Weight: 12 oz
Dimensions:  2.6 x 2 x 1.3 inches
Specific features: Waterproof, fast focus, post-thread battery door, accurate to 1 yard, Jolt technology
Best use: Golf
Description:  The final rangefinder on our list is the third offering from Bushnell. The Bushnell Tour V4 Jolt Rangefinder is the bigger, beefier brother of the Bushnell Tour V3 Rangefinder that we discussed earlier.  It offers the same Jolt Pin seeker technology to ensure that you have a solid range of the pin.
This one though is a bit more upsized.  In that extra size, they tweaked the design to be more ergonomic as well as added a non-slip grip.
This model sports 5x magnification as well as a fast focus system that ensures you have a clear view of your target.  It has been approved for tournament play and has even been pro certified, so you know you are getting on that you can trust while out on the course.
You can easily change from yards to meters so that your data is displayed in your preferred units. It comes with batteries, a premium case and a 2-year limited warranty from the manufacturer. Sounds good for this price, right?
PROS:
Excellent range
Jolt technology
2-year limited warranty
Batteries and a premium case included
Waterproof
CONS:
Rather heavy for the competition
Related: Once you have invested in a good rangefinder you want to add some level of fall protection.  That is just what you get with the Tusita Protective Cover.  It comes in a range of colors to keep your rangefinder safe and works perfectly with this rangefinder model and fits like a glove into the carrying case.
Wrap Up
With everything we showed you, you should now be an expert in the field when it comes to golf rangefinders. We started out hitting the highlights of the factors that go into making one the best. While all of these are good to have you might not find one that maxes out each parameter. You'll need to determine which are the most important and which you don't mind not being turned to 11.
Next, we took you on a tour of 8 models that are available right now. Each had its own high points as well as a few shortcomings. We have tried to give you a balanced idea of each model we highlighted so that you can make the final decision on the best one to add to your golf bag.
Lastly, we'd love to hear from you! Do you have experience with any of the options that we've selected? If so, would you be so kind as to leave a comment in the section below?