Figuring out which rifle optic is best for your needs is difficult. However, finding the best scope rings is tricky as there are different brands and styles available. This means you need a pair to fit your mounting system and figuring out which one is the best becomes a tiring task.
You do not want to go and choose just any. We know your best option is to choose one recommended by the scope manufacturer. This makes sense! However, there are some great optic rings available recommended by professional shooters.
These mounting rings are brands you can trust to hold your optic in place. We have selected a number of top products and comprised a list you can view here. Further, you need to know what the importance is about choosing the right mounting rings for your rifle. Therefore, before we get to our scope ring reviews, stay a while and read the important information you need to know before buying scope rings for your gun.
Our Top Picks
Features to Consider Before Buying
There are any number of different options that you might come across while buying quality rings for your scope.  We've highlighted a few of the most important.
Split Type
Did you know you could buy two types of scope rings? Maybe you do, but if you did not know, they are available in both horizontal and vertical split types. The vertical split ring comes highly recommended by professional shooters, as it is a stronger mounting ring.
Why is it stronger? The rings made in such a way so that each half of the item connects to the base of the scope. This may be a more durable scope ring but is difficult to install. While the horizontal split ring is easier to install.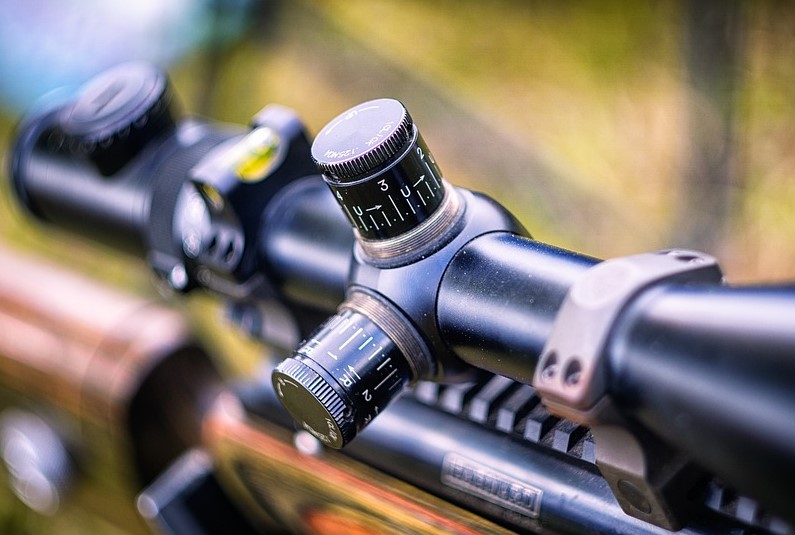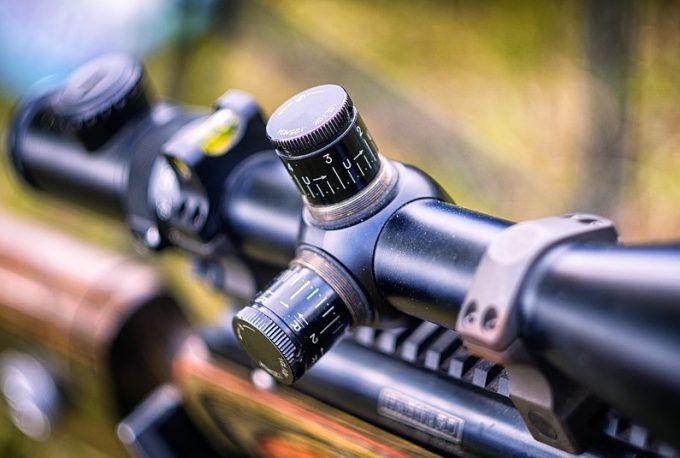 With the horizontal split ring the bottom, half screws/clamps directly to the scope base to hold it in place. The top section of the ring fastens over the scope. Further, the two halves of the mounting rings connected with 2 – 6 screws. With extra screws, it is better to hold the scope locked if any one of the screws happens to loosen or get lost.
Screw Type
Included with your purchase you normally receive either Allen-head, slotted, or Torx screws. The best screw is normally the Torx as it provides a tighter grip and the thread seldom strips.
Swapping Between Guns
The other superb thing is the majority of manufacturers are designing tactical rings constantly holding zero.  What this means is you can remove the rifle scope and place it on a different gun without the need of re-zeroing it again.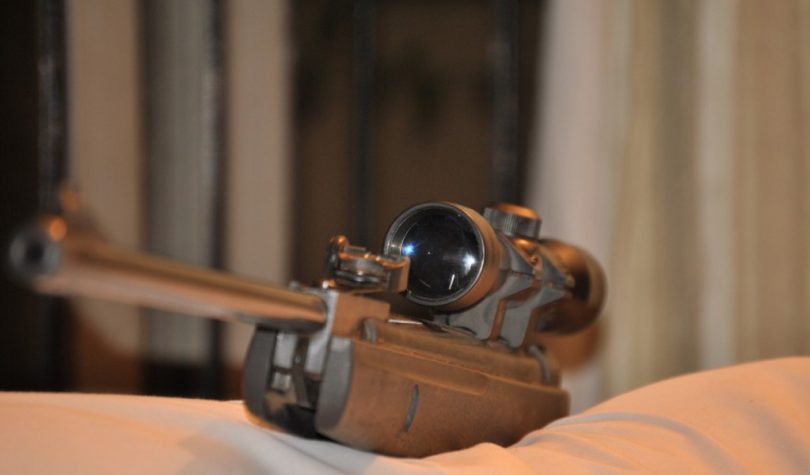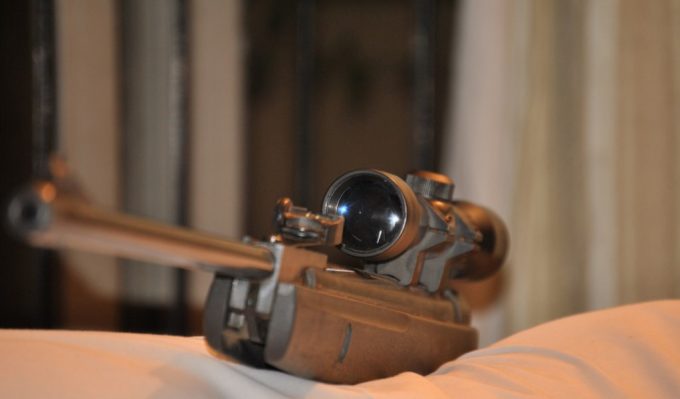 Tactical rings are the sturdiest option available as it has a "backbone," but they are heavy. This can be a downside as it adds extra weight and in general used for hunting.
The Right Height
The first and most important thing to consider when buying a pair of scope rings is the size of the optic you own. This determines the correct height of the rings needed. When mounting a scope you need to place it close to the barrel, without it touching it.
When using a larger scope the rings need to be taller to get the correct height. Using rings with a low profile will leave the optic hitting the barrel even before securing the rings in place. While mounting it too high, you will not be able to keep your cheek close to the gun and will prevent you from looking through it.
So how does one go about measuring your scope? First, you need to find out the centerline of the scope placement above the barrel – measure from one border of the optics body to the other across the face of the objective lens. Take this measurement and divide it – this gives you the minimum height the scope needs to be above the barrel.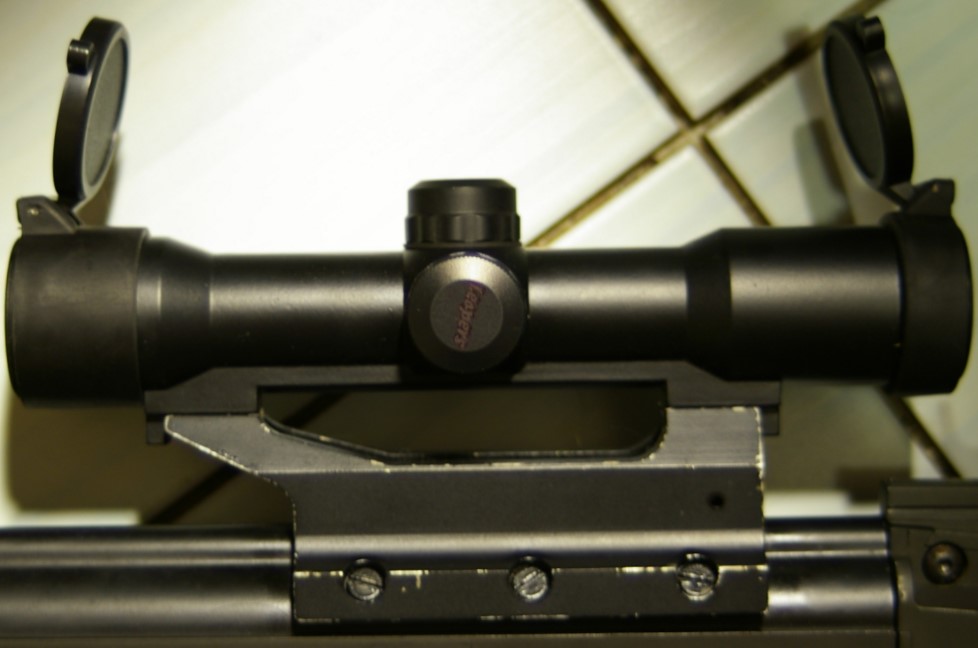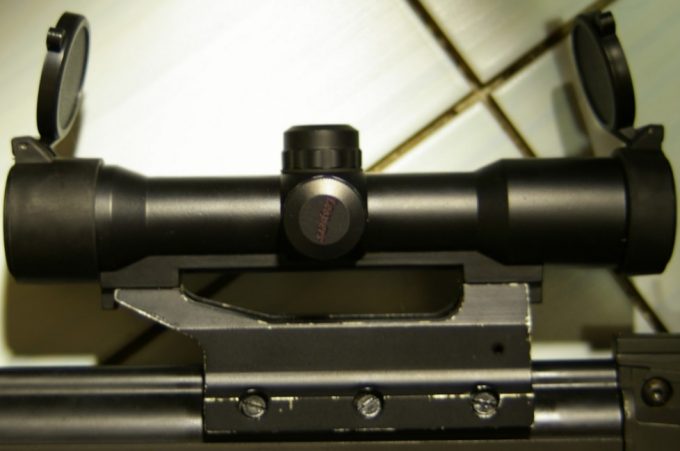 This helps to determine the correct size of the rings you need to buy. If the size of the scope measures 1-inch, you can use a grouping of base & ring measuring 1-inches. Always remember the majority of rings measured in millimeters and best to convert it to inches.
Further, take the size of the base into consideration as well as it contributes to the overall height. Another thing is to take the actual clearance of the scope rings as certain brands have different standards when it comes to measuring.
Top Products Available on the Market Today
Now that we have covered the basics related to scope mounts you can view our reviews of the best scope rings available set out on our comparison list. This will help you determine which scope mount works best for your type of scope you use on the rifle.
Vortex Precision 
Price: Approx. $130
Scope objective: 30 mm
Height: 0.87 inches
Profile: Low
Specific features: Made with billet aluminum, tight tolerance of .0005, finished with type ii hard coat
Mount: Picatinny
Description: The Vortex Precision  you can buy in a package of two with a hex wrench included. This mounting ring fits Picatinny rails and does not work with a Weaver mount. The rings work great with riflescopes consisting of an objective lens with a 30mm measurement.
Once placed on the mount it lifts the optic at a height of 0.87 inches and includes the Vortex VIP Unconditional Lifetime Warranty. Further, the rings have a durable design with grade 8 fasteners.
Each ring made with the aluminum material, serialized, is vibratory tumbled, hand-bead blasted, and has a Type III hard coat finish. The recommended torque specs, when used with base clamp screws, is 45-50 in/lbs and with ring screws 15 – 18 in/lbs.
PROS:
Affordable
Perfectly aligned
Well built
Includes strong Torx screws
CONS:
Includes an additional height of 1.4-inches
Related: For tightening your scope rings making sure the optic stays in place you can look at the Torque Wrench Mounting Kit even if you do receive a hex wrench included. This is handy to have if you have different riflescopes that need mounting.
Accushot Utg 
Price: Approx. $15
Scope objective: 61 mm
Height: 0.71 inches
Profile: High
Specific features: Machined with aluminum alloy, has a locking plate, includes hex screws
Mount: Picatinny/weaver
Description: For a pair of high-profile Picatinny/Weaver rings for your riflescope, the Accushot Utg  are perfect. The ring width is 1-inch and has hex screws with retention characteristics included. The optic rings made with aluminum alloy and have a locking plate for ease of installation.
The rings sold in a packet of two and suitable to use with 1-inch scopes with an objective up to 61mm and gives it a height of 0.71-inches. Further, the set includes four screws per ring.
PROS:
Works well with high scope mounts
The insides textured
Reasonable price
CONS:
Screws included strips easily without tightening it too much
Related: For tightening, the hex screws included with ACCUSHOT UTG rings you need a special screwdriver, look at the HDE 7pc set, it is perfect for any tightening project.
Nightforce Alloy 
Price: Approx. $170
Scope objective: 30 mm
Height: 0.89 inches
Profile: Low
Specific features: Titanium, made to mil. Std. 1922, includes ring nuts and screws
Mount: Picatinny/weaver
Description: When one needs the best scope mount you need the Nightforce Alloy Ring Set. Why not, there is no extra weight added to your rifle. The ULTRALITE rings made with aluminum body and titanium cross bolt, nut, and jaw. The titanium and aluminum help strengthen the rings compared to using steel.
The rings suitable to use with 30mm objective lens scopes and the included nuts need a torque to 68 in/lbs while the screws need a torque of 24 in/lbs.
PROS:
Can withstand heavy recoil
Fits perfectly onto the optic
Solid
Lightweight
Related: Have you ever wondered how level your weapon is when taking a shot? Stop wondering with the Nightforce 30Mm Top Half Scope Ring with a built-in level. This rings designed for the Nightforce Unimount.
Leupold QR 1 
Price: Approx. $26
Scope objective: 42 – 45 mm
Profile: Medium
Specific features: Quick release ring, machine steel construction, machining tolerances, three colors
Mount: Dovetail/standard
Description: For a quick release mount system when used with Dovetail and Standard systems, you need the Leupold QR 1 Whether you are mounting or removing a riflescope these rings have no loss of zero within the ½ MOA. These are the best scope mounts available and machined with steel with a superb tolerance.
Choose from three colors to suit your weapon Gloss, Matte Black, or Silver. With the versatility, it fits different optics with an objective lens ranging from 42 – 45mm. Attach the rings with the lever mechanism. All you need to do is turn the lever forward to clamp it and with pulling it down and forward, it locks into place.
PROS:
Gives tremendous accuracy when mounting a scope
Keeps the optic securely locked in place
Affordable
CONS:
Can return to zero when used on a rifle with less recoiling
Related: There comes a time when you need a tool to hold your firearm in place, especially when fitting it with a scope. This is where the Tipton Gun Vise is a handy tool to have as it keeps different guns secure for you to work on them.
Check the price on Amazonhttps://www.amazon.com/Leupold-QR-1-in-Medium-Matte/dp/B0002IMQIE?tag=opticgearlab-20
Accushot 
Price: Approx. $15
Scope objective: up to 53 mm
Height: 0.55 inches
Profile: Medium
Specific features: Two-piece set, limited lifetime warranty, 4 hex screws included, made with aluminum
Mount: Picatinny/weaver
Description: The Accushot medium scope rings are an essential piece of equipment if you are a hunter or partake in shooting sports. Your high-quality scope needs the best scope mount to keep the optic secure in place and the RGWM-25M4 can help you with this.
The mounting rings fit a 1-inch tube scope with an objective lens up to 53mm and give an extra height of 0.55-inches. Further, you receive a limited lifetime warranty and it fits Weaver dovetail rails. To tighten the rings you receive included 4 hex screws to secure the scope.
The other great thing about these scope rings is the fact that it has special tape on the inside of the ring. This helps keep the scope secure without using too much pressure.
PROS:
Holds the scope secure
Inexpensive
Durable
Maintains zero when removed and mounted on another weapon
Include an Allen Key wrench
CONS:
If you over tighten the screws they can strip
Related: Sometimes one needs an upgrade to mount your scope, here you can look at the UTG Upgraded 6-Screw ring mounts for a medium profile height as this rings fully adjustable.
Burris XTR 
Price: Approx. $55
Scope objective: Up to 40 mm
Height: ¼ to 1 inch
Profile: Low
Specific features: Non-quick detach, aluminum, 6-screw rings, return-to-zero
Mount: Picatinny/weaver
Description: Do you need the best scope rings to mount up to a 40mm objective lens? You need the low profile Burris XTR with a ¼ – inch height. The rings sold in pairs and have a matte black finish.
The XTR rings are lightweight and have a six-screw design made with aluminum. Suitable to use on both Picatinny/Weaver rails. These rings can withstand heavy recoil from tactical weapons and great if you want to add a scope to your tactical gun.
PROS:
Lightweight
Durable
Secure
Low profile
Mounts to all types of rails
CONS:
None noted as the majority of clients are impressed with the scope mounts
Related: Mounting your expensive scope with the mounting rings is great, but as you want to keep your scope protected, you may also need a pair of Vortex Flip Cap Optic Covers to keep the lens scratch free.
UTG Low-Pro Max 
Price: Approx. $20
Scope objective: Up to 40 mm
Height: 0.40 inches
Profile: Low
Specific features: 4-screw tiger ring, aluminum alloy, twist lock design, see-through tunnel
Mount: Picatinny
Description: For a durable set of mounting rings, the UTG Low-Pro Max can withstand tremendous recoil with the stop cross bolt design. Further, it holds zero well and includes a 4-screw Tiger ring made from aluminum alloy. For ease of use and installation, it has a twist lock design.
On the interior of the ring, there is synthetic protective tape and has a see-through tunnel with a slot cut out on it. The rings are 0.71-inches wide, give a saddle height of 0.40-inches, and fit most optics with an objective of up 45mm.
PROS:
Gives a solid base to use with any riflescope
Lightweight
Holds a scope secure on a 12 gauge shotgun
Affordable
CONS:
Needs regular re-tightening as it has a spring design
Related: Finding the perfect mount for your RWS Airgun is a difficult task this is where the UTG Compensation Mount is perfect. It is a 5-inche Picatinny rail with 11 slots for using extra accessories with the gun.
CCOP AR-Armour TAC 
Price: Approx. $35
Scope objective: 50+ mm
Height: 2 inch forward extension
Profile: High
Specific features: Aluminum alloy construction, ar one-piece construction, mil-spec
Mount: Picatinny
Nothing compares to the CCOP AR-Armour TAC mount rings as it fits a 1-inch scope and made of T6061 aluminum alloy. These high profile scope rings fit on any Picatinny rail.
With the universal mounting system, it has an AR one-piece construction and easy to install. The great things are you need no special tools to get the job done. This is why the Torx screws and screwdrivers included with your purchase. Further, the rings have a 2-inch forward extension
PROS:
Holds zero well
Stable
Easy to install
High-quality mount
CONS:
Screws can become unthreaded
Related: Even with the included Torque screwdriver, you always need those extra ones around in case of an emergency. Here you can look at the Wheeler Digital Firearms Torque Wrench in a storage case.
Nikon P-Series 
Price: Approx. $40
Scope objective: 30 mm
Profile: Low
Specific features: Lightweight alloy, 1-inch tube riflescopes
Mount: Picatinny
Description: For proper scope mounting, you need the Nikon P-series ring mounts. Made with lightweight alloy this base ring adds no extra weight.
The Nikon P-series rings made for fitting Picatinny rails and suitable to use with Riflescopes with a 1-inch diameter tube. For flexibility, the 2-piece mounts reversible and gives you the correct mounting height. The rings adjustable, customizable, and available in a matte black finish.
PROS:
Solid
Versatile
Slides onto the rail
Include two Allen wrenches
CONS:
Does not slide onto a Colt LE6920 as they advertise
Related: Now you have your riflescope mounted keeping the hand steady while viewing through the scope becomes tiring, especially when hunting. Why not try your hands on the CVLIFE 6-9 inches Tactical Rifle Bipodmaking sure you do not miss your trophy.
mks_button size="medium" title="Check the price on Amazon" style="squared" url="https://www.amazon.com/Nikon-Riflescope-Picatinny-Mount-Inch/dp/B00B5F02ZW?tag=opticgearlab-20″ target="_blank" bg_color="#501858″ txt_color="#FFFFFF" icon="icon-basket" icon_type="sl" nofollow="1″]
Final Thoughts
One can find different options available when in need of buying scope rings to keep your optic secure in place. However, the important thing you need to remember is to look for lightweight rings matching the mounting system.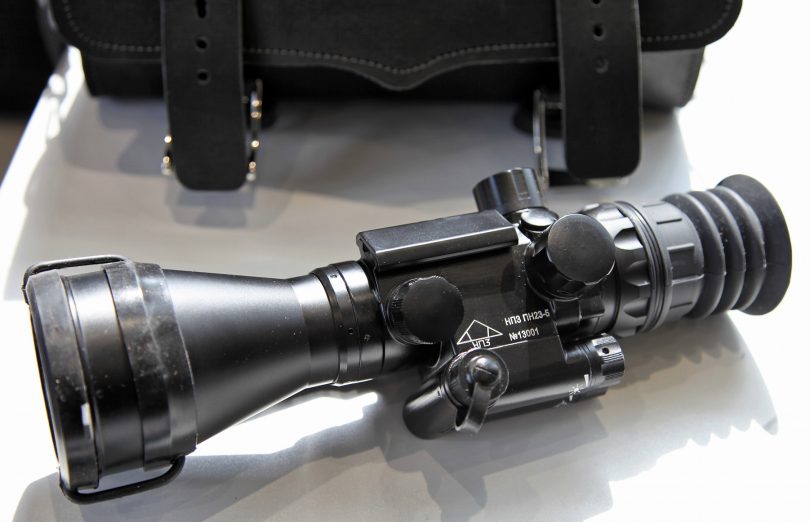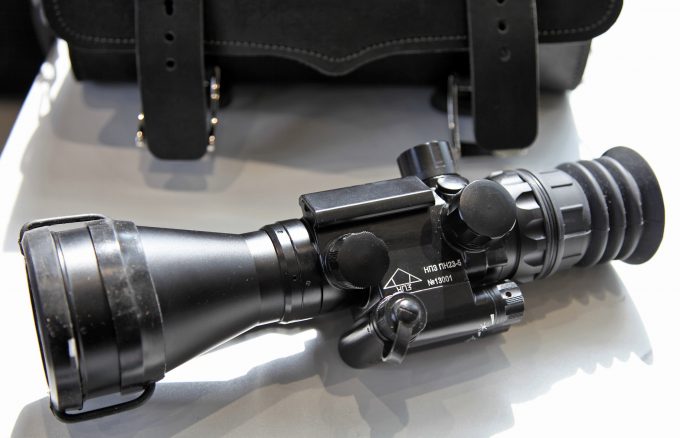 Further, take note of the optics tube size, as you do not want to spend loads of money on an item leaving it compromised by a poor scope mount. You do not need to spend a fortune on mounting rings, but they do need to be durable and keep your investment securely in place.
Any of the above choices for best scope mount would make an excellent choice, but now it is up to you to select the set of rings that will work best for your particular scope and gun combinations.
And we'd love to hear from you if you have any experience with our selected rings.  If so, please let us know what you think of them in the comments section below.