The Eotech 512 a65 is one of the most popular holographic weapon sights that are meant as a high-tech replacement to iron sights. Gone are the days when hunters relied on traditional iron sights.
Holographic optics falls into the realm of red dot sights but break the traditional mold. The Eotech 512 a65 has rocketed in acclaim thanks to its ease of use, high accuracy, and durability.
The holographic reticle is much more complicated than the red dot optic, so it does require a bit more battery power.  Mounting the sight is very simple, and very easy to do. The ruggedness, reliability, and price of this product reflect its professional orientation.
Eotech presents its optics in an impressive way. The optics come in a sealed waterproof polymer box, with foam cutouts fitted for the optic.
Product Specifications
1x magnification and unlimited eye relief
Compatible with 1″ Picatinny (MIL-STD-1913) or Weaver rail mounts
Restoration to 0 is repeatable to 1 MOA after re-mounting
The FOV (100 yards) is 30 yards (28m) at a 4″ eye relief
The holographic weapon sight is optical, electronic, and superior to most other offerings. Holographic sights are considered an improvement over simple iron sights. They are rail-mounted, non-magnifying optics that people look through to observe an illuminated aiming point that is superimposed onto a target in the sight window.
Holographic sights operate by projecting your dot into a specially designed piece of glass. Holographic weapon sights create a visible red laser in the form of a reticle and project it onto a prism. Collimated light from a built-in laser diode then illuminates the recorded hologram. The reticle appears in the shooter's field of view and is superimposed over a target.
This Holographic Weapon Sight from EOTech prides itself on being one of the most rapid reticles to target acquisition systems in the world. This gun sight is renowned for its velocity and is characterized as one of the fastest reticles to target ability sighting systems in the world.
EOTech 512 a65 has quite a number of advantages over regular red dot sights, the major one being its brightness potential. The 512 possesses a higher price point than much of its competitors, almost none can match the versatility, stability, and durability of the EOTech 512 a 65.
The 512's higher price reflects its quality, and it's important to note that EOTech is famous for its generous and speedy customer service. There are plenty of other choices for your rifle if you are looking at a longer-distance scope or are on a limited budget.
But for the money, EOTech is hands down the holographic sight you can choose for the cash. EOTech products have graced the rails of military and police-grade weapons worldwide for good reason.   If you have a night vision device for home protection, look at our Eotech 512 review.
Review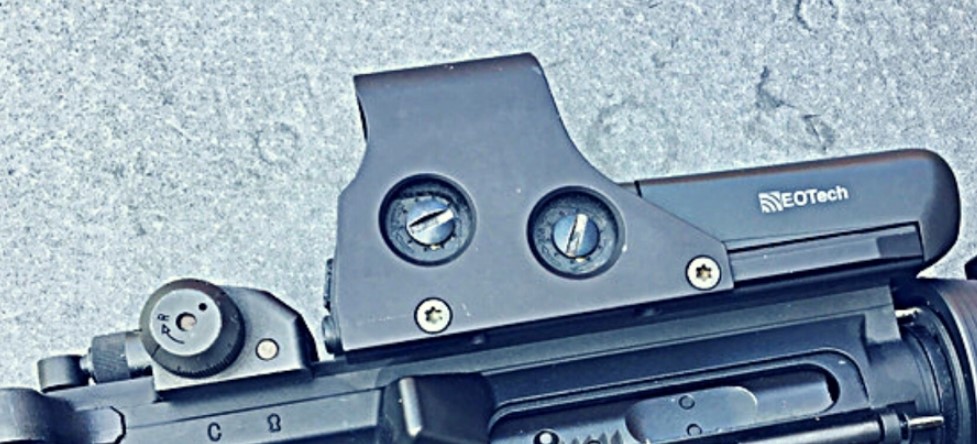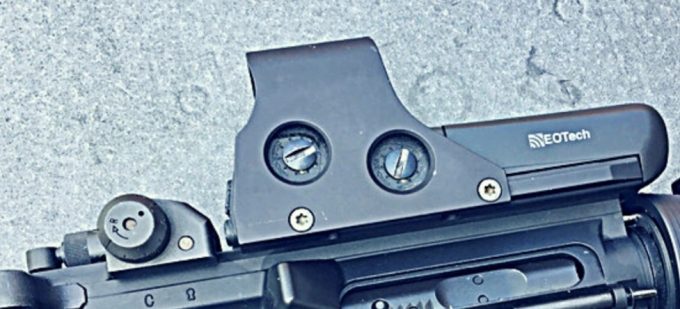 The sight is one of the most popular models of its kind, due to its awesome specs. The EOTech 512.A65 sight revolutionized red dots forever with the unique holographic technology and a large viewing window. In addition, the large circle dot arrangement is a great rangefinder in a pinch.
This site is not only designed for the military but hunters and outdoorsmen who are in need of a quick target holographic sight can also use it. The EOTech 512 a65 tactical holographic is now renowned for its speed and represents the fastest reticle to target acquisition sighting system in the world. The sight is certainly all that you need and will be a sound buy for your combat gear or tactical training.
Packaging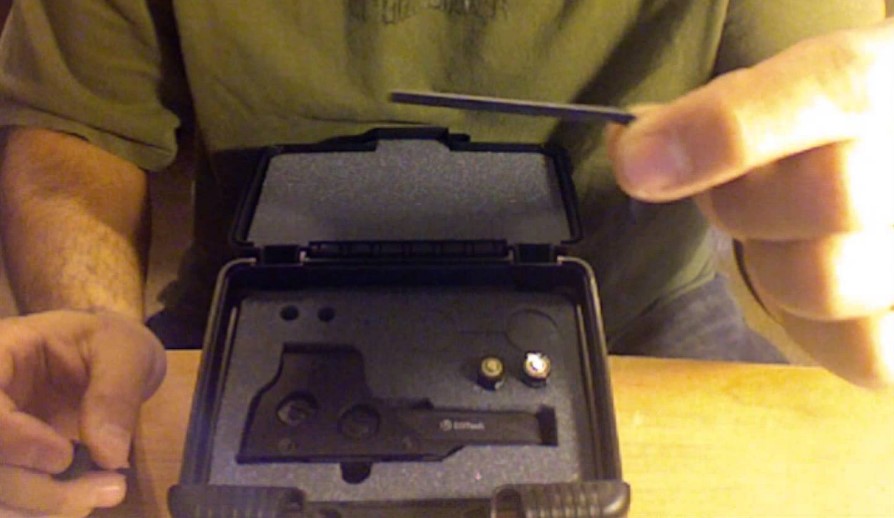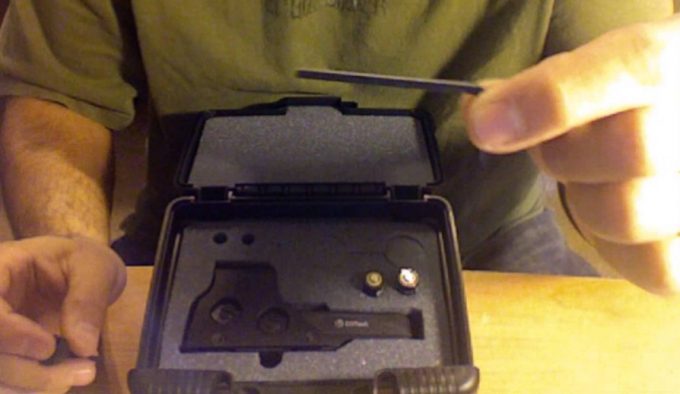 The holographic sight dimensions are 5.4"X2" X2.5" inches and weigh 10.1 ounces. The sight surfaces an anti-glare coating and the window was made from 1/8" solid glass and the rear window is made of shatter-resistant laminate that is 3/16" thick with window dimensions of 1.20" X 0.85" inches.
The sight is parallax free so you will never have to center your scope and you will always get a clear shot at your target.
Design and durability
The EOTech 512 a65 tactical holographic is a physically durable sight and also very practical in the sense that it absorbs a lot of shocks and prolongs the functionality of the electronics. The unit itself is made from the strong aluminum hood assembly and a very easy to use knobbed mountain kit.It is easily attached to your rifle with an added tool-free 1″ Picatinny mount bolt. The lightweight, sturdy aluminum design with anti-glare/anti-fog capability is ideal for when you need versatility and speed without night vision capability.
Battery and flight time
The EOTech 512.A65 is powered by two AA batteries and provides over 1,000 hours of constant run time with lithium batteries or around 600 hours with standard alkaline batteries. This sight convenience keeps your sight powered and available when you need it most since it has a programmable automatic shut-down timer. When you turn on your unit it will automatically show you how much battery you have left.
Range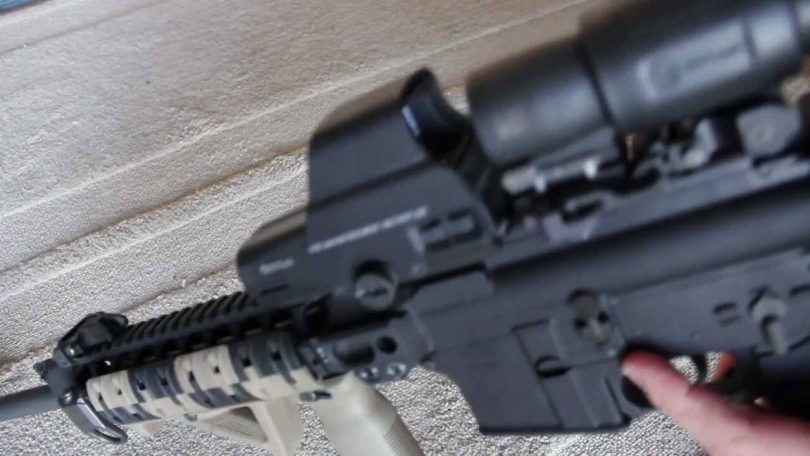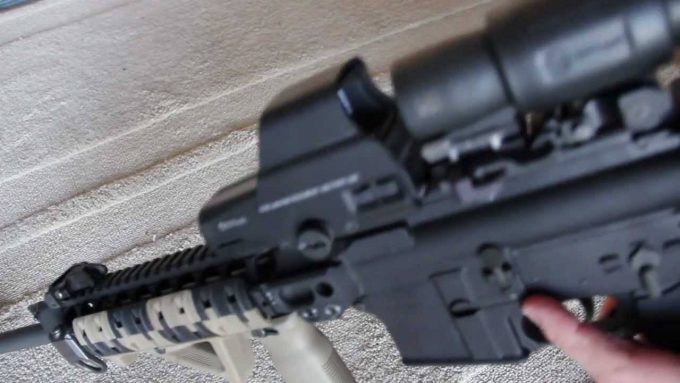 The use of night vision has grown rapidly since optics is getting more effective. The A65 designation refers to the EOtech's reticle. The EOTech 512  is designed for shooting within 3 distinct stages with targets in the range 3 to 300 yards and works effectively at bad breath distance.
The A65 reticle consists of a 68 MOA outer circle, with a 1 moa internal dot. The A65 reticle is designed for both close and extended ranges. The A65 reticle is remarkably easy to use. The A65 reticle is designed for both close and extended ranges.
Parallax-free sight
The EOTech 512 sight is less prone to parallax error. Parallax means a concurrent movement of the reticle and moving object when the user is moving the eye behind the reflex sight.
Hence, shooters can keep both eyes open when firing a weapon, in order to maintain high situational awareness with more quickness and preciseness, even if the target is moving.  This allows the shooter to have more situational awareness and move to the next target faster.  Both are very good things if you are shooting at a very short range.
Accuracy
Accuracy is defined as the target you are actually hitting when aiming, The EOTech 512 sighting system used is based on advanced holographic technology, meaning the bulk of the work is done by the equipment itself with the user only needing to point and pull the trigger. With EOTech 512 a65 a shooter is able to effortlessly hit their mark 100% of the time once the initial sighting is done.
Camera
The camera allows users to move the sighting image (reticle) onto the target faster, with less time spent searching for the sighting image. The brightness range starts at 110,000 at its brightest to 1 at the lowest perhaps one of the largest variety of brightness levels you will ever need and it does not have any night vision capability.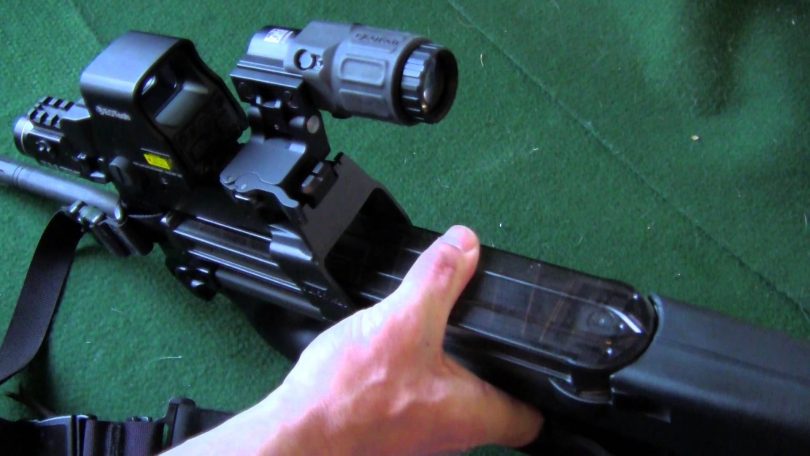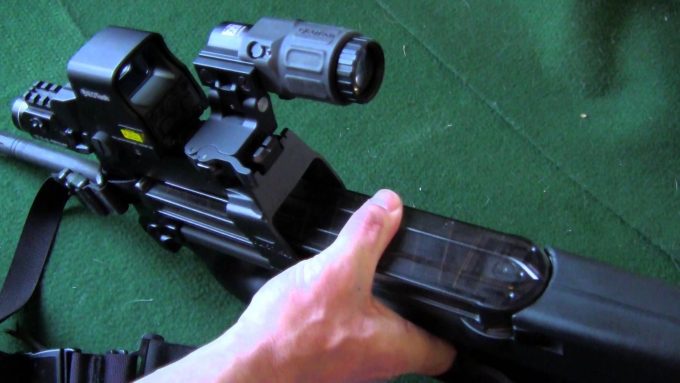 It has a field of view of 30 yards at a 4" eye relief so this offers great visibility.  The reticle comes with a 65 MOA circle and has 1 MOA aiming red dot.
Value for money and guarantee
EOTech 512 a65 holographic offers the best quality survivalist gear for all your training requirements at a great price. EOTech has passed on some excellent touches and this means good value.
This weapon sight helps to improve target acquisition, increases control, and boosts accuracy. This is one of those weapon sights for which getting what you pay for rings true in the best way possible.
Similar Products
EOTech XPS2-0 sight
The EOTech XPS2-0 sight is a second-generation holographic weapon sight that has a circle-dot reticle composed of a 65 MOA circle centered on a 1 MOA dot. The XPS2-0 is the smallest, shortest, and lightest EOTech model holographic sight available in the market without night vision.
This sight is designed for fast target acquisition usually within the range of 100-yard, which is suitable for most hunting situations. Its weight and size make it convenient for hunters and law enforcement officers to carry. Shooters find it is natural to be able to focus on the target and at the same time maintain target discipline.
Battery latch and cap are replaced and eliminated with a simple O-ring and tethered cap; better sealing is attained. The optic sight is battery operated using a CR123 lithium battery. The sight runs on a single lithium battery that is designated for up to 600 hours of use.
The sight features 20 brightness settings, automatic shutdown, waterproof up to 10 feet and large adjustable screws for windage and elevation that are clearly marked to identify which direction to adjust the Point of Impact for the strike of the rounds.
Parallax-free optics that are sealed to prevent fogging with its short base design, the sight requires no more than 2-3/4″ of rail space and mounts to 1″ Weaver or Picatinny rails. The sight can help shooters find and maintain their natural point of aim because of the way the EOTech is designed to help you find the target if you have to readjust your position.
The EOTech XPS2-0 allows shooters to keep both eyes open because of the dedicated focusing of the sight. It is pricey for what it is, but if you want the robustness and quality of an EOTech sight in a smaller package; you need to look no further than the XPS-2.
EOTech G33.STS.BLK
EOTech G33.STS.BLK sight is one of the best rifle sights on the market. Rugged, durable, and combat-proven. The GS33 offers 3x magnification and is built to the same exacting standards of an EOTech sight.
Although, the EOTech G33.STS.BLK magnifier may not look bright but it truly makes a huge difference to your overall experience. Not only does it enlarge the size of the EOTech Reticle, but also enhances it effectively. It features a nitrogen-purged aluminum body that is fog proof and waterproof.
The EOTech G33.STS.BLK offers an improved and new mount providing quick transition, ranging from 3x to 1x, a larger field of view, tool-free azimuth adjustment, and an adjustable diopter for more improved and precise focusing. The EOTech G33 is a fast and convenient way to get more range out of your professional-grade sight with a split-second transitioning.
This rugged and durable built magnifier changes your EOTech holographic sight into a moderate range optic at the flip of a finger. The average battery life at brightness level 12 is roughly 600 hours. The use of a single transverse CR-123 battery reduces the sight's length.
It offers 2.2-inch eye relief with windage and elevation alterations which can be easily implemented by hand, and a field of view with the range of 7.3 degrees the mention of the following features will sure give potential buyers an idea of why the EOTech G33.STS.BLK would be such a great buy.
Be it for a home-defense carbine, or your favorite hunting rifle, a magnified Eotech gives you the best of both worlds. Honestly, this is one of our favorite magnifiers as it is an ideal balance between cost and performance.
Eotech EXPS2-0 Holographic Sight
The EOTech EXPS2-0 has all the great features of EOTech Holographic Weapon Sights and is well-known for it significantly more compact package. The EXPS2-0 has graced the rails of military and police-grade weapons worldwide.
Military and law enforcement organizations use EOTech EXPS2-0 technology worldwide and even some civilians with the right pocket and attitude like to own one. The EXPS2-0 offers true 2-eyes-open shooting and provides an unparalleled targeting experience.
Featuring side buttons that allow for quick and easy attachment and removal while remaining secure on your rifle. The sight simply looks amazing on your weapon and it clamps easily onto your typical military standard rifle. EOTech EXPS2-0 is extremely fast.
The all-purpose EXPS2-0 features easy-to-adjust side buttons and a quick-detach lever. EOTech EXPS2-0 is smaller and lighter than most other sights, using a single transversely mounted lithium CR123 battery allowing for more rail space on your firearm, leaving more room to add other desirable additions.
Even with the CR123 batteries, the EOTeh EXPS2-0 will work continuously for 600 hours on the default brightness setting. The EXPS2-0 ships standard with two auto-off settings to conserve your battery. You can easily program your sight to switch automatically off at 4 or 8 hours of continuous use and the sight will turn itself off.
This ensures that you won't run out of battery if you are careless and still offers a lot of time for a huge operation in the dark. EXPS2-0 will protect you with its superior design and technology. Whether you're using the sight for law enforcement or hunting, the EXPS2-0 sights are the premier optics in the line.
Overview
The Eotech 512 a65 is an excellent holographic sight with no negative points and points that are more positive. The Eotech 512 has been famous for their rugged feel and durability. The sight is a solid piece of equipment that even the military has failed to destroy.
This tactical optic is perfect for agencies that want the best in CQB speed and versatility, without the need for night vision compatibility and simple AA battery power. With EOTech 512 a65, you can engage multiple targets without having to adjust the weapon to find the target.
PROS:
Clarity, Sturdy, versatile
Easy to set up and use
Parallax free and keeps zero point
The weapon sight is accurate when used
When used in light the target is visible
It is a high-quality sight made rugged and durable to last
CONS:
No Night Vision
Eye relief could be better
Reticle quality inconsistency
A bit expensive but worth it
Looking for the best weapon sight or holographic rifle is not an easy task but you definitely need a weapon upgrade so you have no choice but to face the challenge of finding a new one. The EOTech 512 a65 seems to have a distinct advantage over other sights on the market.
Those who enjoy high-quality options will find this magnifier with its military-grade hardware and exceptional optics. The sight should be your number 1 priority if you are searching for the perfect holographic sight that matches your preferences.
Eotech 512 A65 Holographic Sight
Camera

Battery and flight time

Range

Design and Durability

Value for money and guarantee

Packaging

Parallax-free sight

Accuracy
Summary
The EOTech 512.A65 is highly recommended and is always a regular choice for lots of like-minded people whether you are a novice or an experienced hunter. They are the pinnacle of technical achievement in the holographic sight world. When it is compared to similar items advertised at a higher price, this little powerhouse with its enhanced optics outranks them all. It is recommended that you do zero your weapon after mounting the sight for best accuracy. Its quick-release system is also very effective as it allows for the instant removal of its sight when necessary. Ideal for sports shooting, hunting, patrol rifles, or home defense guns, the EOTech 512.A65 is a budget-priced.
This is an excellent product to buy. We would appreciate it if you can comment in the below section in case you have little words of encouragement to tell us more about your experience with this sight.