If you are into hunting or competitive shooting, arming yourself with a rifle and iron sight will not cut it. You need high accuracy. Like over the roof precision to beat your opponents or bring that buck home. You also need speed if you are going to bag the trophy in the shortest time possible. That is why you need a red dot sight, like this sight.
Red dot sights are most important in target shooting. One appreciates the accuracy that comes with it as you're almost 100% assured of heating the target the moment you pull the trigger. Most users now gravitate toward red dot sights since they showcase reliability as compared to other types of scopes.
Product Specifications
VIP unconditional Lifetime Warranty

Proprietary coatings increase light transmission with multiple anti-reflective coatings on all air-to-glass surfaces

Non-critical Eye relief for rapid target acquisition
When aiming at moving targets, it's crucial that you take the shortest time possible to align your reticle with the focus and take a shot. No fumbling and taking a long time before acquiring a target since with a red dot sight it's easier to close in.
The eye readily meets the red dot for easy centering with the kill and taking close shots on moving targets becomes just like practice but now even better because you get to hit a real target.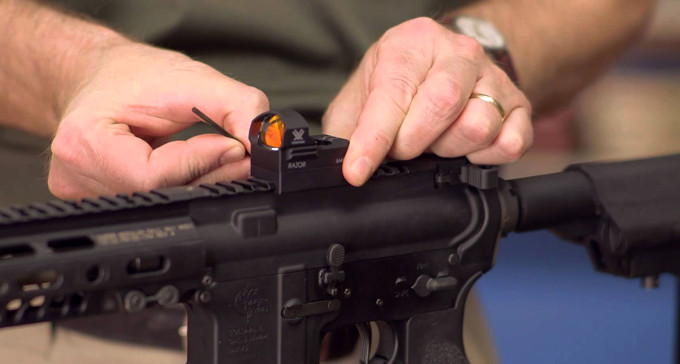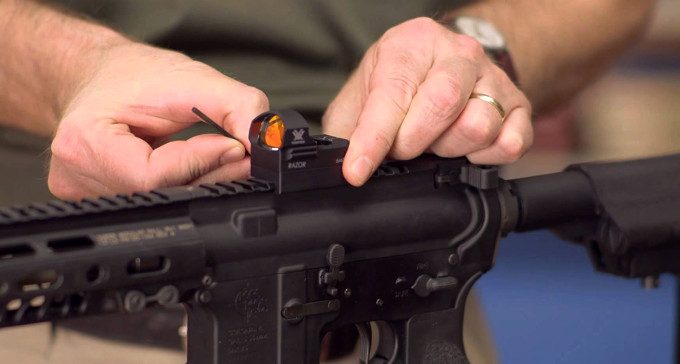 The good news with red dot sights is that most of them are quite affordable. But if you are looking for an upscale red dot sight, there are attractive models which fall in the range of over $500 as well.Using a red dot sight may prove easier than actually making the right choice. Today, we major our discussion on the Vortex Razor Red Dot Sight by Vortex Optics. It is best rated as a high-performance product among the highest ranking red dot sights.
It carries excellent features, and everything about it speaks volumes about its performance. You will come across Vortex Optics as they produce versatile products that can fit a broad range of applications.
Review
The Vortex Razor Red sight regularly finds a home on many types of rifles. It is comfortable on tactical guns like semi-automatic rifles, ARs & handguns. It can also seamlessly fit on shotguns and other rifles used for hunting. The wide range of application means it can tackle different settings and still work in its full capacity.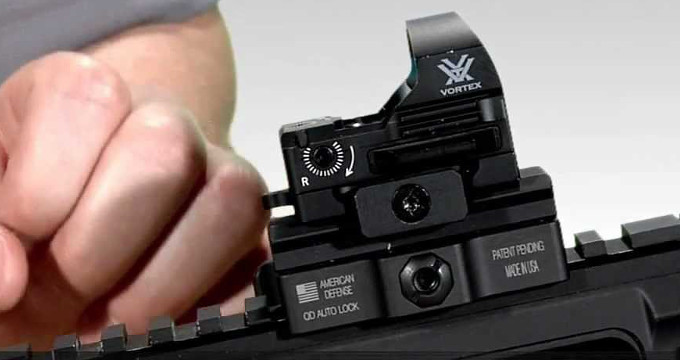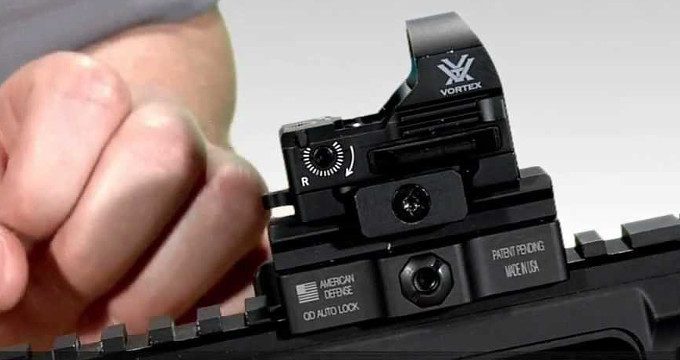 You will find it appealing because of the matte finish which protects it from glare and reflections when working on bright days. It allows one to blend in with the environment so that you can stay clear of the target's line of sight.
Packaging
What you'll love most about this sight is that it's ready to center when you are. It requires no assembling just input the battery and you are set for a clean shot on the first take. It includes the battery so that you can have the best working time.
You should expect a Picatinny mounting rail, hex adjustment wrenches, spacer plate, battery and cover included when you order yours. It also comes with the manual and though we must say you may find it not as important as the working of this model is very straightforward. It sells for approx. $400 which is well below the manufacturer's intended price.
Design and Durability
When you first set eyes on this sight, the black finish will be the first attraction. It is an aluminum housing that keeps the sight in good shape. The tough exterior ensures it can take hard bumps in the course of shooting, seeing that you may never be in comfortable shooting environments. This applies mostly to our active combat friends who spend their days dodging the enemy.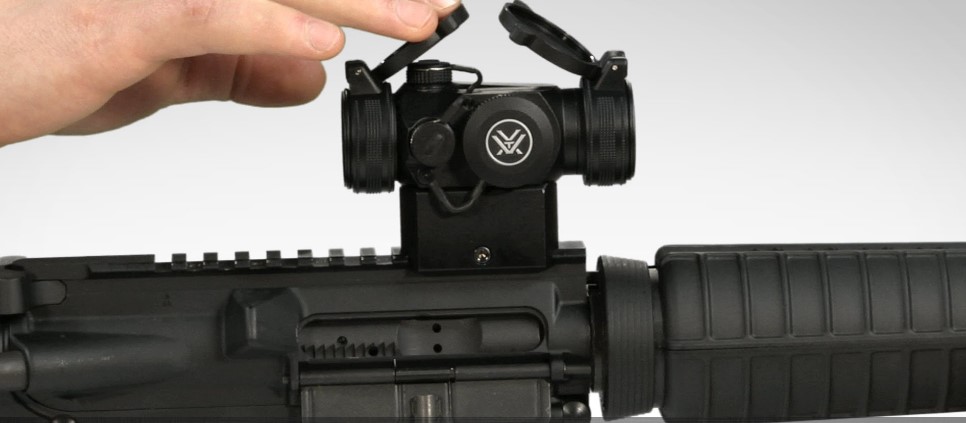 In a hunting situation, you'll want to go through rugged terrain, and if it happens to hit the ground before you do, you'll be able to use it in its original quality still. It features an O-ring seal which protects it from water and fog for better clarity and working through wet weather conditions. Since it seals completely, the interior components are always protected from damage.
The Vortex Razor features an open style. It is responsible for the high capacity for light gathering, making it ideal to hunt even through the dark hours of the evening and the many hours before dawn. If you like a morning hunting thrill, this design is totally viable.The aluminum build shows it can withstand heavy recoil so you can see through your shot after you fire with many types of guns. It also means you'll not need a spotter when trying to acquire the target fast.
Battery Life
It's always impressive when you find a sight whose battery life goes for years. For this sight, this is just a walk in the park as it can comfortably afford over 150 hours of use when it's set to the highest setting. On low brightness settings, this sight can go for 30,000 hours.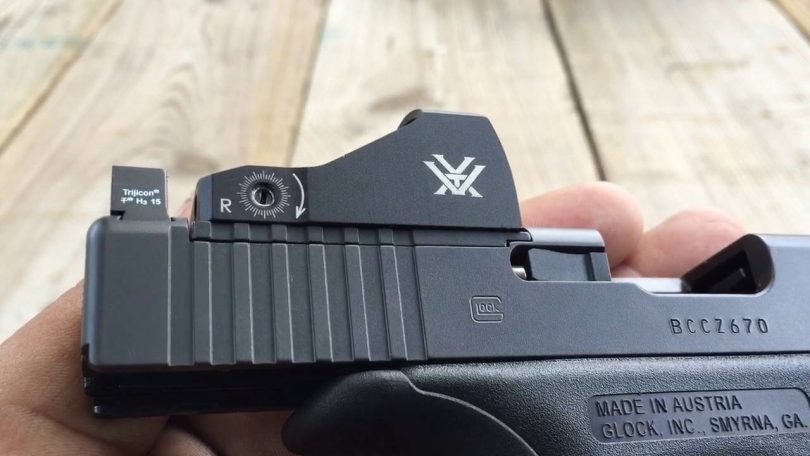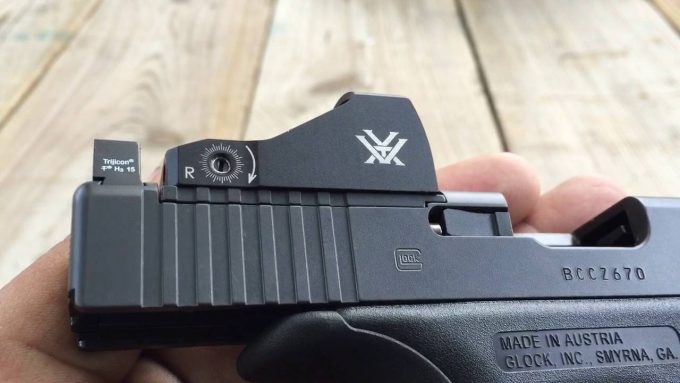 It means you can leave it ON when not in use in case you expect an unwanted visitor. This aspect does not necessarily say that you opt for the 'always ON' option if you want to preserve the battery life for longer.
Changing the CR-2032 battery has been uncomplicated, the door is easy to slide and close. You may not need to check the battery for a couple of years since the long operation hours may serve for a very long time. This quality shows that you're not often going to replace the battery. Especially not with the 6-hour auto-shut off that is meant to keep your battery in check.
Display and resolution
With a 1x magnification of its optics, this red dot sight offers a super wide field of view. It also helps with sharp focus on the target as you can pick them out in any environment.You'll like the fully multi-coated lenses that allow for maximum light transmission. This quality too gives the user an optimum working time as the images will appear crisp and the target can easily be acquired against challenging backgrounds.
It is easy to customize your view with the nine brightness intensity settings. When outdoors are dazzling, just dim the light and see a better contrast between your target and the environment so that you can take a precise shot.The multiple anti-reflective coatings on this device are the best conditions for maximum light transmission. When no light reflects, it means your device can collect the highest levels and transmit it to the reticle for high clarity in low-lit surroundings.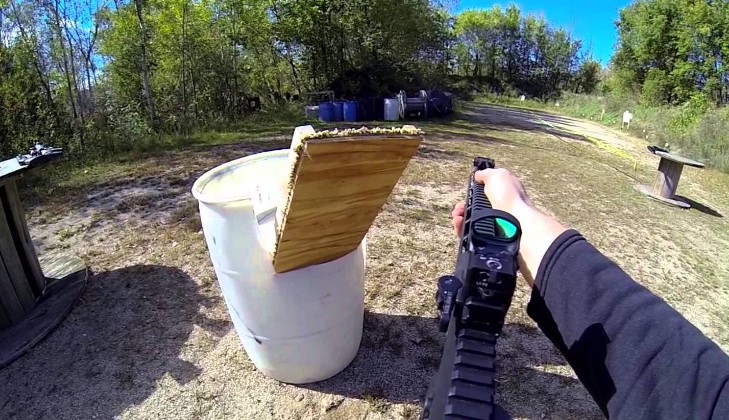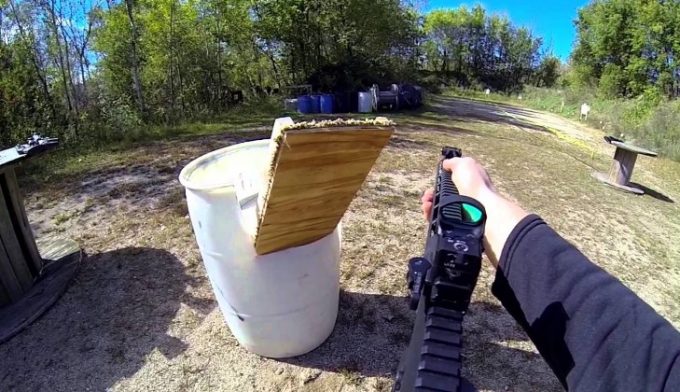 When you look at the lit LED reticle, it gives maximum resolution in the class of HD optics to help the user be on point. One can use both eyes for sighting in, and you'll find that it makes you shoot in a more straight position. You might just grow to be a better shooter with this sight
Accuracy Level
When it comes to the sighting in, it easier to see why we love this red dot sight. The controls are reachable, and you can quickly identify what function goes where. When acquiring your zero, this sight provides 1MOA wrench turns for windage and elevation adjustments.
It doesn't stop there since it allows a maximum adjustment of up to 170MOA for the elevation and 114MOA for the windage. With 3MOA on the reticle, unlimited eye relief, and parallax free optics, sighting and centering the target will show you'll always be in range for an accurate shot.
If you want to take consistent shots, you'll not have a problem with repeatability when using this sight. It can hold because it locks into position and it can withstand heavy recoil from different rifles. You can be sure not to lose your zero, even when you take it apart when cleaning your gun or when you mount it on another gun.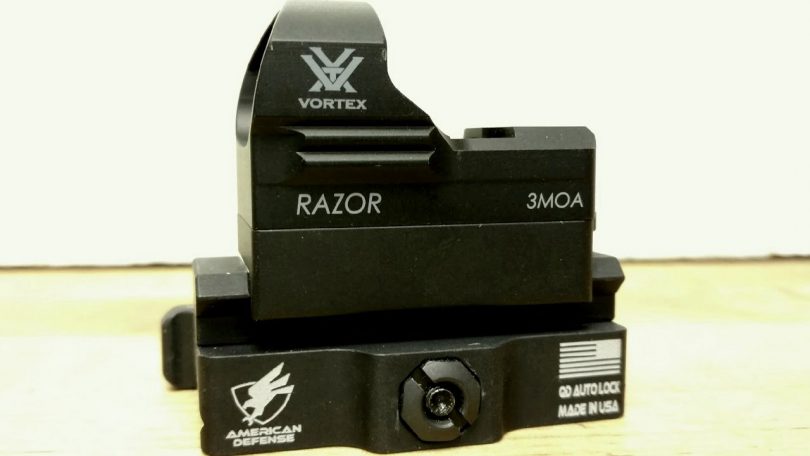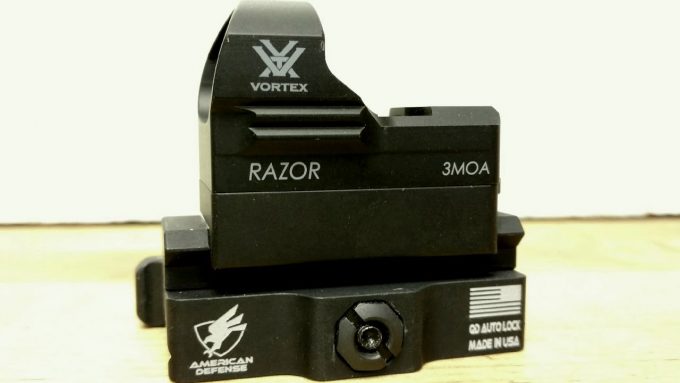 Speaking of the mounting by this rail; it comes with a Picatinny rail which allows you to obtain a low profile on many rifles. This gives it the much-needed balance, and since it comes with a spacer, you can mount it on AR15s for either a full absolute mount or lower 1/3 co-witness.  It also carries the 2.5mm and 1.5mm hex wrenches to aid in locking every nut on the rail.
Value for the Money And Guarantee
The features above represent a comfortable sight to use. It is very light in weight and balances well on many guns. It covers all the qualities that make up a high-quality sight, and as such it finds use in different settings.The military love it and most recreational shooters in hunting and competitive shooting games rely on its accuracy to take the trophy home. Its accuracy beats most sights, and we can say it's the most convenient sight you'll get to use.
Vortex Optics gives a lifetime warranty which is unconditional and VIP. This guarantee stands for a product that truly exceeds our expectations, and it apparently provides the best value for the money. For approx. $400, you can be sure to own the best model that functions at full capacity.However, if you experience defects during work, Vortex takes care of such and also allows for replacement in case the product proves unrepairable.
Main Competitors
Trijicon 2.0MOA 1x25MRO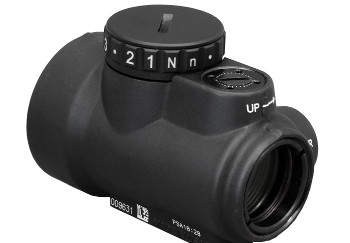 Trijicon 1x25MRO shows close similarities with the Vortex Razor. But even with the similarities, there are distinct features which keep them on parallel lanes. First, it carries no magnification power, so it also provides a very broad field of view, comparable to the Razor.
It has eight brightness settings which are easily adjustable, and it can be used by both right and left-handed persons.  Remember the main sight has nine brightness settings.
However, this sight allows ½ MOA increment settings for windage and elevation adjustments, unlike the Vortex which allows 1MOA wrench turns. It also has a lower maximum MOA at 70MOA for both windage and elevation. Both models can maintain their zero; hence they are capable of active shooting and taking on heavy recoil.
The housing by these two sights sets them on the same level as they all carry aluminum casing. The Trijicon, however, is waterproof up to 100ft, which we cannot compare with the Vortex Razor. This model is a tube design with high light transmission potential, but when compared to the open style, they carry nearly similar light transmission abilities.
Trijicon was built to brace the outside extremities where its main attraction is by carbine, rifles and shotgun users. The optics provide for fast target acquisition on dangerous grounds as it carries improved lens coatings and electronic features. It can mount in different styles for both the Picatinny and Weaver rails.
These two models may both be options for your rifles but the Vortex has higher brightness settings, and the controls are all covered away from unintentional adjustments when in use. For approximately $550, you may find it a bit high on the upscale end.
Vortex Venom Red Dot Sight 3 MOA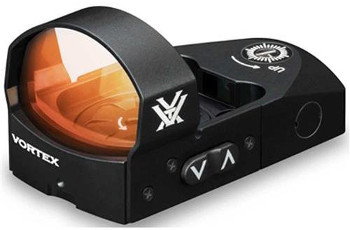 This model presents valuable properties which we may relate to the Vortex Razor but keeps them apart somehow. Both models have 3 MOA on the reticle for better sighting in.
The Vortex Venom Red Dot can also sight in fast because of the 1MOA adjustments of the elevation and windage, but with a maximum of 130MOA windage and 100MOA elevation.
This is in line with its 7.2ounces weight to keep the balance against wind drift and bullet drop before it reaches the target.  The 1.2ounce weight on the Razor means it never adds any significant weight and you'll not need to put so much focus on the acquired zero as it will never shift.
The Vortex Venom also has unlimited relief and is parallax free.  It shows you can fully depend on it even more because of the fully multicoated lens and the long battery life. With 14 hours auto shut off to preserve the battery, it can stay awake for longer.
It has the top load design where all the knobs can be accessed without hassle. With 10 adjustment settings, we can say this is the closest competitor we have for the Vortex Razor. The open design is one that you simply must consider since you don't want to dismount the sight when changing the battery.
This design allows you just to dislodge the battery compartment when you input another. The only complaint though is it does not last as long as the Vortex Razor does.
If you use a pistol, an AR 15 or a handgun, this model will add stability, and it can withstand recoil if you use it on heavier rifles. It also comes with the O-ring seal keeps water and fog away from deteriorating the optics and it also resists scratching through its Armor Tek finish.
It has a robust construction that is lightweight and rugged at the same time. Many consumers are pleased with its convenience, and since it goes for around $250, it is all-around equipment.
Trijicon RMR Adjustable 3.25MOA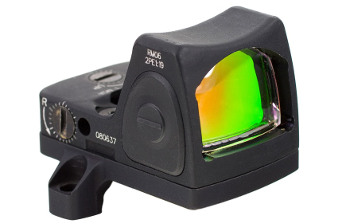 Trijicon presents yet another high-end product which is also pricey, considering that the RMR Adjustable Red Dot Sight one goes for approx. $600. It shows resilience since it is favored on the durability side. It carries a distinct patented housing by its forged 7075-T6 aluminum alloy, aircraft grade housing.
This is probably the strongest model where it reveals virtual anti-breakage levels. It's quite reliable in rugged outdoor environments, and it can take extreme weather comfortably. The aluminum alloy shows it is resistant to rust and corrosion associated with hunting in extreme weather conditions.
It features true color multicoated lenses to which you can relate to the crisp appearance of the images one sees through the eye focus. It's impressive when you have eight brightness settings with easy push buttons which are readily accessible by feeling.
It also carries an automatic brightness mode, 2 Night vision intensity settings and one super bright setting. You can, therefore, customize the way you use this sight, and as such, it can always work for you.
The sighting in of this sight is quite easy with sure 1MOA elevation and windage adjustment on clicks of the turret. It can be fixed on magnified optics to optimize the ability to take long range shots, and you can also switch back to the low power settings when you want to take a close shot.
This versatility makes it adorn different settings. It can also comfortably mount on a handgun and a rifle. With a handgun, it can slide directly, or you can buy a mounting rail or a mounting plate.
When we compare this model with the Vortex Razor, it shows distinct features where you may be at a loss on which one to pick, but if you are working on a budget, Vortex Razor is a better viable option.
Overview
This sight is a 3MOA red dot configuration so you can choose down to 1.0 MOA adjustments. It is a quick, accurate product which serves many different settings.
At first, it was used by the military and then an opportunity presented itself for the recreation lovers in competitive shooting and hunting thrills. Its lightweight design makes many users appreciate its size since it does not add any considerable weight to the type of rifle you'll be carrying.
The housing configuration is an excellent feature because the aluminum casing shows it can comfortably take recoil. You can, therefore, use your gun in a standing or kneeling position because your zero will be preserved. This quality is also important in considering where you are going to be taking your endeavors.
With an O-ring seal, it can go into wetlands and all the foggy environments you want to subject it. It resists scratching on the lenses to give the clearest and high-resolution images it can afford on any little light or bright surrounding.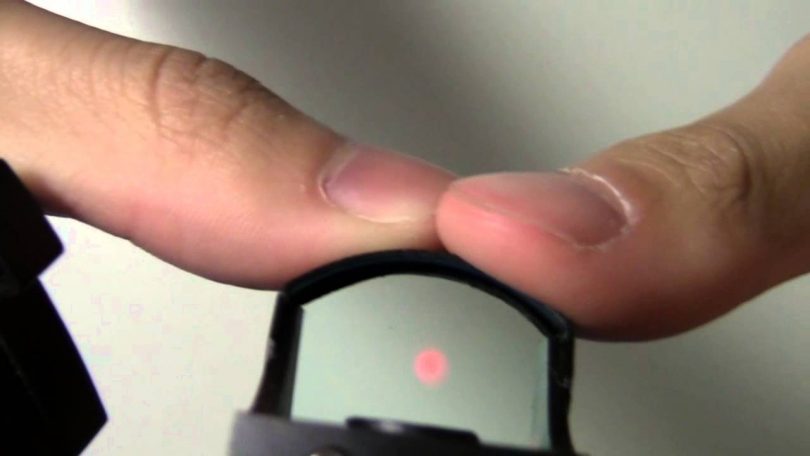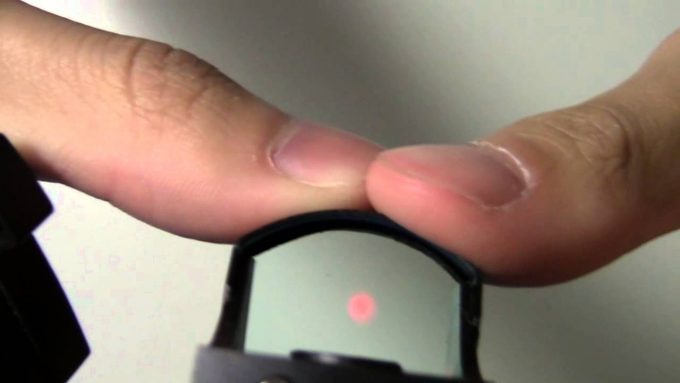 The black matte finish forms another essential factor which is most important when you are in dangerous territory. The more you can camouflage with the immediate surroundings, the better for you. With this sight, it carries multiple anti-reflective coatings to truly mask your presence in plain sight.
Any glare that would be produced when the sun's rays touch the surface is immediately absorbed for light transmission. It shows if you want to venture in the dark, you can still have clear images.
The battery life is very dependable. It can last for years when properly preserved and the 6-hour auto shut off will help in maintaining the battery life. Considering the low price as compared to other sights in its class, this model is worth the value it showcases.
PROS:
Quick accuracy settings
Easy to maneuver controls
Durable aluminum casing
Water and fog proof
Black matte finish makes blending with the environment easier
Ideal for close-mid range shooting
CONS:
It cannot be used with night vision monocular
Isolated complaints of the brightness control buttons jamming
The batteries may run off fast when set to the brightest intensity level
The unlimited warranty serves well to show you are getting a high-quality authenticated product. Vortex Optics, the company behind Razor 3MOA, is a world renowned sports optics company and their vision serves equally to all their accessories. For this sight, the warranty is transferable, and you don't need to worry about the receipt because their records are straight up to a point.
With all the information brought forth in this article, we hope you can tell what to expect from a good red dot sight. It's also important to consider specific features of every sight that comes your as some may require compromising on paramount qualities. This way you can identify the model which fits your budget and performance-wise.
Vortex Razor Red Dot
Packaging

Design and Durability

Battery Life

Display and resolution

Accuracy Level

Value for the Money And Guarantee
Summary
If you are looking for all-around equipment to grace the field completion or are just into deer hunting, you'll want to consider investing in this red dot sight. It showcases resilience and high capability of being outdoors, taking risks with you and delivering great results. Its above average accuracy level is its best attraction because working in dangerous environments calls for the exact precision and this model offers just that. With this red dot sight, you can improve your aim and be better in target shooting.
Most of us have had the chance to use one or all the products listed above. If you have, kindly let us know more about your experience in the comments section.