When it comes to a riflescope, experts advise hunters to go for the best glass they can afford, which is true. But the definition of affordability varies from one individual to another.
Most hunters have a hard time finding a decent scope without having to take a loan or make their pockets cringe. Thankfully, our Redfield Revenge 3-9×42 review shows it seems to provide a better alternative.
Since their inception in the 1960s Redfield scopes have become a reliable companion to most hunters. Their line includes some of the most affordable scopes suitable for several tasks.
Product Specifications
Clear, easy to adjust and accurate
nice field of view at all power levels
accu-range works nicely
adjustment knobs are crisp
With a suggested price of approx. $140-$280, these products range from youth rifles (like 2x-7x-34mm) which are lightweight and ideal for young hunters to big boys like 6x-8x-44mm, a long-range scope designed for seasoned hunters. Revenge 3-9x42mm lies somewhere in the middle making it one of the easily accessible scopes on the market.
This scope is loaded with tons of features found in other scopes that cost twice as much. The lenses are fully multicoated to minimize distortion and transmit much light to ensure the image is sharp. To curb the internal fogging problem, the interior of this scope is filled with nitrogen to remove any traces of air. The overall image quality produced is excellent.
Review
Revenge 3-9×42 is definitely not the best Riflescope considering there are other high-end gadgets out there, but many hunters find it quite sufficient for hunting sprees. At a fair price point, this scope provides better magnification and impressive image quality.
In comparison to most scopes within its price range, you will note that this one manages to put up a good fight. It's pretty lightweight making it one of the easiest scope to mount on a rifle. Like other advanced Redfield scopes, this too spots an Accu-Range Ballistic system that contributes to the great accuracy of this gadget.
Packaging
The scope in question comes in a well-sealed package weighing 1.6 pounds. The package dimensions are 15.2 x 4 x 3.8 inches. Out of the box, Revenge weighs 1 pound and extends to a length of 12.4 inches. The outer surface spots a black matte finish. Besides the black color, some come in a silver finish.
Inside the box, it comes with a manual to make mounting on the rifle a simple task. The guide helps newbies find their way around its functioning. Other accessories you may find within the package include lens covers and pull-up turrets. All the technical specifications like the scope's magnification, eye relief, dimension, and the rest are printed on the box, and the user guides as well.
Design and durability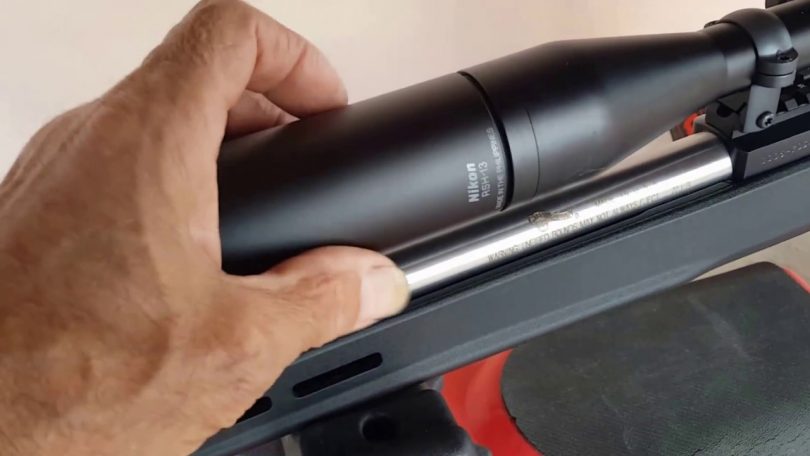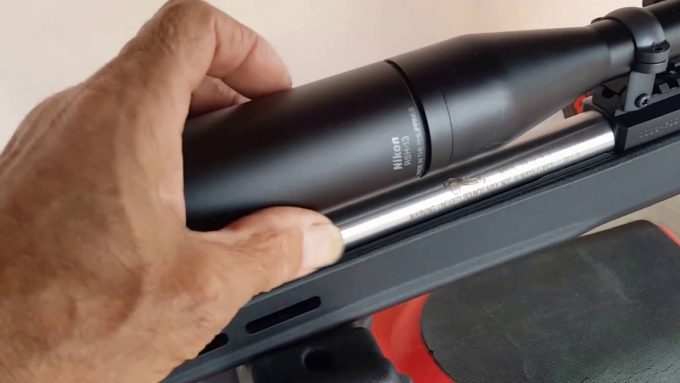 When it comes to looks, this one sports a sleek design with a matte finish on its surface. The muzzle load outline is also classic and attractive. Yes, hunters don't give a damn about looks, but it's good to carry something that looks nice in your hands, right?
Revenge 3-9×42 has good grips, and that means, it is easier to adjust it while wearing gloves in the cold weather. Additionally, the riflescope is waterproof and fog-proof making it a suitable partner in different situations.
Above all, the material makeup of this scope is tough and the lens is lined with a coating that makes them resistant to scratches. Remember, however durable a gadget is, good handling is also pertinent to ensure it lasts long.
Unique Components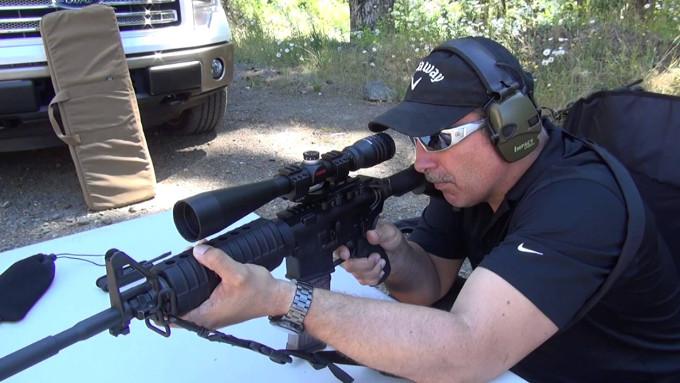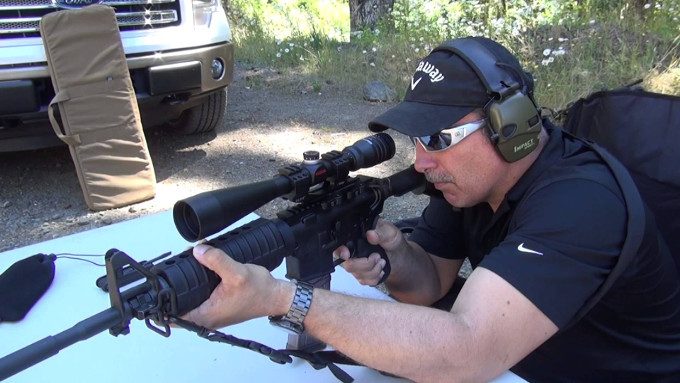 Accu-Ranger reticle
A unique part of it is the optional Accu-Ranger reticle. Unlike traditional reticle, it serves a dual purpose; a rangefinder as well as a bullet-drop compensator. The range finding feature works on a bracketing mechanism where a deer is assumed to measure 16 inches while an Elk 25 inches.
When an animal has been bracketed, the crosshair atop the reticle displays the distance of the target, and the magnification is increased to 9x where the Accu-Ranger reticle is now used as a bullet-drop compensator.
Generous eye relief
Eye relief is an important aspect of a riflescope; particularly for glasses wearers. Even at maximum power, Redfield's generous eye relief gives you the opportunity to see your target fast even during a blast.
Many scopes within Revenge 3x 9x 42 price point sacrifice on the eye relief but this one maintains its advertised measurement of 3.5 inches. Additionally, its glass is one of the best; as good as that of Leupold vx-1-which goes for almost double the price.
Small size
At 12 inches long and a mass of 14 ounces, this scope is small enough to fit on both short and long action rifles with plenty of space remaining.
Multi-coated lens
The ability of a riflescope to capture sharp images cannot be undervalued. Getting a crisp, clear image is one of the tenets of a good scope, and these multicolored lenses ensure as much light as possible has been transmitted for a greater image display.
Value for money and guarantee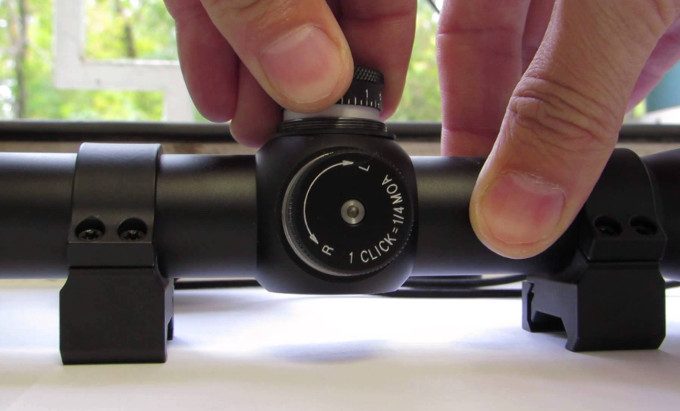 This scope is a great buy for your money. To bring the game into focus, most scopes use a laser beam which actually leads to a price upsurge. But Redfield's bracket mechanism is super effective in bringing the target into focus.Each target has got its appropriate value that when reached gets locked at the center of the scope. The bracket mechanism has made this product quite cheaper.
Redfield's stability is a real money saver. Its outside is made of tough material that resists scratches and other abrasions. The lens too is coated with a hard protective layer to minimize scratches that may mar your scope.
Most of the features you spot in high-end riflescopes have been included in this scope. This is what makes it a favorite amongst many hunters. There is very little about this one that can disappoint.
Redfield Revenge comes with a lifetime warranty. The best part hunters like about this warranty is that they don't have to use it at all. Another excellent part is, the warranty is valid irrespective of who currently owns the product; for other products, the warranty counts if you are the original owner.
If there is anything wrong with the product, the company will fix it in about five days and ship it back to you. The number of days it takes to reach you depends on where you are located.
Competing models
Revenge Riflescope 3-9x42mm 4-Plex reticle
Revenge Riflescope 3-9x42mm is one the few best budget buy scopes you can mount on your rifle. It's similar in many ways to our main product- Matte finish, Accu-Ranger Sabot ML Reticle. Its lens is fully multicoated for the complete clarity of the images. The light transmission is also superb.
For improved precision, 4-Plex reticle Revenge boasts of a fast-focus eyepiece with the excellent ability to acquire and bracket the target with ease. The generous eye relief is something to marvel at too. Like its brother, this scope can be reset to zero without much hassle. Its interior is filled with nitrogen to ensure there is no water or fog accumulation.
When it comes to the general outer construction, 4-Plex reticle seems to outperform Revenge 3-9x42mm Scope because it has a sturdy built that makes it shockproof.
The 4-plex scope has a Rugged Redfield reliability mark. This means the scope can work pretty well in all climates and handle some of the heaviest recoil blasts without inaccuracy issues.
In a nutshell, some of the main features you can spot in this scope are its black matte finish, superior image quality, and that it is fog-proof, waterproof, and shockproof. It also offers generous eye relief and ¼ MOA adjustments.  Finally, as the name implies it has a 4-plex reticle.
So, if you happened to be looking for Revenge 3-9x42mm Scope with a Matte finish but couldn't find it, the 4-Plex scope could be its best replacement. From the features shared above, it's evident the two are almost similar.
Though if you are searching for an optic for your muzzleloader, Accu-ranger Sabot ML is arguably the best. Oh, and just so you know 4-Plex too comes with a lifetime warranty.
Vortex Optics DBK-10015 Diamondback HP 3-12×42 Riflescope
Although it's a different model, from its description, 3-12×42 from Vortex, you can see why it closely competes with Revenge 3-9×42. Vortex Optics DBK-10015 is heavily packed with cool features that can make any hunter go wild. It's what we call the next evolution of the many 3-9×40 that you see plopped on hunters' rifles.
Frankly, Diamondback HP 3-12×42 is a no-nonsense optic. This scope gives you several magnification variables (up to 12x) with a rather clear reticle in a conventional one-inch tube, an adjustable parallax knob that is easy to spot, and turrets that don't need a special tool to adjust.
The extra-low dispersion glass it's equipped with enhanced resolution and color fidelity whereas the multicoated lenses ensure every light that comes in contributes to a great shot. Still, on image enhancement, this scope features a 4x zoom range to provide you with the best level of visual precision. Its interior is coated with a proprietary and anti-reflective coating to ensure proper light transmission.
The Vortex design leaves a lot to be admired. It's been constructed from heavy-duty Aircraft-Grade Aluminum material giving unique strength and rigidity. This is something you can use hand it down to your son to continue the legacy.
This strength and stability contribute to its ability to absorb and withstand recoil and impact blasts efficiently. The scope is waterproof and fog proof. Instead of nitrogen, its interior is filled with argon to purge fog.
When it comes to warranty, Vortex VIP Warranty ensures your product is safe. VIP simply means a Very Important Promise. This means, your scope will be repaired in the event it gets defective.
You don't need to fill out any warranty card, no receipt is required and ultimately, anyone who owns it can forward it for repair or replacement (they can replace it if the item cannot be saved).
Generally, Vortex Diamondback HP 3-12x42mm towers a bit high over Revenge 3-9×42. Each of its aspects is slightly an advancement from what Revenge 3-9×42 spots. However, for these improvements, you will need to part with some extra bucks. Nevertheless, Revenge 3-9×42 is still a good buy when you don't have a lot to throw around.
Nikon M-223 3-12x42mm Riflescope
Nikon is a giant optics corporation with many successful years of sales under its resume. One of their products, Nikon M-223 3-12x42mm Riflescope seems to go back to back with Revenge 3-9×42. Let's see what exactly this scope is made up of.
Nikon M-223 3-12x42mm Scope has everything avid hunters look for. Some of its overarching specifications include a side focus parallax knob, shockproof ability, one-piece main body tube, quick focus eyepiece, four times zoom capability, 4.0 eye-relief, and a clear optical system that transmits almost 95% of light. The interior is filled with nitrogen making it waterproof and fog proof.
One of the most cherished features of this riflescope is its Rapid Action Turret technology. The system allows you to adjust elevation quickly and effortlessly set the crosshairs for any distance you want between 100-600 yards.
All this happens with less than a single rotation of the turret. Like Revenge 3-9×42, this scope can easily be reset to zero by pulling up on the turret and pushing it to set.
M-223's reticle can be adjusted in ¼ MOA increments which makes viewing through the scope an easy task. The solid aircraft-grade aluminum construction of this scope guarantees that it will not shake, but absorb the blast during a shootout. The same material means it will serve for a long time before needing to be replaced or repaired.
Long-range shooters will find their hunting spree quite productive with the Nikon scope offering's 4x zoom. This allows you to bring the game right into focus even if it's 600 yards away.
The picture quality remains quite clear despite the target being almost invisible to the naked eye and moreover, the strategic positioning of the magnification reference numbers (next to the shooting position) adds to the accuracy of this scope.
If you spent your evening hunting or by any chance twilight got you still in the game and you've got Nikon M-223, lucky you. Its optical system has been coated with an ultra-clear layer that transmits 95% of light enabling you to get a clear view of your target even in the wee hours of twilight. Also, the flip-up lens cap keeps your lens dustproof until you are ready to fire.
Obviously, this scope is an exceptional piece that performs well. It's durable, easy to adjust, and can work with any AR-style rifle. Like Vortex Optics DBK above, this product too slightly outperforms Revenge 3-9×42, but you will need to pay a few more bucks for the additional features.
Nevertheless, Redfield's offering is still a good companion if you want something that can work just fine without affecting your bank account.
Overview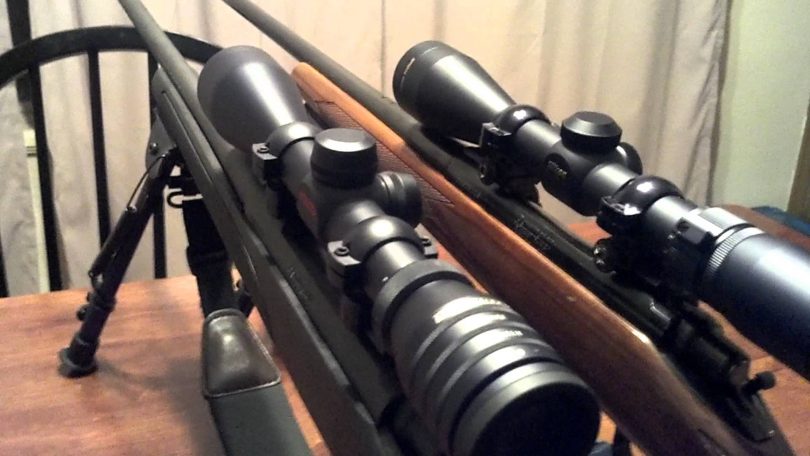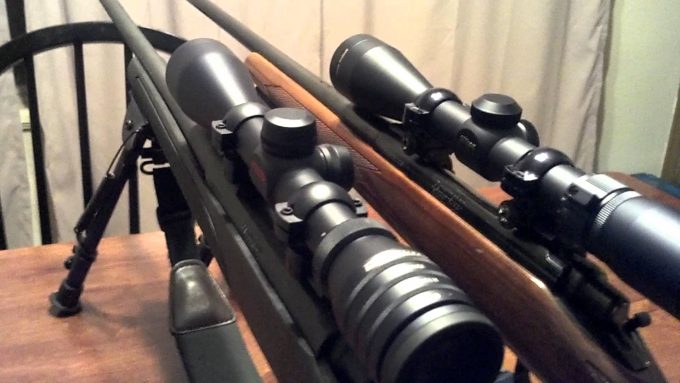 Whether you are an experienced hunter or a wannabe, the Redfield Revenge 3-9×42 is certainly one of the scopes that you've got to try. All the hype you've heard about this product is actually true. It comes at a lower price, yet its features are up there with the superstars on the market.
The general design including aesthetics is good. It's simple to operate and comes with a manual in case you get stuck. Unless you are a long-range hunter, the distance of 100-500 yards it stretches to is still good coverage. Let's have a look at some of the ups and downs of the scope.
PROS:
Generous eye relief
Capped turrets
Crystal clear and bright images
Easy to reset to zero
¼ MOA adjustments
Durable make
CONS:
Doesn't have a sunshade
The maximum coverage 500 yards may not impress long range finders
Hunters have a hard time finding the best riflescope for their rifles since most blogs tend to like or leave positive reviews about everything. Herein, we have reviewed for you one of the best and affordable revenge scopes and its close competitors so you can choose one that best fits your hunting needs. If you are looking for the best bang for your bucks, then Revenge 3-9×42 should definitely be one of your choices.
Redfield Revenge 3-9x42
Packaging

Design and durability

Unique Components

Value for money and guarantee
Summary
Even though this review has provided you with everything there is to know about Revenge 3-9×42, a brief summary is still needed. Since this scope's price lies in the middle, that makes it neither a standard nor premium product. While it's definitely loaded with features found in the premium category, do not expect too much from it.
Nevertheless, if you decide to buy this scope, expect excellent optics, no fogging, easy and repeatable adjustments and a hassle free lifetime warranty. All these reasons should be enough to convince you to give it a try.
Have you ever used it before? If so, let us know your experience with it in the comments section.