Are you a long-range competition archer who struggles to view the target downrange? Perhaps you enjoy rifle hunting and are looking for a compact and fast solution to viewing your prey?
With an accurate scale that measures over long distances, the Nikon Prostaff 5 Laser Rangefinder will guide you in getting the first shot on target.
From security professionals to nature enthusiasts, knowing how far you are from your target is a matter of safety as well as performance. Gone are the days that it is necessary to rely solely on your eyes to estimate distance.
A rangefinder magnifies your vision while combining hawkeye sight with yardstick accuracy.
With powerful optics and accurate scale, the Prostaff 5 rangefinder offers a modern and practical solution to an age-old problem – how far is the viewer from the target?
It is also a joy to use in nature while admiring distant mountain ranges and wildlife and you can safely explore the wilderness and plot your journey without ever having to wonder again how far that forest, mountain, or landmark is.
Product Specifications
Fast and accurate readings

Large ocular lens provides long eye relief, wider field of view

600-yard ranging capability

Unique switchable display option allows you to select mode that contrasts best against your subject and background

Displays in .1 yard increments

Bright, multicoated 6x optics

Palm sized ergonomics
18.3 mm eye relief
We know that finding the perfect rangefinder can be an overwhelming task, but don't worry, that's why we're here. This article will show you how this rangefinder might be perfect for you and your needs. That's why we have compiled the highlights of the Prostaff 5 below as well as its closest competitors so that you know what's on the market today.
Review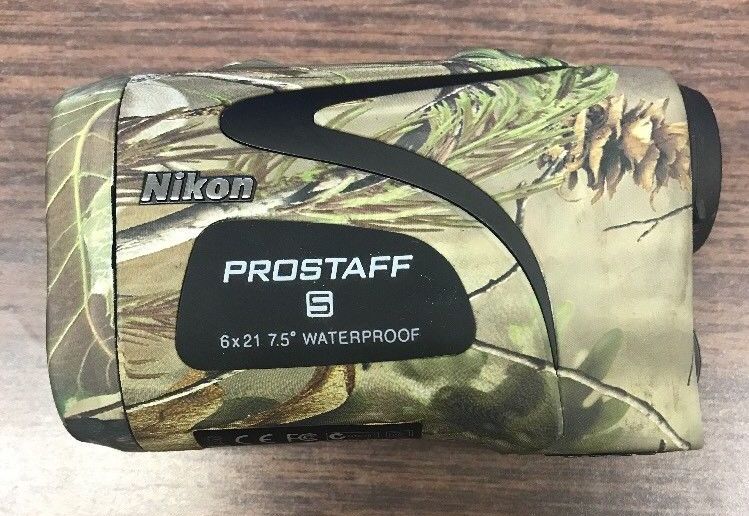 The Nikon Prostaff 5 Laser Rangefinder is part of a new evolution of rangefinders. With this rangefinder in your arsenal, you will never again have to hesitate about the most important variable impacting your performance – distance.
It offers a high degree of control by delivering accurate measurements in .1 yard increments while providing a clear and wide visual field with good eye relief (the distance between your eye and the lens).
What we loved about this rangefinder is that it can even outperform a $1500 rangefinder. Sounds great, right? We think so too. That's because at approximately $230 this powerful and versatile rangefinder offers consistency and affordability some more expensive rangefinders can't.
In order to understand completely why is it so good we checked each of its specifications and feature. Let's start with the packaging first.
Packaging
The rangefinder comes with a pouch, lanyard and instruction manual to help you make the best of its features. The sturdy pouch serves as an extra buffer from the elements and has a secure top to prevent accidental opening. A microfiber cloth would have been a nice addition, though this is easily obtained as an accessory.
The weight without batteries is 6 oz, which is pretty light so it won't destabilize your weapon. The rangefinder comes with a CR2 lithium battery so you can use it right away, which is always convenient.
Design and Durability
The LCD display is very clear and easy to view. There is an LED light you can turn on, so the rangefinder is guaranteed to be readable under any conditions. Both of these features are combined in a way that makes it easy to add contrast, allowing you to better distinguish between your subject and its background.
Depending on your activities, durability may have crossed your mind. As life can be unpredictable enough in familiar environments, the sportsman or vacationer must be especially vigilant in the unfamiliar while up against the elements.
You have probably experienced the effect that rain or even the condensation after holding a water bottle can have on your ability to securely hold an object. The textured surface of the Prostaff 5 is manufactured with Nikon's proprietary rubber-armored coating. Good weather or bad, this durable rubber coating allows for a secure grip that will not wear down over time.
Size
Good things definitely do come in small packages. The dimensions of this unit are 4.4  x 1.6  x 2.8 inches. This is the ideal size for pocket carry or stashing in a backpack. Small but powerful, it can even be worn on a belt so it is always within arms reach for immediate usage.
This version has decreased in size by 10% as compared to previous models. However, with this decrease in size comes an increase in ease of handling. The result is a rangefinder that truly manages to balance size and power well.
We love that this device is comfortable to carry and use all day long in the toughest situations your journey in the wilderness can present. The average 18 mm eyepiece (ocular) will let in lots of light without placing a strain on the eye.
The single button use ensures quick distance measurements. The buttons are very responsive to touch, so you will not have to fidget while toggling through different functions. The large size of the buttons ensures reliable use even with gloves on, a true advantage in the winter when protecting your hands against frostbite is imperative.
The weight without batteries is 6 oz. Lightweight and small while remaining functional, you will never question that you are holding a powerful optical tool. Despite the diminished size, this unit is far from feeling like a toy. The Prostaff 5 offers balance and power in a package that feels like a powerful optical tool.
Optics
This combination of distance and control over scale: 600-yard ranging capability and .1 yard increments respectively, means it performs well in different ranging situations. The high eye relief will benefit people who wear glasses for vision as well as archers and shooters who rely on eye protection.
The high degree of magnification affords the user the ability to enjoy very distant scenery like mountains, glaciers, and wildlife while remaining a safe distance away. The multi-coated lens adds clarity and greatly reduces glare from the sun or other sources of light due to reflection. This allows for a more natural and crystal clear viewing experience.
The glare-resistant optics promote quick and comfortable focusing. Along with the large 18mm eyepiece, 6 x 21 mm multi-coated optics and 11 – 600-yard ranging power, this rangefinder offers the one-two punch of power and clarity.
Weather Resistance
The internal atmosphere of the Prostaff 5 is filled with nitrogen. This feature along with the thick rubber O-rings guarantees a waterproof and fogproof rangefinder under virtually any conditions.
All components are sealed, rendering the rangefinder waterproof and fogproof. That's a more than worthwhile advantage out in the field, and a weight off your mind.
From the wilderness to the golf range, this weather resistance makes it invaluable to the user. Golfers have taken advantage of this weatherproofing, and Nikon tests all their products to ensure the seals live up to their purpose.
Golf equipment is expensive enough as it is, the last thing you should have to worry about is replacing your rangefinder because it got sand from a sand trap or dirt from the field in the optics.
Internally sealed components pair well with the external durable rubber coating. In our experience, the Prostaff 5's coating will not peel or wear over time, a testament to Nikon's history of durability and careful choice of materials.
Value for Money and Guarantee
Nikon stands behind all their products. If anything should happen to the Prostaff 5 rendering it inoperable, the Nikon Repair service which you can contact on their website makes it easy to schedule an appointment so they can restore your rangefinder to factory standards. Guiding you from start to finish, they will provide you with an estimate of repairs and shipping instructions.
The functionality and versatility that the Nikon Prostaff 5 offers make it a serious heavyweight in the rangefinder market. Here are some highlights of what it brings to the range.
Unique Features
The glass in the Prostaff 5 is world-class. The 6 x 21 mm multi-coated large ocular lens is the ideal size and shape to accommodate excellent light transmission. Long eye relief and a wider eye field make it excellent for people with glasses or other eye protection.
A 600-yard ranging capability combined with a variety of display options increase usability. An ability to toggle modes that contrast best against your subject and background provide clarity and increased visibility. The .1 yard adjustments allow for highly accurate ranging.
Single button operation and an anti-slip rubber coating provide extra security to keep the small but powerful Prostaff 5 in hand. Waterproof and fogproof, the Prostaff 5 is an all-weather rangefinder.
Main Competitors
It is wise not to make a decision about which rangefinder is right for you until you have seen all the options available. Below we will review some competitors' options that are comparable to the Nikon Prostaff 5.
Suaoki Digital Laser Rangefinder
The Suaoki Digital Laser Rangefinder was most certainly created with golfers in mind. Featuring an easy-to-read side screen, your eyes can focus on the golf game instead of being glued to the rangefinder. The lens is 21 mm and has a 6x zoom with adjustable focus. The overall product dimensions are 4.17 x 1.54 x 2.87 inches, making it a relatively compact rangefinder.
By offering a 656-yard ranging capability and 6x magnification, you are unlikely to miss any action. You will be able to accurately range the distance of the golf ball and measure your progress over time with the golf-friendly features, allowing you to improve your golf game and impress your friends.
This rangefinder offers many features that are beneficial for the casual and professional golfer alike. With features like a range/flagpole lock and golf distance correction, this rangefinder keeps your head in the game and your eyes on the prize.
The Fog Mode offers excellent ranging in any weather conditions, and the LCD side-screen display is a true blessing while golfing. Because of the powerful optics, laser, and rainproof construction, it is truly amazing for the avid hunter as well.
The Suaoki comes with a carrying case complete with lanyard, making it easily retrievable from the depths of your golf bag. Also included in the box is user manual, wiping cloth, carrying bag and one CR2 3V battery. If anything should go wrong, Suaoki offers a one year warranty on their rangefinders.
If the weather should turn bad, the case also provides an extra barrier from Mother Nature and shock/drops. The case is durable and definitely matches the quality of the rangefinder.
It is our opinion at approximately $105, the Suaoki offers a high value at an affordable price. Besides, this device is similar in appearance to the Bushnell 202442 Rangefinder, which we'll review below.
Both the Suaoki and Prostaff 5 have similar ranging capabilities, with the Suaoki outperforming the Prostaff 5 by 56 yards. If you are a golfer, you will benefit by owning the Suaoki. People who are looking for a rangefinder that excels in a  wide variety of activities (exploring, nature walks) will be happier with the Prostaff 5.
Bushnell The Truth ARC Laser Rangefinder
Great for archers, the Bushnell The Truth ARC Laser Rangefinder determines distance while calculating the angle of your shot (ARC Arc Range Compensation). Accurate from 7 – 199 yards with an optimal "shoots like" distance of 200 yards, it compensates accordingly and ensures your arrow reaches the target with each shot. For line-of-sight readings, it is accurate up to 850 yards.
Featuring a Class 1 laser with <0.5 mW average power output and powered by a 3-Volt CR123 battery (included), this model rangefinder offers an extra degree of accuracy. With quality optics and outstanding HD clarity, your ranging capability will be enhanced from the moment you bring the rangefinder to your eye.
With "ClearShot" technology, the Bushnell's The Truth model will make you a better marksman and hunter. This technology tells the archer if there are any obstacles that will interfere with the path of the arrow, like tree branches or shrubbery. The archer is provided with crucial information in real time and increases the likelihood of a kill shot.
This rangefinder even has a three-step function that allows for calibration of bow speed through the sighting system. After the hunter has properly calibrated the unit and the prey is ranged, a dot is clearly shown to indicate the maximum height your arrow is capable of traveling. Becoming a successful hunter is a difficult journey, a rangefinder that helps calibrate your shot can increase your chances of capturing that elusive prey quickly and effectively.
Bushnell is so confident this will fit your ranging needs, they have offered a 100% money-back guarantee. At approximately $175, this feature-packed rangefinder leaves little to be missed. And you'll love the pairing of the "ClearShot" feature with the laser.
They especially enjoy the simple one-button operation, making it easier for them to hunt with a bow in hand. The presence of user-friendly features and functionality allows the hunter to focus on what is important, tracking the prey.
You'll be surprised at how durable the build quality is. The rainproof construction and textured grip is the perfect marriage of reliability and durability. This rangefinder measures 3.8 x 1.4 x 2.9 inches, a size you'll find to be extremely comfortable.
Compared to the Nikon Prostaff 5, the Bushnell is definitely more geared towards hunters. With a maximum ranging capability of 850 yards, it is certainly more than possible to use for general sightseeing. However, the specialized features like "ClearShot" may prove to be too distracting for the non-hunter, and the high-powered laser would likely not benefit the general user.
Relative to the Prostaff 5's 11 – 600 yard ranging capability, the Bushnell is capable of ranging a much further distance (7 – 850 yards). Deers were best ranged at a distance of 7 – 200 yards and trees at a distance of 7 – 600 yards.
Both of these rangefinders are very durable and weather-proof, so that should not be a deciding factor between the two. Focus on what your primary ranging needs are and the activities you will find yourself partaking in.
Nikon Prostaff 3I Laser Rangefinder
Here is another option for all you hunters out there. Perfect for rifle and bow hunting as well as target practice. With laser-accurate ranging capability, the Nikon Prostaff 3I Laser Rangefinder will keep you right on target.
The Prostaff 3I is capable of ranging from 7 – 650 yards, putting it in a similar range of power with the first rangefinder on the list (the Suaoki). The display is uncluttered and easy to read, allowing the hunter to focus on the task at hand while delivering Nikon's trademark responsiveness and ranging accuracy.
The rugged construction offers resistance from fog and water. The multi-coated optics provide a clear view and protects against light reflection. The result is a powerful and compact rangefinder that you can wear on your belt (pouch purchased separately).
Nikon's advanced "ID Technology" enables high performance, especially when ranging at an incline or decline. The electronic features are powered by one CR2 battery which comes included in the package.
There are two different ranging modes that you can use. The first is called target priority, which is used to range smaller objects. The second is named distant target priority, it measures the furthest object among a group of targets ranged.
In the unlikely event of an accident, like all Nikon Laser rangefinders, the Prostaff 3I is backed by a 2-year minimum warranty. Nikon's website supplies a simple form and instructions for warranty servicing.
The dimensions are 4.4 x 1.4 x 2.8 inches and it weighs 5.6 ounces. The optic system is 6x21mm, this makes it excel at medium-range shooting. Relative to the 18 mm eyepiece of the Prostaff 5, the Prostaff 3I's 21 mm eyepiece captures more light.
Compared to the Prostaff 5 that ranges to 600 yards, the Prostaff 3I is capable of ranging up to 650 yards. Also, the Prostaff 5 is not as specialized in its functions as the Prostaff 3I. If you are looking for a simple rangefinder the Prostaff 5 would be the better choice of the two.
With that in mind, hunting truly is the best use for this rangefinder, as it may not perform extremely well during a golf game. Moreover, at approximately $226 the Prostaff 3I offers a high value for the price. This puts it at the same price point as the Prostaff 5, with the Prostaff 3I offering more specialized features for hunters.
Overview
The Nikon ProStaff 5 is truly a mix of affordability and versatility. It is a no-fuss rangefinder that provides the user with everything they need to range over long distances (600 yards). The single-button operation, textured rubber grip, and fog proof/weather resistant construction make it suitable for hunters and vacationers.
Nikon brings to the table legendary optics and an ability to toggle between modes. By adding contrast, this feature serves to enhance your subject and increase accuracy. The .1 yard increments is a direct reflection of Nikon's commitment to improving ranging accuracy.
The high eye relief makes ranging easier for anyone else that wears glasses or hunters that require eye protection. A clear and wide visual field means you can keep track of the action with crystal clear vision.
PROS:
Small but powerful
600-yard ranging capability
Simple operation, will not confuse you
Single button operation
Works great with gloves
Amazing optics
 CONS:
10% reduction in size compared to previous versions. Might be too small for customers hands
Fewer features/functions than some other rangefinders
The buttons could be more responsive
As you can see, the pros of the Nikon ProStaff 5 far outweigh the cons. In the design, Nikon clearly kept the average consumer in mind. The Nikon ProStaff 5 certainly does not have the specialized sporting and hunting functions of the other rangefinders reviewed.
If you are shopping for a rangefinder that was primarily designed for sports, the Suaoki is right for you. The features discussed make it perfect for the golfer. For hunting, the Nikon Prostaff 3I and Bushnell were made with the archer and shooter in mind.
Nikon ProStaff 5 Laser Rangefinder
Packaging

Design and Durability

Size

Optics

Weather Resistance

Value for Money and Guarantee

Unique Features
Summary
We believe the Prostaff 5 is a common introductory rangefinder for adventurers and sportsmen. The straightforward operation combined with the reliability of Nikon has made it a workhorse of the rangefinder industry. With its affordable price it can surely outperform some more expensive rangefinders.
We have done an in-depth analysis of the Nikon ProStaff 5 laser rangefinder, now it's your turn to choose. Have you chosen your perfect rangefinder yet? Feel free to leave us your comment below. Have great hunting!
Take a look at the following list: