A Thor thermal scope is by far the coolest optical device you can install on a weapon and they have proven themselves again and again as an innovative leader in low light imaging.
Thor thermal scopes feature multiple color pallets, digital reticle, and settings as well as recording capabilities which by means of a special portable digital recorder you can now easily record your hunts to show friends and family. This is helpful in perimeter security, where simply scouting a possible invader is extremely important.
Due to the fact that thermal scopes read and reproduce on display thermal signature of an object, you cannot expect to see all details of the object you are looking at.  You will only see an outline of items which have contrasting temperatures.
Product Specifications
Compact & lightweight design

800 x 600 OLED color display

Digital brightness control

Up to 8 hours operation with three lithium batteries

Made in USA, 30Hz, 17 micron
This makes thermal less practical when dealing with target shooting and when identifying specific features of the target. These thermal scopes are a good choice for higher-end users, from home and perimeter security to hunting and military operations where visibility is low.
If your rifle is equipped with a Thor thermal Vision Rifle Scope you'll be able to accurately take a shot when others cannot. Not only do they offer the flexibility of daytime and night time use, but they also deliver in weather conditions when other optical devices simply fail. Thor Thermal Imager is a perfect choice.
What is good about Thor thermal scope is that they can help you see through heavy fog or smoke. These conditions would render many traditional night vision devices unusable.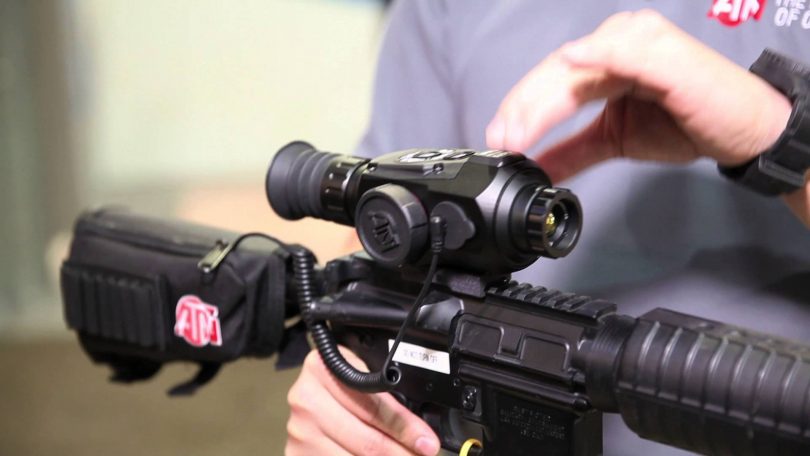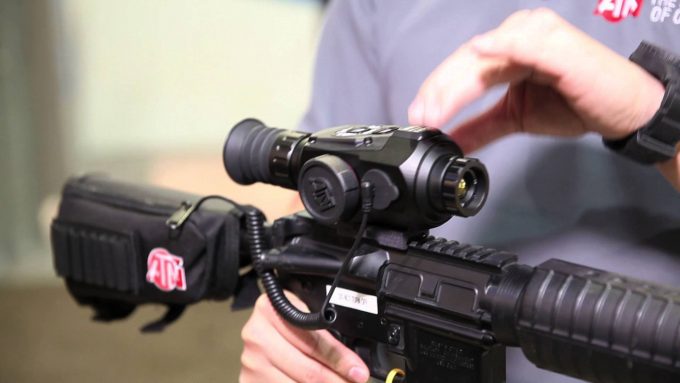 Thermal Imagers will still be able to detect the heat signatures of animals, people or cars, so you'll still be able to get a great view. When picking a thermal rifle scope, it is important to understand what you should be looking for.Key components of high importance are objective lens diameter, resolution and refresh rate of the thermal core, magnification capabilities, reticle patterns and battery life. Keep your home or base totally protected by using a Thor thermal Imager to get a perfect view.
How Does Thermal Imaging Work?
Thermal imaging allows those who utilize it to see the seemingly invisible. Since the majority of objects in the natural world emit heat in one form or another, the scopes capture the differences in heat between the target and its immediate environment.
The focused light ray is examined by a phased array of infrared detector elements. The infrared detector elements generate a full temperature pattern known as a thermogram.The thermogram created by the infrared detector elements is converted into electric signals through thousands of sensors on the array which create a video image. Even in challenging weather conditions or complete darkness, thermal imaging gives users the ability to see the unseen.
Review
The scope is rich with features and options making it the best value of any comparable scope on the market. Once ranged, the scope automatically adjusts the point of impact. No more black reticles on a black and white screen Thor features a color OLED display giving you a sharp color reticle every time.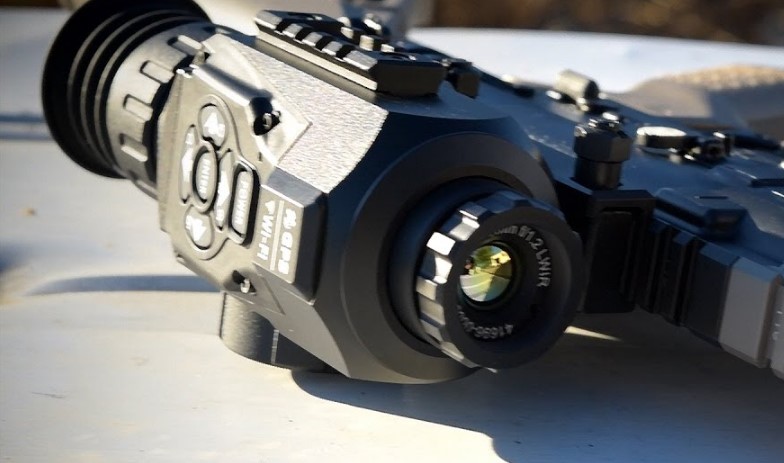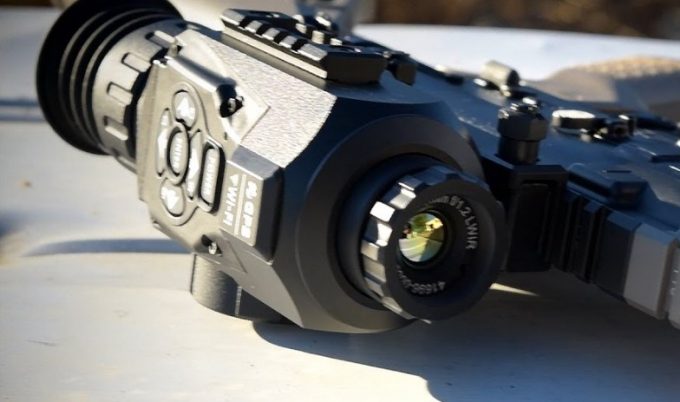 With all digital controls, the Thor will never allow your reticle to move off base.  The Thor has no screws or springs that can create targeting errors. They're ideal for nighttime hunting, force protection, border patrol, police SWAT and special operations.
Packaging
This scope comes at 2 pounds weight and 6.7 x 2.7 x 2.9 inches product dimensions. More power, more features, and lower cost have allowed ATN to make the biggest update to its award-winning thermal product line.
Design and durability
This model is lightweight and small enough to fit in the palm of your hand, yet it's rugged and durable. The waterproof scope housing is built of anodized and aerospace aluminum with a type III hard coat that resists scratching and corrosion.Designed to meet military specifications, the ATN Thor 640 Digital Heat Seeking Riflescope – 5x, 30Hz has been designed to offer you the amazing heat seeking abilities of larger devices, in a small package that fits right on top of your rifle. The Thor thermal scope is built to handle the rigors of the battlefield.
Battery Time
Like many modern devices, thermal rifle scopes require power to function. Up to 8 hours operation with three lithium batteries.The ATN Thor 640 – 5x 640 x 480-Inch Thermal Weapon Scope utilizes Mil-Spec Lenses make the ThOR battleworthy for most any mission, operation, or outdoor activity.
Camera
The thermal Scope HD does everything you once only wished a thermal scope could do, including taking photos and videos directly to your MicroSD card. It runs at a billion cycles per second, running a full suite of sensors and crunching huge files in the blink of an eye.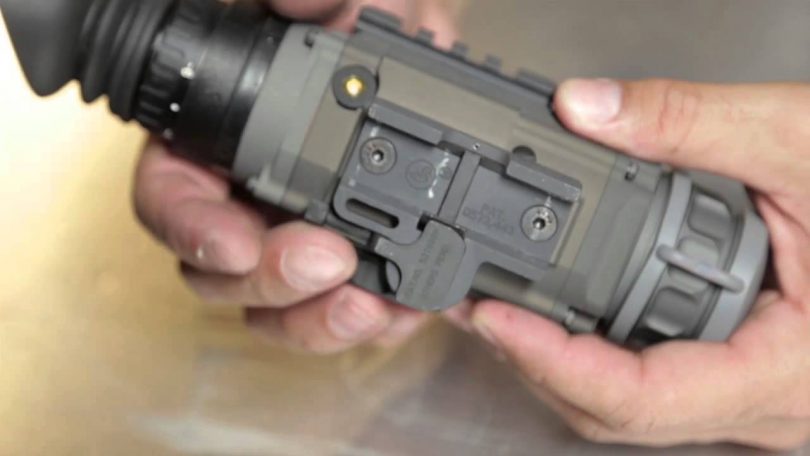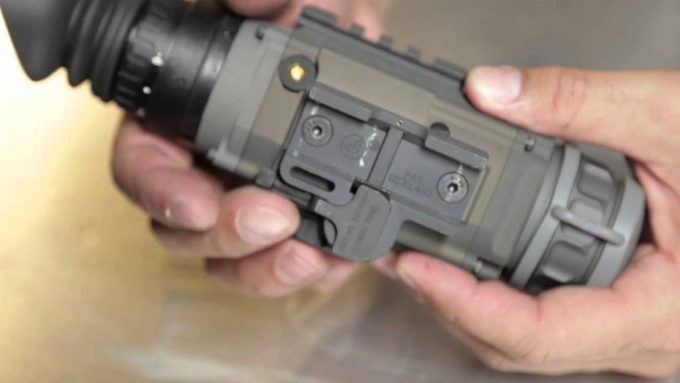 For a better image displayed, this electro-optic has image enhancement tools, including multiple polarity modes and brightness adjustment. The five polarity modes allow the operator to designate white-hot, black-hot, or even transpose the heat signature into a false-color image.
Zoom and resolution
When you're thinking about making a purchase for a scope, definitely take a look at what the scope has to offer for zoom. The ATN Thor 640-5x 640 x 480-Inch Thermal Weapon Scope utilizes digital software to get closer to the target while it resolution offers a crisp and reliable image.
ATN Thor 640-5x 640 x 480-Inch Thermal Weapon Scope is your best bet to purchase and it fits within your scope budget.  The 640×480 microbolometer sits at the core of the Thor imaging system. This scope has 50mK sensitivity, suitable to create well-defined thermal images and distinguishing subtle temperature differences.
Value for money and guarantee
When searching for a great scope, try to keep your budget in mind, but also remember that you might not want to sacrifice functionality for a cheaper scope. The ATN Thor 640-5x Inch Thermal Weapon Scope is the most advanced night vision technology available, dedicated to providing night vision systems at affordable prices.
This is a riflescope that you will use for many years and hopefully, it will bring you success in use, so be sure to balance your need with your wallet intelligently.
Close Competitors
Armasight Zeus 336 3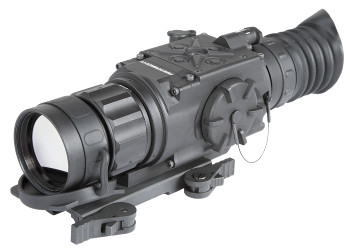 The Armasight Zeus 336 3 – 12 x 42  combines the ergonomic features of a handheld scope with the mounting capacity. This scope is built on the modern FLIR Tau 2VOx microbolometer core.
The Armasight Zeus is uncooled, solid-state, long-wave infrared, magnified dedicated weapon scope purposeful for day and night engagements without you removing the sight from the rifle. While primarily built as a weapon riflescope, the Zeus functions well in its collateral assignments as a magnified handheld thermal imager or spotting riflescope.
The Zeus has a series of selectable color modes based on a rich, upgradeable software package. A wireless remote switch is included to activate this scope.
The offering from Armasight uses High-Performance Thermal Imaging Camera which is an incredible style of night vision technology to use on the field. Its use cannot be detected, as it sends out no visible light or RF energy and operates without the use of illuminators or IR lights.
The Zeus makes use of the same multi-pin connector to deliver both video-in images, where there is a need for rangefinder display overlays or map and external power access. Precision, accuracy, durability, and dependability are the correct words to describe this scope.
Designed with the outdoorsman in mind, the scope is fitted with a well-built ergonomic exterior that is designed to adapt to most environmental terrains. The thermal imaging technology also helps you to detect targets by cutting through snow, smoke, haze, fog, dust and other atmospheric obscurants.
Dual 3V batteries are needed to power this scope and the system can remain fully operational for up to 4 hours. Based on superior price-to-performance value, Zeus Thermal Imaging Weapon Scope represents one of the smartest sighting devices available to SWAT Teams, hunters and the Military on the market today.
ATN ThOR-HD 384 Smart Thermal Scope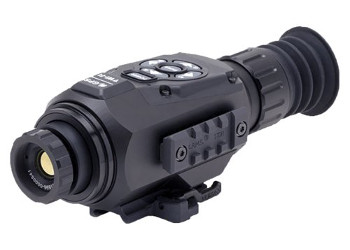 ATN ThOR-HD 384 is an excellent improvement to nearly any shooter's firearm. It offers incredible flexibility and convenience to all hunters. It comes with very useful function; you don't need to waste your time doing things such as memorizing charts, working complex calculations or guessing.
The ATN's Smart Range Finder will do all these for you.  You will be able to take your shot with confidence using the help of Smart Shooting Solutions. If you're seeking top-quality effective riflescope, ATN Thor-HD 384 is the right choice for you.
This scope is carefully designed taking proper account of the interaction between them and the people that use them, the end result of all this is an increased chance of making a perfect shot every time. Included is an E-compass that allows you to know the right direction you need to go in order to maneuver a little closer and get a better shot at the target.
Image Stabilization and built-in Gyroscope which helps steady your view and gives the operator a smooth image that makes it easier than ever to spot targets, a smart rangefinder that uses only two clicks to help get your reticle on target, and a Profile Manager that saves all the ballistic and zeroing-in data. The system is simple to set up on your smartphone and can be customized to fit your shooting needs.
The THOR-HD can capture 1280 x 960 still images or video at 30 fps and saves them to an onboard microSD card slot. A micro-HDMI output lets you display the captured photos or video to a computer or TV for playback and storage.
An easier way to share images is to use the built-in Wi-Fi. A built-in GPS antenna allows geo-tagging your videos or photos so you can map where every image was taken. Once connected to the app via WiFi, open up the Gallery and playback your latest adventures. All your photos and videos are right at your fingertips.
This scope gives up to 8 hours of continuous use, it is easy to recharge and can help you power other devices. This Scope is a great solution for ensuring that you have gotten the best quality tool to take out on your next quest. So, if you are looking for top-notch efficiency that beats all the rest, look no further than ATN Thor-HD 384 Smart Thermal scope.
ATN Thor-HD 640 Smart Thermal Scope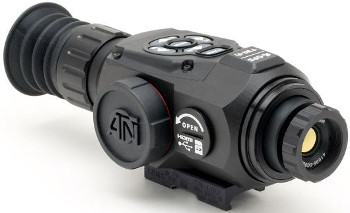 ATN Thor-HD 640 Smart Thermal Riflescope beats at the heart of the system. This scope powered by Obsidian Core has raised the bar like never before, utilizing high-resolution sensor with distinct night vision capability.
The Thor-HD also comes with a profile manager, allowing users to switch the scope from one weapon to another without having to re-sight every time. Turn through the wind, adjust distance, change your incline angle and immediately your point of impact will shift to have the perfect shot every time.
ATN Thor-HD 640 is what you want when you are leading a shot and your target is moving fast. Utilizing the multiple save locations, you can quickly move the REAP-IR from one weapon to another without re-sighting the scope.
The E-Compass let you know exactly what direction you need to head so you can move a little closer and get a better shot at that monster buck you're tracking. Smooth Zoom, built-in WiFi, and Bluetooth are few of the features and sensors packed into these incredible systems.
The gyroscope improves ability to smoothly spot game by activating the built-in gyroscope & image stabilization. It uses enhanced optics, a durable titanium body, and sleek design to separate itself from any other night vision riflescope.
Recoil Activated Video (RAV) makes capturing your experiences in stunning HD a regular part of your adventures with Wi-Fi streaming, gallery and controls GPS for Geo-tagging, elevation, etc. No more missed opportunities for that once in a lifetime moment.
Record videos and take photos to bring your adventures back home to share with friends, family and on social media. ATN Thor-HD 640 Riflescope utilizes Lithium-ion batteries which should last up to 7 hours on a single charge. This scope has all the features you need alongside a premium build quality. Steady your view and make the experience a lot of more fun.
Overview
ATN Thor 640 – 5x 640 x 480-Inch Thermal Weapon Scope is definitely usable, serviceable and overall solid. The best thing is that this scope integrates different technologies to improve its accuracy and boresight retention.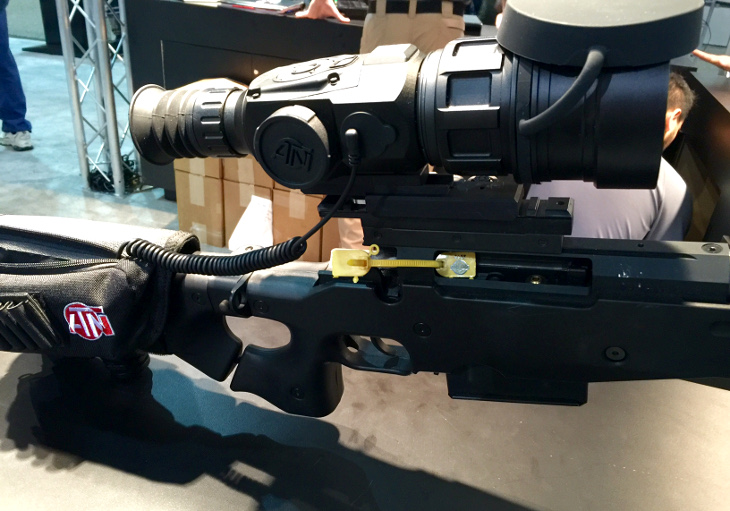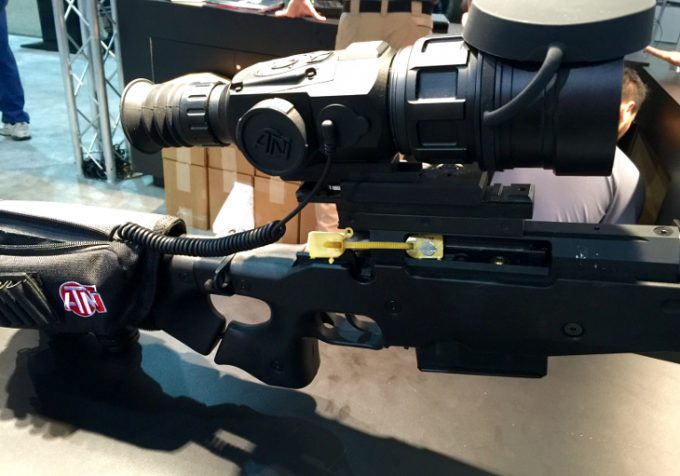 This scope is capable of seeing through dust, fog, darkness and daylight to reveal subjects of interest where the naked eye sees none. This Vision Riflescope is developed to be used for most missions and outdoor activities.
PROS:
It is water resistant and very durable
It produces very clear images
It is a lightweight and compact thermal rifle scope with an easy-to-use interface
It uses quality digital imaging for zooming in on targets and objects
Its use cannot be detected, as it emits no visible light or RF energy and operates without the use of illuminators or IR lights
CONS:
The display size is a bit small
There is a bit of lag in the menu system
It can be pretty complicated to operate
Some users have found the sheer amount of technical options to be confusing
If you are not at the correct eye relief distance and are too far back, you get a bit of fisheye effect
ATN Thor 640-5x 640 x 480-Inch Thermal Weapon Scope is a formidable piece of scope packed with hi-tech features alongside superior optics. However, there are several features that give it an edge over the other systems in the series. With an affordable price, this unit is highly recommended. It worth reasonable and its quality is high, so I suggest you buy this.
Thor Thermal Scope
Packaging

Design and Durability

Battery Time

Camera

Zoom and resolution

Value for money and guarantee
Summary
The best of all is ATN Thor 640-5x 640 x 480-Inch Thermal Weapon Scope which can perform up to 8 hours. It doesn't matter if you are going to hunt all night long; the ATN Thor 640 can provide quality visuals regardless the competitor scope. The microphone that the device comes with enables you to record sound. In addition, the ATN Thor 640-5x 640 x 480-Inch Thermal Weapon Scope makes use of the Vanadium Oxide Microbolometer system of thermal imaging. Therefore, this scope can operate under standard temperatures and does not require consumables. This scope from Thor is also a perfect accessory for reconnaissance, hunting, covert operation, and even search-and-rescue operations.
Please leave a comment down below if you've enjoyed using these products, or you have any suggestion you'd like to share with us. We'd love to hear from you.