Are you in the market for a new riflescope? Buying a new one can be an intimidating job for someone who has not done this before. Even for someone who has bought one before, things change so fast you will be surprised that it will start feeling as if you are a first-time buyer.
This is the reason why you will want to take some time to do your research so that you are totally satisfied with where your money goes when you eventually buy one. In this article, we review the Nightforce NXS 5.5-22×56 Riflescope.
Product Specifications:
There are a number of things you need to consider when you buy a riflescope. The first thing is, of course, the price as it does not matter how good a scope is unless you have the cash to buy it. Many experts will tell you that your riflescope should cost just about half of what your gun cost.
Unfortunately, this old rule of thumb no longer applies to modern machines. So, you will need to set the price you are willing to pay based on the features you are looking for and the highest price you are willing to pay.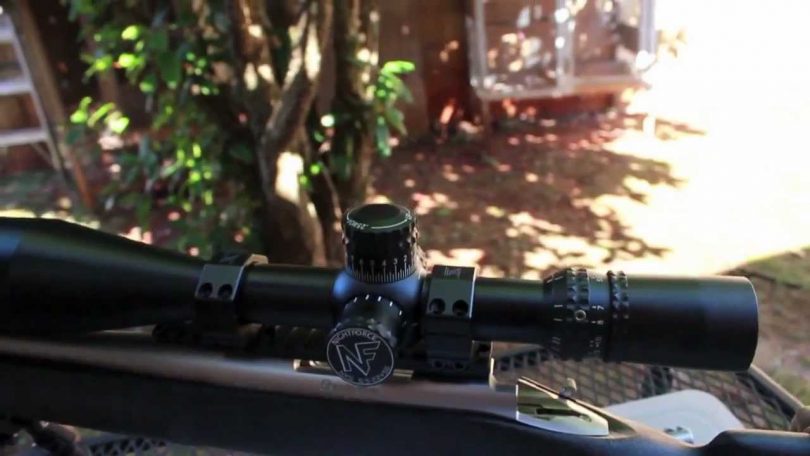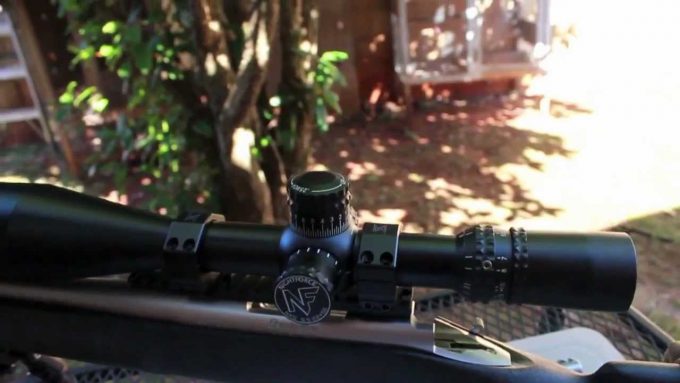 Once you have made the determination on what the price range you are willing to pay is, it is time to look at the specific scope itself. Look at the company that has manufactured the product you want to buy. In most cases, the companies that have been doing this kind of stuff for some time has been perfecting their art over the years.
Objective lens size and the magnification are important but they too depend on what you want to use the scope for. How comfortable your scope will feel also depends on the eye relief. Never underestimate the importance of the glass used to make your scope, it is the difference between the cheap stuff and the really good stuff that gives you value for your money.
Review
Any product that is trusted by the US military has proved itself to be a good product. This is the case with this Nightforce riflescope. Originally, it was designed for the United States of America military.
There are two things that are offered by this device which everyone will like; industry leading long range target shooting and target interdiction. This scope boasts of characteristics that have allowed those who use it to shoot at distances above 2000 yards with accuracy time after time.
Packaging
One of the reasons why this scope comes in the premium price range has to do with the fact that they are well packaged. The scopes come packaged in the distinctive Nightforce boxes made in the shape of a triangle.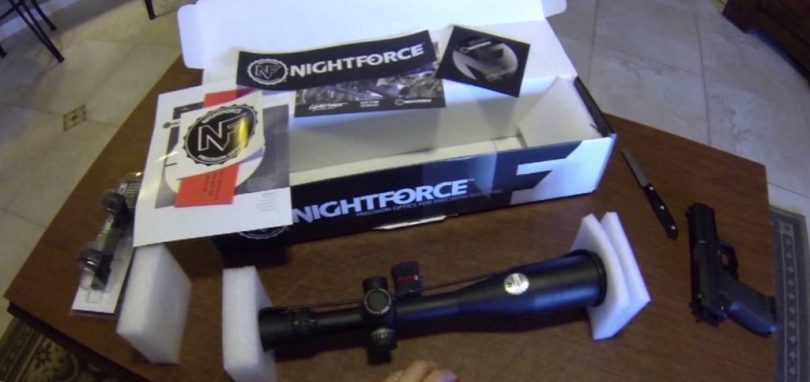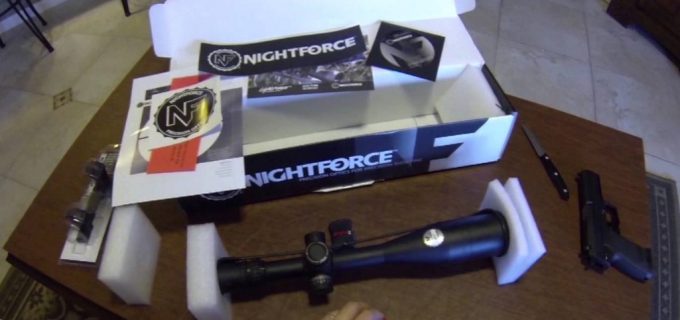 This type of packaging offers the right amount of space so that the scope is well protected. The scope also comes with covers for the lenses.
Design and Durability
The body of the NightForce NXS5.5-22x56mm is made from 6061-T6 aluminum. You need to know that the tube body is manufactured from several layers of aluminum. This is the reason why using this scope in the toughest of conditions presents no challenge.When you compare the body of this scope, you will see that the body is much thicker. The entire riflescope body has a wonderful anodized finish.
When you look at the whole design of the scope you will soon notice that it is equipped with everything you will need from a riflescope that is on the high end of the market.When you look at the overall shape and size of the scope, you will notice that it falls into the category of the large and heavy. However, we need to hasten to say that the scope is not overly large.
As you would know, products manufactured for law enforcement and the military have never been known for being gentle. So, you can expect this particular scope to be both robust and rugged. This makes the need to add some size to the product inevitable.The scope's tube measures 30mm.  According to Nightforce, these tubes are two to three times thicker than other products in the same class.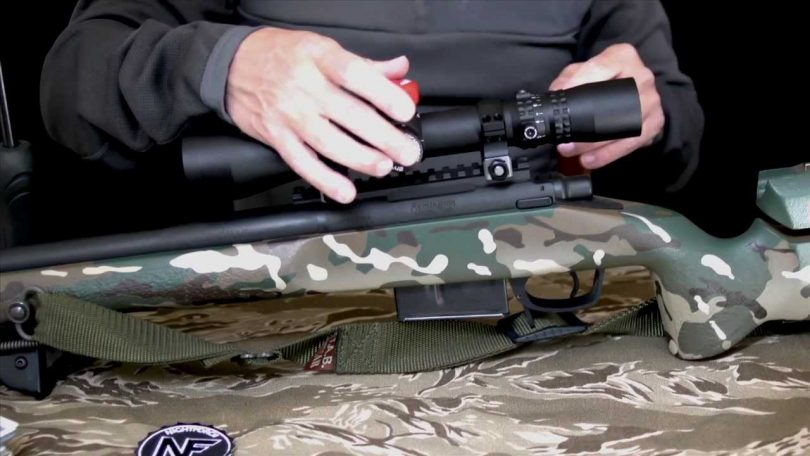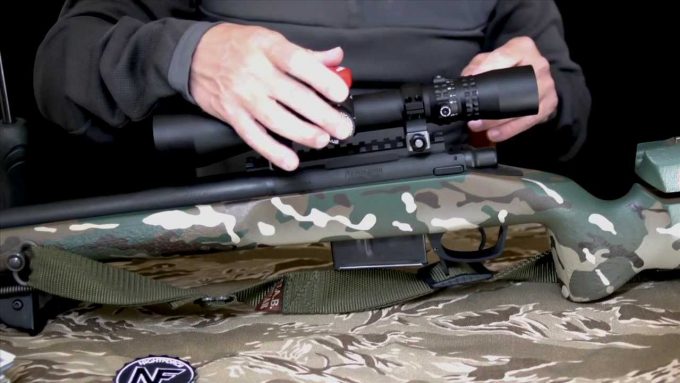 As an indication of the faith the manufacturers have in this product, it comes with a lifetime warranty. Each scope which comes out on the end of the production line has an inspection sticker indicating that it has been inspected by a quality and assurance professional.
Optics
One of the most important aspects of a riflescope has to be the optics. This is what separated the good products from the mediocre. As you would expect from a riflescope in this price range, the optics on the Nightforce can only be described as excellent.This puts them right at the top of the makers of high-end scopes. However, if you experience the scope, you will soon be agreeing with us that these optics are some of the best you will get in the market. They will give you a great service in whatever conditions you are working under.
Mounting
The reason why this scope seems to fit in different rifle mounting systems has to do with its slim profile. Look at this scope and you will understand why it is known as the best advanced optic that has ever been manufactured by Nightforce.It delivers accuracy when you are shooting at targets from long ranges. It also allows you to shot at close range, thanks to its wide magnification factor which comes at 5.5-22.
Knobs
Ask anyone who has ever owned a riflescope about the things they consider when buying one and they will tell you it is the knobs. The knobs are important for adjusting your scope. Look at the Nightforce riflescope and you will realize that the knobs are big and well exposed.The numbers on the scope are also quite large you will not need to strain your eyes trying to read what is written.  Between each click, the gaps are big enough. This ensures that you minimize mistakes when you are adjusting the elevation.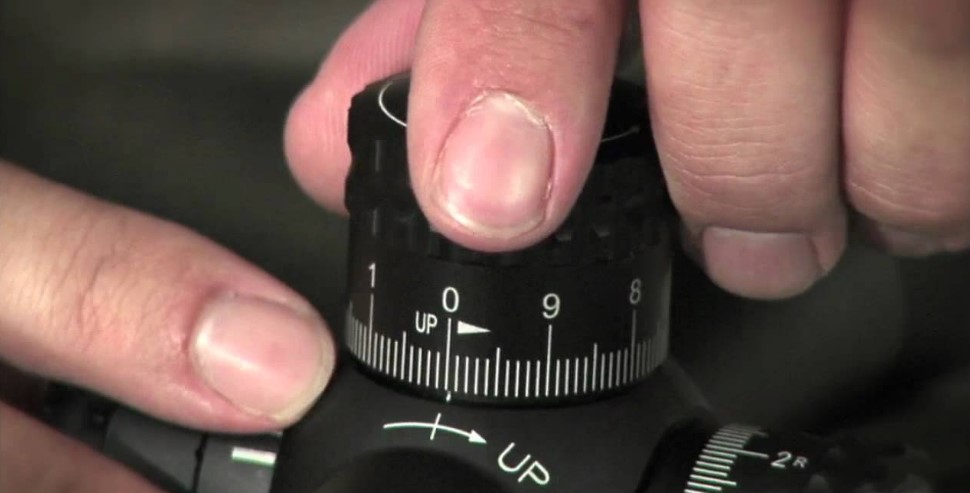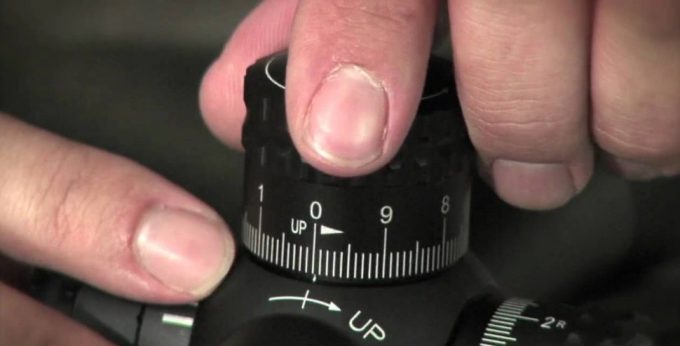 The clicks have been designed to have a good feel so that you can feel them even on that cold day when you need gloves. These clicks are made not to make noise when you are adjusting your scope.
The Zerostop feature allows you to track the position in which you are on the elevation range. This is also the reason why it is easy to get back to the initial point of reference when using this scope. When you have ascertained the range you want and zeroed your scope, the knobs can then be set to zero.
This is how the Zerostop is set. From here it is easy to then fine-tune the elevation down to the point where it stops, this point will be your initial zero. Even though this feature has been popular in a number of riflescopes for some time, it has been perfected and patented at Nightforce.The knob for the windage takes the same shape as the elevation one.
It also comes with the same great clicks we found on the elevation knob. The precise setting is enhanced by the set screws at the top. The windage knob for this particular scope is able to count up in both directions. It was overlapping at 5 MOA.We do not think that this is too big a deal. All you need to do is keep a track of where the windage is set and remember it. There are marks beneath the windage knob to help you track.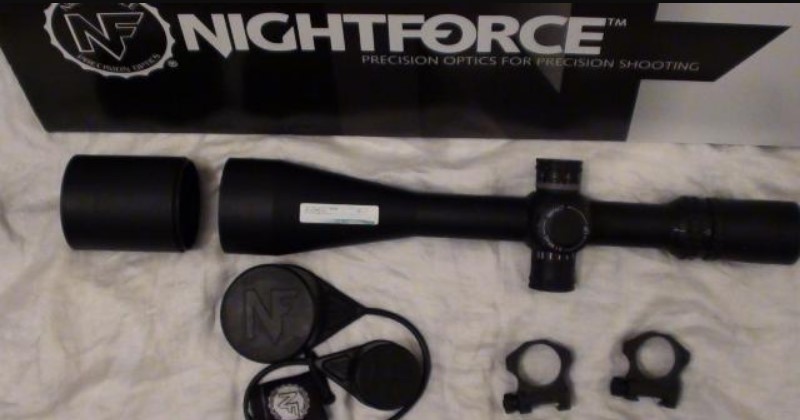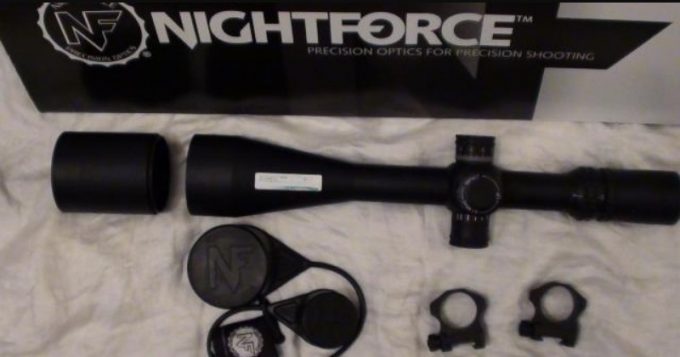 The scope also has a focus knob situated on the left side of the scope. This knob comes a bit longer when you compare it to both the elevation and windage knob. However, it comes with the same shape as the other two. The focus range on the scope is wide and the marks on the knob are quite decent.There are no numbers and the top end has an infinity mark. The focus works quite fine giving you an image with just the right sharpness.
Eye Piece
The eye relief on this scope is quite generous at 4″. This makes it a good one to use with a high power rifle. The scope's eyepiece turns around in an ordinary manner. Once you have the reticle focus adjusted to your eye, you can use a locking ring to keep it in place.Grooves have been provided on the ring so that you have a better grip of the ring while you are tightening it. To get a proper setting on the power selection, there are indicative markings provided in white.
Value for Money and Guarantee
It is fair for someone looking at a product coming in the price range at which the NightForce NXS Riflescope does, to expect to get value out of their investment. The first thing that puts a buyer of this product at ease is the fact that the product is assembled in the United States using parts coming from another country also known for its high standards; Japan.
It is also good to know that you are buying a product manufactured in a place where you know that the conditions under which the workers who made the product work are decent.Your brand new rifle scope will arrive with a user manual and a lifetime warranty card. The product is covered by a lifetime warranty indicative of the faith that the manufacturers have in it.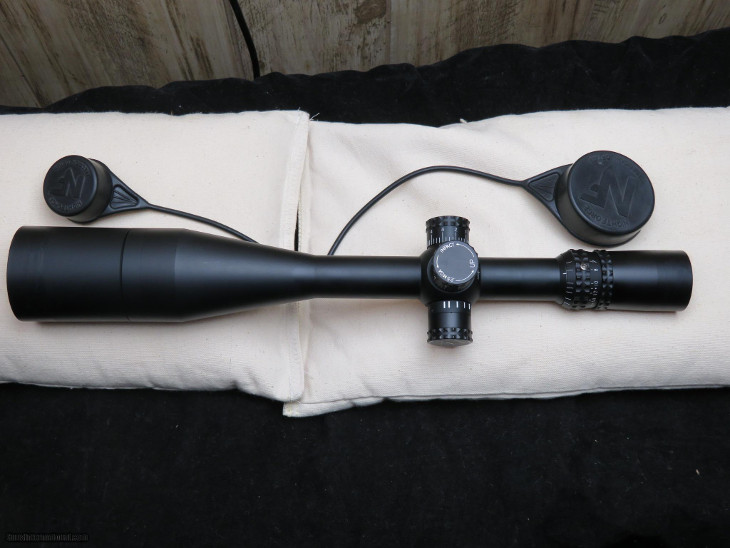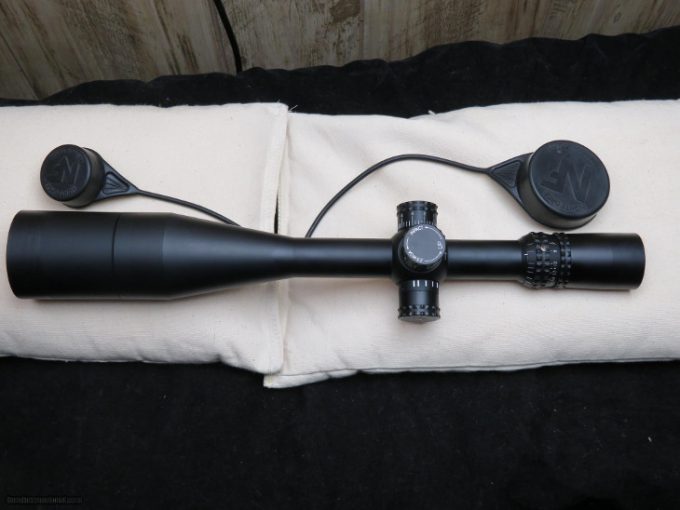 The fact that the company making this product is located inside the United States is an advantage for anyone who needs assistance. Every scope is sold with an inspection sticker which shows that it has gone through testing and quality control.
On the overall, this scope gives you the type of service you can expect from a product on the high end of the market. Once it has been assembled, everything falls into place to give you an excellent optical performance. It compares well to other products within the same class.
This scope has been manufactured with the focus being placed especially on making it durable. The material from which the scope is made such as the thick aluminum tubes and premium glass is inspired by the military for which it was originally made.
Close Competitors
We know that just because we love a product does not mean that you too do. This is the reason why we looked around in the market to see what other products we could compare the Nightforce NXS with. As we have already indicated, spending a big amount of money, like you will for this scope, should be done with diligence.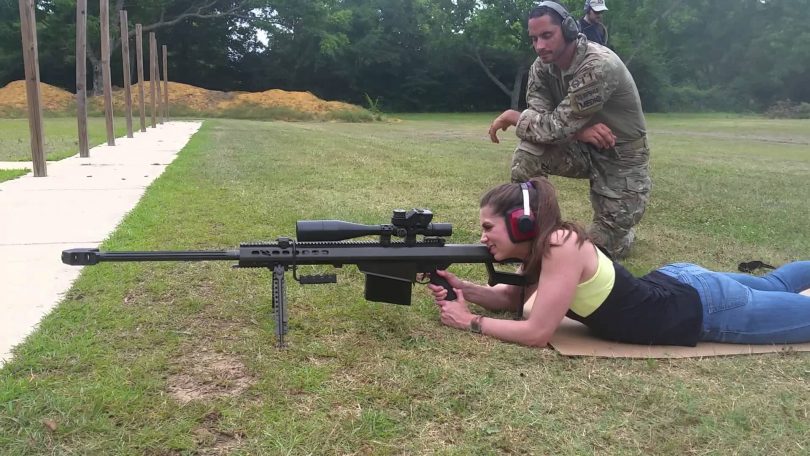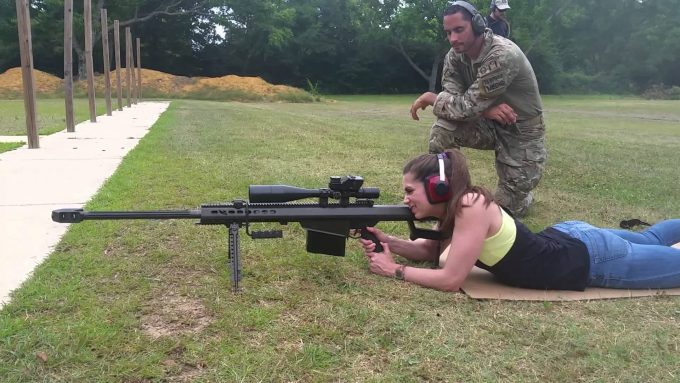 It is important to ensure that you are not buying under any form of pressure. This means that you should invest a sufficient amount of time to research.
US Optics LR-17 Mil GAP FFP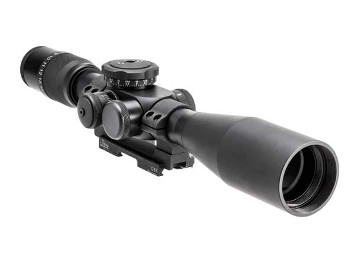 The US Optics LR-17 Illuminated Reticle Rifle Scope comes within the same price range as the NightForce NXS. It is equipped with a number of features you can expect from a product coming from this price range such as the Erector Repositioning Elevation Knob (EREK) which the people at U.S. Optics have patented.
Each elevation comes with a total of 110 clicks of fine-tuning for each revolution. It is designed to deliver exceptional light transmission and resolution which results in clear images.
The US Optics LR-17 Rifle Scope weighs 2.1 pounds once it is outside its packaging. In low light conditions, you will be glad to know that the scope comes with an illuminating reticle that moves over 12 positions. The body is made from a bulletproof material with a 30mm tube.
The aluminum from which the body is manufactured is aircraft grade. This ensures that the device will not only last you a long time, it will also work well whether you are in easy or harsh conditions.
Your brand new scope will require a single Lithium battery which comes included in the package. Like other good optical instruments, it is manufactured from the premium glass; the reason why it delivers an image with high resolution and clarity.
It is equipped with digital illumination. The product is made in the United States of America so you can expect it to come with the workmanship we have all come to expect from products made in America. You also buy with a peace of mind coming from the fact that you know the people who made the product work under decent conditions.
Vortex Razor HD Gen II 4.5-27x56mm Riflescope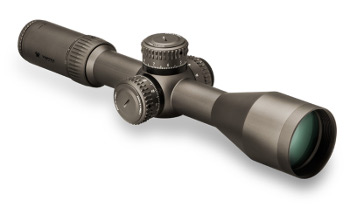 Just in case the two above have not impressed you enough, you can check out the Vortex Razor HD Gen II Riflescope. Compared to the other two we have reviewed above, this one comes at a price which is even steeper.
It would be suitable for someone who is looking for value and has the money to pay for it. It has a tube diameter measuring 34mm and it is also equipped with a fast focus eyepiece.
Like all good products in the premium range, the Vortex Razor HD Gen II comes with a lens that is fully multicoated. The scope can be described as an excellent product that comes with unparalleled accuracy. If you have the right rifle, you can reach up to 1500 yards. This is one product which shows that indeed your get what you pay for.
We like the Vortex Razor HD Gen II scope because it is manufactured by an industry leader in this kind of space; Vortex. If there is better glass than that which is on this product, then we haven't seen it yet.
As you would expect from a product in this price range, it is made from durable materials. So, you can take it wherever you want, under whatever conditions.
Nightforce Optics 5-25×56 ATACR Series Riflescope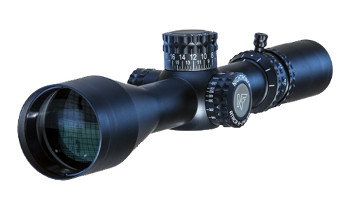 If you still want a product from Nightforce and you have a deep pocket, then you may also want to look at the  Nightforce Optics ATACR Series Riflescope. The manufacturers of this product are working with the aim of redefining long range.
As we have come to expect from Nightforce, this scope comes equipped with ZeroStop and Hi-Speed adjustments. The windage and parallax are all capped. The eyepiece is engraved and the multi-coated glass delivers 90% light transmission.
Like other good products in the premium range, the Nightforce Optics ATACR Series Riflescope comes with a wide field of view. The machine weights 3.6 pounds.
Overview
Even though NightForce is still relatively new when it comes to making optical instruments, this particular riflescope is an indication that it has come to turn the market around and give the established companies a run for their money.According to their website, they are driven by an aim to produce the finest rifle scopes in the world. If this product is an example of what they want to do, then they are certainly living up to that promise.
This is a product that is found on the upper price range. As you may well suspect, when a company sells something at this price range, they know that they have made a product that will withstand scrutiny. And withstand scrutiny this rifle scope does.The aircraft aluminum grade from which the scope is made makes it durable enough to last you through the years while withstanding rough conditions. The multicoated glass puts the scope ahead of its competition.
We like this product because it is assembled in the United States. We know that most of the parts are made in Japan but we have already indicated that we think that Japan is a great place to manufacture products from.It is always great to buy a product made in the US because we know that the workers in the factories where these products are made work under decent conditions.
We always like to end our review by attempting an objective look at the product. This involves identifying the pros and cons.
PROS:
Made to the standards of the United States of America
Made to military standards
Delivers a clear image, thanks to quality optics
Looks great
CONS:
It is slightly heavy due to the multi layers of aluminum making the body
Expensive, but you certainly get what you are paying for
No one can pretend that this scope is priced cheap but what we know is that it offers value for your money. If you look at the other scopes in the same price range, you will notice that they offer less value. It may not be a perfect product because nothing is but the fact that it has been trusted by the US Army is a testament to what it can do.
It is well built and delivers great precision. Nightforce certainly wants to shake the optical industry and redefine what a good product should look like.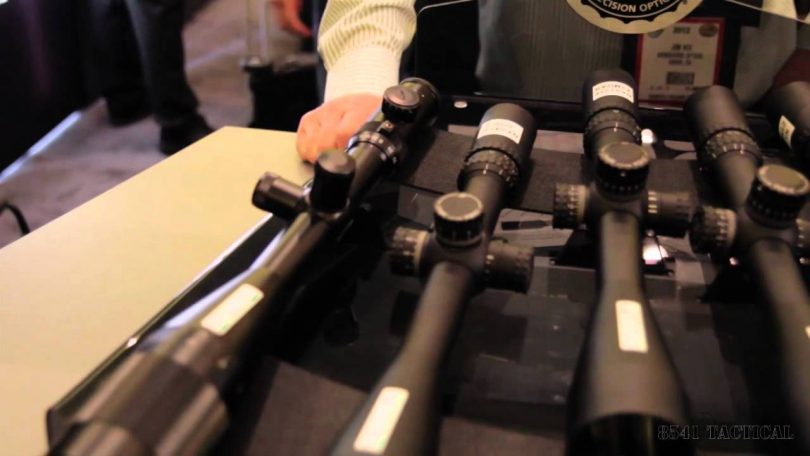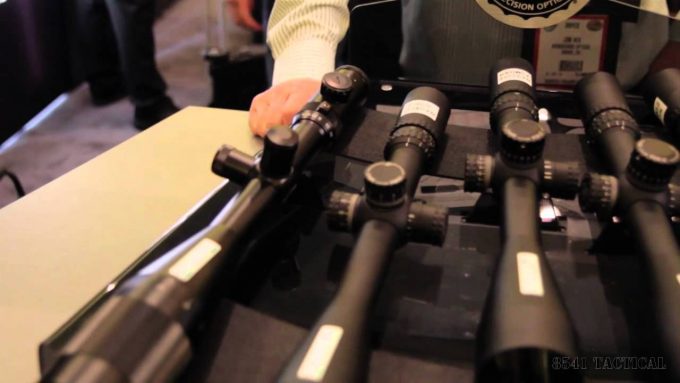 One of the reasons why you will love this scope is that it is assembled by the United States based company. So, you can be assured that it meets the standards you can expect from products manufactured in the US. The glass is sourced from Japan, another great country when it comes to quality.
As we have already indicated, we believe that the glass from which your riflescope is made is where all the difference lies. There are other parts such as the bench rest that are also manufactured in Japan. There are great optical companies in Japan and NightForce targets these when they source for the parts used to manufacture this scope.
The review we have just done is our opinion based on our research into the product. It would be nice to know what you think. If you have used the product before and think we left something out, we will be glad if you could leave us a comment.
NightForce NXS5.5-22x56mm
Packaging

Design and Durability

Optics

Mounting

Knobs

Eye Piece

Value for Money and Guarantee
Summary
A high premium scope that offers real value. May not be made by one of the famous manufacturers but made from aircraft grade aluminum. A scope manufactured to be durable and suitable for different conditions. It is made from high premium glass expected from products in this price range. Durable enough to be used by the US military offering multicoated glass which ensures it delivers a clear image. Suitable for ranges of up to 1500 yards while also being suitable for short range shooting. Great for hunting and target shooting.
If you know someone who would benefit from a product such as this one, why don't you share it with them? They will thank you and you can then thank us later.