Getting a scope suitable for every weather and environmental condition and at the same time providing you with the desired accurate result in every hunting situation is of utmost importance to every hunter and lover of long-range shooting.
One might be tempted to think that it will cost a fortune to possess such equipment especially in this period of economic hardship, where everybody is trying to save some bucks, wear a smile on that face, the Nikon PROSTAFF 5 BDC Riflescope is just for you
Nikon PROSTAFF 5 is packaged with several technology upgrades like the mid-level magnification and elevation adjustments that incorporate spring-loaded which makes it an excellent choice for even the most demanding Hunters. It features a bright new visual system with a quick-focus, 4X zoom ratio.
Product Specifications
Features Nikon's patented BDC reticle with see-through ballistic circles for superior long-range shooting

Adjustments are made easy with Spring-Loaded Instant Zero-Reset Turrets

Made with Nikon's fully multicoated optics for maximum brightness and light transmission

A quick focus eyepiece allows the shooter to instantly bring the reticle into focus

Optimized for use with Nikon's Spot On Ballistic Match Technology
It is very simple to use the scope, because of the quick smooth adjustable spring-loaded knob for a very clear sight on the target and makes it very easy to reset to zero to re-engage. Hand-turn 1/4 M.O.A.: you can hear and feel the clicks, it gets you to zero swiftly and still maintains the initial settings, making adjustments while in a shooting position easy.
Let us have quick look at the detailed information about this scope.
Review
The Nikon PROSTAFF 5 is the ideal scope for long-range shooting. It is made efficient for use along with the Nikon Spot-On Ballistic Match Technology to get rid of guesswork in figuring out different elevations and in BDC (Bullet Drop Compensation).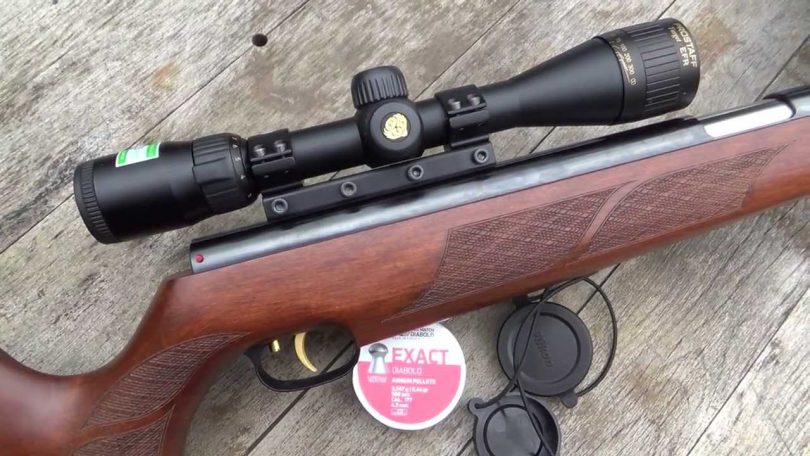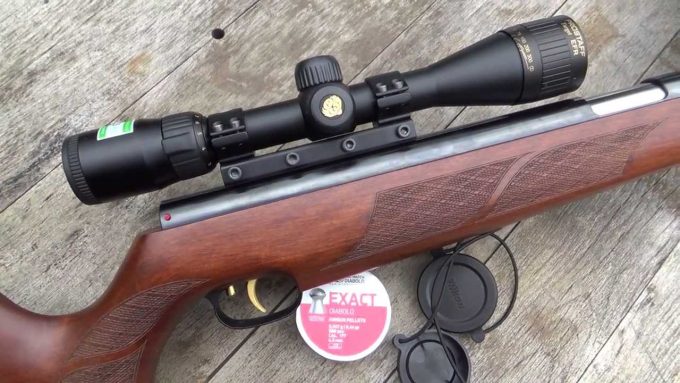 Most people with a better understanding of the importance of excellent visuals in scopes desired these features.  We shall analyze the key specifications below, which should be sufficient to guide you in making the right decision to go for the product.
Packaging
Proper enclosure for protecting the products for distribution or for shipping something out is essential whenever you make an order for riflescope online and receive the product in a good condition. The riflescope always comes in a sealed box.
The content of the box will be indicated on the box and the guideline of how the box may be unsealed will be written on it. The interior of the box is lined to prevent the movement of the scope to avoid any damage. Nitrogen will be packed inside the box alongside the device, so as to ensure absorption of moisture.
Design and Durability
The design is so tremendous and has been made with utmost accuracy in addition to crafty. At the very first glance at the product, you will in reality be aware of the incredible artistry and finishing endeared to the scope.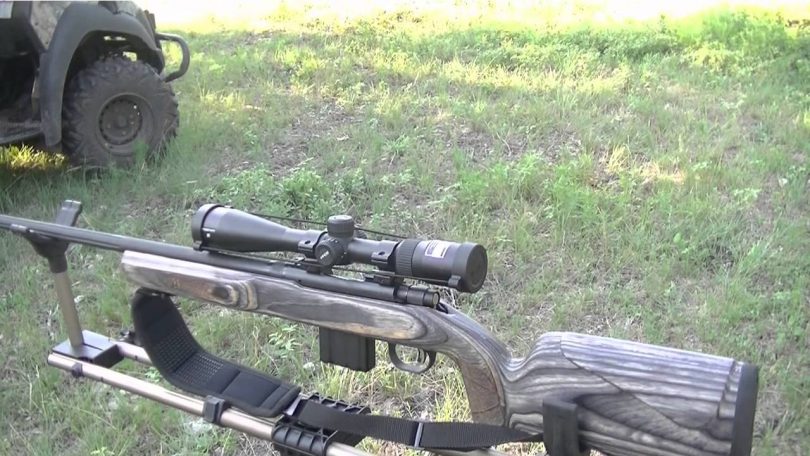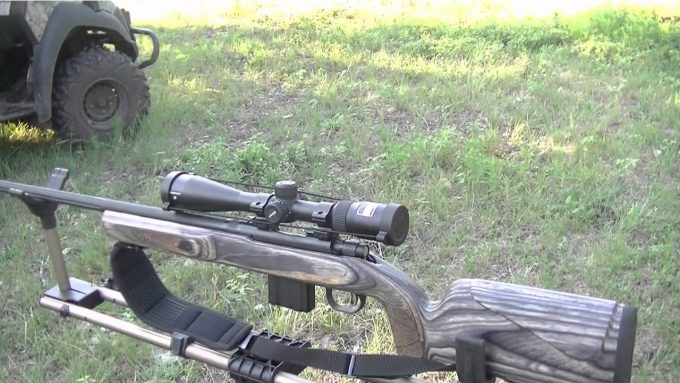 The tool in all fairness smooth to handle. The product has been manufactured with extraordinary substances that have passed the standard test, which gives assurance of its ability to stand the test of time. The eyepiece makes it easy for the user to instantly bring the reticle into focus with its excellent grip and zoom rings. The Nikon PROSTAFF 5 has all necessary features fitting neatly in its compact body with a weight of 1.1 pounds.
Those capabilities make certain that the scope does not make your rifle unnecessarily heavy, and thus end up not convenient to handle. Specific individuals will always have exclusive tastes so therefore, it is also available in order colors.
Consistent with your personal desire or maybe your rifle or shotgun's color, you get to select what virtually works for you. Similarly, all PROSTAFF 5 riflescopes are evolved with fully multi-coated lenses you could rest confident that you'll no longer strife underneath low mild conditions or in dense forest.
It has a length of 34.54 cm and a weight of 1.075 Ibs with an objective diameter of 40 mm. It can be zoomed up to 3.5x and 14x with a tube diameter of 1″ (25.4 mm). The exit pupil gives 2.8 mm at 14X and 11.4 mm at 3.5X magnification.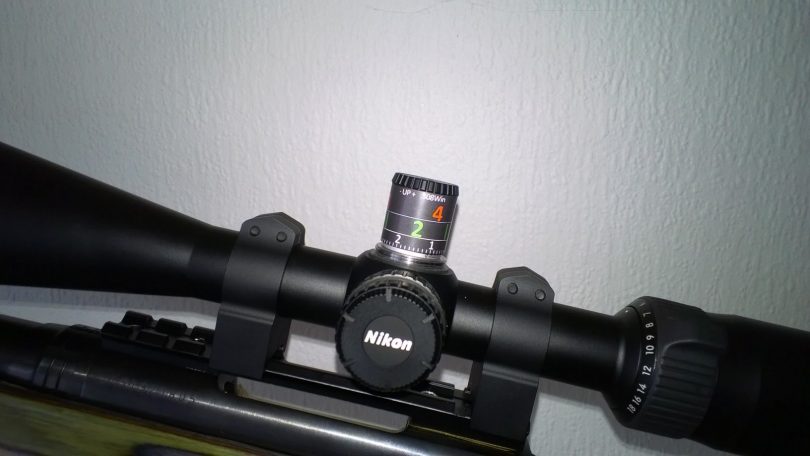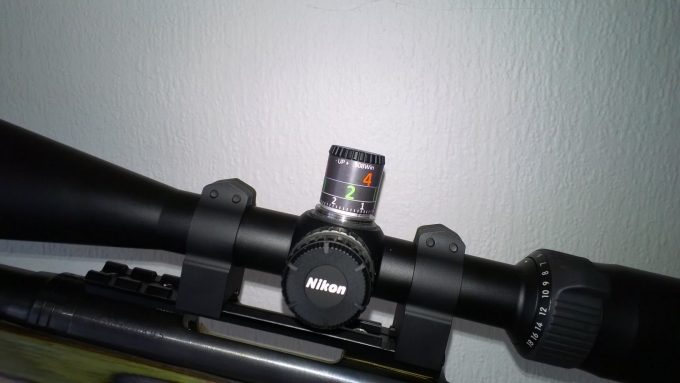 Also, the adjustment range for the elevation is around 74 M.O.A. while for the windage, it is 73 M.O.A. Hand turn adjustment of 1/4 M.O.A. You can make an adjustment for parallax from 50-yard to infinity. You are safe from recoil because the scope is designed with an eye relief of 10.16 cm.
Unique Features
The finish is designed with remarkable low-density metal and it has the ability to resist corrosion, which means it is environmentally friendly and can withstand any weather condition. Therefore, the aluminum finish makes it a waterproof, fog proof, and also shockproof scope.
This scope stands out with the multi-coated optics setup that allows an excellent vision in most hunting situations or shooting conditions. This makes light transport via the lens quite well. It even works in instances wherein there may be a very low intensity of light to operate with. With this, you are assured of finding your target at a decent degree of accuracy.
The lens is likewise cautiously unraveled to create a sharp picture on every occasion. It is not too difficult to maintain, albeit like with other lenses, it facilitates to be gentle so that you don't position yourself prone to harming it.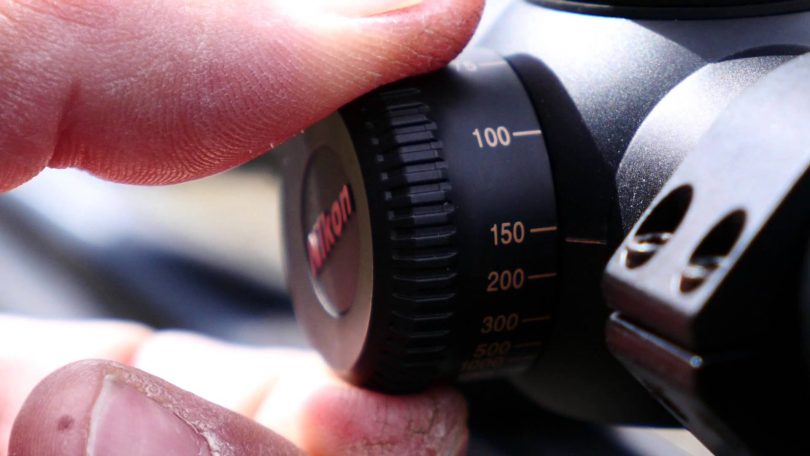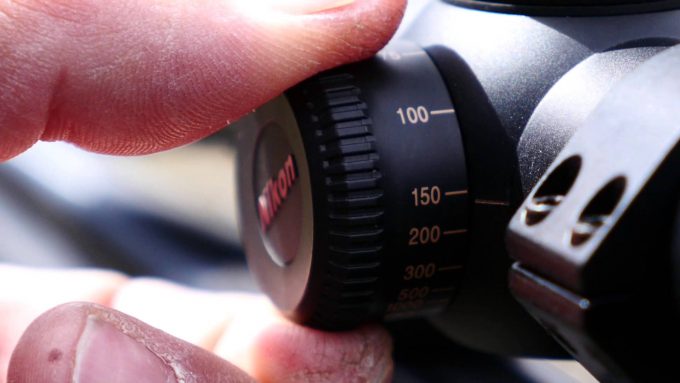 The optics are also circumspectly prepared with a tremendous spot that is very smooth to use. The lens is designed to be very easy to handle without being too hard or difficult to use.
A Strong Reticle
The reticle on this riflescope is an essential part of what makes it unique. The BDC reticle makes use of a sequence of tiny see-through circles inside the center location. These assist you to point the rifle and to get a clear view of something that is a far distance from you.
The reticle works with the Spot on Ballistic Match Technology produced by Nikon to aid a proper aiming point at different yardages. Consequently, you could get a distinct idea of the way elevation and potential bullet drop factors can make a distinction for your shot.
The reticle is attentively categorized and designed that will help to determine the level of your shots. It has to be used cautiously for the quality feasible shot but whilst prepared carefully, it has to now not be too difficult for it to work. It will make a distinction as you're aiming to get the best shot no matter wherein you are going with it.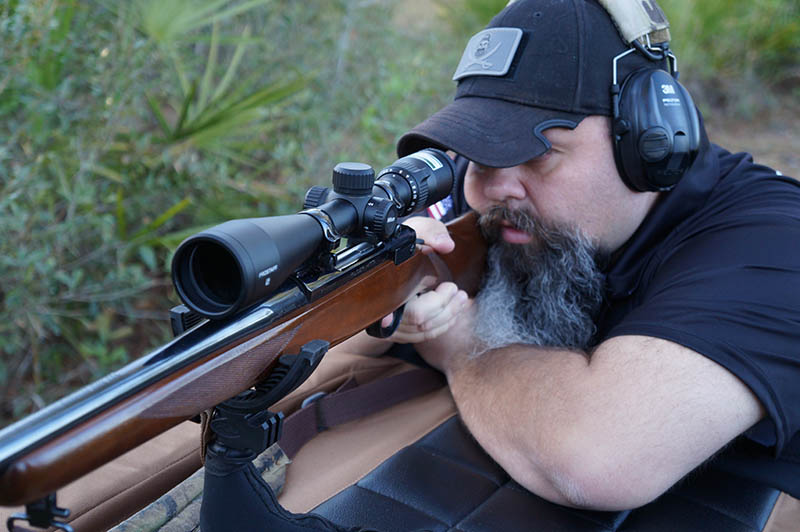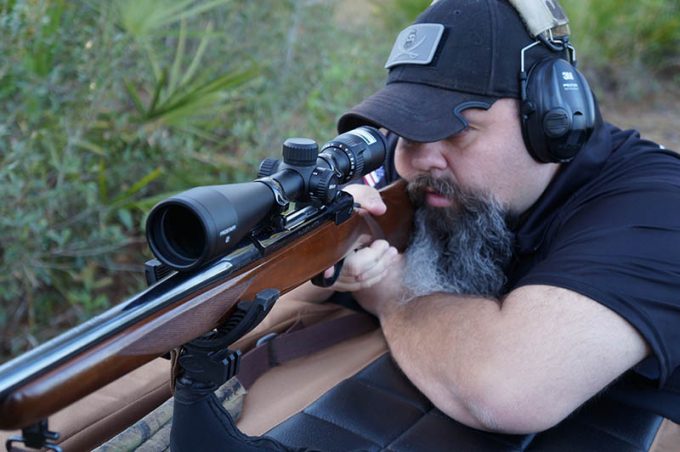 The see-through characteristic of the ballistic circles of the reticle offers the shooter extra power to hit the target each time. Through the reticle, the scope offers reimbursement for the bullet drop, eliminating the guesswork, which could assist whilst you do now not have a whole lot of time to take a shot.
The eyepiece is characterized by quick focus, which brings the reticle into focus very fast for a close immediate reset. The reticle is helpful to make any short adjustment wished in the same shooting position.
Field Of View
The field of view offered through this riflescope is wide even when completely zoomed in. It possesses ballistic rings for long-range shots which supersede many other rifle scopes via see-through ballistic rings.
It will maintain a hunter's target, whether there is bush, timber, or any other obstacle along its path. For hunters, these are the most essential characteristics desired.
Value For Money And Guarantee
With a notably lower cost than a few competing models, it needs to be additionally mentioned that turret settings are very dependable and not liable to slip even when subjected to heavy usage.
If in any case you are not happy with the product you may decide to return it back to the seller and look forward to receiving your reimbursement. You may check out their web page for the exceptional terms and conditions that apply in that respect.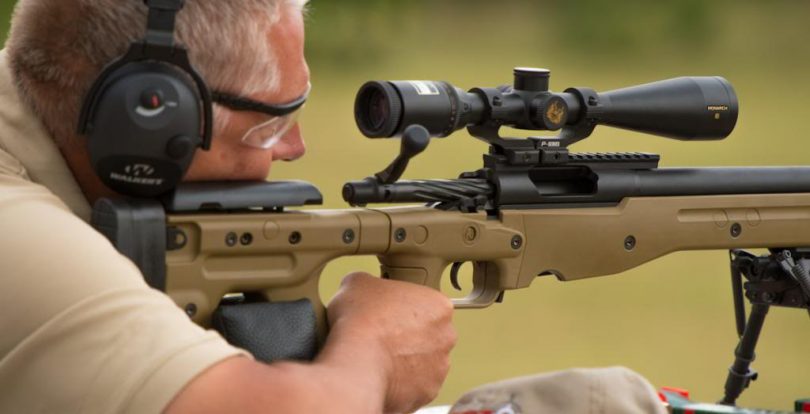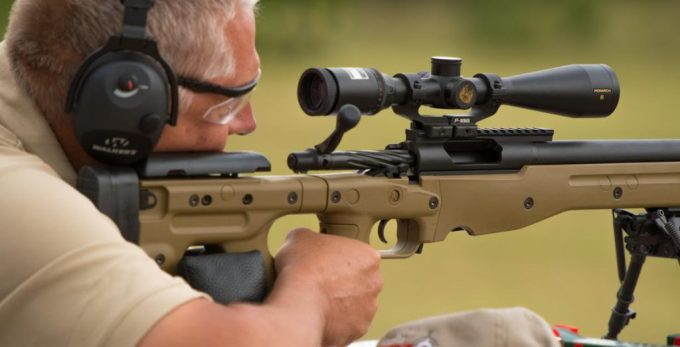 In case you are searching out a well-priced, bulletproof optic with the clarity and magazine for any situation then you need no search anymore. The scope feels strong, each dial is tight and firm and the parallax adjustment is excellent. Placed an excellent set of rings on it and this will, truly, be the satisfactory scope you've got ever positioned guarantee
Similar Products
There are several other similar products in the market, which you might consider. We will take a short review of three other riflescopes. The Scopes are:
Nikon Prostaff 5 mildot 3.5-14×40 Riflescope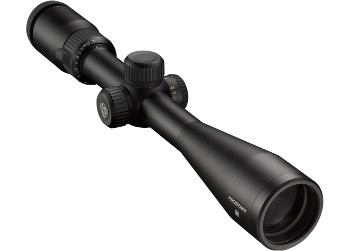 The Nikon Prostaff 5 mildot Riflescope is another amazing choice of scope for hunting and shooting competitions. The Nikon Prostaff 5 is built with the features most long-range shooters desire. It is designed to be very reliable and accurate in every shooting position.
The finishing makes the scope very durable and can withstand any weather condition. Common to all Prostaff 5 scopes, they are endeared with multi-coated lenses for max light transmission, which works in dim light environments be it at dawn or at dusk.
They also come with the Nikon Spot on Ballistic Match Technology, which makes it a very dependable scope for every user. The mildot reticle is the first-rate preference of reticle for users who wish to aim at targets that are at various distances while not having to make any on-the-fly changes to their elevation setup.
The mildot reticle makes it viable to make elevation modifications easily through the usage of the diverse aiming dots printed into the reticle itself without delay (quick focus eyepiece). It has a medium magnification of approximately 3.5x – 14x with an objective diameter of 40mm and an exit pupil between 2.9mm and 11.4mm.
The field of view at 100 yards from 2.195m – 8.717m,  a 25.4mm diameter of the tube, and a comfortable eye relief of up to 10.16cm. The eyepiece outside diameter is 44mm (with Side Focus) and it weighs 1.1 Ibs while the overall length is 34.5cm. The adjustment graduation 1/8 M.O.A., also the parallax setting ranges from 46 m to infinity.
Both will satisfactorily serve you in a comparable manner. The only major difference between the two is the reticle model. Both rifle scopes have similar features. Therefore, in case one of the rifle Scopes is out of stock, the other can be a suitable substitute.
Nikon PROSTAFF 5 BDC Riflescope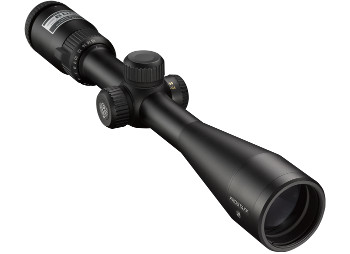 The Nikon PROSTAFF 5 BDC Riflescope offers the best technology in the modern-day market. With such a lot of modern functions in a single shooting accessory, which will surely impress even the most demanding shooters and hunters in any situation.
Possession of this model of riflescope makes you be capable of getting shot accuracy at both short-range and long-range shots. Nikon designed the scope to be so accurate anywhere from 3 yards to a 600 yards distance and it's just a perfect tool for any shooter or hunter.
It has a magnification range of approximately 4.5-18, while the effective objective diameter is 40mm, with an objective tube diameter of 50.3mm, and Eyepiece outside diameter is 44mm.  The exit pupil is from 8.9mm – 2.2mm. Your brow is protected as the device comes with an eye relief of 101.6 mm.
Also with a field of view (@ 100 yards) been between 1.7m and 6.8 m. Tube diameter of 25.4 mm. The reticle hand turn (1 Click) of 1/8″ and the maximum internal adjustment is 40 MOA. You can set the parallax from 50 yards to infinity. It's 345mm long and has a weight of 1.1 Ibs.
You can always go for this in place of the Nikon PROSTAFF 5 BDC Riflescope. Both rifle scopes have similar excellent features that any shooter who possesses either of the Scopes is guaranteed satisfaction. However, The Nikon PROSTAFF 5 BCD Riflescope offers a wider view and more accuracy due to its higher degree of adjustment graduation which is 1/8″ (3.175mm), i.e. it gets you to zero more quickly than the latter.
The Nikon PROSTAFF 7 3-12X42 BDC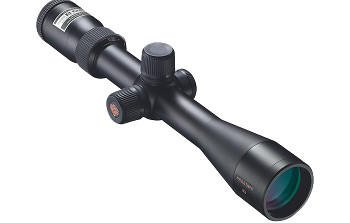 The brand new Prostaff 7 series entered the market in the year 2015, replacing the Prostaff 5 series, and is enhancing its production with the bells and whistles of the former series. The Nikon ProStaff 7 BDC Riflescope is a notable optic at a low-cost fee for the average shooter.
It has a swift focus eyepiece you are sure to be able to quickly get on target and get the activity executed in a timely manner. With the newer Prostaff 7 scopes on the market, you can handiest expect that it is going to be greater than only a mere improvement of the 5 series, it's going to be an entire lot higher from here.
The max internal adjustment range, due to the 30 mm tube diameter is the primary distinction of this Prostaff 7. This Nikon Prostaff 7 featured over other collections with similar 30 mm frame features, like the 2016 Monarch 7 series – the 1-piece 30 mm frame tube is literally 50% of their price.
For once, the underdog merits a spot on those Nikon riflescope critiques. The Prostaff 7 series also exist in other models; this particular 3-12X42 model is just 1 of 5 models in the series. The other four models in the market are the 2.5-10×42, 2.5-10×50, 4-16×42 SF, and the 4-16×50 SF which are available with either the Nikoplex reticle or BDC reticle.
Other features include the objective lens diameter  which is 42mm
and it can be zoomed up to 3X to 12X. The field of view @ 100 yards is between 2.77 m to  11.1m and has unlimited eye relief. The exit pupil range from 3.5mm to 14mm.
It comes with a capped turret with a turret click value of 250 M.O.A. and maximum adjustments for elevation is 120 M.O.A. and for windage, it is 120 M.O.A. it is a little bit shorter with a length of 33.528 cm and weighs 1.2 Ibs. It is water/fog/dustproof.
Overview
Every hunter, both the experienced hunter and the beginner that wants to achieve greatness in the profession should own a Nikon Prostaff 5 BDC Riflescope. The variety of functions on the scope optimizes the time spent out in position and time spent making ready in advance.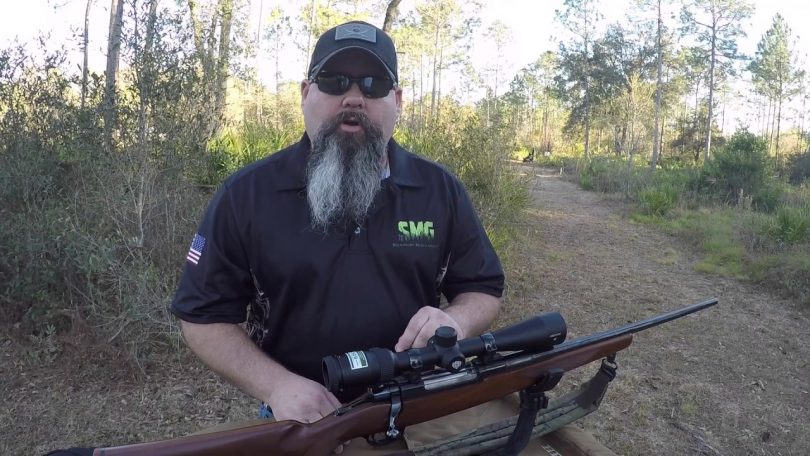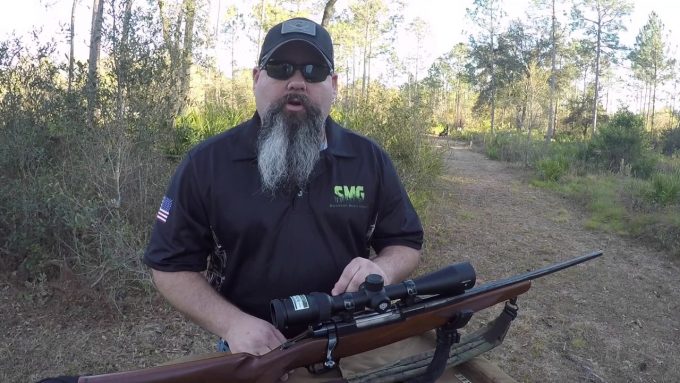 With few scopes presenting as many capabilities as this one, there may be no question why the Nikon PROSTAFF 5 BDC is your ideal choice. This scope is recommended for hardcore hunters with a whole lot of experience.
PROS:
The lens could be very brilliant and produce a clear view whenever you use it. You can also adjust the lens carefully if needed.
The objective is very easy to adjust and handle. It offers you a higher view of more spots in your location.
Lightweight which doesn't make the riffle too heavy to use or control.
A similar version from Zeiss or Leopold costs double its price. In reality, the scope is nearly just like some of the high-end models from Zeiss and Leopold without costing too much if you want to get it.
CONS:
The crosshair is not entirely squared off. Because of this one of the lines is leveled while the other line might be a little off.
It comes with a bikini lens cover which is adequate, but it is not as incredible as a flipcap. Although the riflescope at least does not allow too much of anything into its body.
It does not work for every type of rifle, therefore, check properly to determine whether it works with your gun. It's a little bit poor for target shooting at a close level.
The battery chamber is only water resistant, not waterproof. If the device is submerged, water will definitely enter into it.
Nikon PROSTAFF 5
Packaging

Design and Durability

Unique Features

A Strong Reticle

Field Of View

Value For Money And Guarantee
Summary
This Nikon Prostaff 5 BDC riflescope review ought to have convinced you about just what makes this an excellent model. It provides a very simple connection for use and a cautiously organized target each time. It's very easy to set up and operate. With a length of 34.54 cm, a very light weight of 1.075 Ibs. The scope can be zoomed at approximately 3.5 times to 14 times. The objective lens diameter is 40mm and the tube diameter is 25.4mm. Exit Pupil of 2.8 mm at 14X – 11.4 mm at 3.5X. The elevation adjustment range is 74 MOA, while the windage adjustment is 73 MOA. Quick focus eyepiece, hand turn 1/4 MOA which gets you to zero quickly.
The scope is suited to make certain that even a touch light can be used to the hunter's benefit and to make sure that any thick bush or vegetation, encountered may be dealt with.