Whether you are an army ranger, an elite amateur golfer, surveyor, photographer, hunting/ sports lover or just an adventure seeker, everyone wants to take their best shot while in the field. It is, therefore, necessary that they have the best long range rangefinder for long range shooting.
However, many would prefer one that is pocket-friendly with great features and superb functional ability. There are two types of rangefinders namely, mechanical and laser. A technical range finder uses optical technology whereby the eyepiece produces two images of the target object.
The distance is read from the scale when these two images overlap into one. However, mechanical rangefinders may prove to be a little less accurate and as such, they may not necessarily be a very good buy for a golfer or a bow hunter who cannot afford to approximate.
The laser rangefinder amasses praises for their high accuracy levels because it is able to powerfully reflect the object. However, if the target is dark and not very reflective you will not get an accurate reading. In fact, you or will not get any reading at all. It is good to note that the rangefinder can measure up to 1500 yards within 1-3 meters.
Our Top Picks
Features to Consider Prior to Purchase
The market is overflowing with many different brands, prices, and styles. However, the best rangefinder will add true value to recreational activities, be it golfing, archery or hunting. Therefore it important that you purchase the most suitable one and the following are certain features that you should definitely when purchasing a rangefinder.
Quality
It is important to purchase a high-quality rangefinder and it is advisable that you choose a brand that has an excellent reputation in this area in order to avoid later disappointments.
If a rangefinder has good magnification, targeting will be good and higher quality units will have 7x magnification and above while the low-end units will come with 4x magnification. So one should keep in mind what they are hoping to achieve when purchasing this item.
The size of the lens matters on so many levels because one that allows much light to come through makes the unit easier to use, especially in poorly lit places. The maximum range that it is capable of viewing comfortably is necessary.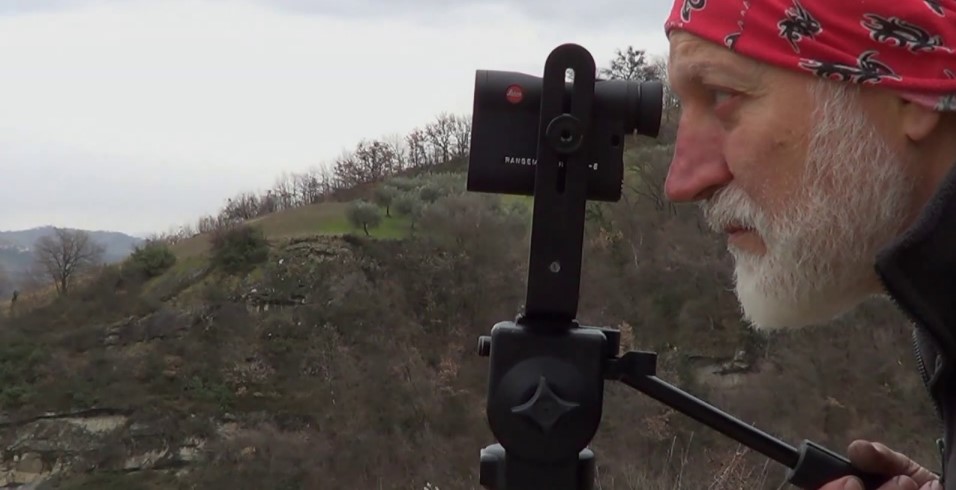 A rangefinder that allows a long range viewing will be more expensive than the short range viewing ones. The long range can be used up to 1,600 feet while the short range only up to 370 feet. So make your choice wisely.
Convenience
Your ease of mobility with the item depends on the size of the machine. It should also be easy to use to avoid hurdles along the way. If you do not want to carry anything heavy, then choose from the variety of the smaller ones which will be a slightly higher price.
Advanced Features
A range finder that has additional functions is a plus. For instance, some have features that will assist you in the event that you find yourself in a bit of brick wall and hard stone situation e.g. steep area, foggy day, etc.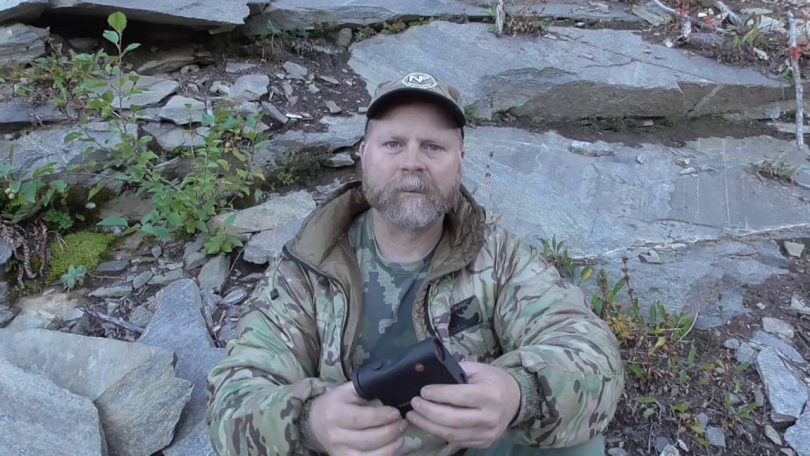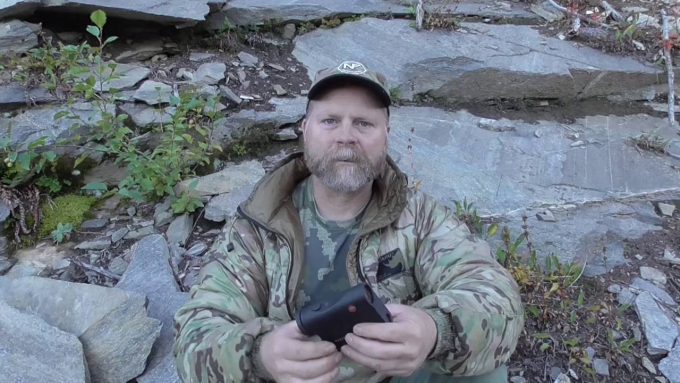 There are features that are particularly suited for golfers because some rangefinders measure factors that may affect a shot, thereby giving golfers an advantage. However, I will add that those with such features are not allowed in competitive play. So make sure that they can be disabled to avoid one from being disqualified.
Distance/Range
This is an important aspect to consider because the distance is vital especially in competitive play. Most of the rangefinders on the market can measure up to 400 yards. If you want something that can cover longer ranges there are those that can measure up to 900 yards with ease. So, make sure you read all this before purchasing it.
USGA Approval
This factor does not apply to those who only intend to use it for hunting purposes but it is especially necessary for those who will use rangefinders on tours.
Pricing
It depends on the features of the individual rangefinder. Therefore it is important to note that the price of each will vary.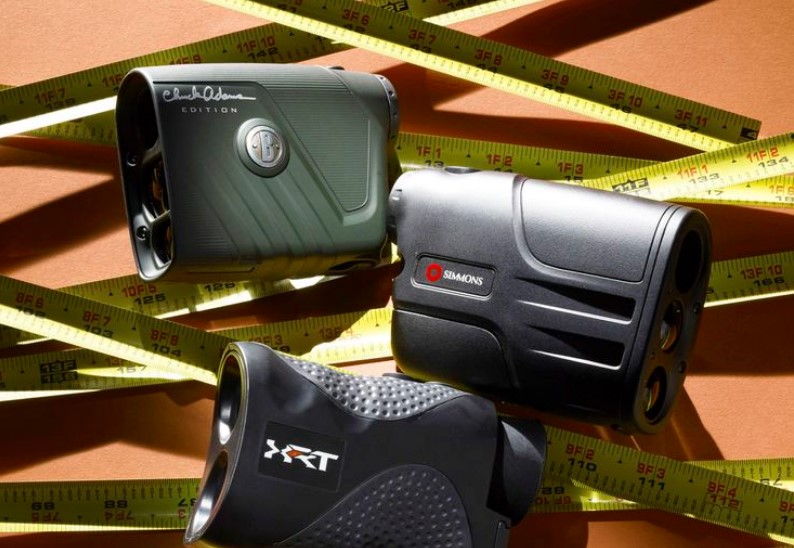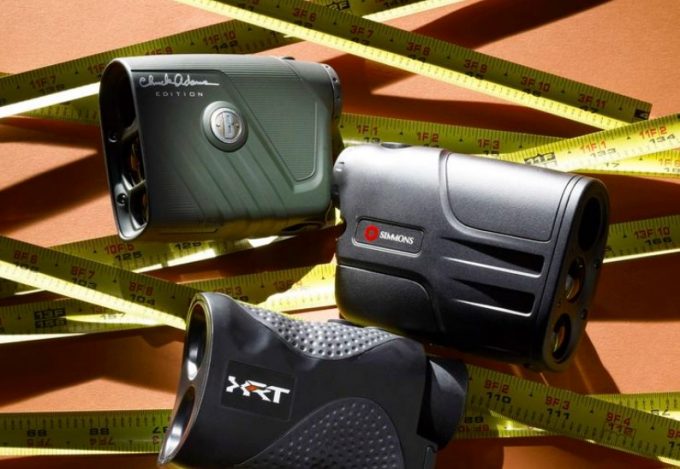 Generally, you literally get what you pay for and it usually follows that the higher the price, the better the device but it is important for you to go for what is within your means. Also, ensure that whatever amount a gadget is labeled is equal to the brand reputation of the company since this will prevent you from buying an overpriced device.
Top Products Available On the Market
Now that we've gone over some of the top things that you'll want to consider while you are looking at a rangefinder, we'll go over some of the best models.  Each of these could be a great pick, but you'll want to select the one that best fits with how you will use it.
Golf Rangefinder
Price: Approx. $185
Magnification: 8x
Material: Aluminum
Specific features: Range -1950, excellent accuracy+/-0.33, 8x magnification, water resistant body, ergonomic designs, crystal clear optics
Best use: Hunting, golfing, engineering survey.
It is has a superior ranging performance of up to 1312 yards that has excellent accuracy. It guarantees a stellar performance which makes it a little pricey but it is a worthwhile buy.
It allows you to play a good game whether you are golfing or aiming to catch some bush meat. Its long distance measurement gives you an advantage, especially while hunting.
The Golf Rangefinder can measure all the angles between -90 and +90 with +/0.35 of accuracy surpassing the abilities of its rivals in the market. It also has multiple measurement mode distance /angle/height/ and horizontal distance measurement. It will allow you to see any moving targets or when aiming at many targets at the same time.
It has a comfortable grip that allows you to use it with one hand during a vertical operation. It is small in size and light in weight making it more convenient and easy to handle. It has smart technology such as an automatic turn off, low battery indicator and microfiber wiper.
PROS:
Excellent magnification
Low battery indicator
Microfiber Wiper
Durable
Waterproof
CONS:
May be considered expensive
Related: This optic rangefinder is usually bought alongside Nikon Recon Gear Retractable Rangefinder Tether that allows you to get to your target more quickly. It is Waterproof and self-flushing.
Simmons 801405 Rangefinder
Price: Approx. $90
Dimensions: 3 x 5 x 5.5 inches
Magnification: 4x
Material: Aluminum
Specific features: 4x optical magnification, 5-600 yard capacity, one button operation, compact vertical design, in-view liquid crystal display
Best use: Hunting, golfing, engineering survey.
This is a brilliant creation, the Simmons 801405 Rangefinder that gives you +/-1yard accuracy that puts it above the average rangefinder. It's unique in –view LCD enables you to get the exact distance to your target from about 5-600 yards using the secure one button technology.
It has fantastic optics that allows the user to clearly view the target.
Its efficiency is maximized with its waterproof casing and small and compact design that allows you to handle the gadget. It also comes with a carrying case to help you protect it and carry it with ease. You can also buy it online at the various online stores for about $80- $100.
PROS:
Simple one button operation
Clear optics
Durable
Waterproof
Carrying case
CONS:
Poor long range view above 150 yards
Better suited for short distance applications
Related: We recommend that you use the BARSKA 20-60×60 Waterproof Straight Spotting Scope with Tripod in order to get the best results.
Sig Sauer Kilo Rangefinder
Price: Approx. $390
Dimensions: 7 x 4.9 x 2.1 inches
Magnification: 7x
Material: Aluminum
Specific features: Lunatic OLED display, light sensor, light wave display technology
Best use: Hunting, golf, engineering survey
This device comes with unique light wave display technology which is fast and ensures extreme accuracy while using it. It updates at 4x per second while on the hyper scan mode.
The Sig Sauer Kilo Rangefinder uses an organic light emitting diode (OLED) display that will adjust the screen intensity automatically to provide a brighter screen in those bright conditions and a dimmer screen as it darkens.
It has a very straightforward and user-friendly interface where you can view the system status and sensitive data while ranging.
This kilo 2000 can reach over a mile in the range of 1/10 yard ensuring excellent accuracy in measurement. This device goes for about $300-$450 on various online shopping platforms.
PROS:
Excellent Optics
Organic Light Emitting Diode (OLED) display
Accurate long-range viewing
CONS:
May experience some difficulties with range
Related: You may use the Authentic Atlas Bipod BT10LW17 for an easier mount.
Bushnell Hunting Series Elite Rangefinder
Price: Approx. $550
Weight: 12.2 ounces
Dimensions: 16.9 x 50.8 x 37 inches
Magnification: 7x
Material: Aluminum
Specific features: 1/10 yard display precision, waterproof housing with multicoated optics, rain guard HD, dioptre adjustment
Best use: Hunting, long range shooting, golf, engineering survey
The Bushnell Hunting Series Elite Rangefinder goes for about $500-$600 plus shipping fee for those in different parts of the world. Bushnell has revolutionized the rangefinder world; being the first gadget that can interface with your smartphone creating an advantage for long-range shooters.
This smart technology allows you to set up the rangefinder from the phone on three custom ballistic curves. It is made possible by connecting your phone via the Conx app on both the IOS and Android system.
It provides up to 1/2 yard accuracy which is an excellent range and guarantees a precision of 1/10 yard. The device has fittings of the brush and bulls-eye and scan mode features.
It also has a waterproof housing and rain guard on the glass of the Bushnell thus protecting your device from any water-related damage. It is also possible for you to incorporate advanced environmental data thanks to the approved Kestrel Wind Meters.
PROS:
Durable
Water resistant
Uses smart technology
Accurate
Great Optics
Related: We recommend that you use the BARSKA 20-60×60 Waterproof Straight Spotting Scope with Tripod in order to get the best results.
Leica CRF Range Master
Price: Approx. $640
Weight: 8 ounces
Dimensions: 4.5 x 1.2 x 2.5 inches
Specific features: ABC ballistic system for maximum precision, secure, easy to use, ergonomic design, light weight
Best use: Long range shooting
It is one of the most secure yet easy to use rangefinders in the market. The Leica CRF Range Master has frontline technology such as an ergonomic design that enables you to use it with one hand, and the compact design aids its portability. It is easy to carry around making your movement easier.
The device has simple rules of functionality thus making you always ready for action. This device is light in weight largely because it is made of carbon fiber and magnesium.
The introduction of the ABC (Advanced Ballistic Compensation) technology in this gadget helps the device to take care air pressure, temperature and angle of inclination display them in one of the three output modes of the instrument. It makes it very versatile in its use giving other rival products a run for their money.
PROS:
Durable
Compact and portable
Lightweight
ABC (Advanced Ballistic Compensation) technology
CONS:
May be a bit pricey
Short battery life
Related: For the best results we recommend Viridian CR2 3 Volt Lithium Battery, 3-Pack
Bushnell Tactical Elite Rangefinder
Price: Approx. $540
Weight: 12 ounces
Dimensions: 1.7 x 5.1 x 3.7 inches
Specific features: 7x magnification, five yard-1,760-yard range, great speed performance, arc (angle range compensation) rifle mode, built-in tripod mount, waterproof housing and rain guard.
Best use: Hunting
The Bushnell Tactical Elite Rangefinder is dependably precise with its powerful ability to magnify an object. In fact, this rangefinder makes the object appear 7x closer than it would with the naked eye. It helps one to calculate their next move. It also has a tripod mount that is inbuilt, reducing the bulk yet helping the user to position it with ease.
Its superb range capability enables one to measure the distance with precision allowing for accurate shots.
When one buys a device, they want to ensure that it can serve them for the longest possible time and this is the waterproof housing and rain guard that protects the device's glass from any possible damage.
PROS:
Durable
Water resistant
Excellent optics
CONS:
A bit pricey
May experience difficulties with range
Related: The rangefinder is mostly bought with Stick It Magnetic Rangefinder Strap. This device has a Magnets in the strap that allows you place your rangefinder and keeps it handy and it Sticks easily to a cart or clubs.
LW1000SPI Laser Rangefinder
Price: Approx. $130
Weight: 4.8 ounces
Dimensions: 4.2 x 2.9 x 1.4 inches
Specific features: High measure performance, water and dust resistant, simple operation, compact.
Best use: Hunting, golfing, surveying.
When you are looking for an excellent combination of quality, fair price, and superb functionality, then you have come to the right place. Laser works have created one of the smartest devices yet with the LW1000SPI Laser Rangefinder.
It comes with extreme speed thanks to high measure performance that allows one to see up to 1600 yards for a highly reflective target. It has an excellent 6x magnification that will enable you to see an object clearly at a very close range. It guarantees precision and accuracy and is dust proof and water resistant.
It is very simple to operate with only one key to measure and another one to switch mode. It has an auto power mode that will save your battery because it goes off in 15 seconds of inactivity. Your mobility is guaranteed because this gadget is light enough to be carried in your pocket.
You can get it from shops or online platforms and it goes for about $100-$125. The good news is that it has a two-year warranty and money back guarantee on some platforms, in case you are not satisfied after using it.
PROS:
Auto power battery saving mode
Lightweight
Money Back Guarantee
Affordable
CONS:
May not work well in inclement weather
Zoom is sometimes not clear
Related: For the best results we recommend Viridian CR2 3 Volt Lithium Battery, 3-Pack to power this rangefinder.
Vortex Optics Ranger Rangefinder
Price: Approx. $300
Weight: 8 ounces
Dimensions: 8 x 6 x 12 inches
Specific features: Rubber –armored coating, fully multicoated lens, water and dust resistance, rugged design, diopter.
Best use: Hunting, golfing, surveying.
Vortex Optics has created an ingenious device with the Vortex Optics Ranger Rangefinder that has made taking part in a range of activities much easier. Whether it's raining or on a hot, dusty day, you have no excuse not to finish up what you started.
With the rubber coating that prevents it from slipping off your hands to the waterproof coating that protects it in wet conditions, this rangefinder is ideal for outdoors. The O –ring also prevents dust from getting into the device. The lenses are multicoated for maximum protection.
PROS:
Waterproof
Dust proof
Durable
Multi-coated lens
Rubber armored coating
Precise focus
CONS:
Tap 3 times to range mechanism
Complex
Related: We recommend that you use the Vortex Optics New 2016 Diamondback 10×42 Roof Prism Binoculars for the best experience in both spotting your target and determining the range to ensure you get that final shot in.
Final Thoughts
Choosing the top long range rangefinder boils down to what exactly why you need it for. There are a variety of brands, functionalities and price ranges that you can pick from comfortably. The kind of activity that you want to engage in should determine the range finder that best suits you.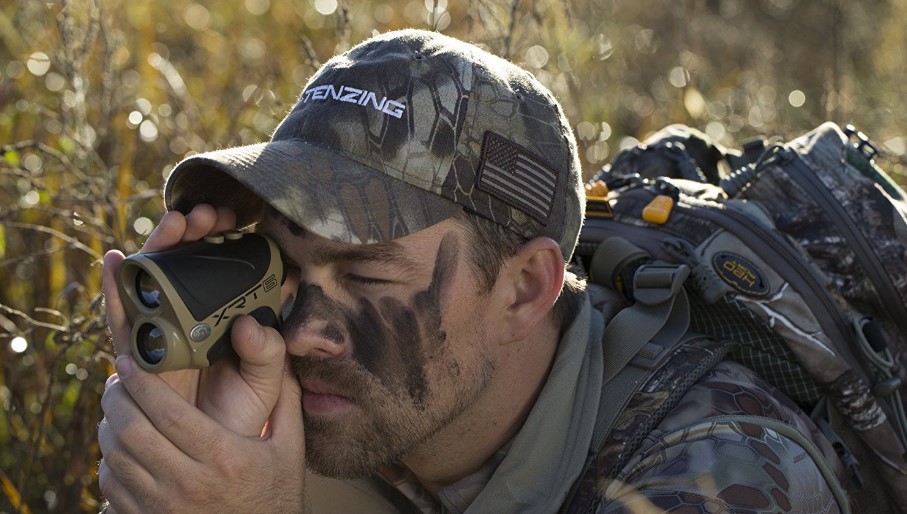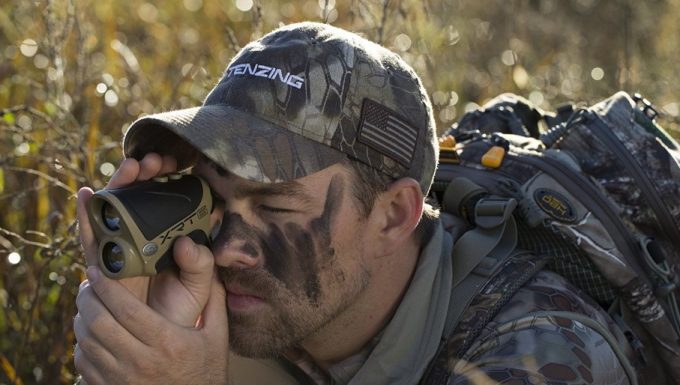 Gathering as much information as possible on any product before purchasing is always a great idea. For best results, explore the unique features of each rangefinder, take advantage of their capabilities and have fun using the device. Choose the one that gives the best function and best suits your budget.
Next is your turn, please let us know which one you finally decided on in the comments section below.