To start with the basics – the definition of a rangefinder: the device that measures the distance from the observer to the target in a process called ranging. Well, now you know the definition, but the tedious job is finding the best laser rangefinder that suits your needs and suits your proposed budget.
The most accurate optical device is determined by the finer details. The best lasers utilize high-quality glass that can zoom into long distances. These are attached to precise software to eliminate even the slightest of deviations. However, despite the difference in pricing, most of the consumer available rangefinders on the market today have similar laser output as a standard measure. This makes it even harder to choose an ideal rangefinder to suit your exploratory needs.
In attempts to make an informed decision on the best value for money, buyers have to ask themselves numerous questions which they also lack answers to. Many cannot distinguish between an angular field of view and others terms. Others are not aware of the finer details accompanying this kind of optical device.
The technicalities in developing the gadgets make it hard for shoppers to make the best purchase decisions. In many instances, rangefinders tend to perform way below what they are expected or marketed.
Our Top Picks
| Product Name | Special features | Price |
| --- | --- | --- |
| Bushnell Michael Waddell Bone Collector Edition | 4 x 21 mm, waterproof, LCD display, autofocus | Check price on Amazon |
| Simmons 801600 Volt 600 | 4 x 20 mm, 600 yard range, LCD display, tilt ability | Check price on Amazon |
| Nikon 8397 Aulcon AL11 | 6 x 20 mm, compact & lightweight, superior Nikon optics, water resistant | Check price on Amazon |
| Callaway Micro | Laser & prism technology, LCD display, ultra compact design, extra battery | Check price on Amazon |
| Halo XRT7 | 6x magnification, al slope technology, all weather use | Check price on Amazon |
| Wildgame Innovations Halo X-Ray | 6x magnification, waterproof, slope accounting technology | Check price on Amazon |
| Uineye | 1600 yard range, measures distance, height, angle, SCAN mode, suitable for engineering, surveys | Check price on Amazon |
| Bushnell Tactical 202421 Elite ARC/strong> | 7 x 26 mm, ESP, V.D.T, arc mode, rifle mode, bulletproof, waterproof, fog - proof | Check price on Amazon |
| Aofar | 6 x 25 mm, built – in PinSeeker, auto power off, lightweight, compact | Check price on Amazon |
Features to Consider Before Buying
So we have made a list of the nine top rated rangefinders on the market today. And we have gone through the trouble of explaining the several basic characteristics that you should be familiar with, in order to better understand the works of a rangefinder, and subsequently, choose the best one for you.
An important factor is the intended use and weather conditions where it will be mostly used. It could be for a warm day on the course or stormy and hostile conditions during hunting season.
Another fine detail is the level of technological advancement you require to hit your target. This varies as some are simple to use while others are very complicated to understand.
To more experienced buyers everything matters from the color, size, and weight. At the end of the day, an ideal purchase will be the one that suits your needs and is at the best price for you.
Range
The range is the most important characteristic to consider when shopping for a new rangefinder. Distance is a vital measurement for any professional golf player or hunter. Most rangefinders in the market have a range of up to 600 yards.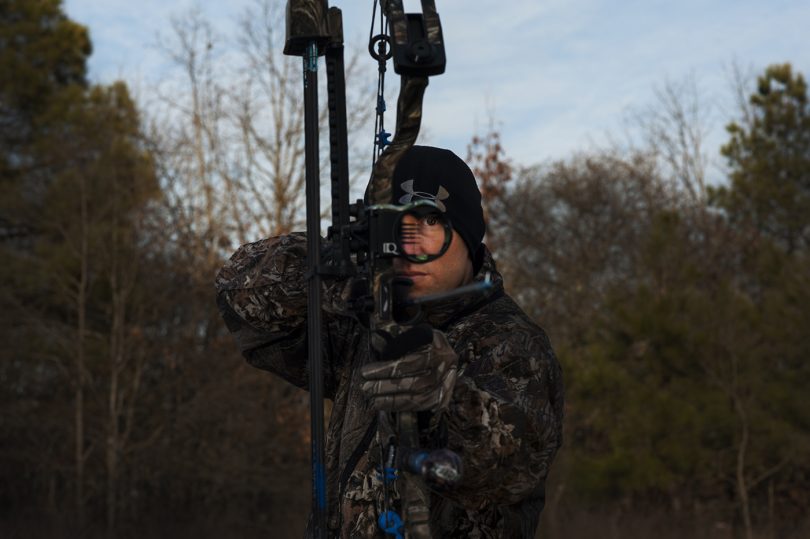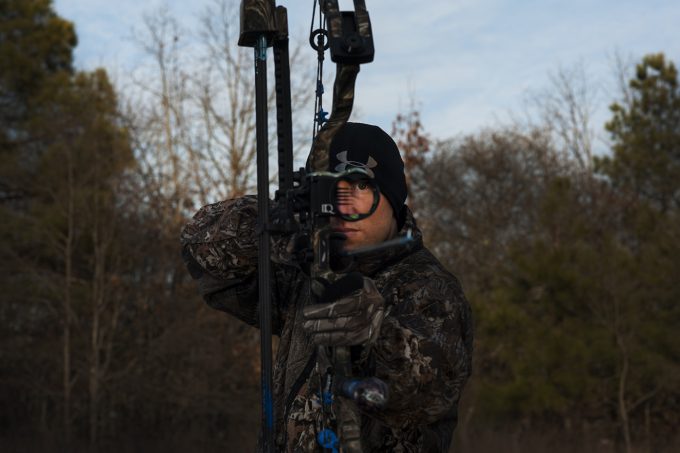 Of course, there are very different options available, and many rangefinders are labeled as having a range of 1500 yards; however, this measurement differs greatly on the given conditions under which the unit is used. The ideal circumstances allow for accurate measurements of big reflective objects on greater distances, but the change in circumstances, like cloudy weather, rain, snow or looking at smaller non-reflective objects lessen the performances of the rangefinder.
Magnification
The purpose of the rangefinder is to tell the distance between you and your target. The magnification refers to how much larger the rangefinder makes the image. Magnification power is expressed as a factor for example 4x – the image you see is magnified four times. Rangefinders with low magnification power have large fields of view resulting in a more panoramic view of the image, whereas those with higher magnification power have smaller fields of view that enable them to view specific objects more closely.
Modes
There are two modes of operating of a rangefinder – the first priority mode and the second priority mode. The first priority mode is used in open ranges where the target is clearly visible and unobstructed, while the secondary mode is used to calculate distances through woods, trees, bushes and sometimes, agricultural fields.
When looking for a rangefinder, you already know the intended use, and you should consider the mode. If looking for a rangefinder to use on a golf course or open field hunting, the rangefinder should be in first priority mode. The first priority mode measures the distance of the object in the first line of sight.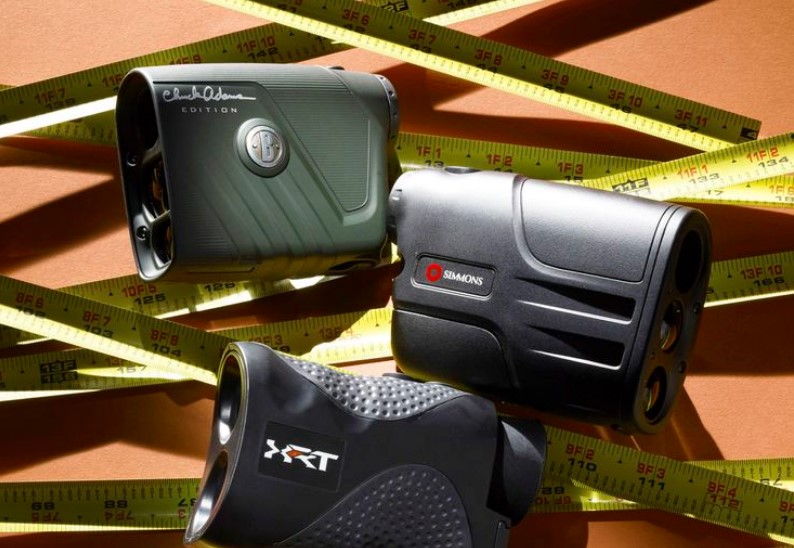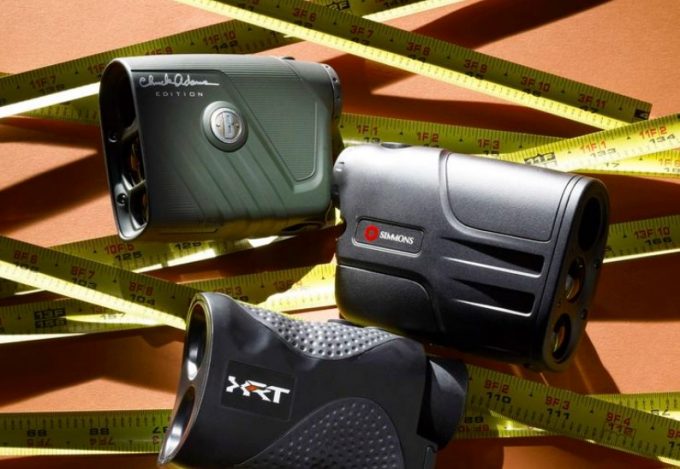 The second priority mode is used when finding the distance through obstacles like bushes, trees, and branches. The second priority mode ignores the first line of sight and reads the distance of the object furthest away in the background, best intended for hunting when your target moves through wooded areas, tall grass or bushes.
Dimensions/weight
It is obvious that the chosen device is to be used for several hours as the game or hunting process continues. That said, it becomes intimidating if the rangefinder is large and heavy.
The dimensions and weight have to be considered when using a rangefinder during hunting as there is limited space in a backpack for all the items required, and after a while, you may find that the optical devices start to look a bit heavier, especially when they hang around your neck all day.
Pricing
The higher the quality required, the higher the budget. Price is a consideration that should be made prior to purchasing a rangefinder. However, it is true to say that person should make a choice that does not strain their budget, and fit the required needs at a most affordable price.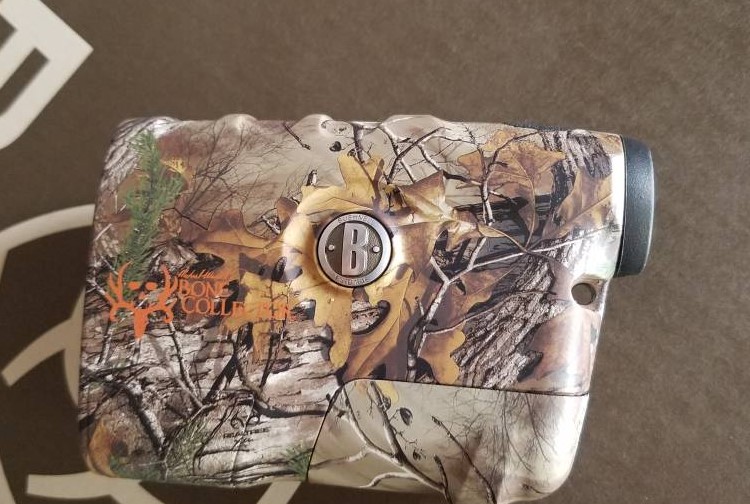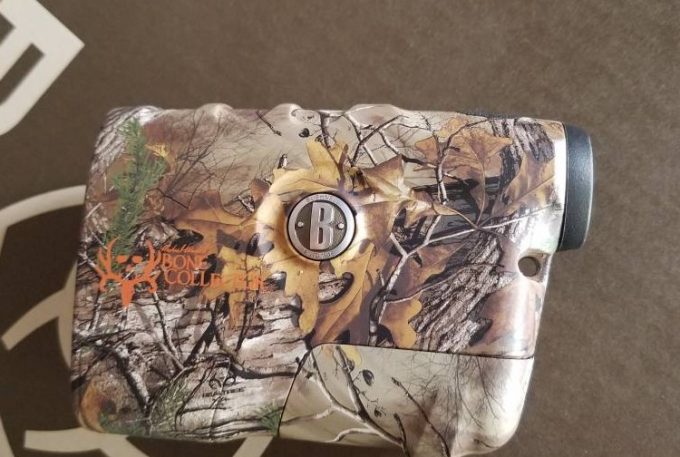 Safety
Most of the commercially available laser rangefinders belong in Class 1 or Class 2 laser devices. This means that they are considered eye – safe; however, we should note that direct exposure to the laser beam should always be avoided. The laser rangefinders are used in many areas. The military personnel use rangefinders when the target is located beyond the distance of sniper and artillery scopes. Military rangefinders have operating distances of 2 to 25 km.
Another use of laser rangefinders is 3D object recognition, 3D object modeling, and computer visioning techniques. The 3D scanner is actually a laser rangefinder with a computer where the data is processed into a three-dimensional image of the required object.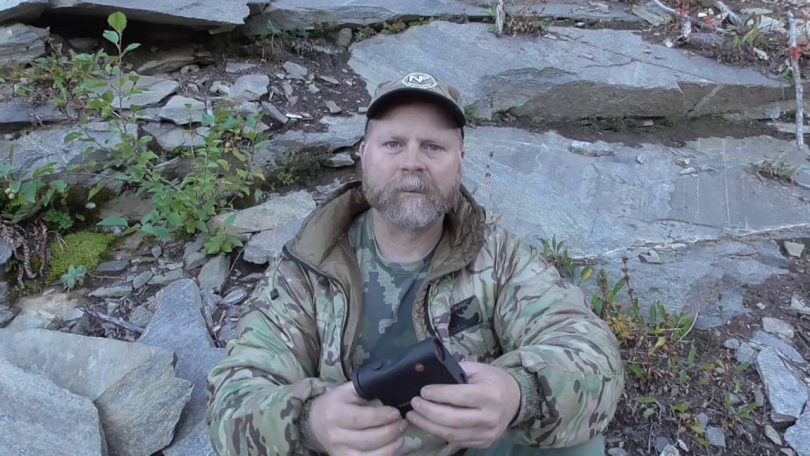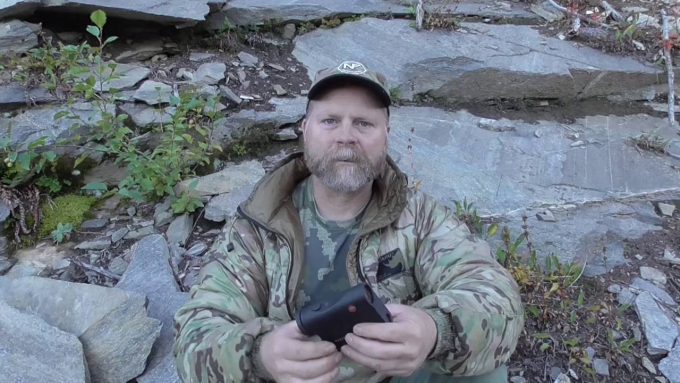 For the use in forestry, special laser rangefinders with an anti – leaf features are used. Many utilize reflectors so the laser beam is reflected only from the reflector, ensuring precise measurements. Many sports utilize the laser rangefinder. In sports like golf, archery and in hunting, the laser rangefinder has many applications. Many manufacturers add additional features to their laser rangefinders to facilitate their use in sports, like elevation compensation.
Best Products on the Market Today
Since you are on the search for the perfect rangefinder out there that will fit your needs and budget, we have assembled and reviewed the best offers of laser rangefinders on the market today in a detailed and comprehensible list.
So keep reading and hopefully, by the end of this article you will be properly informed for choosing the best laser rangefinder for you.
Bushnell Michael Waddell Bone Collector
Range: 10 yards/600 yards
Dimensions: 1.4 x 3.8 x 2.9 in.
Weight: 8 oz
Specific features: 4 times magnification, 21 mm lens, waterproof casing, LCD display, Realtree Xtra Camo
Best use: Hunting
The Bushnell Michael Waddell Bone Collector comes customized with an inbuilt LCD that shows the exact distance from a point to the target. This accuracy is guaranteed just by the touch of a button – the single button makes its operation easier.
The Bone Collector edition is a cheap tool to use as it comes with an intuitive menu that smoothes the interaction during use. An aiming reticule has been put in place on display to enhance accuracy.
The ranging of the target has been simplified by the automatic focus of the laser.  This is made possible by its bright and clear optics that make it possible to zoom into any distance four times up to 600 yards.
The product is fully efficient, and its physical attributes are designed to make easy to handle and store. This device is powered by a 9-volt battery. The laser is Class 1 <1mV average power output, so it is eye – safe if directly exposed.
For a device that makes numerous readings in a day, its power usage is balanced as the battery is enough to sustain it. The bone collector is ideal for all weather as it comes with a water resistant housing. However, its accuracy is maintained at +/-1 yard.
The Bone Collector Edition Laser Rangefinder comes with a one year warranty as the guarantee. The Bushnell team takes responsibility of any technical hitches during the first year of purchase. It comes with a case.
PROS:
Inexpensive
Measurements in yards and meters
Simple, easy use
Comes with carrying case
CONS:
Not suitable for ranging distant moving targets
Battery not included
No elevation compensation
Non-waterproof and not fog – proof
Related: When getting the Bushnell Michael Waddell Bone Collector Edition rangefinder, it is recommended that you get the Bushnell Deluxe Binocular harness. This is made with beautifully designed features and made from quality materials. It facilitates the carrying of binoculars, rangefinders or light cameras as it disperses the weight of the gadget around the shoulders and upper torso, and the gadget is easily accessible as it is right under your chin.
Simmons 801600 Volt 600 Rangefinder
Range: 10 yards/600 yards
Dimensions: 1.9 x 3.6 x 4.2 in
Weight: 7.7 oz
Specific features: 4 x 20 mm lens, 600-yard range, tilt ability
Best use: Bow hunting, hunting
The Simmons 801600 Volt 600 Rangefinder is an innovation from Simmons that makes accuracy guaranteed. It also features an internal LCD screen that indicates the correct distance anywhere between 600 yards. The bright and flawless optics makes sure that every time is a successful lock and hit.
It comes with an ergonomic design that enables it to be easily moved around without getting fatigued. The newest Simmons rangefinder also has Tilt ability.
This is an advancement of angle compensation which gives a more precise horizontal distance to an intended target. However, this compensated angle appears below the distance and is only used for distances that are below 100 yards.
The Simmons Rangefinder is an ideal partner for hunters who do not have enough resources to buy expensive, high-end rangefinders. Most of the advanced rangefinders fetch a pretty high price and are definitely out of reach for hunters with a limited budget.
In essence, the Volt 600 is a good bargain as it is readily affordable and it also gets the job done. It is, therefore, the best deal you can get at a reasonably low cost.
PROS:
Relatively inexpensive
10 – 600 yards ranging
Simple, one button operation
Comes with carrying case
CONS:
Not suitable for ranging distant moving targets
Battery not included
Not exactly 600 yards range
Related: Pairing a rangefinder with a spotting scope is always a good plan when shooting or hunting.  This gives you the ability to check the target area and have a good distance to the target. A great option would be the Emarth 20-60x60AE Spotting Scope.
Nikon 8397 Aculon AL11
Range: 6 yards/550 yards
Dimensions: 3.6 x 2.9 x 1.5 in.
Weight 4.4 oz
Specific features: 20 mm lens, long eye relief, magnification 6x, compact size, distant target priority mode
Best use: Hunting
The Nikon 8397 ACULON AL11 delivers world-class performance even in its extremely compacted body, making it the most convenient palm-size rangefinder in the word.  It is fast, precise, and produces the optical quality that matches the desires of the buyers.
With its small size, the ACULON Rangefinder is most definitely at the top of its class. The small size redefines "portability" which rivals most smartphones. It can be easily worn around the neck or in the pocket due to its palm-sized dimensions. Its weight is estimated at 4.4 ounces minus the batteries.
The ACULON Rangefinder is an easy gadget to operate since it only requires a push of a button to give the expected readings of the distance. As the button is held down, the rangefinder also continues to provide measurements for up to 20 seconds as the user scrolls across the visible region.
The display is calm and clear so that the correct readings can be done without obstruction. If after eight seconds, the Rangefinder is still on, it automatically powers off.
Also, the ACULON Rangefinder has programmed in such a way that it records the furthest target among a group of variables. This ability is called Distant Target Priority Mode and is particularly useful when viewing objects that are obscured or blocked by grass or bushes.
The ACULON Rangefinder is fitted with a 20mm objective lens and can magnify an object up to six times. It is engineered using Nikon's multilayer coated optics and features a long eye relief (16.7mm) that allows for the higher transmission of light through the lens.
This allows for a more natural, clear image due to the limited reflection of light and maximal transmission.
The Nikon 8397 ACULON AL11 Laser Rangefinder can measure from 6 up to 550 yards, with staggering speed. Also, the readout can be adjusted to yards or meters. It is housed in a durable, water resistant and rainproof body. It comes with a carrying case and a lanyard.
PROS:
Nikon optics inside
Distant Target Priority Mode
Single button operation
Ultra compact size
Auto power off after 8 seconds
Water resistant/rainproof
CONS:
Not very suitable for golfing
Battery not included
Related: This optic rangefinder is usually bought alongside Nikon Recon Gear Retractable Rangefinder Tether that allows you to get to your target more quickly. It is Waterproof and self-flushing.
Callaway Micro Laser/Prism Rangefinder
Range: 5 yards/600 yards (300 yards P.A.T. – Pin Acquisition Technology)
Dimensions 3.5 x 2.5 x 1.5 in
Weight: 3.7 oz
Specific features: Laser & prism technology, fog resistant, LCD display, extra 3v battery, ultra-compact design
Best use: Golfing
The Callaway Micro Laser/Prism Rangefinder is a lightweight device that is made using a combination of both prism and laser technologies in one ultra-compact gadget.
The device is able to deliver a superior accuracy of +/- 1 in either of the modes to a distance of up to 300 yards and effectively display the images on an LCD screen located beneath the scope on the back of the unit.
With this rangefinder, there is no need to close one eye as it was with the traditional lasers. Instead, just place the device in front of you aiming at the object, and then view the distance on the screen with both of your eyes.
If the pathway is equipped with reflectors, the prism mode is most efficient as it can quickly capture the distance measurements with just minimal effort. By pressing the mode button, the switch to laser mode is enabled. In this mode, the rangefinder can scan the landscape and record measurements from multiple objects at once.
If the course to be used doesn't contain reflectors – no need to worry – just switch to laser mode and maintain the Micro for your measurement needs. When approaching the green, switch to Pin Acquisition Technology (P.A.T) mode to quickly get a lock on the flag regardless of cluttering by trees and other objects in the background.
A Callaway Rangefinder package is accompanied by Power Pack full of goodies and value – adding extras. These include stainless steel repairs tool with a magnetic ball marker on one end, a sleeve Chrome Soft tour golf balls, and two 3V batteries.
The gadget comes with a soft carrying case that has a carabineer clip and a magnetic closure used to hold the device off your bag. A water/fog-resistant Callaway Rangefinder comes with a one-year warranty and is an excellent gift for a golfer.
PROS:
Ultra lightweight
Waterproof and fog proof
Batteries included
Carrying case with clip
CONS:
Works well on closer targets
No viewfinder magnification
Related: The Clicgear Rangefinder Storage bag is a gear place to keep your rangefinder safe and secure while out on the golf course.
Halo XRT7 Laser Rangefinder
Range: 10 yards/700 yards
Dimensions: 8.5 x 6.5 x 2.5 in.
Weight: 11.4 oz
Specific features: Magnification 6x, dual display, AI slope accounting technology, all weather use, water resistant.
Best use: Shooting practice
The HALO XRT7 Laser Rangefinder is a lightweight rangefinder, with a maximum range of 700 yards. It is nicely designed and built for high-quality applications, it offers magnification power of 6x, and is weather resistant has waterproof exterior.
It has dual display mode, Dusk, and Dawn that are both useful in ranging objects in the low or dim light. It has a precision of +/-1 yard for increased quality as well as AI Technology features for angle compensation. The gadget operates on one CR2 battery that is included during purchase.
The HALO XRT7 Laser Rangefinder is operated by a single button, has an LCD display, and is sold with nylon carrying case.
PROS:
Relatively inexpensive
Simple to operate
Very long battery life
Waterproof
CONS:
Difficult to zoom on a more distant target, good up to 300 yards
The display is not very well made
Related: This rangefinder is mostly bought with Stick It Magnetic Rangefinder Strap. This device has a Magnets in the strap that allow you place your rangefinder and keeps it handy and it Sticks easily to a cart or clubs.
Wildgame Innovations Halo X-Ray Z6X
Range: 5 yards/ 500 yards (up to 600 yards on reflective target)
Dimensions: 8.6 x 6.4 x 2.6 in.
Weight: 11.2 oz
Specific features: Waterproof casing, 6x magnification, one year warranty, increased precision, slope accounting
Best use: Golfing, hunting
The Wildgame Innovations Halo X-Ray Z6X has a range of over 600 yards to a reflective object with an AI slope accounting. The device has a magnification power of 6x and a scan mode which allows for a precision of +/- 1 yard and a Scan mode for constant ranging. The gadget has a one year warranty and is accompanied with a nylon pouch.
It can give measurements in both meters and yards. It uses a CR2 lithium battery which is bought separately. The HALO Z6X provides an efficient tool useful both for rifle and bow hunting.
The Halo Z6X laser rangefinder is waterproof; it has rubber coated body for a firm grip and is easy to use with glasses. It comes with a carrying bag and wrist lanyard.
PROS:
Al Technology for slope accounting
Water resistant
1-year warranty
Good for hunting and golfing
CONS:
Battery not included
Small operating buttons, difficult to use with gloves
Related: With any rangefinder, you should consider a case to keep it safe.  For this on the FitSand Travel Carry Hard Case is a great option to keep your investment protected on trips.
Uineye Laser Rangefinder
Range: 5 yards/up to 1600 yards
Dimensions: 5.9 x 4.3 x 2.4 in
Weight: 12 oz
Specific features: 1600 yard range, 8x magnification, increased accuracy of +/- 0.33 yard, light weight, scan ability
Best use: Hunting, golfing, engineering survey
The Uineye Laser Rangefinder is powerful and diverse and provides excellent and accurate range measurements to users. It is in the market to replace the low-performing and much more expensive rangefinders.
The ranging ability of 5 yards to 1600 yards together with the magnification power of 8x makes this rangefinder an exceptionally powerful device. It is precise and accurate to +/- 0.33 yard, and together with the 8x magnification gives you a close feeling to the object.
That said there is no doubt that the device offers the best option when hunting, golfing or any other activity that requires precision and accuracy in determining distance measurements.
This gadget does more than just measuring distances. It is also able to measure angles between -90° and +90°with only a +/- 0.35° error. This level of accuracy supersedes other similar rangefinders. Measurement modes that can be accurately determined by the gadget include Distance, Height, Angle, and Horizontal distance measurements.
In the case of moving or multiple targets, the rangefinder has a SCAN mode for continuous ranging. In essence, the device offers more than just simple ranging.
The lightweight product has an ergonomic design that provides the comfortable grip for easy portability. It can measure units both in meters and yards and to intelligently switch off when not in use are among the few advantages that make this device a unique commodity.
If for any reason, the customer is not satisfied by the process of operation by the gadget, they can always contact customer representatives for any queries, or subsequently, they can take advantage of the 100% money-back NO questions asked warranty.
PROS:
Very distant ranging
Ergonomic design
Multiple measuring modes
Great value for the money paid
CONS:
Battery not included
Not water resistant
Related: If you are a hunter, why not just attach the rangefinder to your gun to have it ready at a moments notice?  That is the thought behind the Fixture for Rangefinder from Unieye.
Bushnell Tactical Elite ARC
Range: 5 yards/1760 yards
Dimensions 1.7 x 5.1 x 3.7 in
Weight: 12.1 oz
Specific features: 7x magnification, 26 mm lens, E.S.P, V.D.T, waterproof, ARC Mode
Best use: Hunting, long range shooting
The Bushnell Tactical Elite ARC is the first laser rangefinder under the Bushnell Elite Tactical family's name. Featuring an E.S.P feature (Extreme. Speed. Precision), the rangefinder is most convenient for shooters due to its ability to accurately measure distances from 5 to 1,760 yards with +/- 0.5-yard accuracy.
VDT (Vivid Display Technology) and VSI (Variable Sight-In) are technologies responsible for the accuracy of this rangefinder model. The former ensures display readout in lighting situations while the latter enhances sight-in distance options from 100-300 yards when in RIFLE mode.
The rangefinder has an ARC Mode (Angle Range Compensation) that can be set to Rifle HD or Rifle that is very well suited for long range shooters and compensates for the change in angle on sloped terrain. It also features fully multicoated optics for maximum light transmittance.
The Selective Targeting System comprises of BullsEye, Automatic SCAN, and Brush modes. This laser rangefinder has a diopter adjustment, facilitating the use of glasses and for people with damaged eyesight. It also has the patented Bushnell RainGuard coating and is fully bulletproof.
The Bushnell is compatible with a magnetic attachment system and comes with a built – in tripod mount. The body of the laser rangefinder is fully waterproof wit O – ring seals and is fog proof, making it very well suited for all sorts of weather conditions.
PROS:
Suitable for long ranges up to 1 mile
ARC Technology Mode, BullsEye, Brush and Scan mode
Rifle mode for precision ranging
Bulletproof, waterproof, fog – proof
Battery included
Related: When getting the Bushnell Elite 1 – Mile Laser Rangefinder, you should consider investing in a proper tripod as it will facilitate the use and stability of the rangefinder. There are several available options, but the on recommended by most is the Bushnell Advanced Tripod. It can accommodate rangefinders, scopes, binoculars and cameras, and is made from durable aluminum, and it has a universal ¼ inch mount.
Aofar Laser Rangefinder
Range: 10 yards/700 yards
Dimensions: 4.3 x 2.9 x 1.7 in
Weight: 6.3 oz
Specific features: Energy saving, 6x magnification, 25 mm lens, fog resistance, built in PinSeeker technology, 905 nm laser type.
Best use: Hunting, golfing
The Aofar Laser Rangefinder device can be used to accurately measure the distance from a stationary object within a specified range. It is suitable for both golfing and hunting: it has a total of six working modes that give you good ranging abilities.
The rangefinder has a magnification power of 6x, and with a 25mm lens it is accurate to +/- 1 yard and has very fast measuring time of +/-5km/h. it has built – in PinSeeker technology, that allows golfers to easily locate the flagstick, even if it is partially obscured. It has an Auto Power Off to save the battery.
It is very lightweight, and the small dimensions make it very easy to carry around. It has water and dust resistant body and comes with a carrying bag, lanyard, compass with a carabineer clip, microfiber cleaning cloth and a CR2 battery.
PROS:
Perfect for golfing
Small light weight body
Water resistant
Battery included
Carrying case, lanyard, and compass
CONS:
Not very precise for longer ranges
Display may get blurry
Related: The Clicgear Rangefinder Storage bag is a gear place to keep your rangefinder safe and secure while out on the golf course.
Final Thoughts
By now you are probably confused and wondering which one of the reviewed rangefinders above is the best suited for your needs. Of course, this is one among many rangefinder reviews that tackle the features and specs of these particular gadgets.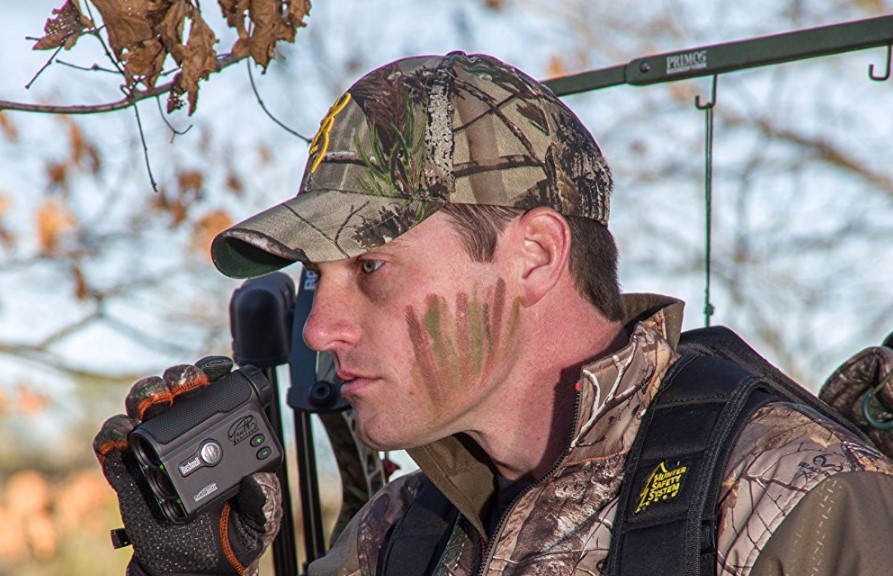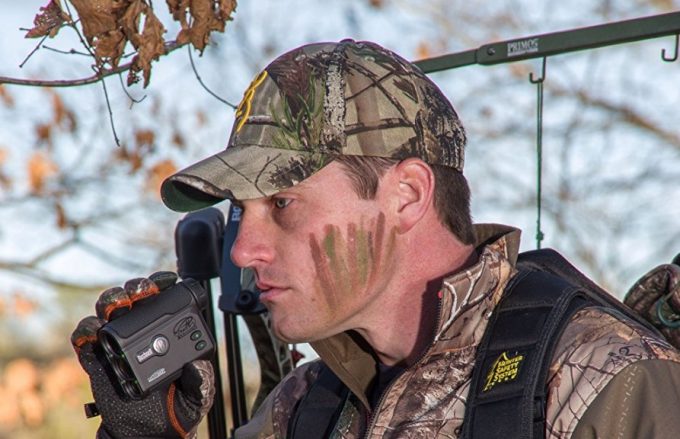 When preparing to purchase a rangefinder, do keep in mind that your personal preference as well as the activity you will use it for, are the main factors to consider before deciding to get into your wallet.
Many reviews recommend specific models for certain hobbies such as hunting and golf. However, many of these devices have diverse applications and can serve more than one purpose. In such a case, the diversified model would be more efficient.
But then again, it all depends on your available budget!  Let us know which option you went for in the comments section below.