Are you looking for the best rangefinder with amazing features at an affordable price? If yes, Nikon 8397 ACULON AL11 Laser Rangefinder should be your choice. For quite some time, Nikon has developed a good reputation in producing devices and gadgets with exceptional performance, which is why this rangefinder is currently causing ripples in the market.
Nikon products are sometimes quite expensive, but getting value for your money is something you should rest assured with their products. The Nikon 8397 ACULON rangefinder, however, may not fall into this category as it is comparatively affordable yet works expertly.
The rangefinder provides the highest level of accuracy that translates to accurate measurements in the field. This is provided for by the intriguing features accompanying this rangefinder. Unlike other Nikon products which come at high prices, it packs all the precise rangefinder features at a competitive price.
Product Specifications
ACULON Rangefinder is Nikon's most compact laser rangefinder, making it easy to take along wherever you go
An uncluttered, easy-to-read screen displays ranges in 1-meter/yard intervals
Eye Relief: 18 mm
Class 1 laser product, power output not exceeding .0975 milliwats

Measurement Range 6 – 550 yards

Use: Gun hunting, bow hunting, target shooting
This rangefinder is designed with great ease of use and spots an extremely compact design making it a practical choice for those who are always on the move. Expertise with optics is also reflected in this rangefinder if the multilayered coatings which enhance light transmittance are anything to go by. They handle gun hunting, bow hunting, and target shooting expertly.
What matters most in any rangefinder is perhaps its performance in the field. Honestly, much can be said about this rangefinder's features, which is why we've found it useful to provide an in-depth insight into this product. Read on to uncover the Nikon ACULON features, pros, and cons as well as why it surpasses its main competitors.
Review
To begin, rangefinders are as good as their features. They are helpful to any player, be it a newbie or an expert. Their surge in demand led to the increase in rangefinder models present in the market currently. This is why choosing one can be quite daunting. However, worry not as there are specific features that distinguish the various rangefinders.
That said, outlined below are some of the Nikon ACULON rangefinder features. Having a look at them will help you determine if it is the best rangefinder that suits your needs.
Packaging
The packaging of this rangefinder will certainly convince you. It comes in a small and compact box. As an archer, you definitely want a device that comes with various features to ease its use and the product's packaging doesn't disappoint. It comes with a myriad of accessories meant to ease users' experience.
Among the accessories that accompany this rangefinder include the CR2 battery. You'll note that most rangefinders of this price range don't have a battery, hence you need to buy it separately. Other amazing packaging features include a user's manual and a padded nylon pouch for easy portability.
Size
The ACULON rangefinder is often referred to as the Nikon's most compact rangefinder, which makes it easier to take along, thus overly portable. The rangefinder's compact body is perhaps one reason why many users attest its world-class performance delivery. It combines precision, high-end optical quality, and speed without breaking your bank.
Various users agree that using this product is quite simple as it perfectly fits in your palm. For enhanced portability, this item weighs 4.4 ounces. So to say, it is a featured-packed rangefinder with minimal complaints.
Design and Durability
You will know a company is proud of its products design if there is the company's logo on either side of the unit, and this is what Nikon ACULON features. To begin, this rangefinder clearly embraces the "small is better" school of thought. You'll certainly prefer having the rangefinder in your pocket rather than having it around your neck.
This rangefinder also has an ultra-compact frame which holds the small components of the product thus fitting in any pocket or pack. Besides being the ultimate take every-where rangefinder, it is made of a sturdy and durable material to last long.
Water resistance is the other intriguing design feature of this rangefinder. Being waterproof, sudden drizzles, which unexpectedly fall while you are on the field won't stop you from enjoying your shoots. However, the fact that it is waterproof doesn't guarantee that you expose it to too much liquid. It isn't completely proof thus the inside, and sensitive parts can be damaged.
Programmed Distant Target Priority Mode
If you often have a problem identifying the farthest target in a bunch of targets, try this rangefinder. Its distant target priority mode allows this rangefinder to conveniently display the range of your farthest target among a group of targets measured. This feature comes in handy, especially where there are obstructions such as a bush or some grass between your position and the target.
Note that the rangefinder gives a continuous and uncluttered display free of any unnecessary obstructions for 20 seconds or so when the button is held down. The easy-to-view display of this rangefinder displays in the uncluttered screen in ranges of about 1-yard intervals.
Accuracy and Quality Optics
A rangefinder's excellence can be directly linked to the performance of its optics. The Nikon ACULON exhibits remarkable performance on accuracy basis. This is made possible, undisputedly by the high-end optics, despite the low price, and allows you to visibly measure distance without flinching.
The rangefinder's multilayer coatings provide high light transmittance across the rangefinder's visible light spectrum. This minimizes light lost due to reflection thus providing a clearer and more natural view. The 6x magnification and 20 mm objective lens facilitate a crisp view.
When it comes to accuracy, Nikon ACULON is unbeatable, but speedy reading is certainly what this rangefinder excels the most. Once the power button is pressed, the rangefinder displays an accurate reading starting from six yards to 550 yards. As mentioned, measurements are easy to read as they are displayed in 1-yard increments.
Battery
The battery is an integral component of any rangefinder. Without a good powering system, your daily shooting periods can be cut short. For utmost power, this device comes with a single CR2 battery. Replacing the battery isn't a daunting task as accessing the battery compartment doesn't require special tools, so this makes it easy to swap batteries in the field.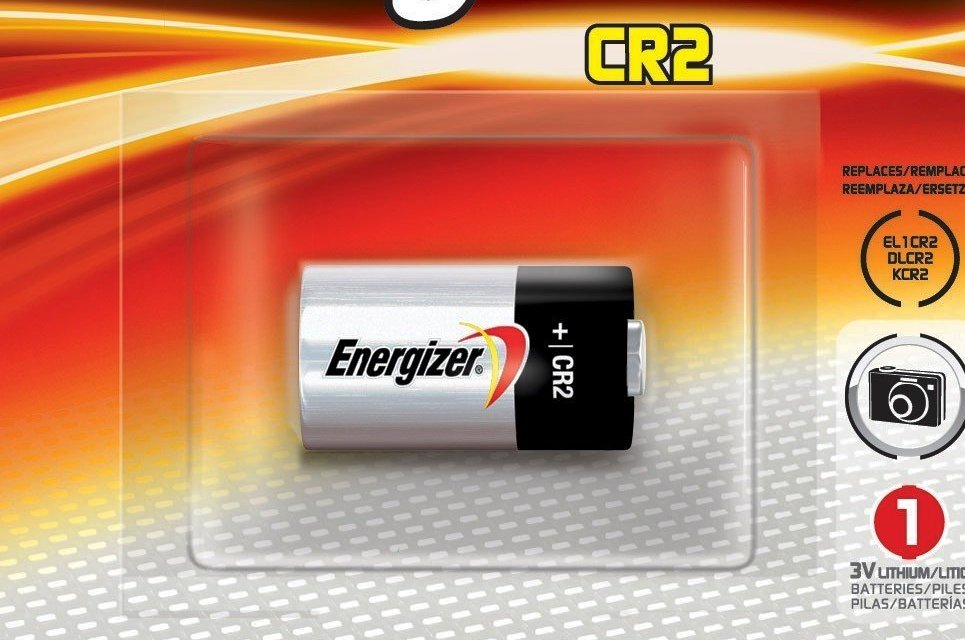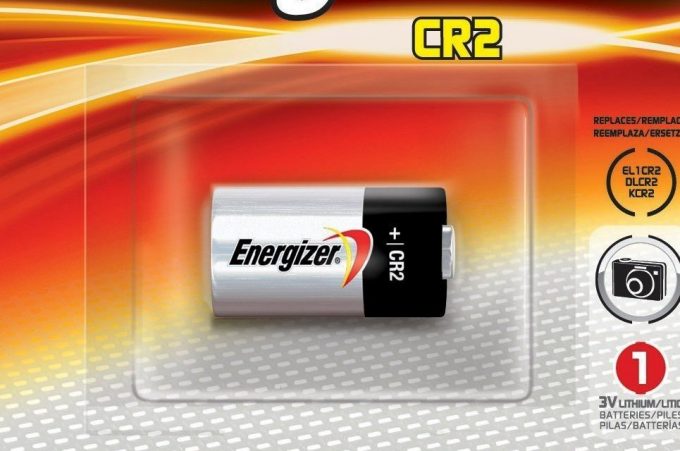 In a bid to save battery life, the Nikon ACULON, once powered on, remains on for about 8 seconds if not used before automatically switching off. This preserves battery life and is a good choice for anyone prone to easily forgetting to power down the rangefinder, only to realize a drained battery when they are in dire need to use it.
Value for Money and Guarantee
Investing in a rangefinder with endless features to make your hunting escapades enjoyable is prudent. Whereas rangefinders with similar or more advanced features as this item retail at high prices, the Nikon ACULON rangefinder defies it all.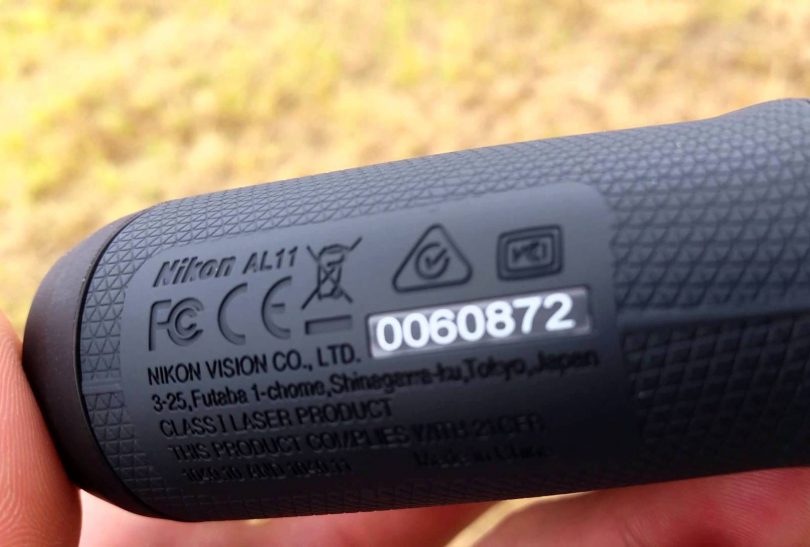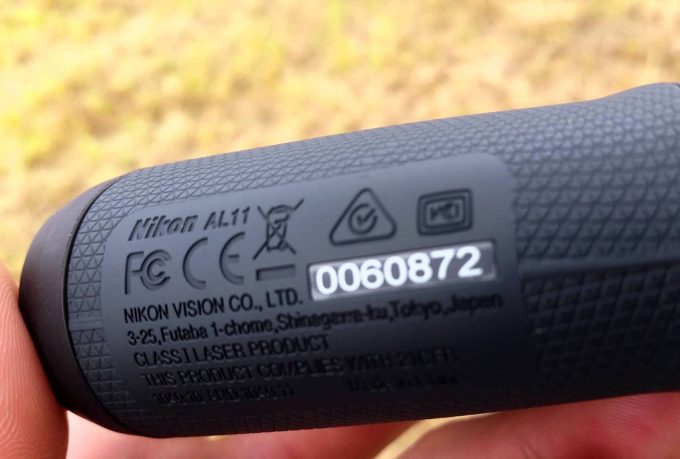 Many people often categorize cheap products as not being effective and of poor quality. If you fall into that fold, this product will surprise and prove you wrong. You can enjoy all these features, ranging from multilayered coatings, 550-yard ranging capability, long eye relief, distant target priority mode and easy button control at approximately $160.
Main Competitors
There are many models and brands of rangefinders available in the market currently. They differ based on the degree of specialty, accompanying features and of course, price. That said, some of the main competitors of the Nikon ACULON, based on price and features include the following:
Halo XRT62 Rangefinder
The Halo XRT62 Rangefinder comes closer to our main product in many aspects. However, we will outline the hot aspects of this rangefinder to make it easy for you to compare and crown your best pick. Both devices ascertain good accuracy, reliability and other standard features you may want in a rangefinder.
To begin, this rangefinder's package is something that brings some dilemma. Like other rangefinders, including the Nikon ACULON, it comes with a padded nylon pouch for easy portability as it can be worn on the belt. This product is accompanied by a lanyard and a piece of cloth for cleaning the lens.
Honestly, all rangefinders come with these accessories. The only downside of this rangefinder is that, unlike our star of the show, it doesn't come with a CR2 battery so once you purchase the rangefinder, you will have to buy the battery separately. Quite an additional cost, isn't it?
The Halo XRT62 is undoubtedly small in size, just like other rangefinders seeking utmost portability while maximizing precision. Both rangefinders measure distance in meters or yards.
Despite the fact that you will need some steady hand to get this finder to work, the better part is that it has a 600-yard range compared to the Nikon ACULON's 550-yard range.
In a bid to ease distance reading, this product has an integrated scan mode which allows you to take numerous readings continuously to provide more precise data on the distance to your target. With our product, this is compensated or rather surpassed by the programmed distant target priority mode which conveniently displays the distance of the farthest target.
Other interesting features of these two rangefinders prevail in some way, including the 6 x magnification. However, this model is best used for bowhunting or other shooting wild games and golfing, and it retails quite cheaper at approximately $120. It is a good entry level rangefinder with basic features.
TecTecTec VPRO500 Golf Rangefinder
The TecTecTec VPRO500 Golf Rangefinder is yet another premium rangefinder with advanced features worth awing. It is reliable yet inexpensive with quite intriguing features for golfing enthusiasts. Super lightweight, compactness, accurate readings and user-friendly are some of the things you will enjoy at a fraction of the cost.
Like any rangefinder you may like, the TecTecTec VPRO500 rangefinder is manufactured of solid and overly upscale materials while maintaining a sleek and soft superficial coating. The unique trio mode this rangefinder has is perhaps its selling point. The modes consist of First target priority, Distance target priority, and ProScan mode.
Just to mention, the first mode is perfect for hitting upon the flagstick, regardless of the unfavorable or distractive backdrops. The second mode demonstrates how far the cluttered background is and the last being the best to unearth the distance the targets are apart. Compared to our product, this is summed and compensated by the distance target priority feature.
Though not completely waterproof, the TecTecTec VPRO500 Golf finder appreciates being rainproof. High tech optics should also be expected with this model, based on the 6 x magnification allowing a 540-yard distance reading. Other similar features include being super lightweight, durable, sturdy and ultra-compact, which are somehow comparable to the Nikon ACULON.
This rangefinder is a good choice for golfers, while our model is best for bow hunting, target shooting and gun hunting. Perhaps, each is the version of the other in their respective fields.
Suaoki Golf Laser Rangefinder
The Suaoki Golf Laser Rangefinder is yet another golf-pro rangefinder with a myriad of features. It enables the golfer to achieve the most important thing when playing – getting accurate measurements. It comes with all accompanying features for various reasons.
This rangefinder beats our model hands up with its distance range. So to say, it has a range of between 600 to 660 yards, which make it easy to accurately make shots without straining. Nonetheless, accuracy is compounded by the 6x magnification with an accuracy of +/- 1 yard, similar to the Nikon ACULON.
The rangefinder also comes with various modes to suit golf players in easing the game. The seven measuring modes make this product adaptable for use in various situations such as correct determination of the speed, height and distance of any object. The modes include fog mode, flagpole lock mode, and golf distance correction, as well as horizontal, height, speed and range modes.
Enhanced user personalization is the other integral aspect of this rangefinder. In this, the finder has an inbuilt user function which allows the user to hide measurement modes when not in use thus a faster way of using the product. All these work in making any golfer enjoy his/her game.
Onto somehow similar features as other rangefinders, this product is overly portable and comes with a belt-mountable bag and a lanyard for great mobility and portability. Again, like the previous competitor, these products work best in their respective specialized uses.
Overview
Finding a rangefinder that meets your archery or hunting escapades is prudent. However, this could be quite a daunting task to accomplish, perhaps due to the many options available. As mentioned before, you should hugely rely on the product features.
As with the Nikon ACULON, you'll never go wrong if you plan to use it for hunting or target shooting. Its size is perfect for such adventures. It is perhaps a true definition of an affordable rangefinder with combined exceptional speed, precision, and high-end optical quality.
Operating this rangefinder is overly intuitive as it requires a simple push of a button. Its user-friendly design provides for a continuous measurement of readings for up to 20 seconds when the button is held down. The display is also uncluttered and free of unnecessary obstructions allowing the user to concentrate on the object being ranged.
The highlight of this product is its distant target priority mode which enables the user to visualize the furthest target among a group of targets. This makes the rangefinder overly useful in measuring object distances that are partially obscured.
The rangefinder's Nikon quality optics which achieve rapid accuracy is the other feature worth looking into. With the 6x magnification, a long eye relief, and a 20 mm objective lens, you will find it easy achieving precision. Nikon's multilayer optics provide exemplary light transmission across the entire light spectrum for enhanced visibility.
With this rangefinder, measurements can be easily read and displayed in increments of 1 yard or in meters. It also delivers an accurate reading of up to 550 yards. Other components making this product standout include the CR2 integrated battery, uncluttered LCD system, water-resistant/rainproof design and its ability to scan and fax.
PROS:
The rangefinder is budget friendly yet worth every penny
It comes with high-quality optics
It is overly user-friendly and easy to operate
The finder automatically shuts down after 8 seconds when not in use to save battery life
The battery compartment can easily be opened in case you need to replace it
Units of this rangefinder can be displayed in yard or meters
It is extremely lightweight, with a compact design, durable and covered with a long-lasting case
CONS
:
The rangefinder doesn't feature high-end technical specifications such as the JOLT
CR2 batteries can be quite expensive
The finder requires a steady hand for capturing a clear vision of target
There might be similar or better laser rangefinders in the market currently, but most aren't in the same price class as the Nikon ACULON. This finder offers nothing less of better thrills with a reliable and compact nature. Certainly, anyone who requires accurate distance ranging will enjoy using this rangefinder.
That said, this is a great tool for hunting experts as well as beginners who want to enhance their accuracy levels and precision. If you need a lightweight, compact, easy to use, affordable and reliable rangefinder, this can be the best choice.
Rangefinders are absolutely and an integral component in aiding you to improve your shots. This makes the whole experience easy and speedy. This review provides more insights on the Nikon ACULON rangefinder, one model with impeccable design, great performance and priceless accuracy.
Nikon 8397 ACULON AL11 Laser Rangefinder
Packaging

Size

Design and Durability

Programmed Distant Target Priority Mode

Accuracy and Quality Optics

Battery

Value for Money and Guarantee
Summary
You definitely want a rangefinder without many complexities when it comes to accuracy and precision. The Nikon 8397 ACULON AL11 Laser Rangefinder is undisputedly an instinctive rangefinder to operate. It is a great tool for hunting beginners as well as experts and if you need a compact, lightweight and affordable rangefinder, Nikon 8397 ACULON AL11 can be your best buy.
Having gone through this review, you can find it the best choice to try out in your hunting escapades, so give us some feedback on your experience with the rangefinder. You might as well share with your friends who need to up their shot accuracy.