If you are a good hunter, a long range shooter or participate in archery, then you know how a rangefinder comes in handy. The golf player has also been known to use rangefinders to locate their shots while in the field. A rangefinder is a piece of equipment used by hunters or long-range shooters to make accurate, precise shots.
With a rangefinder, you can tell how far an object is with some amount of certainty. Rangefinders have been on the market since time immemorial but have undergone a lot of evolution to fit specifications needed in the current generation. Getting the right rangefinder may prove difficult.
Before buying a range finder understand what you are looking for regarding distance, clarity, and durability. Reading product review from articles such as these are ways that can help you get what you really need. On this article, will get to discuss Redfield Raider 600 Rangefinder.
Product Specifications
Redfield Raider is a company renowned for manufacturing of high-quality rangefinders, riflescopes, binoculars, spotting scopes, Leupold bases and rings among other products.
The Redfield Raider Company has a reputable hunting legacy and is now a part of the Leupold family. Their rangefinders have exceeded every individual's expectation because of the great specs and quality of the product.
There are a couple of state of the art rangefinders that are manufactured by Redfield. The different rangefinders have different specs so as to suit every individual's needs. Some of these rangefinders include Redfield Raider 650, Raider 600, Raider 550, and so many others.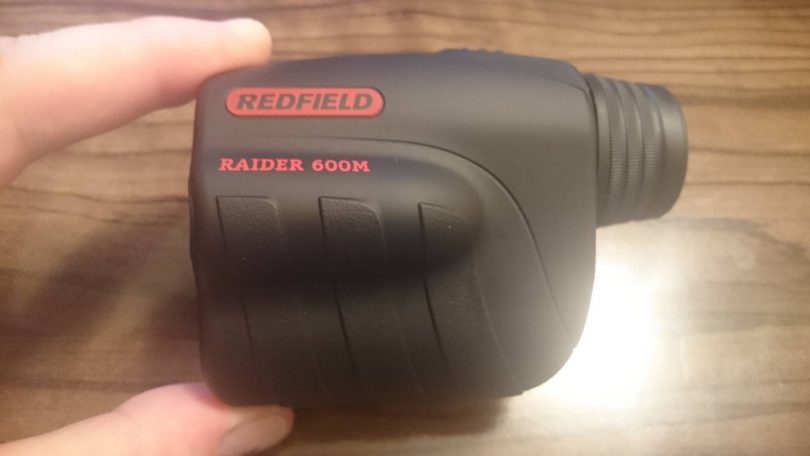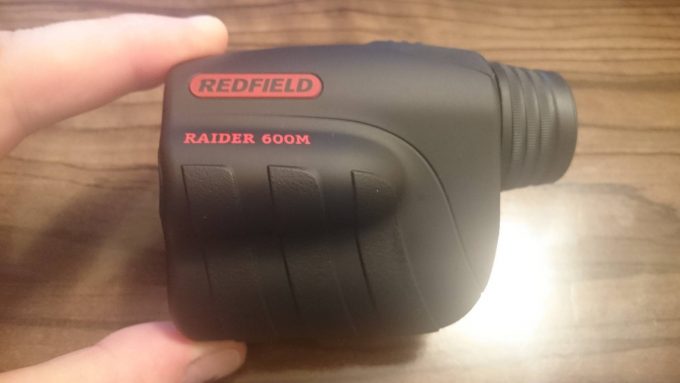 The Raider 600 is one of the amazing products from the Redfield. It has a lot of excellent specification that hunters, archers, long range shooters and golf players would want. The product is a tip of the iceberg when it comes to rangefinders.
Review
With this rangefinder, you can make your shots with high confidence as chances are you are going to nail them down. Below is a description of the product and the key specs.
Packaging
When you get your product, the packaging is the first thing you see. Great packaging is of great importance before delivering a product. The 600 Rangefinder comes neatly packed in a box and is neatly sealed. There is a sign that will guide you on how to unseal the package.On the inside, you will find the rangefinder neatly wrapped in a colorless nylon paper. It is accompanied by other products you may have ordered together such as the CR-2 batteries. The product also has a field-ready case for extra protection.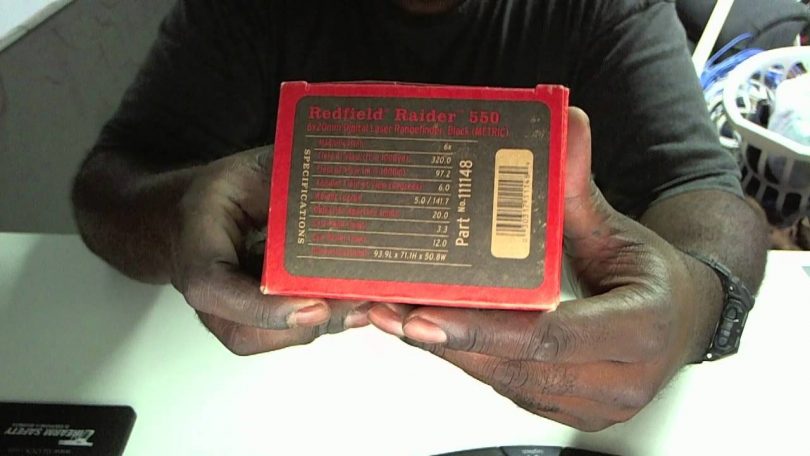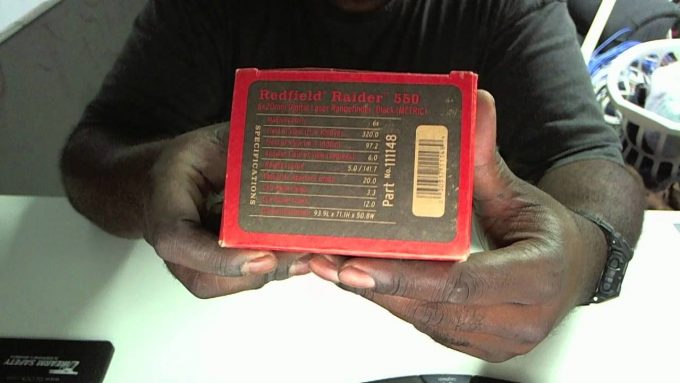 The inside is also lined to reduce movement of the range finder as too much movement increases chances of the package being destroyed. The sealing is expertly done to prevent moisture getting to the product
Design and durability
When you take the first look at the Redfield, you will notice the great artistry and great design. With a lot of artistry, time invested, the product captures the eye from far. The product is manufactured with a high-quality material that can withstand harsh climatic changes and falls.The product comes in two finishes; black and mossy oak to give customers room to choose what they love. The product has been monitored, tested and recommended by rangefinders experts because of its exceptional performance.
The rangefinder can be used for several years without any itches because of the high-quality materials used. The product is also 3.7 inches long and weighs 5 ounces, to top it up, it has a 3-channel design.
Specifications
Before getting any gadget, you need to understand all the key specification. Understandings the specs will help you discover if the product will serve the purpose you want it to or not.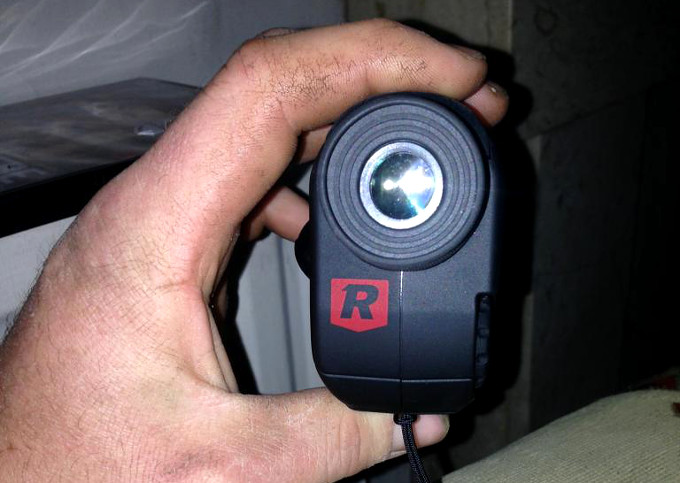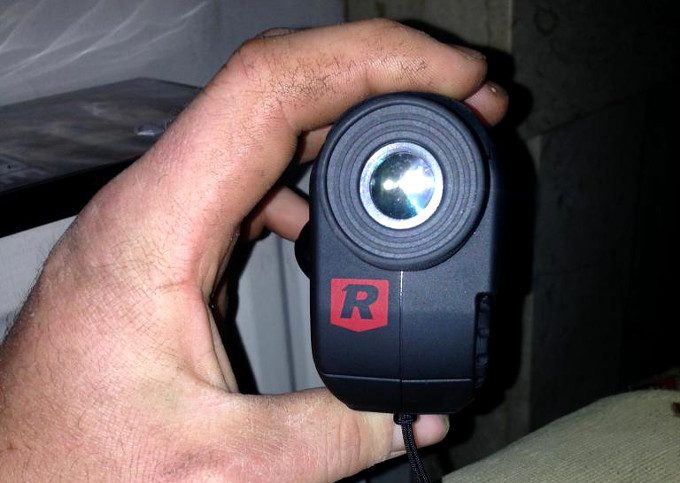 A rangefinder is no different, there are many rangefinders available in the market, and different rangefinders will always have different specs to serve different individuals. If you go in blindly without really understanding the specification, there are high chances that you will pick the wrong product. Below are the key specs on the Redfield Raider 600 Rangefinder:
Compact
A rangefinder that is small, light in weight and portable is what every long-range shooter or a hunter require. Redfield clearly had this in mind while making the 600 Rangefinder. This particular rangefinder is only a mere 5 ounce in weight and has a length of 3.7 inches.
This makes it very easy to carry, use and handle. The lightness comes in handy during use; a heavy rangefinder will make your hunting rifle heavy too making it hard actually to focus on the target. The Redfield Raider is a little rangefinder, but the function is astoundingly great.
Multi-coated lenses
Lenses are of the great essence in a rangefinder, rifle scope or any other tool used in long range shooting. A lens with great clarity, one that does not fog up is among the things that make a lens be termed as good.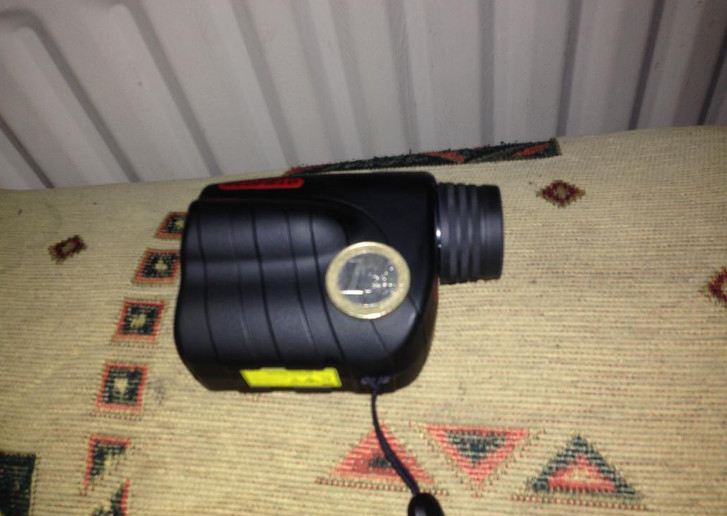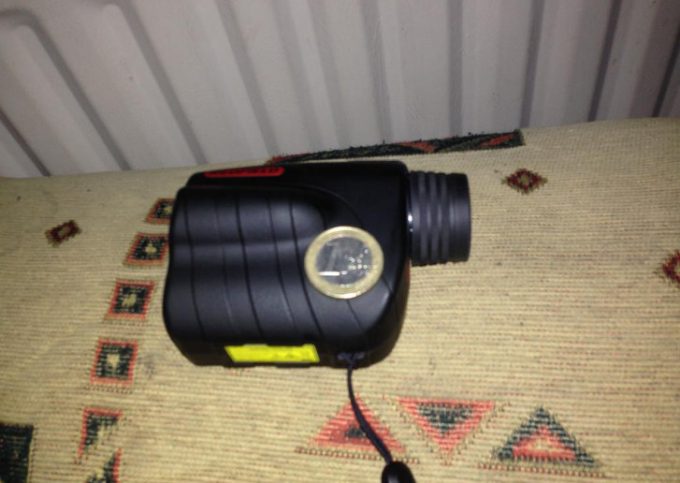 The Redfield Raider 600 Rangefinder has several coatings which make it anti-glare as well as anti-reflective for great clarity and therefore you can be able to make great shots. The multi-coating also aids in contrast and improving clarity especially in low light days such as cloudy days.
Field of view, eye relief, exit pupil and range
Field of view is the distance you can view from where you are when using a scope, rangefinder or binoculars. It is often mistaken with the objective aperture, but they are not the same. The Raider 600 has a field of view of 6 degrees 325 ft. At 100 yards. This means it has a wide field of view meaning it easier to aim and you can stay on the subject thus making accurate shots.
Eye relief can be defined as the distance from the rear lens that the eye requires perceiving a full image of the target. A good eye relief gives you an opportunity to makes a better aim.The rangefinder has an eye relief of 12 mm, and with this kind of relief, it is a guarantee that you will be able to gun down that deer you have been dialing in. It also has an exit pupil of 3.3 mm increases the chances of making accurate shots.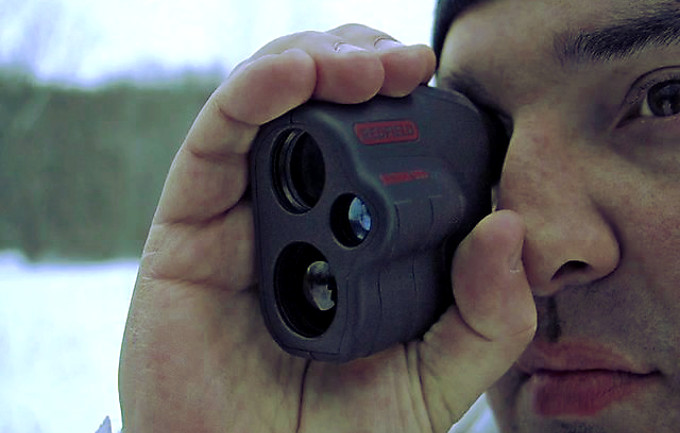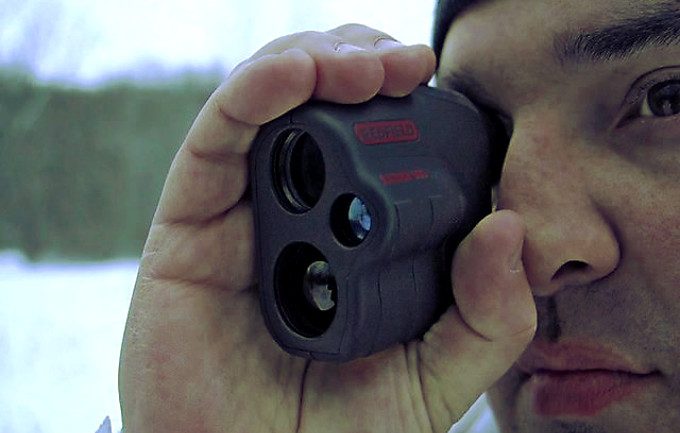 If you are a long range shooter, you can make great shots. The Redfield Raider 600 Rangefinder is the best rangefinder for you. It works well up to a maximum of 600 yards and a minimum of 6 yards. This range is actually great for small sized budget savvy rangefinder
1-touch button operation, CR-2 battery, and 1-button scan mode
The Raider Rangefinder has a one-touch button operation making it quite easy to use especially for fast actions and change various settings depending on factors such as altitude and windage. With just a single press down of the button, you can get a range of your target in a short time.There is a button that helps you scan the various landmarks, returning ranges as well as your target by just pressing the button. With these great features, you will be able actually to get your target.
This device uses the CR-2 battery which is easily available. The rangefinder uses energy efficiently meaning the battery has a longer battery life. The rangefinder is also characterized with a powerful laser, digital processor, and its high speed is an amazing combination that makes it suitable for accurate shots while in the field.
Magnification power and objective lens aperture
When getting a tool used in long distance shooting/ hunting, magnification power is a key spec that should be considered. With good magnification power, you can always spot your trophy even miles away making it more clear hence giving you a great window to make actual shots.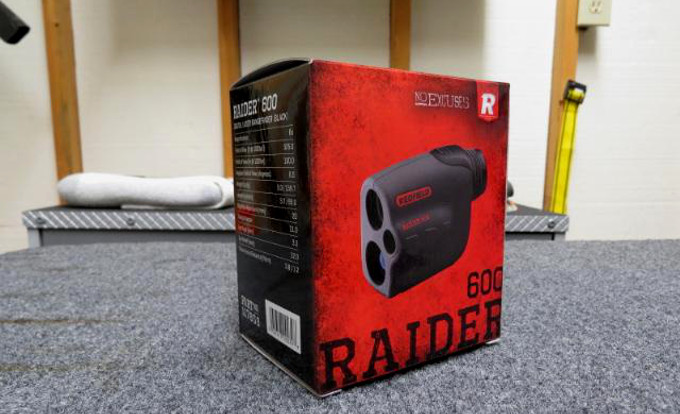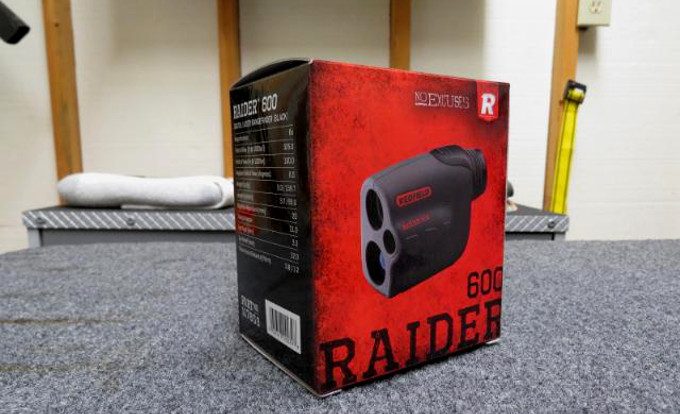 The device has a magnification power of 6x; this means that you can see your target six times bigger than its actual size from a distance. With this kind of magnification, you can close in on that deer and make a great shot with nearly zero chances of missing.The Redfield has an objective lens diameter of 23mm. The objective lens allows you to closely focus on the target by ensuring that there is less light lost from the eye to the target. The 23mm target allows you to focus completely on the target making an accurate shot.
Value for your money
When getting a product, we always want value for our money meaning that the product purchased should actually serve the intended purpose for as long as possible. When you purchase this rangefinder, it is covered by the Redfield Electronics Warranty giving you peace of mind and confidence while using the rangefinder.
The rangefinder retails for approximately $200. Which is a good price considering the great specifications it has. In cases where it malfunctions, contact the supplier as they will help you fix your scope. It is thus important to make your purchase from trusted supplier such as Amazon and Redfield's official site.
Similar products
Aside from the Redfield Raider 600 Rangefinder, there are other rangefinders that have some similar specs in both the functionality and the design. Below are three top rangefinders closely similar to the main product that we are discussing:
Simmons Rangefinder 4x20LRF 600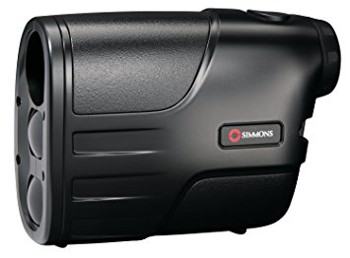 The Simmons 801405 Rangefinder is an amazing product from the Simmons company. It features a magnification of 4x which means you can see a target four as much thus increasing chances of making accurate shots.
It is a high speed and gives an accuracy of +1/-1 yard meaning with this scope the chances of hitting your trophy are very high. It has an in-view LCD which provides the exact distance to your target. It works great up to a maximum range of 600 yards and a minimum of 10 yards.
The optics are crystal clear and bright the two things that determine the chances of making accurate shots, it is compact featuring a length of 5 inches and weight of the only 9 ounces. The Simmons Rangefinder uses a 9-volt battery which is energy saving.
It also works great under adverse weather conditions such as rain days or foggy days. It comes with a carrying case for extra protection.
When compared to the Raider 600 Rangefinder, the Simmons 801405 is more inferior because of the magnification power. The 600 Rangefinder has a 6x magnification, and this offering gives you only  4x power.
The Simmons may serve an option for a short range shooter so much better than a long-range because of the magnification power. It also weighs slightly more than our main product. Some users have complained that some errors were observed when measuring within 100 yards. It also has no eye relief for glasses wearers.
Eagle Shot Golf and Hunting Digital Rangefinder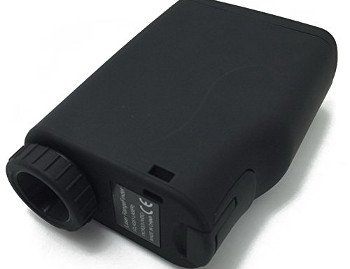 Eagle shot Golf and Hunting Digital Rangefinder is a rangefinder commonly used by hunters, golf players, hikers, backpackers, birdwatchers and long-range shooters. Eagles shot has been manufactured with durable, tough material to withstand the adverse weather conditions.
It is compact and portable as it weighs very little and has a length of 4.7 inches. It features a 600-yard digital rangefinder helping you measure the exact distance of your score while paying attention to the landscape and other obstacles. It has a two button design which is easy to operate and is also accompanied with a manual just in case you stuck on how to operate the rangefinder.
The Redfield Raider Rangefinder 600 is much better than the Eagles shot Rangefinder, especially regarding functionality. The Raider is more superior regarding magnification and field of view. This one though can be helpful to nature enthusiast such as bad watchers, hikers and golfers too.
Redfield 117862 Raider Rangefinder 600A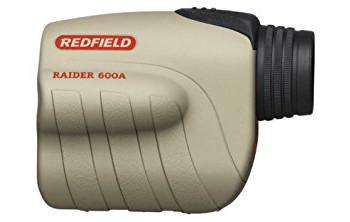 This another fantastic product from the Redfield company. The Raider Rangefinder 600A has featured a compact design; it weighs only 5 oz. and measures 4'' in length.
This makes it portable, and you wouldn't even notice it is in your pocket as it is extremely light in weight. It has a magnification power of 6x just like the Raider 600 Rangefinder. The magnifications ensure that you get to see your trophy more closely than it appears with a mere eye.
It features a precision laser as well as an inclinometer that helps you improve the chances of making accurate shots even at long distances. The operation is very simple. It features a single push button that helps you get a range, and you might as well hold it down to get a scan mode for more accuracy.
It works perfectly up to a range of 600 yard which is actually a very long distance. The product uses the CR-2 battery which is energy saving. It also comes with a 2-year electronic guarantee thus giving you a peace of mind while using it.
The Raider 600A is closely similar to the Raider 600. You can any of the two if one of them is not available. The key difference is the buttons. The 600A uses a single button to get the scan mode and the range while the 600 has two separate buttons for each function.
Overview
The 600 Rangefinder is a great product for a great price. The 6x magnification power, 23mm objective lens diameter, compact, multi-colored lenses are among the various specs that make this rangefinder to stand out. If you have never used a range finder, this can be an amazing product to try out.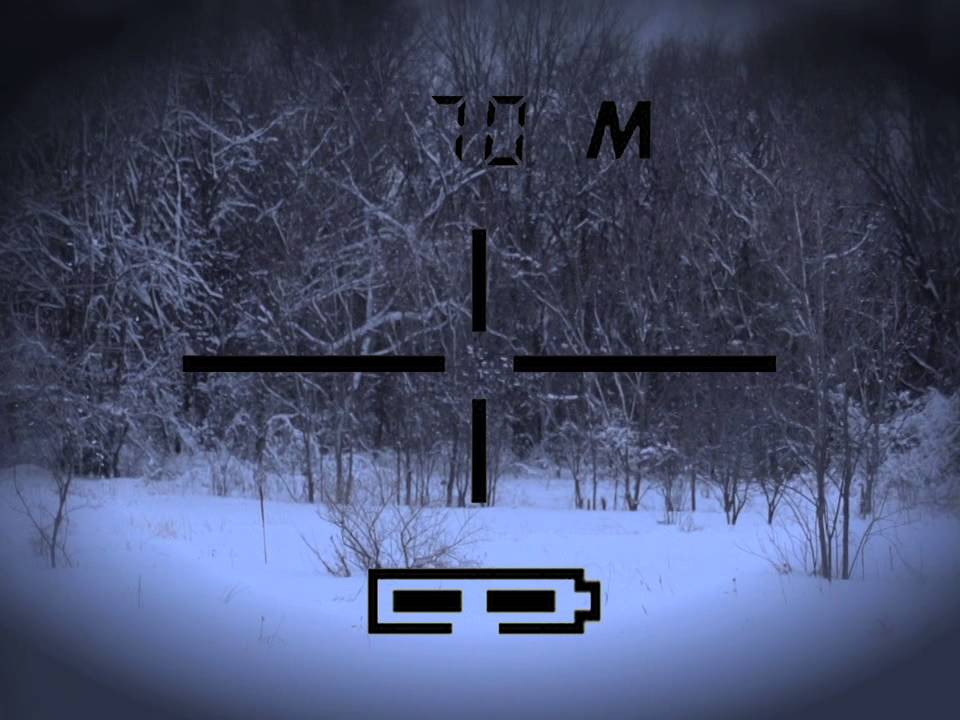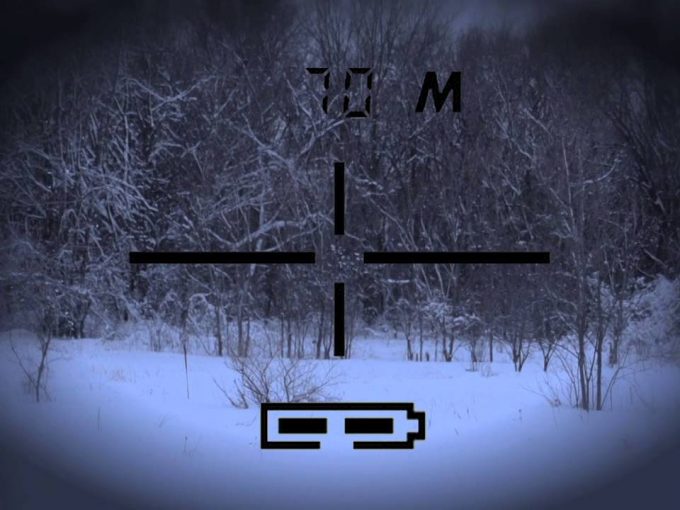 It is very easy to use and small in size hence compatible; light in weight and a comes with a warranty. It is the kind of rangefinder that will help you NAIL down that trophy you've been scouting for days. Below is a summary of the advantages and the disadvantages of the rangefinder
PROS:
Have multi-coated lenses
Light in weight, small in size thus portable and has a 3-channel design
Has a magnification power of 6x and objective aperture of 23mm
It is affordable
No frills and comes with a handy carrying case.
Uses the CR-2 battery which is energy saving,
Easy to use with one-touch buttons
Effect up to a maximum range of 600 and a minimum of 6 yards
Wide field of view for accuracy
CONS:
Display is not sharp when the image is not focused
Maybe a little dim in extreme low light conditions
The advantages completely mask the cons thus it is a great product to try out. The cons can also be fixed, when the display is not sharp, try scanning and focusing on getting more clarity.
The Redfield Raider 600 Rangefinder is an extraordinary rangefinder usable by extraordinary individuals. Get this rangefinder today and pin down that monster buck trophy.
Redfield Raider 600 Rangefinder
Packaging

Design and Durability

Specifications

Compact

Multi-coated lenses

Field of view, eye relief, exit pupil and range

1-touch button operation, CR-2 battery, and 1-button scan mode

Magnification power and objective lens aperture

Value for your money
Summary
The Redfield Raider 600 is a compact lightweight rangefinder for those looking to reach out to 600 yards and get an accurate measurement.  It is the rangefinder that you want to take with you on your next hunt to help you zero in on that trophy you've been after.
If you have used this product, we highly encourage you to share your experience with us in the comment box.