If you are a hunter or golfer, then you must have been in frustrating situations when long-range miscalculations would throw your precision off and make you totally miss your target. Thankfully, with recent advancement in technology, a solution in the name of a rangefinder has been provided to your problem. Today, we will be taking a look at one of the best rangefinders in the world, the Vortex 1000 Rangefinder.
Archers and sharpshooters are not the only people who make use of rangefinders. Surveyors, photographers, and amateur golfers also employ rangefinders to help them with yardage calculation. However, with so many makes and models of rangefinders nowadays, it is very easy to go for the wrong device and this is why we are here to lead you aright.
Product Specifications
The rangefinder is easy to use and features a clean, illuminated display and highly intuitive menu
The primary HCD mode displays an angle compensated distance that is ideal for the majority of hunters and shooters
A scan feature gives continuous range readings as you pan across a landscape or track a moving target
Fully multi-coated lenses deliver optimal light transmission
The Vortex 1000 is a great device with many remarkable characteristics, and here, we will be looking at its features, specifications, and special traits, as well as some of its closest competitors. Read on!
Review
The Vortex 1000 rangefinder is a powerful rangefinder with a very durable build. It is very compact and lightweight, which makes it easy to carry.
The device measures less than 4 inches in length and weighs around half a pound only. This means that you would only have to put a little effort in order to use this device to range your objective. Also, its light weight makes it comfortable to use and it ensures you wouldn't get tired quickly. Nevertheless, this device is weighty enough to make it strong when you are using it.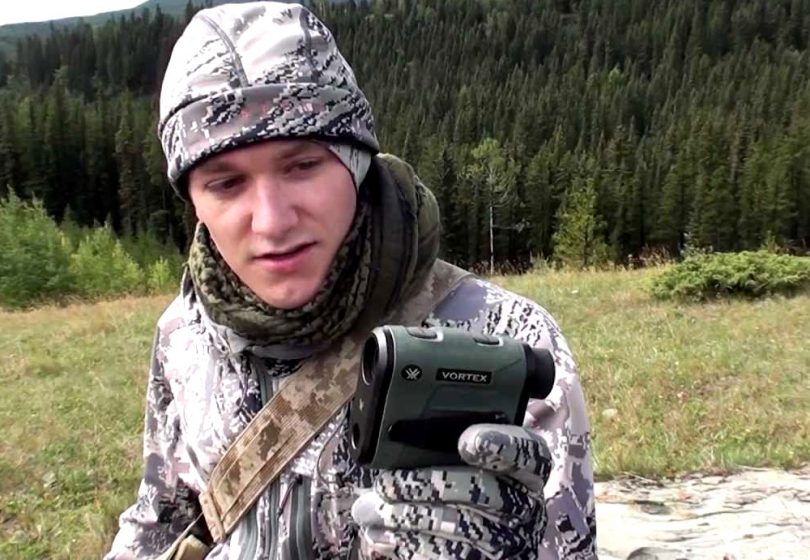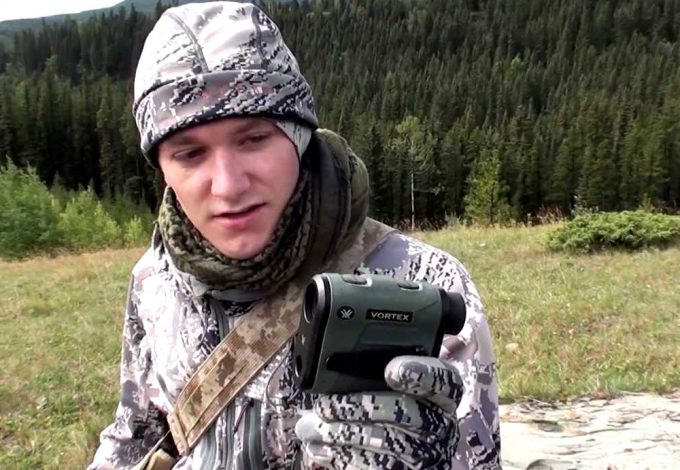 Furthermore, this model comes with a lanyard that allows the user to carry the device around the neck. It likewise has a built-in and strong clip that enables it to be pinned to a belt. Also, the low weight of the device prevents it from becoming burdensome and getting you tired.
In addition, the Vortex 1000 comes with an objective lens of 22 mm, which is actually not that big.  Nevertheless, it would be more prone to imprecision if the objective lens were larger.  The device also sports an eye relief of 17 mm, which makes it really comfortable to use the device, as well as an all too familiar 6 x magnification, which is near perfect for a rangefinder.
Packaging
In the packaging of this device, you should expect one Vortex 1000 rangefinder, utility clip, neck lanyard, soft carry case and CR2 lithium battery. Sounds good, right? Most times, packaging of a product speaks volume about the quality of the product. Vortex understands this and always ensures their products are nicely sealed and boxed up.
Performance
The Vortex 1000 is a great choice if you're in search of a device that performs well in the long distance. It will display its maximum capacity together with the cutting-edge features which make it an incredible choice for those hoping to get the optimum result from an extremely minimalist design. This implies you can expect high performance and you would truly use this rangefinder to the max only if you would utilize all of its cutting-edge features.
Additionally, one of the most impressive features of this device is the slope compensation function. This feature can prove really useful when you're on uneven terrain which can be hard to manage when you're trying to get the precise distance between you and your target. The angle compensation function will help you to get the exact readings in this kind of situation.
Design and Durability
The compact built of the rangefinder makes it suitable for a whole day use. It is one of the rangefinders that are built to deliver optimum results while coming in a compact design.
Besides, the rangefinder is built with high-quality material. This can be seen from the weatherproof build. This is one of the things needed for good usability in every weather and also a sign that the device is durable. The build of the device is surely made for improved usability.
For example, it has a rubberized grip which will make sure the device doesn't slip from the user's hand when it is being used in any kind of weather condition. This means that you can use the rangefinder efficiently even in unfriendly conditions.
Also, the Vortex 1000 is a long distance ranger which comes with an exceptional construction. If you do not have any problem with its 3-yard accuracy, this gadget will prove a lot useful to you in years to come. Also, you can save yourself from spending money on a rangefinder every now and again as this rangefinder is built to stand the test of time.
Ease of Use
Some of the best things about the Vortex 1000 is its simple operation, helpful features, and simple user interface. This device is built particularly for rifle hunting and archery and can be used by golfers as well.
The vast majority of hunters can easily use it in the default mode. It does not need a lot of setups under regular usage and can likewise be adjusted according to preference and requirement.
The Optics and Display
One of the things that make the Vortex 1000 outstanding has to do with the optics. The rangefinder delivers crisp and clear images similar to the ones produced by more costly rangefinders from other companies. Several other brands are fogproof and waterproof as well, so this isn't really outstanding about the Vortex 1000. This is despite the build that matches or surpasses that of many more costly rangefinders.
However, one thing that is outstanding about the optics and function is that the numbers displayed by this rangefinder are shown in red. This is great due to the fact that most other rangers show the numbers in black, which sometimes becomes problematic in some conditions.
Although this may appear like a trivial thing, however, it is essential in the real-world application. All things considered, the best rangefinder is nearly useless if the display can't be read. You can also adjust the intensity of the display easily.
Unique Features
Below is a number of special features that will help you know more about the rangefinder:
Scan Mode
In the Scan mode, the distance readings are constantly refreshed as the device is moved. This implies that if you are targeting a moving bull elk or buck, the distance changes as the target moves will be visible.
The scan mode gets rid of any guesswork that is usually experienced when targeting a moving target. Also, this mode is helpful in thick brush, where finding the range of your target could be troublesome and confusing.
HCD Mode
The HCD (Horizontal Component Distance) mode naturally makes adjustments for the angle. This mode is very helpful when you're looking into down-slope or up-slope, instead of just utilizing the device on a level ground. The HCD mode takes the angle of the slope into account and that adds to the versatility of the device.
For the HCD mode, the greatest angle of slope is 60° above or beneath ground level. Bow hunters will probably find the HCD mode really helpful as it the mode helps the device give precise distance information on up-slope or down-slope ground. It also works well for rifle hunters, particularly for those who plan to hunt from tree stands or in bumpy territories.
LOS Mode
LOS, which stands for Line of Sight is another useful feature on the Vortex 1000. It gives the distance for the definite line of sight to your target. This mode is like looking through a customary scope. It is helpful when you're ranging a static target on the level ground.
Also, this mode is helpful when you're sighting in a rifle in a place where you need precise distance measurements. For instance, the Vortex 1000 enables you to lock in the target without going to a rifle range. Besides, you can set to show the distance in either meters or yards and it is very easy to make the selection.
Weatherproof
The Vortex 1000 is a strong device. Apart from the fact that it is very versatile in every kind of territory, the rangefinder also can endure different weather conditions. Be it rain, snow, fog, the Vortex 1000 will operate just fine.
Furthermore, the device is very durable and will withstand drops and knocks. What's more, the O-ring eyepiece prevents moisture and dust from getting into the lens and interiors of the rangefinder.
Value for Money and Guarantee
Generally, rangefinders come with a 1 or 2-year limited warranty. However, Vortex chose to be exceptional and offer a Limited Lifetime warranty on the Vortex 1000. Although it is not something unheard of in the optics community, it is uncommon for a laser rangefinder that includes many electronics such as this to come with a Limited Lifetime warranty.
According to their website, Vortex expresses that "any manufacture defects" is covered by the warranty. Despite the fact that a warranty such as this sounds extremely good to be true, however, Vortex is known to be always serious about their products quality. The company commits a large portion of its effort toward their clients, as opposed to just manufacturing a product for sale.
Close Competitors
Now that we have discussed everything that can be offered by our main rangefinder, we will now take a look at some other models to see if there is another rangefinder that could work well for your specific needs.
Leupold RX-1000 Laser Rangefinder
Leupold is a leading company when it comes to the manufacturing of optics and the Leupold RX-1000 Laser Rangefinder is their new offer. This rangefinder is built to produce bright images and accurate long-range measurement and comes in a very compact body.
Measuring just 3.8 inches long and weighing only 7.8 ounces, the pocket-sized RX-1000 is a very lightweight rangefinder. Its lens system is completely multicoated and delivers a brilliant, immaculate picture with 3 times better light transmission than customary LCD rangefinders. The device also sports a 6x magnification and striking red OLED display which makes it easier to sport and range targets, even through thick timber.
In addition, the RX-1000 rangefinder offers True Ballistic Range® Technology to make your shots more accurate. The RX-1000 is rugged and weatherproof, with a strong all-metal frame and rubber coating in a fine black finish. The maximum range and minimum range of the device is 1,000 and 10 yards respectively on reflective objectives. Measurements are shown in meters or yards.
Furthermore, the RX-1000 model can calculate the shot angle automatically and give the True Ballistic Range as opposed to the straight-line distance to the objective. Also, the rifle settings work in union with Leupold's Ballistic Aiming System® riflescope reticles for extraordinarily precise shot placement.
LaserWorks LW1000SPI Laser Rangefinder
The LaserWorks LW1000SPI Rangefinder is one of the best hunting and golf long range rangefinders. That is due to the fact that it is very efficient and accurate, though its precision is smaller than that of some other models in the same category.
Also, this rangefinder from LaserWorks isn't as pocket-friendly as some other models, however, it performs admirably well and we think it's worth the price. The maximum range of the device is 1600 yards, so you can spot your targets very easily with the device.
In addition, the device has more than one mode of measurement that you will be able to make use of according to different situations. This rangefinder can also gauge speed in the range of 0 – 300 kmh.
In general, all laser rangefinders tend to have similar functions, therefore you don't need to be a specialist before you can make use of this device. Also, this device is waterproof and long-lasting. Weighing less than a pound, the rangefinder is extremely lightweight.
With a lightweight built like that, most hunters and golfers will encounter no problem with this device. Because of its compact and ergonomic design, it has a comfort grip and it can be easily carried around as it weighs only about 5 ounces.
Overall, this is an excellent rangefinder. It has an ergonomic grip which makes it easy to hold, and it is powered by a single 3 V (CR2) battery. Although it offers nothing extraordinary, and you are giving up a little accuracy to have a genuinely weatherproof construction, however, this is a top quality device overall, and it won't disappoint you on foggy mornings when that buck shows up. Furthermore, you don't have to break the bank before you can buy this device as it is reasonably priced.
Bushnell Scout DX 1000 Laser Rangefinder
Bushnell is the number one company when it comes to the manufacturing of optics and the Bushnell Scout DX 1000 Laser Rangefinder is another exceptional device from them. The Scout DX comes with a moderate 6x magnification and has a range of 5 to 1000 yards, however, real-world numbers will vary, obviously.
Unless a target is reflective and really large, you will probably reach a maximum range of around 650 yards. The ranging precision of the Scout DX rangefinder is great though and is about +/-1 yard based on different situations.
When you look at the LCD display of the Scout DX, you will see a scope of numbers and symbols showing features like battery life, targeting, angle range compensation, and more. Therefore we advise you to read the manual to acquaint yourself with the meanings of every one of them so as to avoid mix-up when you are out in the game.
Bow hunters are going to love the fact that the Scout DX comes with an integrated inclinometer for showing the precise angle when shooting uphill or downhill. You can select between rifle and bow mode for the angle range compensation and select whether to range in meters or range, of course.
For significantly more ease, the Scout DX comes with different modes of targeting while "Brush" mode takes background objects into consideration while brush and tree branches are disregarded. In addition, in the rangefinder's setup menu, you can pick between two angle range compensation modes and one normal mode. In general, the Scout DX is packed with a variety of features and comes with everything required by a bow or rifle hunter to get precise readings.
In addition, the Scout DX sports an incredible design. Bushnell is a giant in optics manufacturing and the company is renowned for offering products with incredible designs and there is no exception with the Scout DX.
It is a compact and sleek piece of gear that comes in a strong plastic casing. Additionally, the Scout DX has a rubber coating which means that it will be comfortable to hold even when in wet conditions. Moreover, the Scout DX is completely fog proof and waterproof, which is a big plus when you are out there chasing animals.
What is more, the Scout DX is very portable and has a very thin vertical built that makes using it with one hand easy. In spite of the considerable number of features packed in the solid housing of this device, the Scout DX is likewise a lightweight device and won't tire you out on a longer hike or hunting trip.
For added comfort, the Scout DX additionally has a tripod mount that is formed into the base of the device. This is exceptionally valuable for anybody that requires greater steadiness or plan on utilizing the device for extended periods.
Furthermore, to keep you from losing your battery, the Scout DX sports a post-thread battery door. It is powered by a single 3 V CR2 battery and the battery life is quite impressive considering all the features packed in this rangefinder.
To use the Scout DX, you need to press the power button once which powers the display. Press and hold down the power button again whilst going for your objective and the range reading will be shown. You see, this device is very easy to operate. Also, it has a "mode" button to scroll through the various modes.
Overview
The Vortex 1000 features an OLED with control settings and you can set it to measure the distance in yards or meters. One of the exceptional features of the Vortex 1000 is that its LOS mode can be utilized to provide LOS yard and slope rate that can be used for making smartphones software or customized drop charts.
It can be used to measure precise distance to the object within 500 to 1000 yards.  Also, it enables you to switch between yards and meters and also use Pin Acquisition technology simply by tapping or holding the mode button that is located near the power button.
PROS:
It is waterproof and sealed
It comes with HCD and LOS modes
Accurate for more than 500 yards
It works exceptionally in low light
Range Acquisition is very fast
3-Level user Selectable Brightness
CONS
:
The device is powered by CR2 battery which is more difficult to find than AA batteries
The measure button is a bit noisy
Accuracy is limited to only 3 yards
The Vortex 1000 is a thrilling prospect, particularly for people who are in search of rangefinders for both archery and rifle hunting. Vortex has numerous benefits in terms of its simple user interface, unique display, range finding options, and lifetime warranty with special features such as belt clip and incline percentage reading which will attention of outdoorsmen and golfers. Overall, this is an awesome device that every hunter and golfer will appreciate.
Vortex 1000 Rangefinder
Packaging

Performance

Design and Durability

Ease of Use

The Optics and Display

Unique Features

Value for Money and Guarantee
Summary
The Vortex 1000 is a great device with many remarkable characteristics and is perfect for those who are in search of a piece of gear for rifle hunting, archery and golfing. Luckily, everyone can own a good rangefinder now as Vortex 1000 is reasonable priced providing numerous benefits.
Have you owned or used the Vortex 1000 rangefinder before? We will be looking forward to reading about your experience with it in the comments section.